| | | | |
| --- | --- | --- | --- |
| POV: | Kaycee | Next POV: | Sept 1 |
| POV Used | ? | POV Ceremony | Sept 3 |
| HOH: | Tyler | Next HOH: | Sept 6 |
| Noms: | Haleigh & Scottie | Have Nots | ? |
A real easy way to support the site if you are an amazon shopper is to make your purchases through our link. You pay the exact same thing but we get a small % commission. It doesn't cost you anything and helps us out.
Amazon Canada
Amazon USA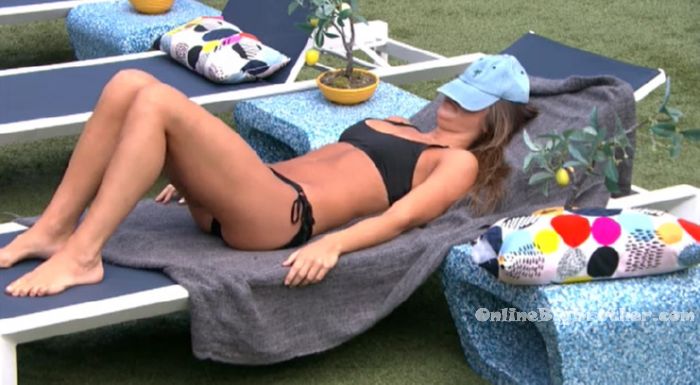 11am Brett, JC, Haleigh and Scottie are still sleeping. Big Brother wakes them up. Everyone gets up for the day except Haleigh. The cameras zoom in on her covered up with just her head sticking out. Angela heads outside to suntan. Kaycee, Brett and Scottie head outside to workout. Angela and Brett start studying the days / events of the season.
1:40pm Its a lazy suntanning type of day…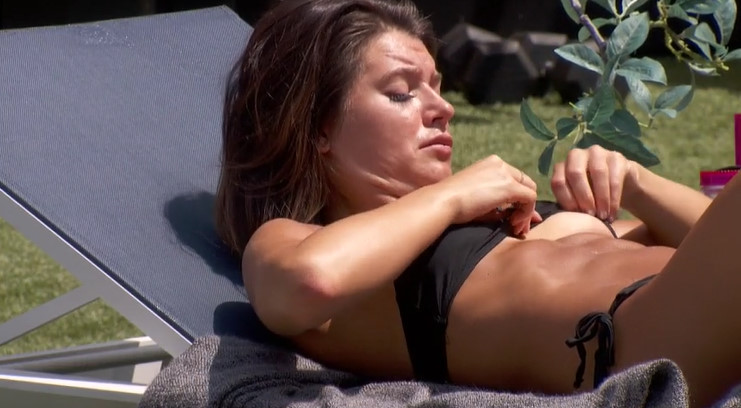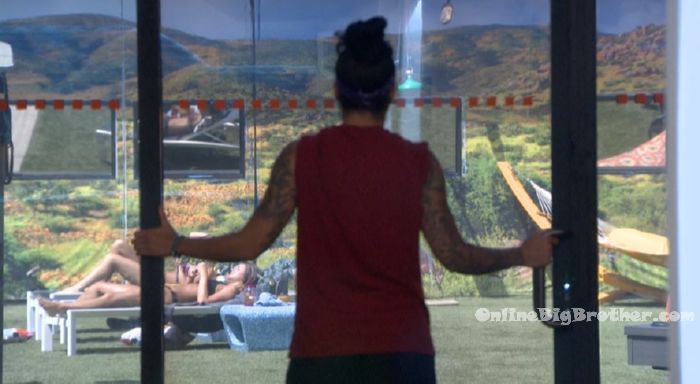 1:50pm
Kaycee talks to Scottie about how she wants to suntan a veto onto her arm. Sam tapes a veto on her arm.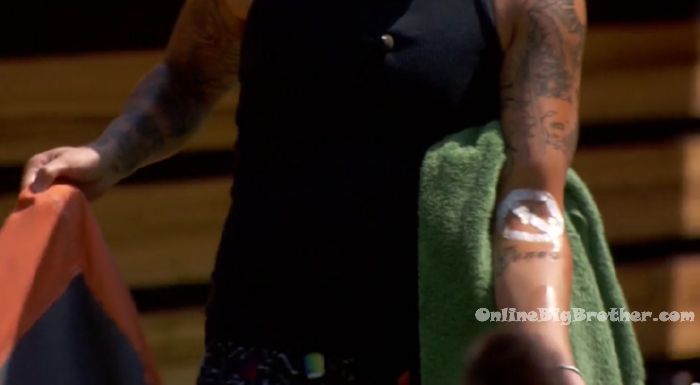 2:14pm Backyard. Haleigh and Angela. Angela – I wonder if the fact that Tyler and I are both from Hilton Head, if it brought it any publicity. Hayleigh – I bet. Angela – cause we talk about it all the time. Do it for Hilton Head! I wonder if it has done anything at all. Haleigh – I bet so.
2:50pm
The suntanning continues.. along with talk of aliens and whether or not they would be hostile. They see pink balloons and wonder if its for a gender reveal or aliens disguised as balloons. Meanwhile, Sam is inside cleaning the house.
3:10pm JC is finally awake and in the kitchen. He tells Kaycee that her veto tattoo looks more like a stop sign. Scottie tries to talk about his week outside of the hosue. Big Brother tells him he can't talk about production. Scottie – I can't talk about the week I wasn't here. Its like it didn't happen. Scottie – one of the things I'm worried about is the speech made it seem like she (Haleigh) was the target and I am the pawn. But from what I understand that's what Fes was told last week. I tried to have so many conversations with him but it was legit like talking to wall. JC – I felt bad in that situation but I didn't feel like going and talking to him. Scottie – so last week you think Haleigh was the target but Fes was just so sh*tty that the target switched?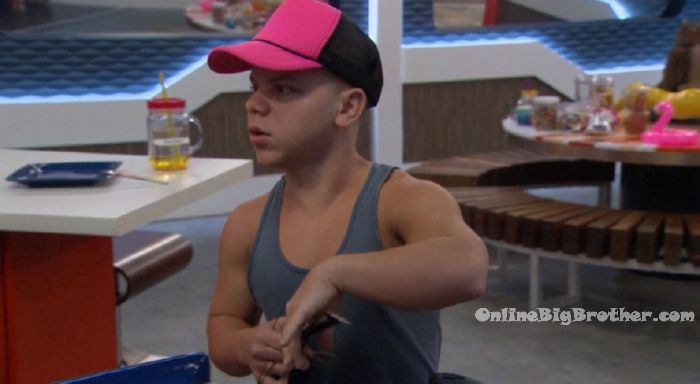 5:07pm Bathroom. Sam and Brett. Sam – are you mad at me? Brett – I just woke up. What's wrong. I promise I'm not mad at you. Sam – I don't know. You haven't been around me very much.. Brett – I promise I'm not. Sam – is that all in my head? Brett – MMMmmmmHHH I promise. Sam – I am a straight shooter. I would prefer if there is something wrong for you to just talk to me. Sam – I don't know what is defined when someone says they're working with someone because in my head I would never put you up. That's all that I ever meant. Brett – did someone say something? Sam – no. I am not going to prank people. I'm not going to talk bad about people. I don't know what the game definition of working with someone is? So if that to you meant something else that is not what I intended. Have you been disappointed in some way? Brett – no I am even confused what this is about at all? Sam – okay, are you mad at me? Brett – I am not mad at you. Sam – are you disappointed? Brett – I am not disappointed. Sam – are you confused or at any point questioning my word? Brett – no. That's why I am so confused about what this is about at all. Sam – I don't know. Is there anything you've got to tell me? Brett – no, I've got nothing at all. Like I am literally blindsided by this conversation. Sam – okay, good. That is a pleasant surprise. I have not trying to do any game-y things. Brett – this is all news to me. Sam – I am glad we had this talk.
5:15pm Backyard. Angela and Haleigh. Haleigh – I am so pissed that she (Sam) is still here. All she does is b***h and be abrasively rude and half-a$$ clean. I clean up after myself. I clean as much as anyone else in this house. Then I realized I ain't nobodies b***h!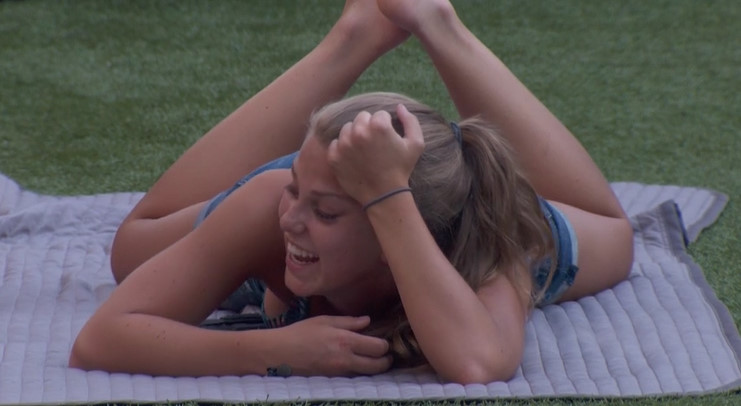 5:18pm Kitchen. Sam, Brett, Angela and Scottie. Sam – I will take something from every single one of you. Every conversation. I have grown in a lot of ways but we're never done changing. I don't all the personal stuff that I share with everyone to make anyone uncomfortable. Brett and Scottie both say I've never felt that way. Sam to Scottie – I don't want to you to ever think that I am trying to glitz you. I would only want to build you up. Scottie – that's good because I need to be built up. Sam – I don't want anyone to tip toe around me because I am about to snap. I am fine. Scottie – I appreciate that. Its a balancing act in here. When we want to say something to someone but we can't because we feel it will be manipulated or used of another persons benefit of demise. So then you do nothing and you feel even weirder. I don't want anyone to tip toe around me. Angela – they (production) wanted to get in your head and over think things and turn against people. Sam – I do complain a lot about something that I should be thankful for. Angela – you are one of the least people that I would say complain about this opportunity. Today will pass. Today is a weird day for you.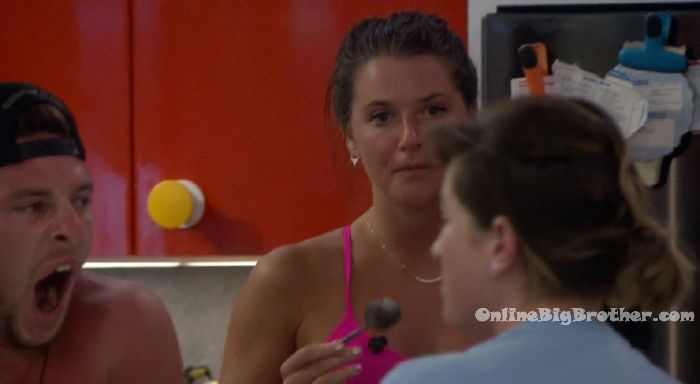 5:29pm Bathroom. Haleigh and Angela. Haleigh – Sam is f**king crazy. Angela – I want to shower upstairs but I feel like I am going to get judged for it. Haliegh – do it! Do it!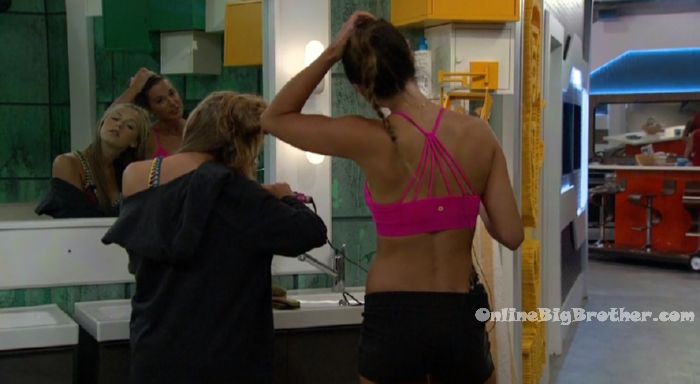 Without your support this website wouldn't be possible. Please consider making a donation. Any amount is greatly appreciated. All donations go directly to paying the considerable costs associated with running this site.
Rank the houseguests!
Easiest way to Rank the house guests use link below