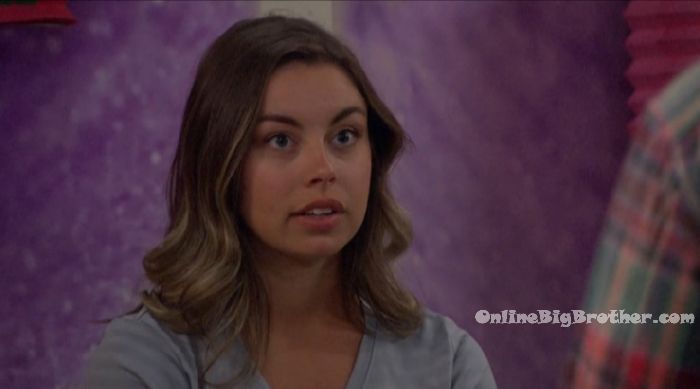 9:40pm Whitney tells Justin – We haven't even talked. You definitely made a smart decision keeping Scott. If you hadn't voted to keep him… Justin – I just wanted it to be up to America .. but I told him that though. I really keep my honesty and loyalty in this house. If I tell you I'm going to do something, I do it. You're the only person I really trust on your side of the house. Whitney – no you shouldn't trust anyone else. Not that they would come after you but.. Justin – I can honestly say that you're going to be safe this week. Whitney – I might even get a care package. I think it might be a co-HOH. Or cancel two votes… which is really big. Or you're safe and make one of your friends safe. Justin – who are you closest with on your side. Whitney – probably Alex. Justin – you're the only one on my side that people are willing to work with. Whitney – I would take you and Kryssie to the end with me. Justin – I already know. Whitney – I think it will all work out. Justin – don't stress yourself.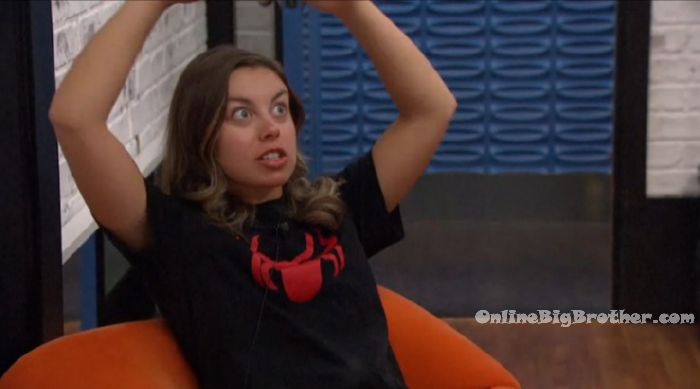 10:25pm – 11:30pm Backyard –
Jason and Kryssie are talking. Kryssie – I'm nervous for this weeks nom. I am worried my poor performance in the veto last week will make me look badly in America's eyes. I just didn't want it to look like I gave up. Jason – I think America is voting much more personal than that. They're not going to be like you sucked at that comp so we're making you America's nom. Kryssie – I just don't want it to look like I threw it. Danielle joins them.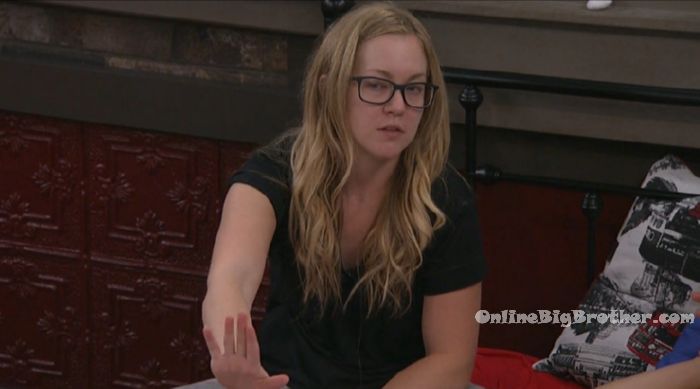 12am – 12:25am London bedroom – Morgan and Alex are whispering. Morgan – Scott sketches me out. Alex – he doesn't sketch me out. Morgan – yeah because he's told everyone he's taking you to the end. Alex – that is going to end up biting me in the butt. Like one on one that is something he has assumed. Morgan – in the end you would beat me… so maybe I should just vote you out. Alex – if you did I would delete you on facebook and delete your phone number. Morgan – it crossed my mind but I won't do it. Alex – I don't know why people think I'm such a threat in this game. Morgan – because you got HOH early. Alex – yeah. If I do end up going before you.. I will fight and claw my way out of this situation. Morgan – I don't think you will. Alex – I'm thinking of approaching Danielle and being like you're seen as the big target on your side and I'm seen as the big target on my side… people wouldn't expect us to team up together. Like I will promise you safety for 2 weeks if you promise me safety. What you (Morgan) have going for you is that you're not seen as a big target. Morgan – I do want to go talk to her (Danielle) but she is going to say I broke my deal. Alex – everyone is going to break deals .. you have to. Alex – if I can escape this week I have a good shot at going far. If Jason and Justin had won I have deals with them I could have weaseled my way out. Alex – when you talk to Danielle she might be annoying but she is smart. You tend to word vomit a lot.. when you go in there you have to speak smartly and minimally. Alex – if you make it through this week I think you can make it to the end because you can win comps. Lying low is working for you because people do not see you as a threat. When it gets down to our side people will come talk to you and I separately and we'll be able to know who to target. Alex – I hope America puts up Kryssie as America's nom. She is not a big brother player. If you took her to the end you would win. Anyone who quits during a competition, does not deserve to be here. She needs to go. When Scott was running around chasing Danielle .. I did not agree with that. Morgan – I don't trust him. Alex and Morgan go to bed.

Watch the BBOTT Live Feeds FREE for 1 WEEK!
Click here for your: FREE Trial!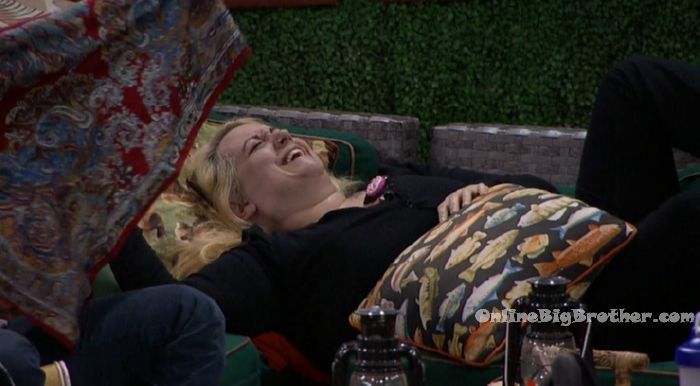 1am Backyard – Kryssie, Danielle, Justin and Jason are hanging out. Justin – Morgan's going to become a witch come Saturday… I'm telling you. She lied to my girl. … she's out of here. We better not say that too loud. America send Whitney the care package. If you're listening to me SEND WHITNEY THE CARE PACKAGE! Kryssie – unless its something we need then send it to one of us. Jason – we might not need it this week. Justin – no, I don't think we need anything. They shouldn't send us anything. Jason – they might nom one of us this week. Justin – oh yeah. After my pizza dance they (America) love me. Jason – they might nominate me or Kryssie. They head up to the HOH room. They chat a bit about the fish and about other things. The others head down stairs. Danielle listens to her music in bed.
1:30am All the house guests are sleeping …
5:25am They're all still sleeping..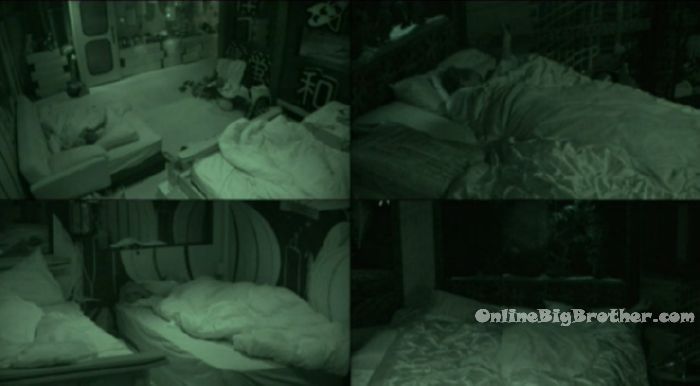 Shelby wins the care package
[polldaddy poll=9563060]
Help support all the live feed updates we provide. Show your appreciation by making a donation. Any amount is greatly appreciated!