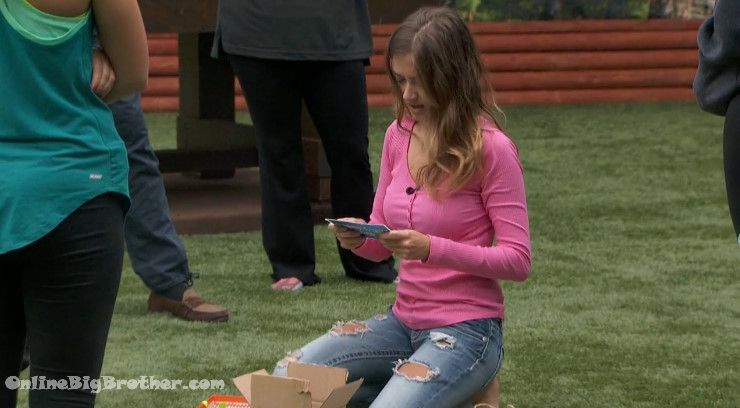 1:00pm Shelby gets the care package. Enables her to remove 3 players votes.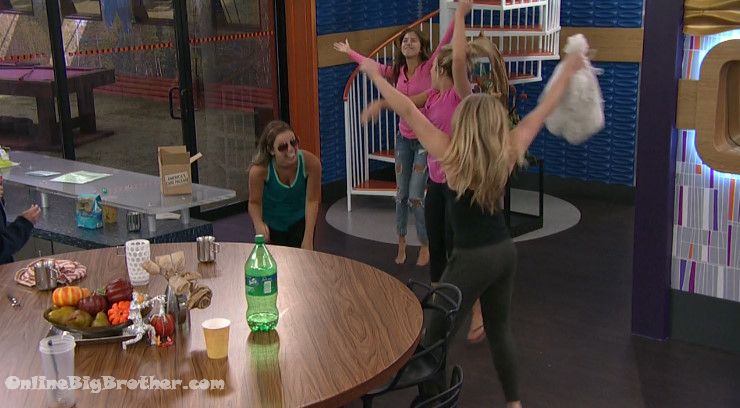 1:09pm Celebrating..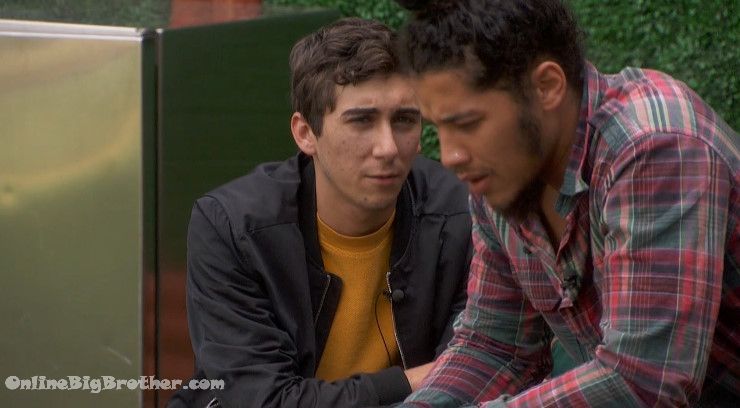 1:11pm Jason's crew has a hard time dealing with this but it seems like they keep the mean comments down compared to last week. They are thinking America hates them and are having trouble figuring out why because they feel the Girls are Boring, Terrible, horrible people with no personality. Jason believes that the fans have stopped watching the show. Danielle thinks they are getting a bad edit. Justin is baffled and Kryssie is nursing a heavily damaged hand.
Jason – America hates us
Justin – they are celebrating (the girls are cheering in the kitchen)
Danielle – it's disgusting
Jason and Danielle claiming that they don't celebrate when they win.
Jason – we've never won anything
Justin – sh1t…
Jason – 3 ecivrtions should have been the first care package.. there's not that many people ehre.. that's OK we'll just deal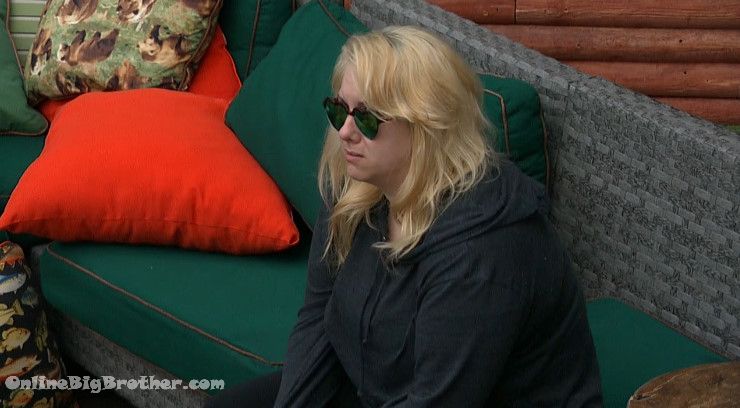 Jason – good luck Kryssie it's me or you girl
Kryssie – I'll start packing
Justin – Positive vibe
Jason – we tried Positive vibes and what did we get a dildo
Danielle says they have to put up 2 from the other side win veto and take down America's nom. That's the only way they can ensure one of the other girls go home.
Jaosn – we're hated
Danielle – I don't understand why they are such horrible people.
Daneilel says if she finds out that production is making them look like shitty people "I'm going to be so f*** pissed"
Feeds flip to the girls in Tokyo room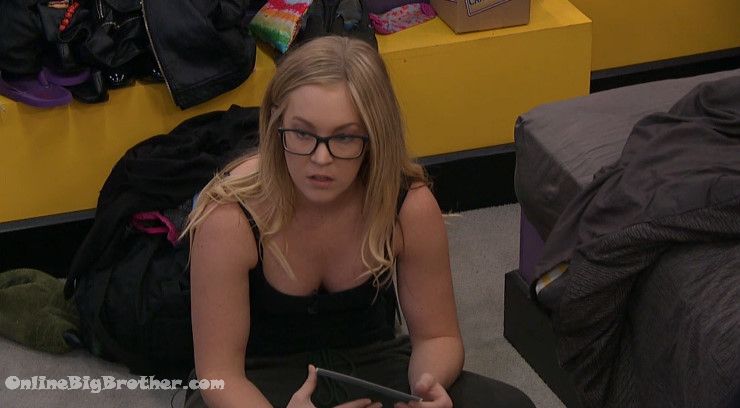 1:11pm Agreeing they need America's no to be someone from the other side otherwise they care package isn't going to help save them but will help them control who goes home
Scott points out they still have to win the veto
Whitney – she really doesn't get any control this week
Alex – you have to use it on them..
Scott – hopefully you use it on one of use .. (because one of the other side will hopefully be America's nom)
Shelby says the other side want her to work with them, "I really put you in your place.. thank you Jason I'll vote with you.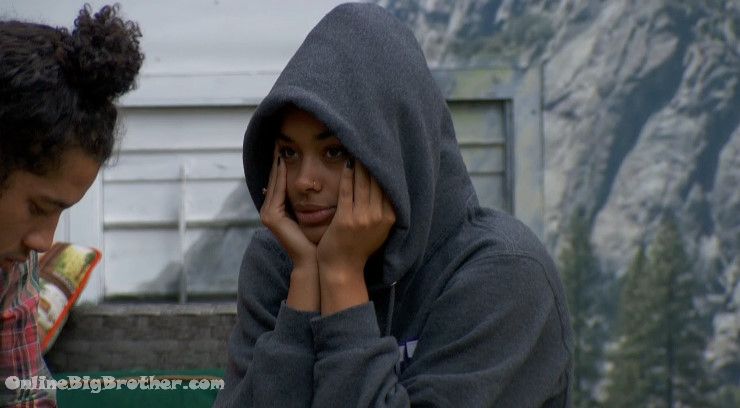 1:15pm LNJ
Danielle – we're being bullied.. basically every week we're getting picked on we can't catch a break.. no matter how hard we fight
They are agreeing it's not looking good for them with America's nom.
Justin – it;'s not over until it's over.
Jason proposes maybe America gave it to the other side because they want to see them break apart, "They don't want us to decide who goes.. they want them to decide"
Justin – If i'm a have not I'm not tripping ..
Jason says "they" aka production used his rant about Shelby and how horrible she is and spun it to make her look like 'Poor Shelby"
Justin – I'm sure they aren't getting all the terrible things she says..
Jason – it's on feeds I don't understand
Justin – we don't celebrate.. I don't care how much we win..
Jason – I'm guaranteed America's nom now because it's me versus Shelby this whole time.. they LOVE her and they HATE me
Justin – her personality is shit.. I don't know it's terrible
Jason – I'm praying.. America gave them that package they want to see them play the game against their own.. Who knows.
Jason – we had to eat Shane.. these people will never have to eat one of their own.
Jason says all the care packages are going to Whitney and Morgan.
Justin – I don't think Morgan will get a care package
Jason – Why did I agree to come back again..
Justin – Positive vibes man cannot let the enemy win bro
They go on and on about how boring the other side is.
Justin – I really would like to see the episode
Jason says they are being portrayed as petty people that all they do is sit around and talk sh1t.
Jason – maybe nobody is watching this anymore just these peoples families.
Jason proposes that all the BB fans said the show sucked and stopped watching.
Kryssie leaves says she's goign to eat something says she doesn't want to hang out with the "Hoes" in the kitchen because she'll "Barf"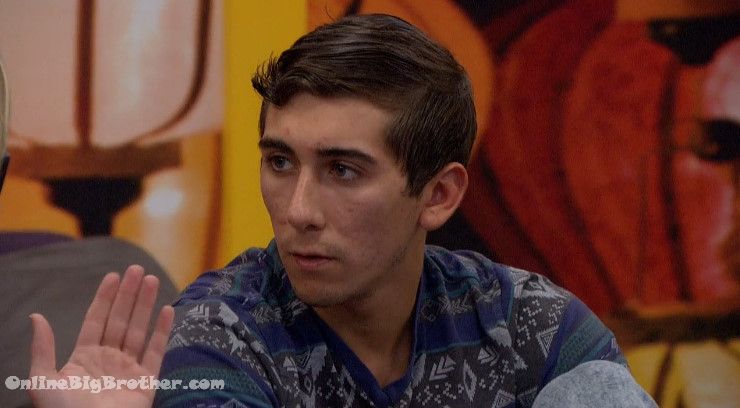 2:15pm Alex and Jason
Alex saying she still wanting to work with him and Justin. asks him what his relationship is like with Scott.
Jason – he as like f*** you because I didn't take his deal last week.
Alex – I figured you had a split.. you're still fine with me.. I haven't told anyone you've been talking to me..
Alex says if she wins HOH she won't target him she expect him to do the same.
Jason – ohhh of course
They agree the week will be interesting "It's a big ass care package"
jason – i'm goign to be America's nom
Aslex – I could be America's nom
Alex says if he's nominated she'll Campaign to keep him
Alex – I feel like I am her number 1 target
Jason – I'll get back to you on that didn't sound like it
Alex says if he can kee[ her off the block she's got his back
Jason – you're steering the ship over there.
Alex – that's what everyone thinks
Jason – that's what it looks like .. I ain't goign after the captain.. I'll try and do what I can do.. you are fine with me even without Scott..
Alex – you protect me I'll protect you
Jason – ok lets go smoke some cigarettes.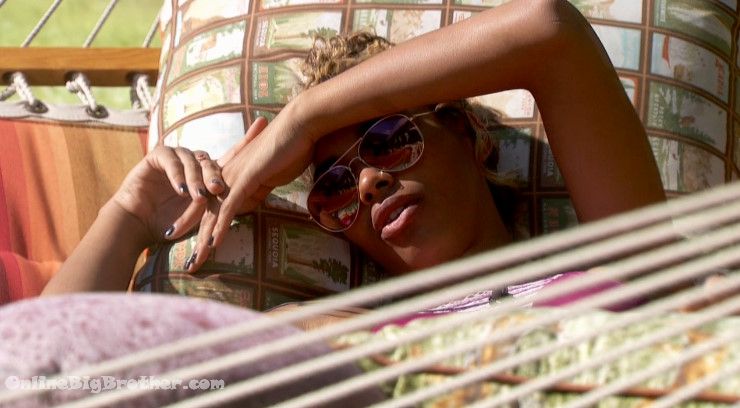 2:40pm Hammock Jason and Danielle
Jason saying their chance is to leave Scott and Alex alone, they have a chance to flip those 2 votes. They both are playing hard and there might be a slight chance to work with them.
Danielle – i was only going to touch Alex if it was the perfect opportunity..
Jason – we need to get them to let one of us stay over one of their friends.. the likelihood of that happening with Scott and Alex is higher than with Morgan and Whitney or Morgan and Shelby as voters..
Danielle – I'm thinking Morgan and Shelby ..
Jason – that's the best..
Jason says Justin will work on Whitney
Jason says they don't know the votes she's removing until the night of the eviction.
Danielle – MOrgan and Shelby all week long.. I wanted to wait until after the care package..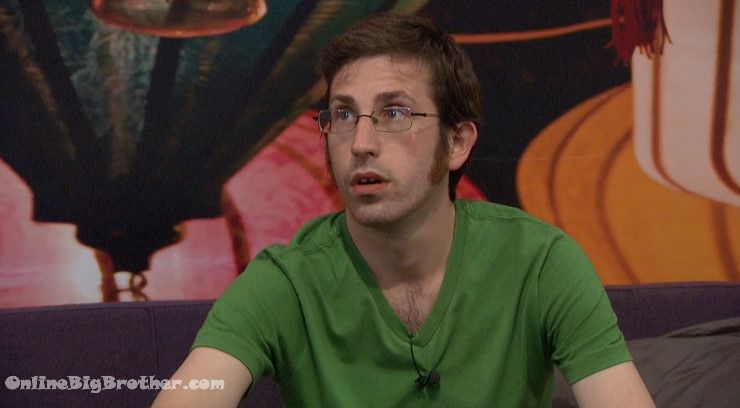 3:04pm Alex and Scott Tokyo room
Scott says they have to make sure Alex and Shelby are not nominated.
Scott – we need to spend a lot more time with Morgan
Scott is worried if he's on the block with Whitney Morgan would keep Whitney.
Alex – I think she'll vote you over Whitney
Alex – we'll need to stay tight with her but I'm confident if it comes down to that she'll vote with us
Scott thinks he'll have America's vote over MOrgan "Not trying to be cocky"
Scott tells her as long as Shelby and Alex are off the block he's safe this week so don't stress campaigning.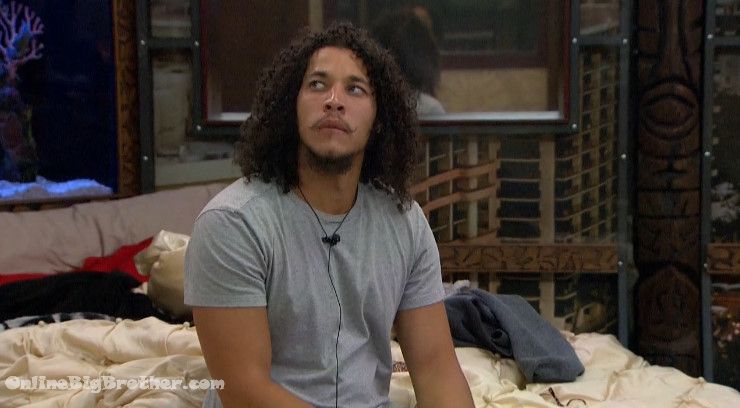 4:05pm Daneille and Justin
Justin says Morgan, Shelby and Whitney are disposable to Alex and Scott. Goes on to say Shelby is disposable to all of them, "Kinda sad"
Danielle is pissed that nobody has come to talk to her. At this point last week everyone had talked to Kryssie. Danielle accuses them of not playing the game.
Justin will vote out Morgan over Shelby because Shelby is not a threat.
Danielle says her goal is to pull America's nomination down regardless of who it is. Danielle now saying if America's nom is Shelby, Morgan and Alex she'll leave them up.
Danielle says America is going to keep siding with the other side so their only hope is to win comps.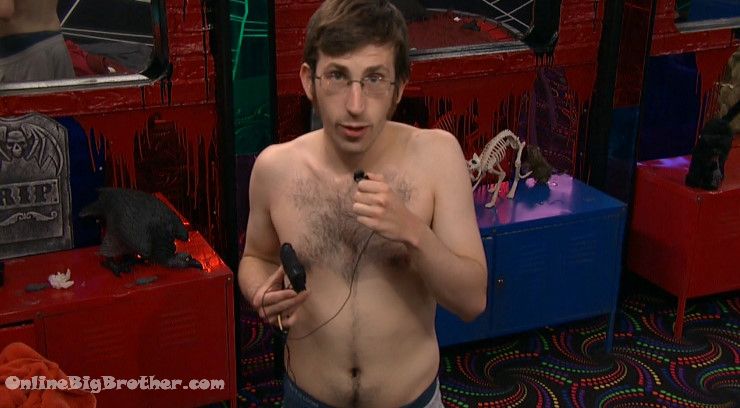 4:34pm Scott..
SCott – if me and Alex are not the original nominees this week it's goign to be amazing.. all we have to do is promise Jason we won't take him out if he's America's nominee.
SCott – the timing of it is perfect.. he could win Veto Danielle could win veto.
SCott – If they take Jason off the block than me and Alex aren't on the block anyway like… Oh my god … this is the best deal possible.. this is literally the best deal possible and Jason came to me about this deal.. this is amazing.. it's such a good deal
SCott – I love this game baby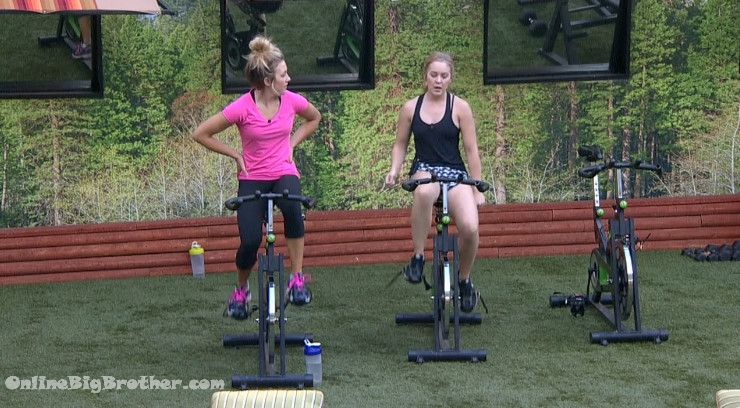 5:05pm Sisters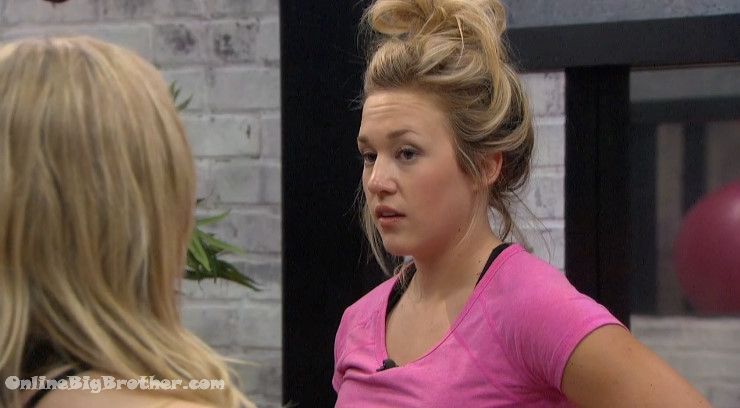 5:32pm Yoga room Morgan and Alex
Morgan says she's going to flatter Danielle because she thinks she's a master player. MOrgan is goign to try and Talk to Danielle tonight, "Before Whitney does"
Alex – ya that should be your number 1 priority
Morgan is going to work the angle that taking her to the end it smart because she's not a loud personality,
Morgan – I haven't been winning things.. (Other than POV)
Morgan – I haven't made any game moves
Alex – be like America hasn't given me anything
Alex – America is clearly not responding to me .. Don't throw Whitney under the bus Be like there's certain people in this house that will win and I'm not one of them.. right..
8:26pm Live Dr's
Watch the BBOTT Live Feeds FREE for 1 WEEK!
Click here for your: FREE Trial!
[polldaddy poll=9564863]