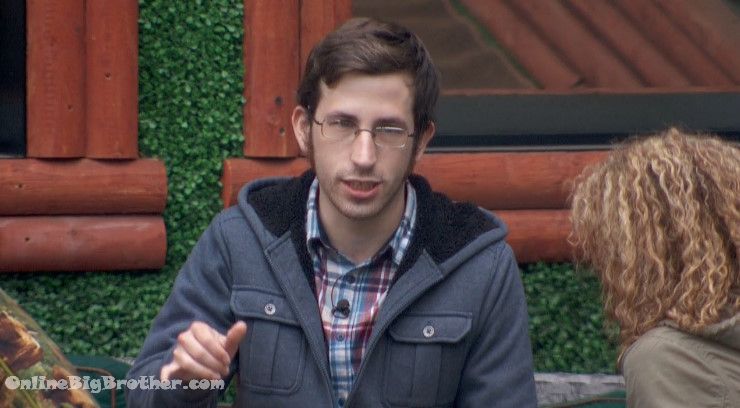 12:36pm Scott and Danielle
Danielle saying that her alliance thinks it's best to keep Whitney but she's not sure that's best.
SCott points out that there's people in this game that will really want Whitney left in the house (Justin)
Scott – she would be one of my top picks
They agree Whitney will win the game if she gets to the end.
Daneilel thanks him for being there to "Bounce ideas" off of.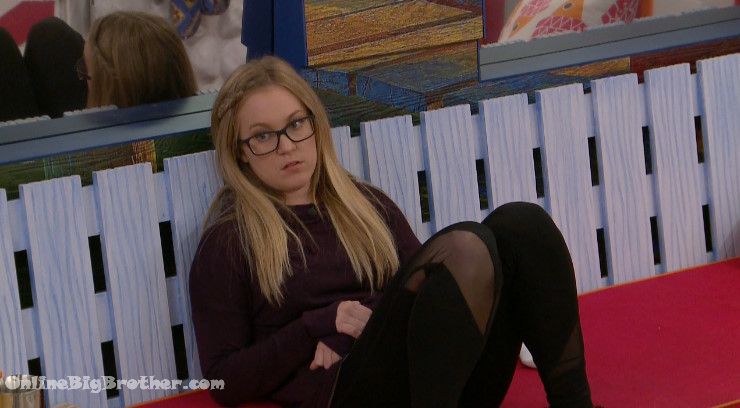 12:54pm Alex and Whitney
Alex tells Whitney she'll save all the girls over Scot.
Whitney – Scott is likely to win this game
They agree Scott will have to be America's nom to be up this week.
Alex says America's nom being Whitney will be worst case scenario. Alex is sure it'll be her and SHelby nominated today.
Alex – Shelby is going to be taken to the end because people think they will beat her.. Same with MOrgan.
Alex says if Jason is America's nom he better win Veto or he'll be evicted. If they have a chance to evict him they have to take it.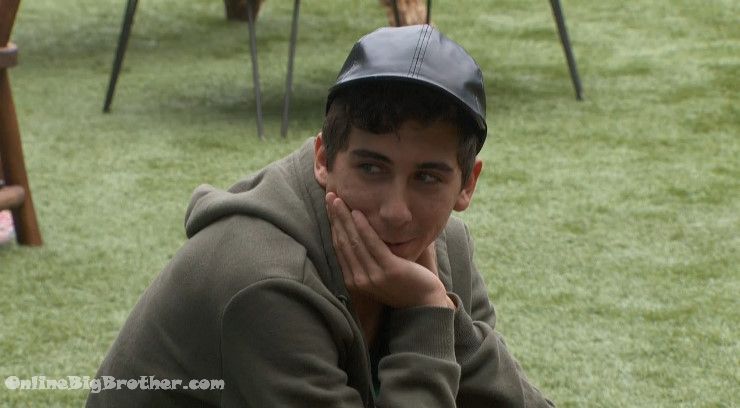 1:21pm Jason, Alex and SCott
Jason – do you have a preference who the nominee is
Alex – I feel it's going to be me
Jason – I swear on my life..
Jason goes on to say they are safe from Backdooring as long as he's safe if he's America's nominee.
Alex agrees.
Jason – You're completely fine .. Who would you rather MOrgan or Whitney we know you aren't going to take out Shelby
Alex – ahh gawd.. I think for end game they're's one person you send that can win the game and one person that doesn't have a chance.
Jason – I know what you are saying ..
SCott – based on the have not rotation.
Jason says taking out "America's Sweetheart" (Whitney) is the same as taking out "Justin's sweetheart"
Alex says Whitney is playing more than Morgan. Scott points out that players that are so loved liked Jordan and Whitney don't need to play the game to win Aemrcia's vote.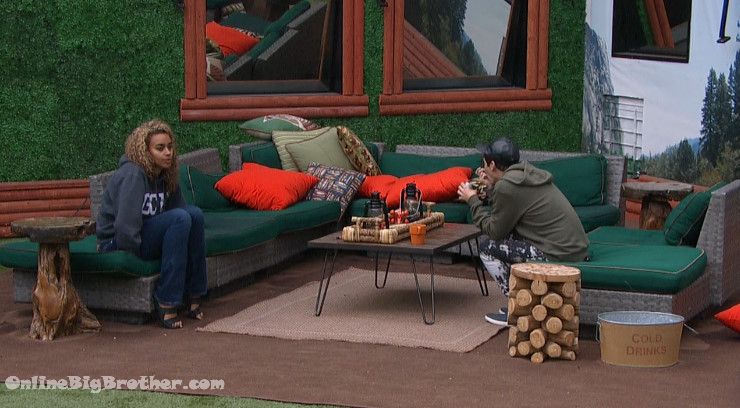 2:00pm Jason and Danielle
Jason saying that now is the time to get Whitney out. Justin is probably not goign to have a vote this week. Jaosn goes on to say Justin is sick in bed all day he's not "Chiming" in on the nominee discussions.
Jason – If Whitney wins Veto Plug MOrgan into the equation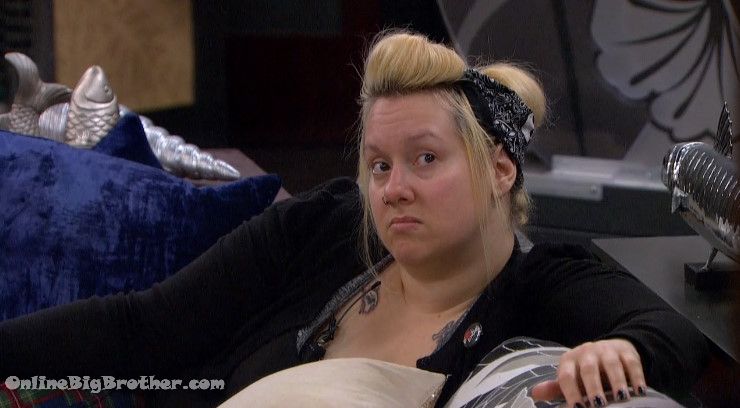 2:35pm HOH Kryssie and Danielle
Kryssie points out the cameras are never on them when they are in the HOH
Danielle says they don't like them.
Danielle – Me and Jason were talking about Final 3, He said that he can't take Justin to the final 3 he wants it to be the 3 of us because he wants.. if he doesn't get the money he wants it to go to someone who really needs it.
Kryssie – that's sweet…
Danielle – he would rather it go to me because i'm a mom or Kryssie because she has all this band stuff over Justin because..
Kryssie – he's financially set anyways..
Daneille – I'm the least liked person out of us three
Kryssie – My main motivation is to make it to the end with you Fuc**rs cause I don't think I can survive with those other people.
Kryssie – Justin will gracefully go out fourth.. as long as it's you guys.. I don't think he's here to win he's here to protect us
Danielle would like the money to go to Jason who's a "True BB'er" or to Kryssie
Kryssie – Band stuff aside I'm broke, like the whole reason i'm here because i'm scared to death i'm not … like I know I'll be able to retire but i'm scared to death that like when I run out of money and can't work anymore i'm just going to have to take a long nap in my garage.
Kryssie – I don't have a plan for my twilight years
Kryssie – I would liek to have a option for later on
Danielle says there was no way she could work with Neeley "She thought I was annoying"
Kryssie – she parroted us a lot.. I did like her..
Danielle liked her too says Neeley was always trying go compete with her on some level.
Justin comes in. They start talking about the announcements Big Brother has been giving them.. Kryssie burps a dozen times.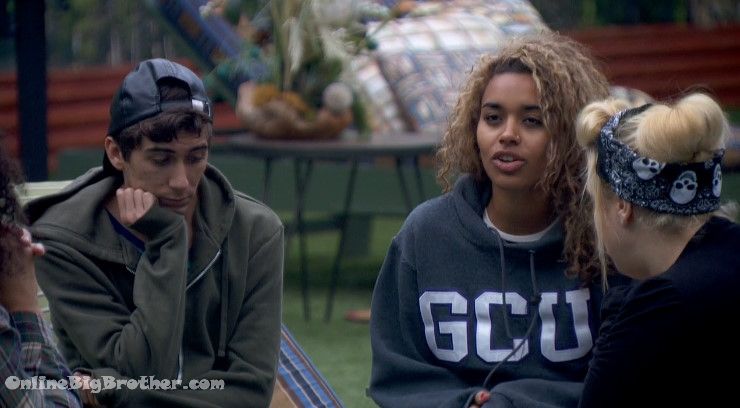 4:20pm Backyard LNC
They're talking about breaking Alex and Scott from the other group and using them.
Danielle says Morgan is feeling Iffy about Scott and Alex. DAneille thinks they can pull Morgan on their side to take out Scott and Alex.
Jason says Alex and Scott are really worried about Whitney long term.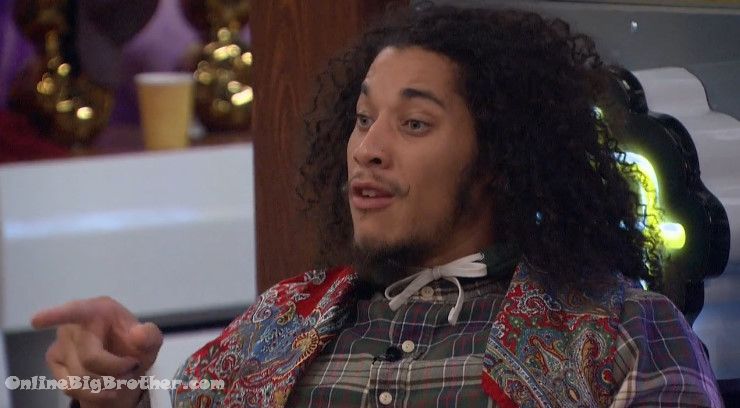 6:00pm Justin and Whitney
Justin tell her they are goign to try and get her out over Morgan
Whitney – am I going up
Justin – I don't know
Justin – they are coming for you this week over Morgan
Justin – they think you're a threat
Justin says Danielle is only doing what Alex and Scott want, 'If one of our side goes up they are trying to keep them"
7:07pm Danielle nominated Shelby and Whitney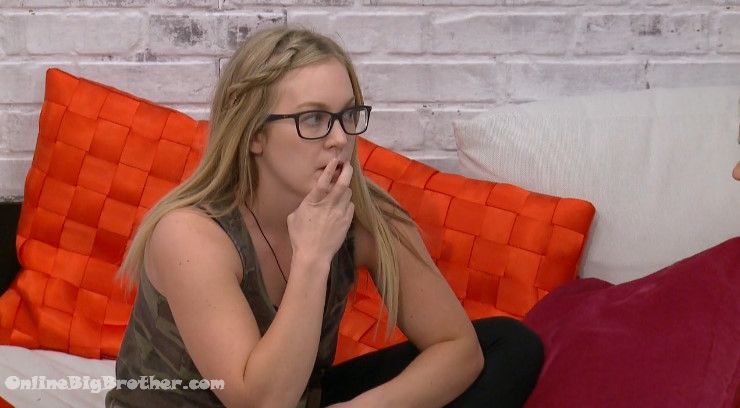 7:55pm Alex and Shelby
They are surprised by the nominations.
Alex – They want Whitney out
Whitney and Morgan join them, Whitney says she's the target this week. Morgan points out if America's nom is someone from the other side and they didn't win Veto they're going home.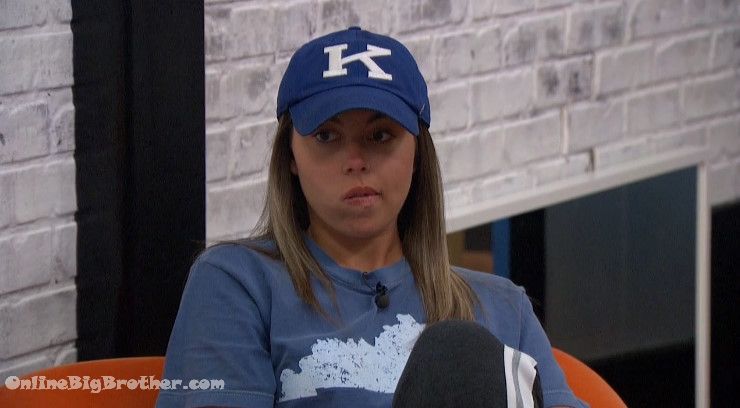 8:20pm Yoga room Alex telling Whitney she's in the best position.
Alex – Justin will save you Kryssie will save you..
They agree America's nominations will be one of them.
Whitney – It Could be Kryssie.. I don't know..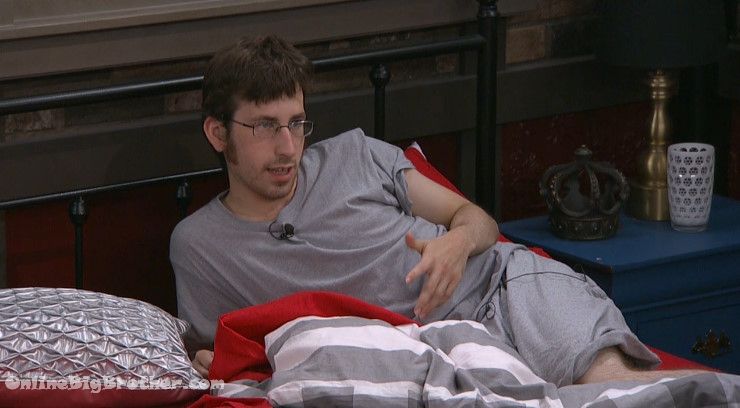 8:23pm London Shelby and Scott
Scott would use the veto on her but is worried Alex would go up.
Scott tells her his final 3 is Alex and Shelby.
Shelby asks if he has the veto and doesn't use it on her she hopes he doesn't use it on Whitney.
Scott wants to have an alliance name for Alex Shelby and him
[polldaddy poll=9565337]