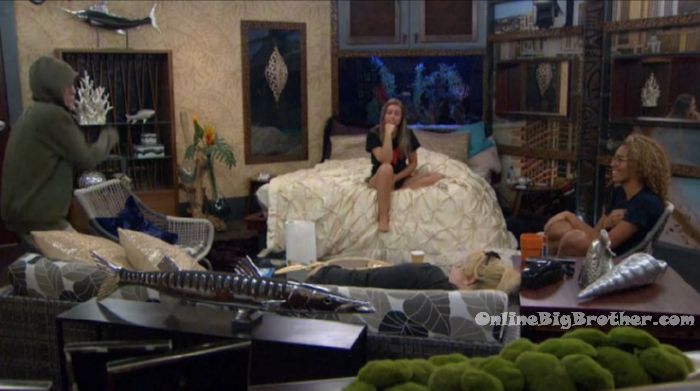 9:30pm Whitney heads up to the HOH room to talk to Kryssie and Danielle. Jason joins them. Whitney tells Danielle – I just wanted to come up and talk to you before tomorrow. I'm sure you already have a plan on what you're going to do. But I don't know if you expect me to be the America's nom. Danielle – no, I don't expect it. Whitney – I don't know if its going to influence your decision in anyway. I'm kind of freaking out about that. Jason – why would you think that. Whitney – because I was the last name. Do you know what you're going to do? Danielle – I was waiting till after havenots and that didn't give too much information. I don't think you'll be America's nom. Its really up to Shelby and who's votes she cancels out. Jason – oh for sure we're not voting. Kryssie agrees. Danielle – its not really up to me who goes. I don't have a target. I don't have a game plan. As of right now I don't think you're a threat. I think America likes you a lot. Whitney – well we'll see won't we. Danielle – you're probably the last person. I want to be the only HOH to have 2 noms at eviction. If America put you up and I won the veto, I would pull you down. My talk with Shelby was pointless. She said she was going to us it in her favour. So I was like I guess this talk is over. Danielle – I'm anxious to see who America's nom is. Jason – b***h its going to be me. Whitney – I really don't have anything to offer you. Whitney leaves.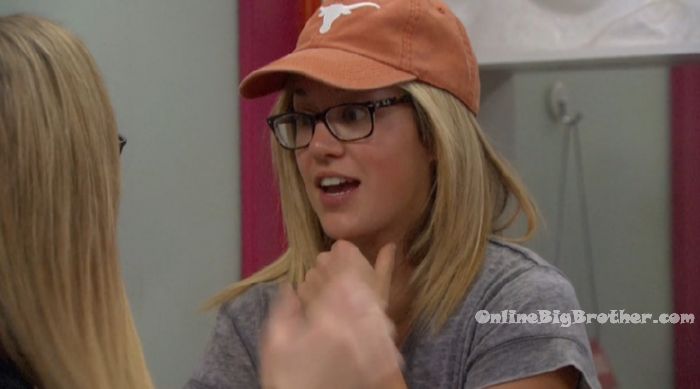 Bathroom – Morgan and Alex talk. Morgan tells Alex about her conversation with Danielle. She is open for us to work together and to bounce ideas off of. She was like I really respect how you got Neeley out. She said she was happy I did it so that she didn't have to do it herself. Alex – she wanted to take Neeley out? Morgan – yes. I also told her that you have to think about who you want to take to the final 3. She said she wouldn't take Justin. Everyone knows I wouldn't beat him. She is going to want to target Justin. Alex – wow she told you a lot more than she told us. You should try and work with her if possible.
Watch the BBOTT Live Feeds FREE for 1 WEEK!
Click here for your: FREE Trial!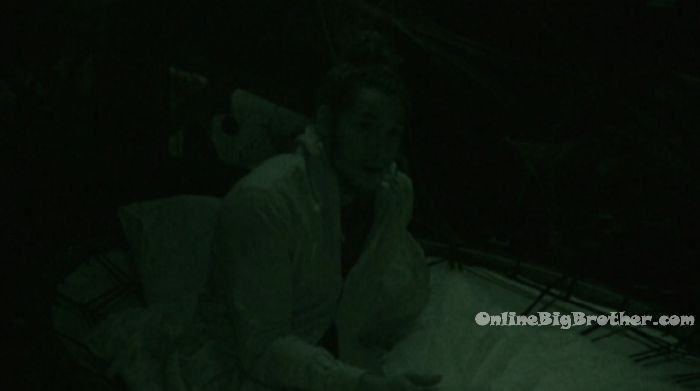 10:35pm – 11:30pm Havenot room. Justin tells Whitney – I trust you more than anyone else on your side. I know you care for Alex and Scott but you can't trust them because they will vote you out of here because they know they can't win against you… especially with America voting. You see what I'm saying? Its the same thing on my side .. we like to think we have loyalty but you can't trust nobody. I just want you to know that, I've got your back. I've talked to Scott .. Scott and Alex they're sharing the same ideas. They're their own alliance. They're going to eliminate Morgan and you and then Shelby last. If you're up on the block they're going to vote you out of here because they're be like they had no choice. My side loves you .. Kryssie, Jason and Danielle. But they see you as a threat at the end. There are only 3 care packages left. We have to eliminate Morgan and then if you make it through this week .. the next care package would probably go to you. I'm going to try and win HOH this week and I hope you get the care package. I don't want you to go home. I don't trust Morgan. In my favor the good thing is that Danielle is still in the house. If you're on the block its the perfect opportunity for Morgan and Alex to vote you out and for them to be like we had no choice. I don't want you to be blindsided by this. You're been taking care of me and I appreciate it. Whitney – I'm just going to take everything you say and make some moves if I have to.. and just take it day by day. Justin – you can't tell anyone what I tell you. My side won't trust me if you do. Whitney – I won't tell anyone. Justin – this is best for our game if we just keep this between us. Whitney – I won't say anything.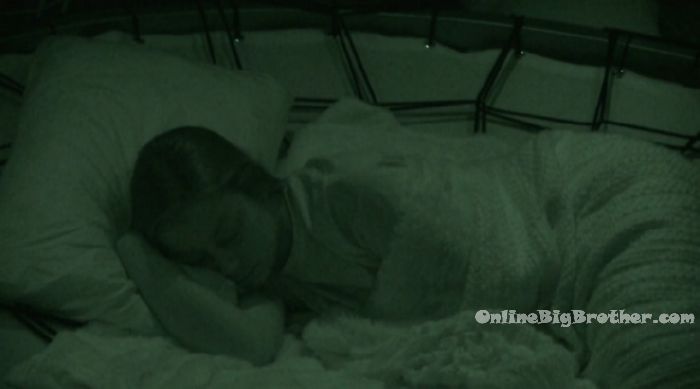 12:20am HOH room – Justin, Kryssie, Jason and Danielle. Jason points out the camera in the HOH bathroom stall. Justin – yeah I definitely j**ked off in there. It was less than 1 minute. I hadn't came in so long. I just touched it and it came out. Kryssie – good for you. Justin – I definitely think it was your HOH Kryssie. I think it was the last day we had it. I can't even recollect when I j**k off .. you know sh*ts bad. Justin – do you think they watch me j**k off? Jason – production yeah. It's not like they're going to air it though. Justin – I hope they did watch me c*m all over my stomach.. how great would that be.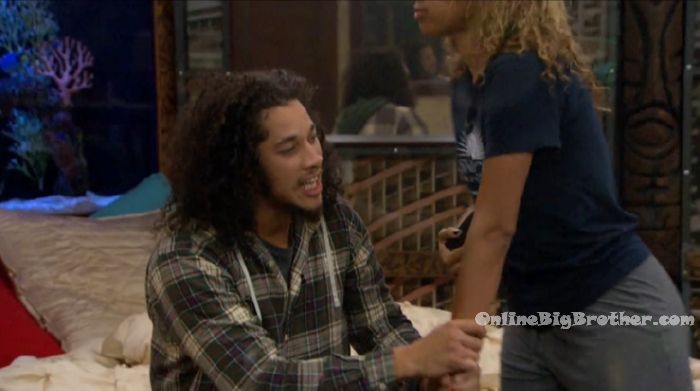 12:30am – 2:30am HOH room – Jason, Danielle, Justin and Kryssie. Jason – Alex is a smart girl. I ain't mad at her because we need her this week. Danielle – whatever Alex does, Scott will do. Justin – she (Shelby) will eliminate us three. Jason – by nominate Morgan and Shelby we're pretty much asking America to nominate one of us. Jason – they're not going to get any better scenarios to take out one of their own. If they decide not to do it, its bad game play on their part because they're going to have to deal with them chicks later. The conversation turns to talking about random things. Jason does his iguana impression.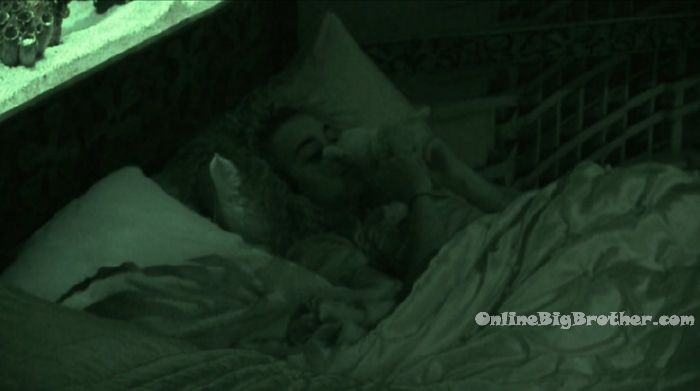 12:30am – 1:30am Scott tells the live feeders – I'm more nervous about what's to come. I do not want Alex to leave this game. I had a very interesting conversation with Danielle today. I know I'm 100% safe this week. I'm not going anywhere. This game is a weird one. I am 55% confident Alex is safe but 55% isn't a good percentage. Amazing care package. Thank you for giving it to Shelby. I couldn't have picked a better person to give it to. Shelby will keep Alex safe unless its Shelby and Alex on the block.. which would break my heart. It would be number 1 and number 2 on the block. Then Shelby would block my vote and what I just watch Alex leave this game. I would be so lost in this game.. not that I know what to do half the time. If you (America) nominate someone from their side and we can get that person out this week, then its a game changer. The only thing that is giving me hope is that Jason did offer me a deal. That went something like if I can promise you that you and Alex won't be nominated or like the original 2 nominees then I just need you to promise that if I am America's nominee … Jason needs to know that we're not going to vote him out. And of course I took that deal. How could I say no to a deal like that. You never say no to a deal that's not bullsh*t. I made it clear to Jason that its only if Alex and I aren't on the block. Shelby and Alex on the block is the worst case scenario. If America's nom comes off the block then it will just be Shelby and Alex. Shelby would then cancel my vote. I f**ked up on the hammock today. Best case is America's nom is one of them and we win the veto and keep them up there. I need to improve my relationship with Shelby and Morgan. I'll wait until after noms and then I'll work out with Morgan. I don't want people to be like oh sh*t Scott can lift a 40 pound bar. (LOL) Scott heads to bed.
Test out the live feeds FREE for one week!
Click here for your: FREE Trial!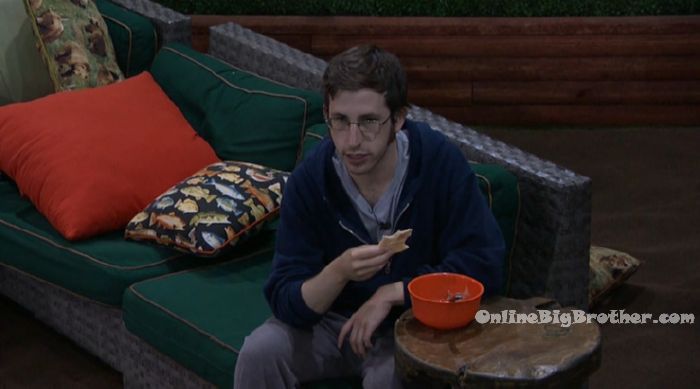 3am All the house guests are sleeping..
[polldaddy poll=9565337]
Tip Jar
Show your appreciation by making a donation!