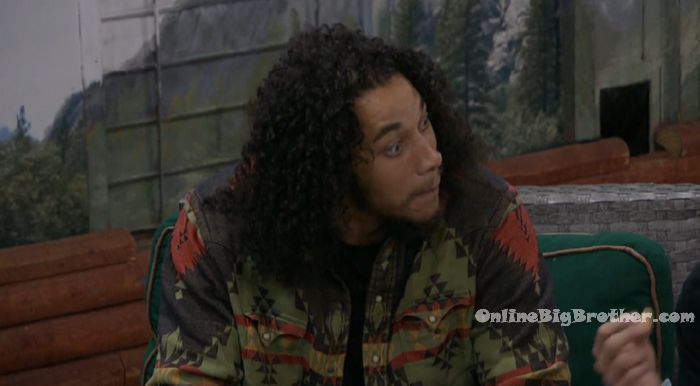 8:15pm Backyard – Jason and Justin. Jason – I can't be acting like its cool being in the kitchen with her. But yeah, no I'm fine. Justin – can I tell you something? It really worked!! Jason – do you think that everyone is buying it? Justin – yes! Jason – I'm no Oscar award winner but as long as they're buying it. Justin – they're definitely buying it. Jason – Danielle reacting or is she just saying she's okay? Justin – she's just saying she's okay. I think this is one of the greatest stunts pulled! Jason – if it works… it is going to be a good stunt. Justin – well dawg.. it already worked because they put up Whitney! It all worked out. They don't realize how close we are. Justin – we just got to win veto. Jason – they kind of do but not to the full extent. Justin – this sh*t perfect! I hope Morgan is America's nom. Jason – we get Danielle off the block and backdoor Alex. So that Whitney, Morgan and Alex are sitting up there together. Shelby will be mortified! Justin – Mortified! Oh my god! Jason – her face will drop! Justin – she asked me if I would vote Danielle out of here and I said f**king right! BUT f**k no! It's too early! Jason – its too early for that. Justin – its still this side versus that side. Jason – Shelby really laid it all out there .. like I'm putting you up so I can take you off. Okay you want to be that obvious. They've got the same strategy as us but they're trying to smoke screen it. Justin – this evil plan is going to work. We're going to get everything we wanted this week. Jason – the more people that bought that, the better. They're thinking it was a gift from heaven I got that co-HOH.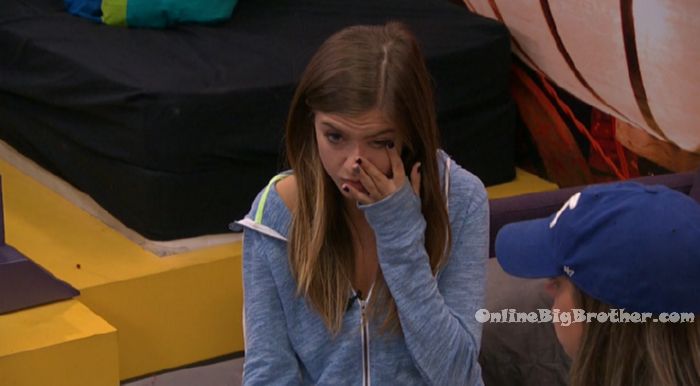 8:35pm Shelby talks to Whitney. Shelby – Morgan and Alex will definitely not vote you out especially over Danielle. Whitney – I think we're going to be fine. Shelby – I just knew that if we put up one of our own then we would loose a number. Whitney – it's completely up in the air. I guess it could be Kryssie (America's nom) but I think its going to be Morgan or Alex. Shelby – yeah it will probably be one of them. Shelby if I do win I would probably take you off and Danielle would go home. And I'm the tie breaker. If Jason wins he might not change them. I can see you not even having a vote against you. Whitney if I were to win the veto what would you do? Shelby – I would put up someone from the other side. Whitney – when Justin talks to me .. I know he doesn't want you out. He might not like you or agree with stuff. Shelby – I don't think it even really matters with you on the block
Watch the BBOTT Live Feeds FREE for 1 WEEK!
Click here for your: FREE Trial!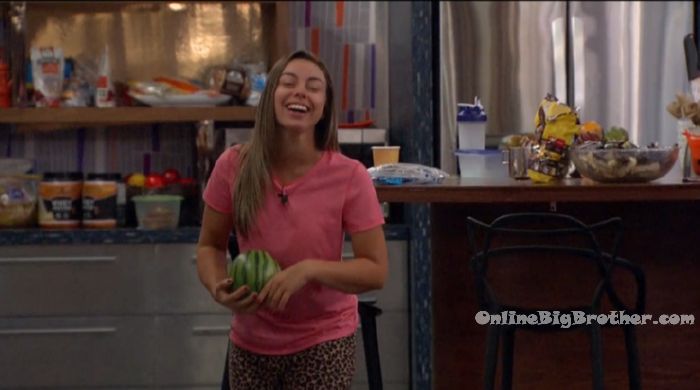 9pm In the kitchen – The house guests are playing melon bowling. Morgan tosses it and busts the watermelon open.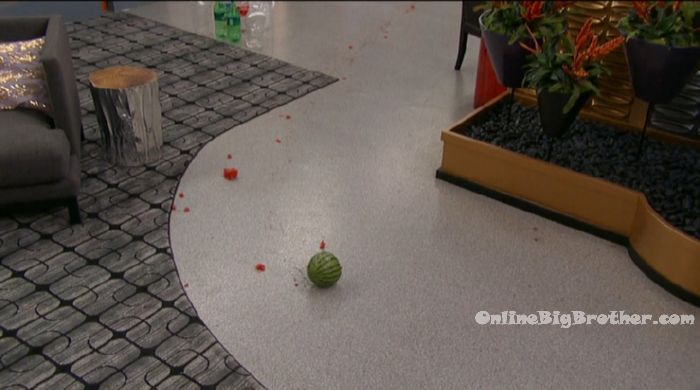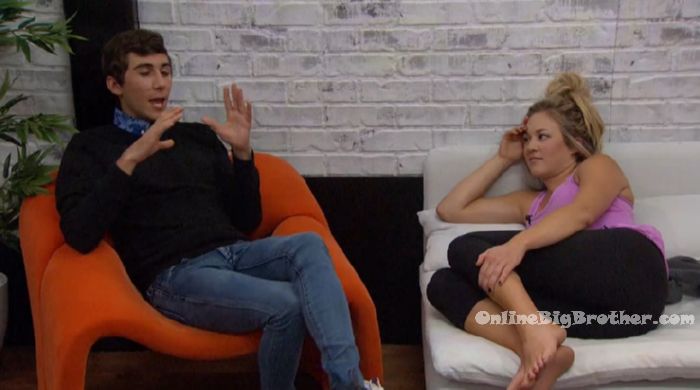 9:30pm Lounge room – Jason, Shelby Morgan, and Alex. They talk about random things. Shelby and Alex tell him they have someone they would set him up with. Jason leaves. Shelby tells Alex about how Whitney was crying earlier. I got emotional too. I just told her that there is no way she's going home and that if you guys (Morgan, Alex) go up, you guys go home. Alex – yeah. Shelby – she gets it. Alex – She is literally probably the safest this week. Shelby – Danielle and Kryssie will go over her. What do you think of Jason coming in here. Alex – he is either doing damage control because he realizes the sides are shattering. Shelby – the thing is our side didn't shatter.. our side is still good. Alex – I think he is strategically sitting in here .. he wants to hand out with us in case of a double eviction. Shelby – why the f**k for one hour.. 40 days in. Alex – he's never done this before. Morgan – I did enjoy talking to him. Shelby – he is the only one from that side that I can stand … and he did say f**k it I will go for Danielle. Alex – so he says.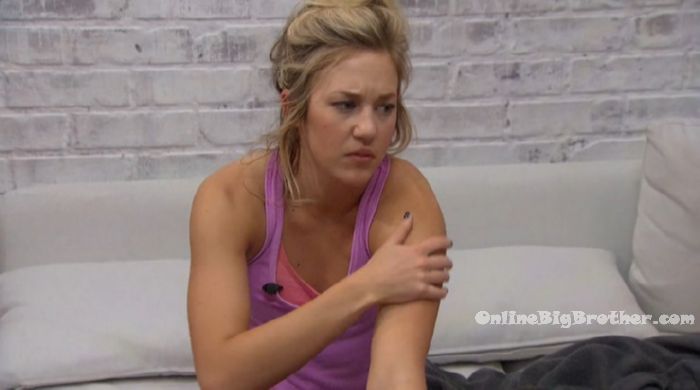 11:05pm Bedroom – Alex and Whitney. Alex – It just hasn't felt the same between us. You were my first first friend in this house. I know the whole house thinks Scott and I had this alliance.. I haven't had any alliance but with y'all. I know that people like Jason might be saying things that are opposite. Me and Scott just talked about pokemon. One thing that you probably don't know about last week is that Jason approached me and said I will tell Danielle to not put you on the block if you promise to keep me safe if America puts me up as a nominee. He asked me who I wanted out Whitney or Morgan and I said Jason I'm not throwing names out, I'm not throwing people under the bus. I don't know what he has said but I have a feeling he has twisted my words. But I just wanted to clear the air.. y'all two are the only two that I am loyal to the alliance. Whatever happens I am 100% voting to keep you. I would never vote out you over Daneielle .. ever. If I am not America's nom.. I expect me or Morgan will be but if I'm not and I get picked to play (in the veto) and I win, I will pull you down. Whitney – yeah, no that's fine.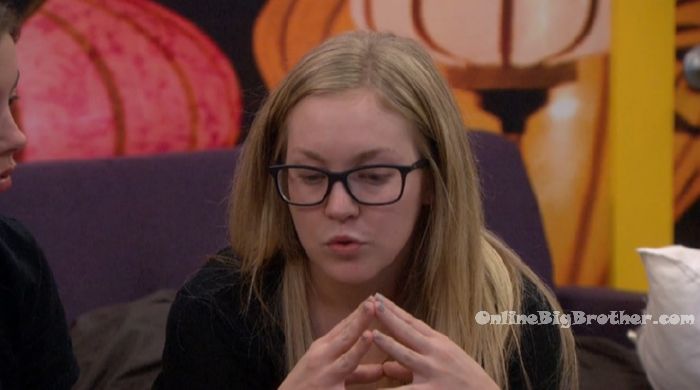 12am Shelby and Alex laying in the HOH bed watching the fish and talking about random things.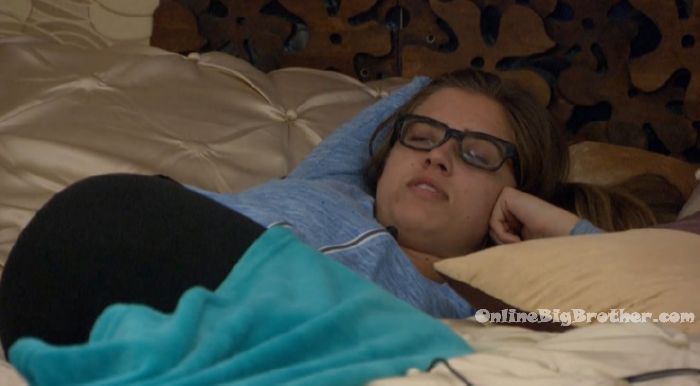 1am Jason – I'm blocking the rays of Stacy! Justin – who's Stacy!? Jason – the imaginary girl that Shane is sleeping with right now.
Watch the BBOTT Live Feeds FREE for 1 WEEK!
Click here for your: FREE Trial!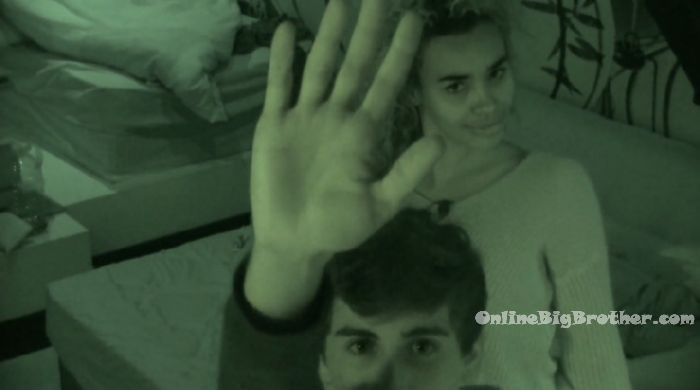 1:45am All the house guests are sleeping.
America's Nomination is Alex
Veto players are Danielle, Whitney, Alex, Morgan, Jason and Shelby. Veto starts at 1pm
Jason wins the Veto
[polldaddy poll=9572675]