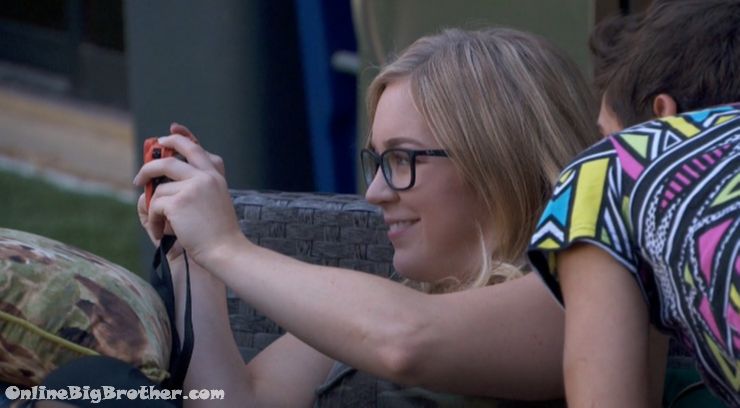 HOH Pictures…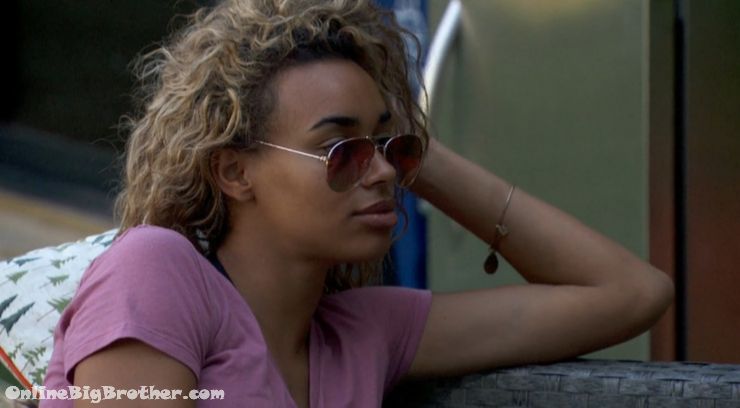 1:16pm Jason, Kryssie and Danielle
Danielle – If this was the real world I would drag Shelby's by her ugly a$$ f'ing hair.. I don't f****g like her I can't stand her a$$
Danielle brings up an encounter with Shleby where she was whispering to the other girls about Danielle.
Danielle – Like b1tch I will kill you .. No I won't really .. I'm really not going to kill her I have a son to raise
Jason – just kidding just kidding.. disclaimer disclaimer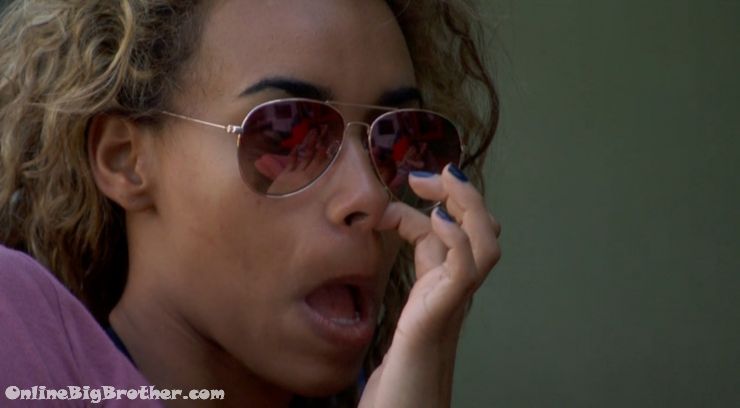 Jason complains about the nicotine patch being itchy
Danielle – well if you've never started smoking cigarettes you wouldn't have this problem
Jason – shut up
Danielle – I'm going to whip booger on you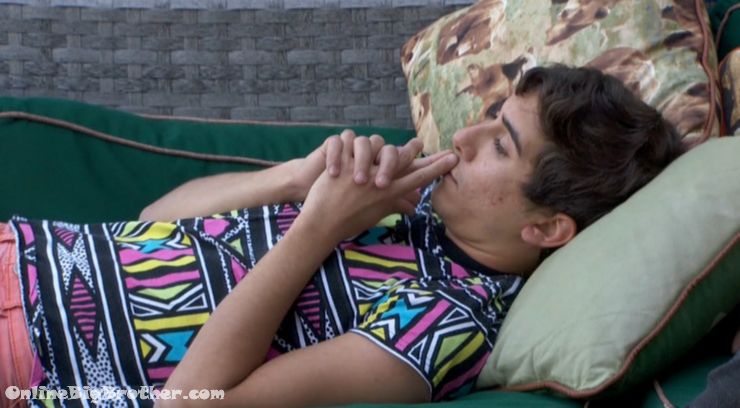 1:51pm Jason and Kryssie Backyard
Jason – You and Justin HAVE to win during the Double… Danielle has to win tomorrow
Jason says if Justin wins Veto he'll moan about using it on Whitney.
Jason – then guess who's' getting backdoored.. You
Jason – it's unlikely you'll go but still
Jason – Whitney is a smart player Shelby gave me way more information than Whitney did.. And we saved Whitney.
Jason says this show how not smart of a player Shelby is and how smart of a player Whitney is
Jason warns that Whitney's loyalty will always be with the other side.
Jason – these girls are so sensitive they have no sense of humour
Jason says she's the safest out of them all for Double.
Jason – Alex has to go this week.. If she comes into power she's for sure gunning for me
Jason is worried about America voting for Justin to win. Points out that Justin is playing both sides and sometimes America doesn't like that.
Jason says Shelby is a better strategist than they thought, "Morgan doesn't know what show she's on.. Alex is playing so hard she doesn't have fun or personality"
Jason says it's a good thing they are nominating Danielle because it increases the chance to have someone on the other side as America's noms. Adds that even if one of them do go up as America's nom that means 1 extra player to compete in the POV that's on their side.
Jason says Justin won't be anywhere near his HOH if he wins it again.
Jason says Whitney is a lot better than they thought. Says she got a call back without even trying and is only 21.
Jason – I'm nervous for Tomorrow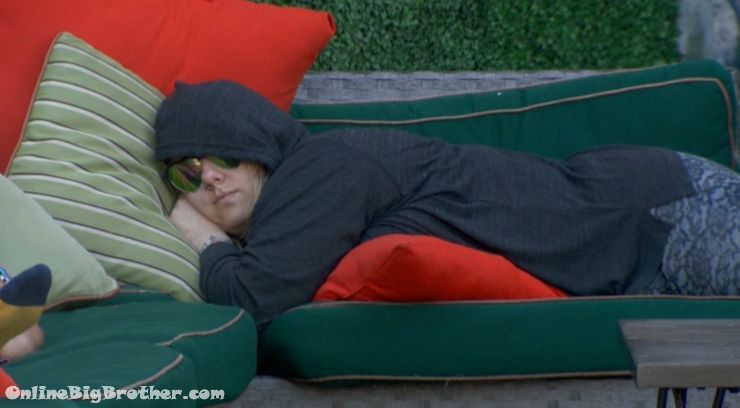 Jason says he has to beat Shelby tomorrow in the POV so he is the tie breaker vote.
(It's pretty darn slow Sundays)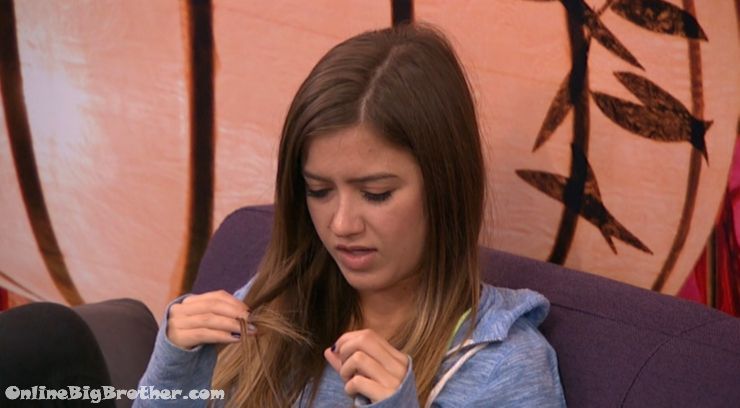 4:11pm Alex, Shelby and Morgan
Alex – I need to talk to Whitney tonight make her trust her again
Shelby – she's not goign to feel very good when I Maybe put her up
Shelby – I'm going to feel so bad if I put her up and she cries..
Morgan – she knows it's coming
Shelby says Justin was trying to tell her Alex scheme against her.
They agree Justin is Jason's puppet.
Shelby – he's doing a bad job of repeating what Jason told him to say
Shelby – maybe it would be good for Jason to go in the double…. but no he's already got a care package.. and Whitney will never use her care package to save Jason
They talk about this being the first season that someone (Danielle) had a early showmance with Shane. Shane got evicted and she started another showmance with Justin.
Whitney – there is no way this has ever happened before because you know what people have morals
They laugh.
Morgan says they didn't get a lot of boys.
Shelby agrees.
Whitney – because we're all married

4:38pm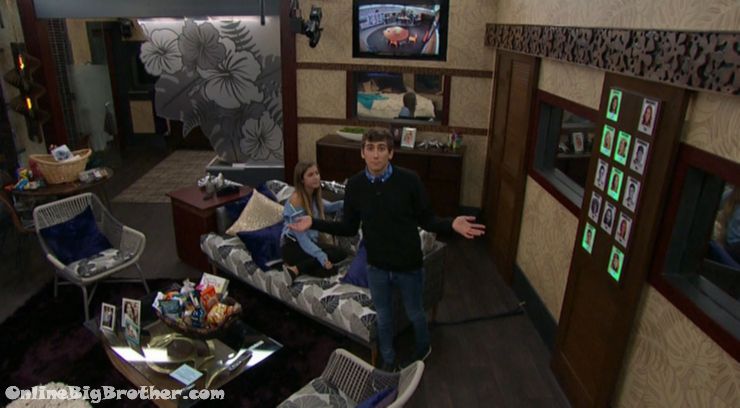 7:08pm Safety Ceremony .. Jason nominates Danielle and Shelby nominates Whitney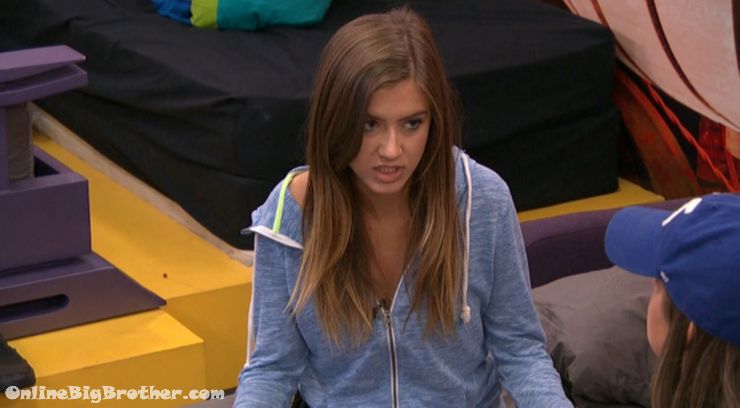 7:31pm Shelby and Whitney
Shelby says Justin told them he won't vote you out over Danielle.
Shelby – Jason won't even change the noms if he gets it.. (POV)
Whitney – who is America's nom
Shelby – Alex or Morgan .. Justin will vote them out over you, Kryssie will vote them out over you
Whitney says Jason wants Danielle out they might vote Danielle out.

Shelby – there's no situation you go home.. you're fine
Whitney says last week she felt that Scott and Alex were turning around .
Shelby – Alex will not vote you out over Daneille I can promise you that
They both start crying..
Shelby says if she puts Alex and MOrgan up they will go home and then they won't have the numbers during double eviction.
[polldaddy poll=9572675]