POV Holder:
?
POV Competition
Aug 22nd
POV Used
?
POV Ceremony
Aug 24th
HOH
Austin
Next HOH
Aug 27th
Original Nominations:
Steve and Jmac
After POV Nominations:
? and ?
Have Nots
No have nots this week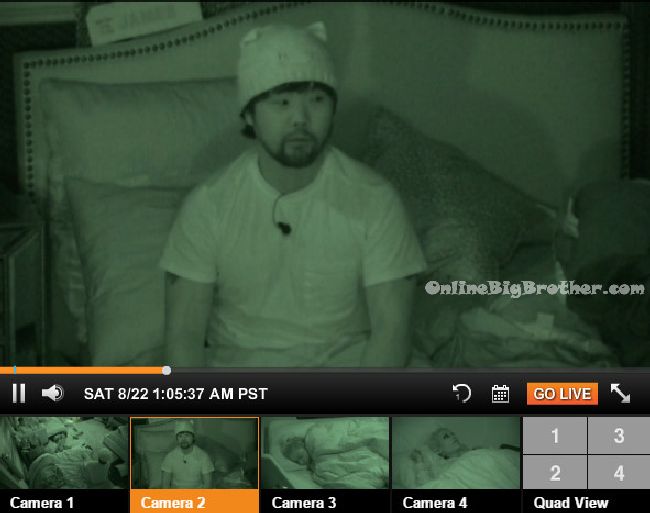 See what they can't show you on TV Try the live feeds for FREE!
1am James says goodnight sweetheart! Steve says goodnight James! James says shut up Steve, not talking to you. Meg says do it again! James says I'm talking to Meg! Good night sweetheart! Steve says goodnight honey! Meg says goodnight pumpkin pie! James says you ruin our hammock date and then you ruin our nightly goodnight. James says at home we pranks better. Back home we get the big brass hooks and after a night of drinking we put them in the floor so when the person gets up to take a piss the come through the door and trip. Steve says that could hurt someone. James says in the morning they wake up and they're drawn on all over. They've got all kinds of sh*t all over them, syrup, etc. Steve says you screw with them while they're blacked out. Have you ever been screwed with, that way? James says they try to but they know whatever they do to me, I'll do it 10 times worse. Like if they mark on me, I'll paint them! I've been saran wrapped to chairs and I'll saran wrapped them back. Put mouse traps on alarm clocks and set the alarm to go off early in the morning. Steve says that's awful! James says they started getting smart so we would take mouse traps to light switches and unscrew the lights. This one is really foul. We put a dead rat in this guys cereal and when he poured it, it came out. They've saran wrapped my truck before so that I was late for work. They've crisco'd the floor before. James says these are just tame ones. Steve says yeah, no tea bagging. James says no. Another one we would have one guy with an air horn, another with a bucket of water, and another with flour. We would wake the person up with the horn, hit them with the water and then the flour. Steve says that would ruin someones bed. James says yeah but is hilarious.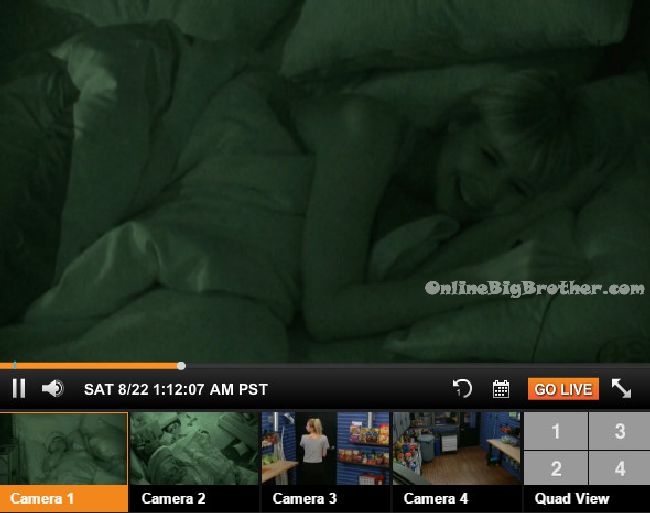 1am – 1:40am In the comic room – Julia is scared from James just hiding in her closet and scaring her. Julia says tomorrow Vanessa you have to help me scare him because that was f'd up! Vanessa whispers something about covering their faces and scaring James while he is sleeping. Julia says I hate scaring someone while they're sleeping but.. Vanessa says we have to go below the belt. Julia says he is going down he can't keep getting away with this. Julia asks what do you think about this.. tomorrow right when the music goes off I'll get up and go hide behind the trash cans in the storage room. I'll be able to tell which ankle is his. Vanessa says that's good! Julia says then I'll get up and just scare the f**k out of him.. he'll never expect it! Vanessa says and when you do that I could lay in his bed and scare him when he comes back. Vanessa says I think you reaching out and grabbing his ankles would be even scarier. Vanessa says if you're going to do that then saran wrap your face. That would be even scarier. Vanessa says another one could be where you hide inside the bed and reach out and grab him when he goes to sleep. Julia says yeah. Julia goes to grab the saran from the kitchen to put it in the storage room. She then tests out the hiding spot behind the garbage cans. Julia comes back to bed and says his a$$ is grass! Vanessa says don't forget to put a hole in your mouth to breathe. Julia says oh thanks for telling me that. I would have f**king killed myself. I'm going to get him so bad tomorrow I can feel it. Vanessa says maybe we take the coffee machine and set it to go off in the middle of the night. We put tape over button and honey all over it so when he tries to turn it off he gets his hands covered in honey. Then we hide under the bed and scare him. Julia says oh my god I love it.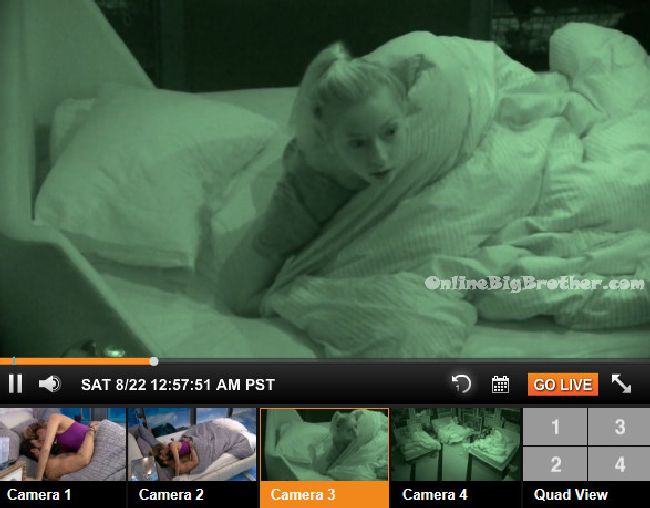 Watch the NEXT WEEK of the Live Feeds for FREE! Click here for your: 1 Week Trial
1:25am – 2am HOH room –Liz says its prefect to take out Johnny Mac now. Austin says the problem is if Johnny Mac wins the veto. Liz says I know you're worried about Johnny Mac winning veto but I got it last week boo. I'm worried about him (Steve). Austin says yeah but even if he comes down we could just put up a pawn and send Mac home. If its the other way around we are royally f**ked! They notice Steve on the spy tv. Liz says he is getting so confident which is fine but be needs to check himself. Austin talks about his letter and how it sounded like it was written a couple weeks into the season. Liz says that's a scary thought what your parents think of me and what mine think of you. Austin says they will adore you. Austin says Steve has a high probability to win tomorrow but I would rather he be playing for himself than for Johnny Mac. Liz asks what if he wins it and takes Johnny Mac off. Austin laughs and says that would be the dumbest move in history. Steve stays on the block. If Steve comes off we can negotiate anything because we have the votes and can get Johnny Mac out. We can put someone else up like Meg. If Vanessa wins next HOH she would put up the returnee and Steve. Liz says yeah let her do something for you. Austin says or I could still backdoor her (Vanessa). Liz says I wish he (Steve) would have been more cooperative. Austin says but I'm the one in power. Liz says sorry, not sorry.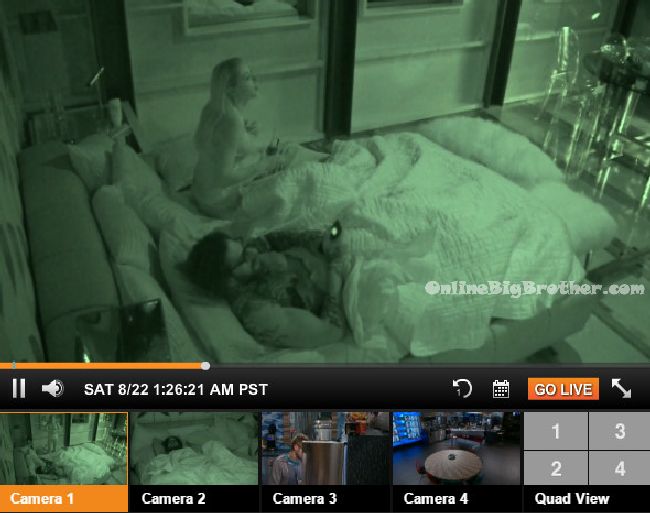 1:45am – 1:50am Bedroom –
James is up talking to Meg. Steve gets up out of bed and takes his things into the havenot room. James gets up to tell him they will shut up. Steve says he just needs to get sleep for tomorrow. James tells him he'll be quiet and stop talking. Steve brings his things back to bed.
2:05am Julia goes to the washroom. James gets up and hides in her bed. Julia comes back and knows he's in there. She says James, James! Ahhh.. I hate this. She open the door to get more light. James comes out from under the covers and goes back to bed. Julia tells Vanessa oh its on tomorrow!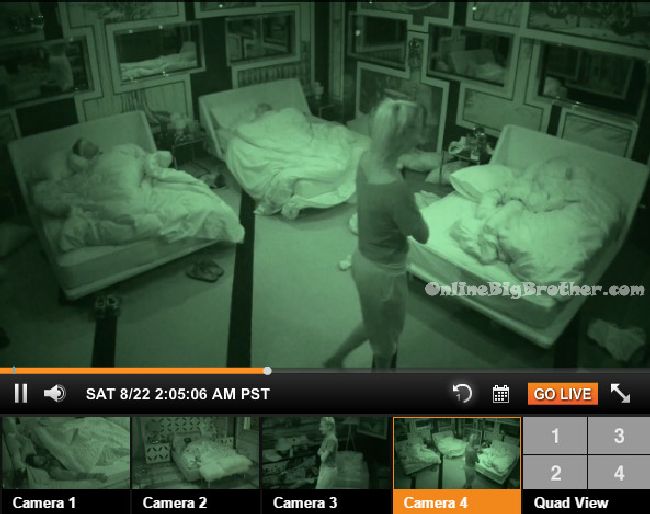 @bigbspoilers #bb17 pic.twitter.com/fel3dY4IsW

— Dawg (@DawgsBigBrother) August 22, 2015

ALLIANCES:
"Goblins/Gremlins" = James and Meg
"The Generals" = anyone allied with Becky
"SOS" (Students of Sound) = Steve and Vanessa
Rockstars = Steve and Jmac
AUS-Twins = Austin, Julia and Liz
"Austin's Angels" = Austin, Liz, Julia, Vanessa
"Brass Tacks" = Gobins and Austwins
The new "Brass Tacks" = Aus-Twins, Meg, James + Vanessa
"Freaks and Geeks" "The Scamper Squad" = Aus-Twins, Vanessa, Steve
"The new Freaks and Geeks minus Vanessa" = Austin, Liz, Julia, Steve, Johnny Mac
"The Authority" = Austin, Liz, Julia, Steve
[polldaddy poll=9035699]