POV Holder:
?
POV Competition
Aug 22nd
POV Used
?
POV Ceremony
Aug 24th
HOH
Austin
Next HOH
Aug 27th
Original Nominations:
Steve and Jmac
After POV Nominations:
? and ?
Have Nots
No have nots this week
6:27pm Meg and James
Meg saying she's missing the city
James – you know what they call New York
Meg – what
James- the city that never sleeps
Meg – It's true
James- I wish they would let you turn the lights off during the day
Goblins doze off..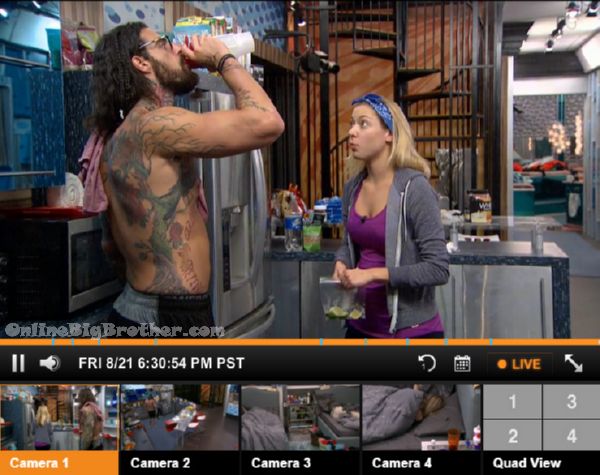 6:29pm Liz and Austin
Austin going over his conversation with Jmac "And he believes it"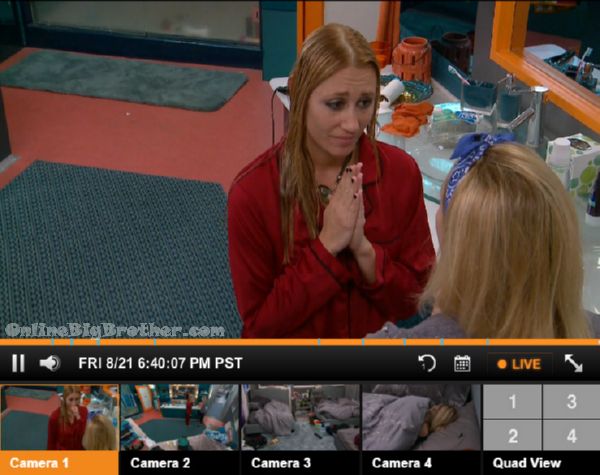 6:39pm Vanessa and Liz
Vanessa thanks her for helping her stay off the block
Liz- I always talk sense to my people
Liz – what it came down to we've had your back and you have our back
Vanessa goes on about how loyal she is.
Liz says Steve was arguing why it should be her over him
Vanessa- I could have been like him I could have played dirty but I didn't
Vanessa says she's going to fight hard to win the POV so Austin doesn't get any more blood on his hands.
Austin joins them..
Vanessa – we gotta stay in power next week and tilt the scales in our favour
Liz – hopefully Becky comes back
Vanessa says if Becky comes back she'll go right back out.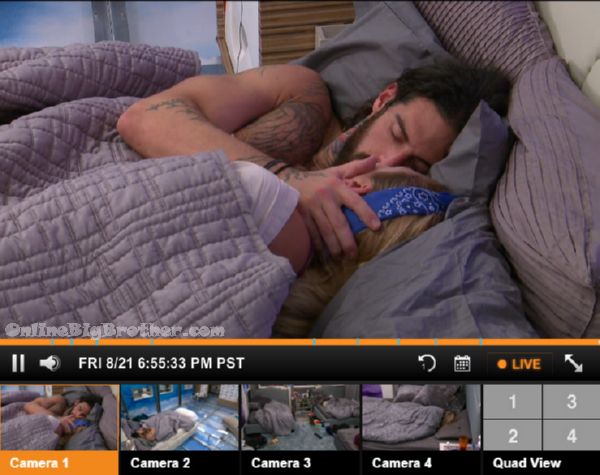 6:48pm Liz and Austin
liz says at first she wasn't excited he won HOH "It was bittersweet" but now she's happy
Austin asks why she was cheering on the side lines
Liz – I wanted the room
Austin says Meg and James winning the POV will be best.
Austin – If Johnnymac wins the veto he's still on our side.. we're in a really good spot .. we're going to have to crack an egg.
Liz says steve not being OK with being used as a pawn means he's "Selfish" and "Immature"
7:11pm Austin and Liz HOH
Talking to the cameras "I'm not a bad guy I just play one on TV"
Austin – "The point is I had to make a tough decision and choose.. I want to roll with Meg and James right now I like them We have fun, this house gets to ya.."
"Meg and James are fun we do stupid sh1t"
Austin explains Steve Steve is at odds with Meg and James so they bring Jmac in with Steve now they are allied with Jmac/Steve/Meg and james. This position is fine as long as they don't have to make a power decision unfortunately he won HOH.
Liz curls up beside him. Start running her fingers through his hairy chest.
They start talking about Vanessa being the biggest target in the game keeping her around is good for them.
Austin – she could still be backdoored this week I don't want to do that though"
They ask camera if they should trust Johnnymac because right now they don't.
Austin asks the camera why does johnny mac yell in the Diary room so much "Why does he spend so much time in the Diary room he does nothing"
liz – in the house he's so lameeeeeeeeeeeeeeeee
They wonder why Steve, Shelli and Clay all went to bat for Johnnymac.
Austin goes on to explain his reasoning for not putting Vanessa up.
Liz – Don't get Vanessa mad because when she's mad she's scary
They both say they don't want the nominations to change they want Johnnymac to go.
Austin ends the talk that Johnnymac and Steve both think they are pawns but Steve is the real pawn.
Steve joins them (Liz is sleeping)
Austin – Vanessa is 100% back on board.. it put her where I need her.. I need her good
Steve asks if Meg and james are left in the game and Becky comes back won't that be a bigger risk.
Austin says the hope is the goblins would target Vanessa.
Steve tells him he doesn't want to talk game.
they talk about how old they were for Big Brother 6, Austin says he was in college. Steve was in 6th grade, Liz was in 7th grade.
Austin says he talked to Jmac and they hugged he thinks he's good with it all.
Steve – 70 to 80 percent of the hugs in this house include me
Steve – sounds like you really trust Vanessa… she worked some magic on you
Austin says they laid it all on the table , "As long as she's here.. she's the Audrey target right in front of me"
Steve asks who goes up James and vanessa
Austin – it's 50/50
Steve – no it's not
Austin – Why
Steve – just listen to you
Steve says the Jury house is probably trashing Vanessa right now
Vanessa – then why get rid of her before they come back
Steve says Vanessa did a brilliant job on Austin to convince him to keep her around.
Austin tells him the integrity of the secret they are working together is important and because Austin put him up it's going to help that.
Steve – you went with the easy decision today
Austin – i went with the Austin not the judas
Austin claims come Monday morning if he has the top hat on he'll make a tough decision
7:55pm Steve points out that Austin was wearing the top hat today.

Austin asks if this is the longest as showmance has made it
Steve says Jeff made it 5th on season 11
Steve – do I have Vanessa's vote this week
Austin – yes 100% not after what I did for her
Steve – than I have nothing to worry about
Austin says if Jmac wins veto he'll put someone up to make sure Steve stays
Austin – if there's a chance you go I would not have put you up.
Austin tells he's going to need his help protecting the twins from all the guys there's going to be a lot of guys after them.
Austin talks about going to a Big Brother party after season 15, Says Jeremy was not cool but Judd was.
Austin adds that Andy and Amanda were not invited to Rachel's party\.
Steve saying he really likes Jace
Austin – why
Steve – I really liked him
Steve says Jason was a bully to him 'He was so mad the kid with no social skills made it further'
Austin – he was the one making personal attacks
Austin is shocked Clay and SHelli are gone "They thought they were sitting pretty.. locked and loaded"
Austin says the one good thing that happened for him was Jace because it kept him out of the loop for the first 2 weeks when everyone else was making
Steve counts the recruits..
Says there was 7 people applied and 10 recruited.
Austin wonder why even bother going through the casting process..
(Applied = Da, Austin, Steve, James, Jason, Audrey Vanessa)
Austin is glad he was on this season over last season. (He was supposed to be on last season but didn't follow through due to relationship issues)
They start talking about how they got into Big Brother. Steve never had many friends "I didn't have a social life until College"
Austin says he never had a social life he was home schooled, "I didn't start dating girls until I was 19, 20″
They both spent there summers watching feeds.
[envira-gallery id="129829"]
8:40pm Meg is sleeping