POV Holder:
?
POV Competition
Aug 22nd
POV Used
?
POV Ceremony
Aug 24th
HOH
Austin
Next HOH
Aug 27th
Original Nominations:
Steve and Jmac
After POV Nominations:
? and ?
Have Nots
No have nots this week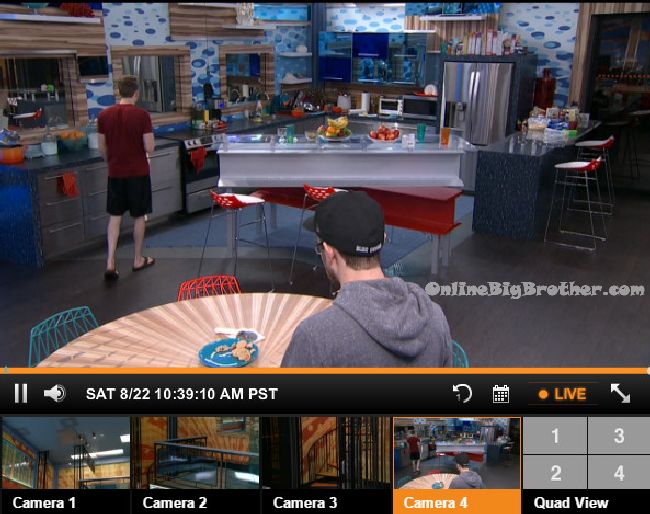 9:45amAustin gets called to the diary room. In the bedroom – Meg comes back to bed from the bathroom. James asks where's that big a$$ robot at! (ZingBot) At 10:30am Big Brother wakes up the house guests. When the feeds return – Steve comments that its crazy they've been woken up to DR's on a Saturday. Steve says we'll probably have the veto player selection soon.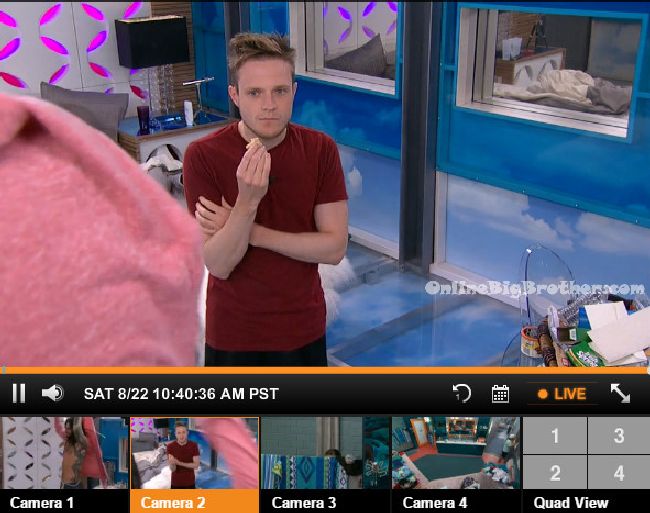 10:38am HOH room – Johnny Mac comes up and asks Austin – Who should I pick for veto (If he gets house guest choice). Austin says or does it matter, I don't think it matters. Johnny asks if I pick Liz or Julia would people know? Johnny says If I pick Meg its funny. Austin says you could do that. Johnny says if I have no option I'll go Julia or Liz. Austin says unless I have Liz already because that's my house guest choice. Austin says we have to think strategy because I just put him up. Austin says I think Julia or Meg. Meg is a safe one that probably won't wi. Johnny says she came close one time. Austin says If they do win it they will want to use it because they'll be pressuring me to get that same target (Vanessa) out. I think you could pick her if you want. Let get it done! We'll see what it is. Johnny says then you could just give it to me or Steve if you want. Then it doesn't look like its all your fault, you know?! Austin says alright lets get it done. Johnny leaves. Liz says I feel bad. Austin tells Liz if he f**king wins it we have to be teammates. We just have to be cool. we're just going to have to go with whoever wins. We aren't trying to backstab anyone, we will just have to make a decision if someone wins it.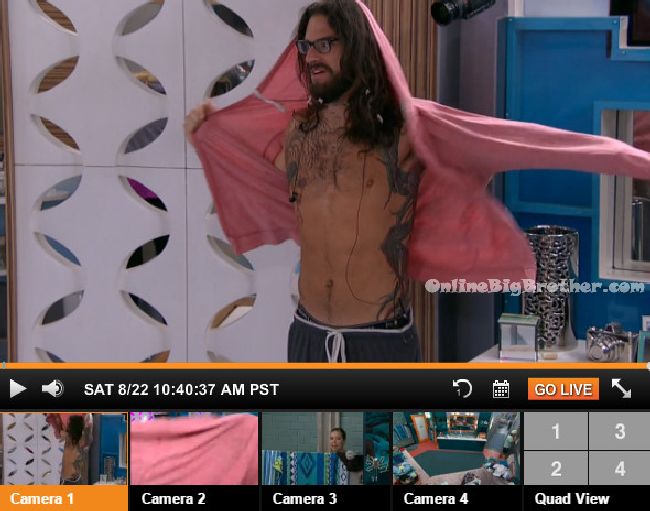 10:45am – 11am In the bathroom – Johnny tells Meg he will pick her if he gets house guest choice. Meg says good, I really want to play in it. In the kitchen. Austin and Liz are making breakfast. Julia comments to Vanessa that she didn't wake up to do it (scare James in the storage room). Vanessa says yeah I know me too, that's why we suck!
Watch the NEXT WEEK of the Live Feeds for FREE! Click here for your: 1 Week Trial
11am Bathroom – James says it would suck to be a woman .. they have to worry about getting a period, pregnancy, breast cancer, putting on their face every day. Meg says you have to worry about being an a$$hole. Johnny says no that just happens, there's no stress with that. Julia comments that Zingbot needs to be mean, especially for James. James says he will have to come up with something good for Meg. Meg says she wants it to be something new, something different.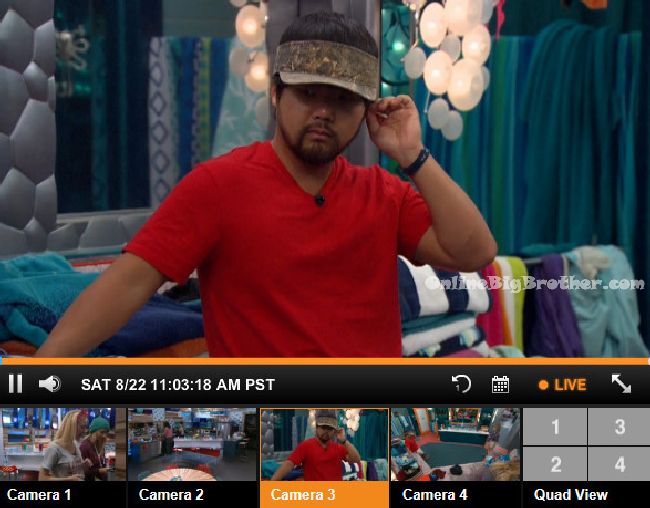 11:30am In the kitchen the house guests are making / eating breakfast. James says it would suck if ZingBot doesn't come this 8 but comes the next 8 (final 8 after a jury member comes back). Meg comments on how the zing for Cody and Christine last year – Cody you've made no enemies except for Christine's husband! ZING! Liz says he's going to get Austin good! Austin says I'm not worried, I've heard it all! Liz says Steve's is going to be epic. Austin says Steve you're a f**king piece of sh*t ZING! Steve you are a trombonist .. enough said ZING! Meg says its going to be great because its an outside view of us too. James wonders who will win America's Favourite. Julia says usually its someone who makes it to jury.
11:35am – 11:50am HOH room – Liz says this is weird. Normally we would have picked veto players already. Austin says I know, come on already. Austin says if he wins its not the worst case. If he comes off I have to make a messy decision. Liz says the best would be Meg or James. Austin says yeah they know. They can look at the numbers and see they better not let it change. If it does Steve might have to go home. Austin says it will be bad for any jury member to come back. They're going to be like look Austin and Liz are running the house. Liz says we are running the house.. get over it! Austin says that's why it good to have Vanessa still in the house because its a chance they'll go after her first.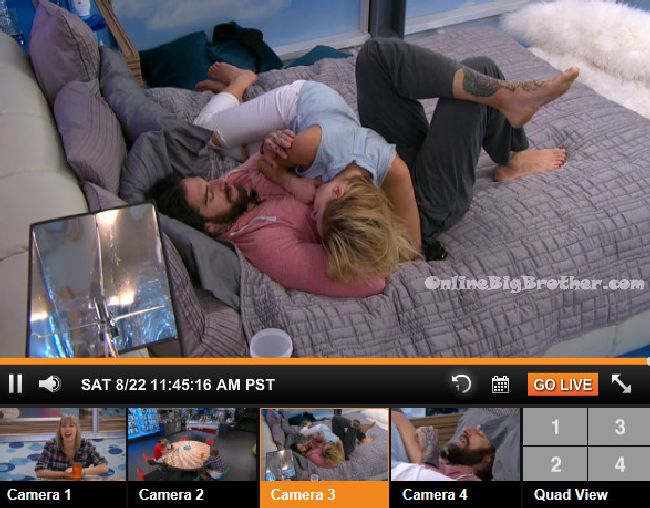 12pm Bedroom – James says I can't remember when I take these. I take one before bed and another in the morning. Austin asks what are they for? James says for herpes. Austin says take 5! James says Doctor said these are for herpes. The conversation turns to talking about last season and the prizes they won.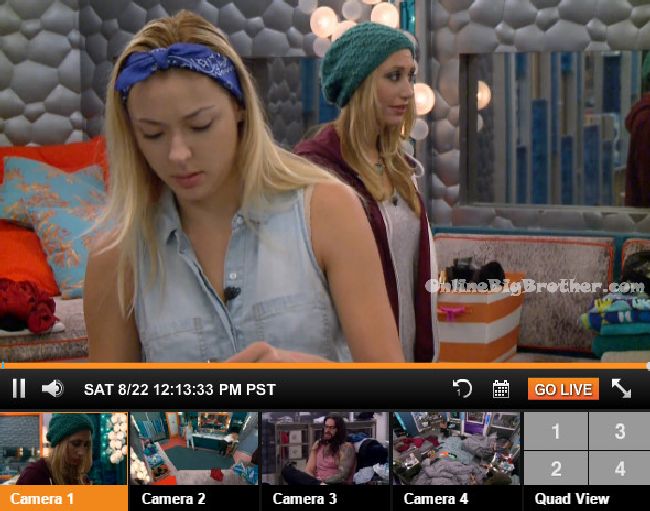 12:20pm – 12:40pm In the bathroom –
Liz tells Vanessa and Julia if any of us win we need to keep the noms the same. Austin thinks we would use it on him. Vanessa says I would never use it on him after what he did. He's got to understand no ones going to use it to minimize blood. Julia says Steve was saying f**k and sh*t. He's been cursing. It was different side of him. Vanessa says I have no problem winning it and not using it. Julia says Steve was acting like a 5 year old. I'm glad Austin didn't listen and did it. What you said about Steve not wanting to be up with Johnny Mac because he's working with him it so true. Julia says who ever comes back from jury has to go. Vanessa says she thinks Steve will do whatever it takes to win and not even care about. What people do in front of you is a microcosm of what they do behind you. Liz says Steve is very self. He did not want to go on the block. That really bothered me. Julia asks do you think Johnny Mac knew about the freaks and geeks? Vanessa says yes, maybe not the name though. Vanessa says I get so annoyed at Steve .. he is so two faced. He talks all that sh*t and then come to hug me. Liz comments on how Steve said do you really think Vanessa can beat me on the days! I think he thinks that blonde is .. Vanessa says actually said that!? Little f**Ker! Julia says he is a little sh*t! A little f**ker!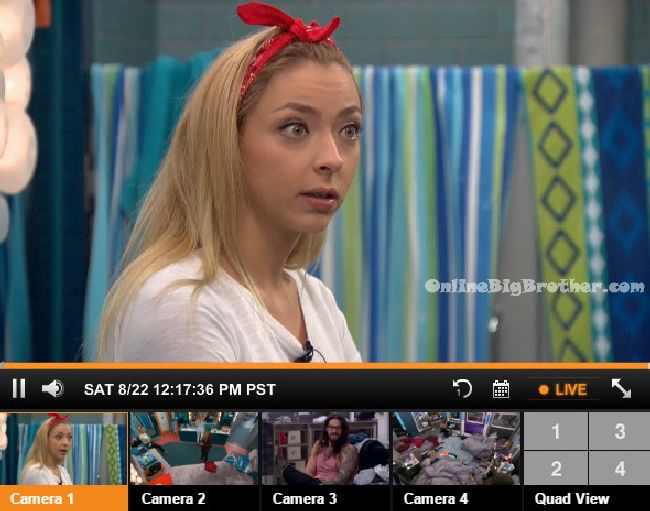 12:45pm – 1:30pm Bedroom – James and Austin are talking about camping (sex). James says lets just get in a circle and camp together. I have camped with more than one person. Austin asks one tent? James says yeah. Austin asks 2 camp fires? James says yeah. Austin says I hope you didn't burn that hot dog! James says no, it was close. James says Meg likes to camp. 73 days is a long time for her not to camp. Meg says this is all dependant if you have a good friend to camp with. James says I think this is why I like Meg. Austin says because she's an avid camper. James says yeah. She's secretive about her camping. Meg says oh my god I'm sorry to my father. Austin says there's nothing wrong with camping. James says its a healthy thing to do. Its a stress reliever. James asks Johnny if 70 days is a long time to not go camping. Johnny says not for me, is it for you? James says a week was long for me. Johnny says I haven't gone camping for a year and a half before. James says wow!! Meg take Johnny camping. Take Steve too. Johnny says I will not go camping with Steve. Austin asks do you want to show Steve how to camp? Austin says all this camping makes me want to go pitch my tent. Johnny says its been a long time since I pitched a tent. Meg says Austin been the closest to pitching a tent. James says Meg doesn't like to plan camping. Austin says Meg likes to say no to camping but likes it when it happens. Meg says oh my god I knew that was coming!! Liz joins them. Liz says we started camping. They all pause and start laughing. Liz says no the phrase. Austin says honey! Liz says Austin wishes he could camp with me. Austin says girls love it when the guy does all the work. Liz says I don't know who you've been camping with .. I know how to pitch a tent! James says you have to make sure the tent is nice and tight, you don't want a loose tent.
Craziest place you went camping:
Austin in the mountains outside a hotel by a waterfall
James charlotte russe dressing room – the music was pumping, I was bored.
Vanessa says that Ferris wheel. It was a long one like 15 minutes. James I would only need 2 minutes
Meg says in the steps down into an apartment building at 4am
Liz says in a DJ booth. Vanessa asks at night with the DJ going? Liz says yes.
Johnny says in a car in the woods.
The conversation turns to the show to catch a predator. James says any ways back to camping. Julia says I had a bad experience camping where it rained in the tent. I woke up all wet and crying. James says WHOA!! That's my kind of camping. Sounds like a good camping partner! Julia says I'm talking about real camping!! James asks Steve if he would like to go camping. Steve says I've never done it but I'd like to. Meg says this is so stupid. James says Meg would like to take you camping. Steve says that James is jealous of other peoples hot dogs. James says no, I'm not. I'm happy with my camping gear. If you want to compare camping gear we can right now. Steve says James says its not nice to talk about someone elses camping gear when you don't know the size of it. Steve says I know .. because of statistics and probability. That mine is better than yours. James says that's not true. Steve says I'm done and leaves.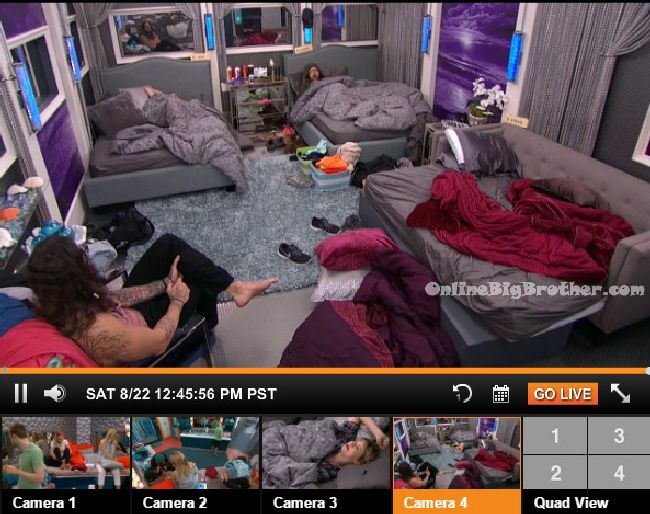 2pm – 2:10pm Kitchen – Austin, Steve, Liz and Julia are eating and chatting. They're all waiting for the picking of the veto players to happen / veto comp.
2:24pm Liz and Austin in bed chatting. Liz telling him about how shy she was when she was young. Adds that Julia much more shy than even her.
3:13pm POV Players getting picked.. Finally..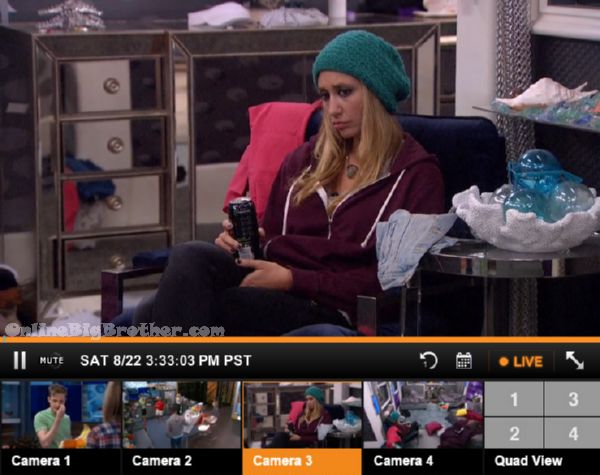 Veto Players
Austin Picked Vanessa
Steve Picked Julia
Jmac Picked Meg's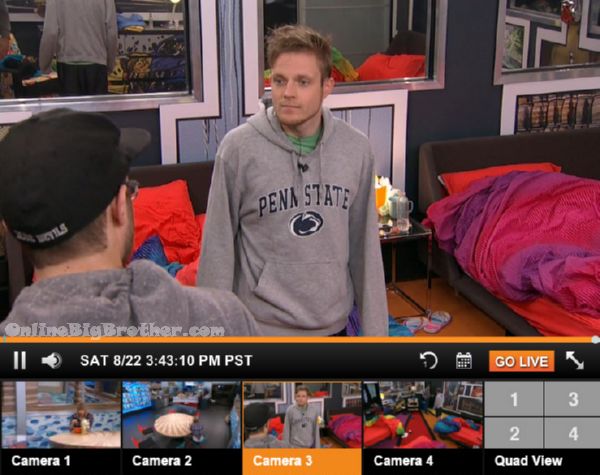 3:41pm Steve and Jmac
John – I do trust them
Steve – Who
Jmac – Austin I guess
Steve says he thinks the 6 person alliance is solid there's 4 (twins, Austin and Vanessa) and The Goblins (Meg and James)
Steve – something is up that we don't know about.. we win and pray to god vanessa goes up or James and we make it through this week
Jmac – ya
Steve – I would be lying if I said I didn't throw my fair share of HOH's but that phase is over for me.
Jmac – Ya man
Steve- I didn't think I would go up this week.
VETO Players: Austin, Johnny Mac, Steve, Meg, JUJU, Vanessa @bigbspoilers #bb17 pic.twitter.com/Hh7rZeCm83

— Dawg (@DawgsBigBrother) August 22, 2015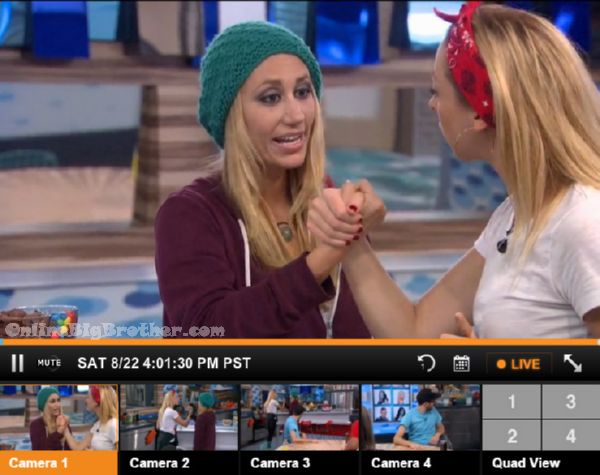 4:01pm Vanessa teaching JUJU how to arm wrestle
"It's a contest who can crack the wrist first"
JUJU Strong #BB17 @DawgsBigBrother pic.twitter.com/Uy7zPGEjZ3

— OnlineBigBrother.com (@bigbspoilers) August 22, 2015
Steve exposes what lives under the green beanie #BB17 @DawgsBigBrother pic.twitter.com/2tkRGLZL44

— OnlineBigBrother.com (@bigbspoilers) August 22, 2015
5:27pm Still waiting for POV…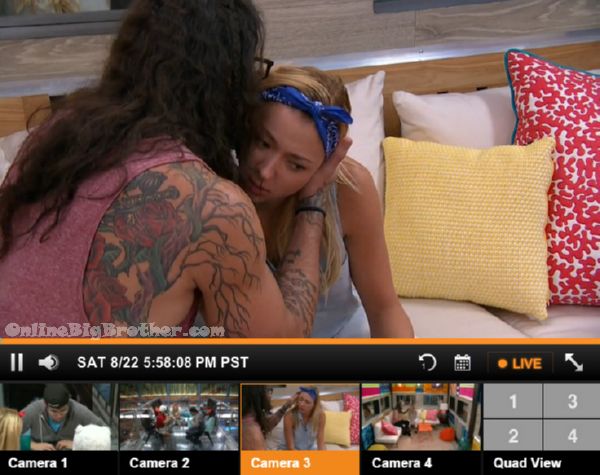 5:58pm Austin and Liz
Austin says by the question he's getting in the Diary room someone in the house is lying to them.
Feeds cut….
When we come back Austin is talking about not knowing what to do come Monday. Does he put up Vanessa or james.
Austin – do you even want to be in a final 5 with Steve and Vanessa, we'll lose
Austin – what if Steve is the loyal one
Austin – I hope Meg is playing hard.
Austin is pissed that nobody has come up to the HOH and talked to him after the players were picked, 'Don't they know I can backdoor any of them"
Austin says if they don't make the right decision this week next week one of them are going home.
Austin says they need to find out from both groups meg/james, Jmac/Steve who they want out this week. if everyone says Vanessa they protect vanessa and take out of of those four.
Liz says Steve and James are closer than they think, "They're always playing chess together"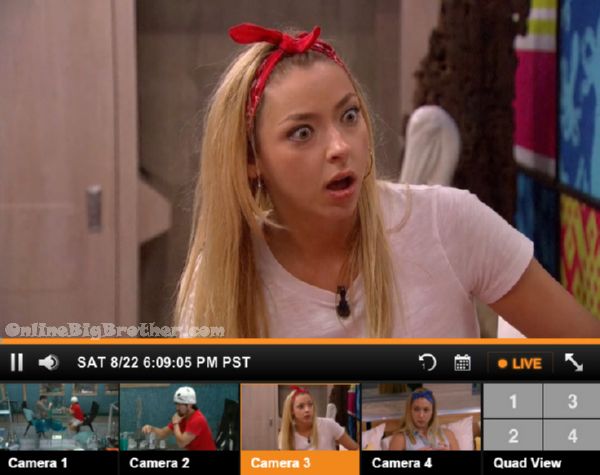 Julia joins them. Austin tells her to win the Veto at all costs. Austin says if Vanessa is truly alone they need her in the game.
Liz – I hate to put you under pressure but it's all you
Liz tells Julia if she's not winning HOH she's not going to win the game.
Austin – You're the secret weapons because when you win one nobody will expect it and it'll save us
Julia – I'm going to win one
Austin says the only way he can get James out without blood on his hands is if Vanessa wins the veto takes down Jmac. He's forced to put James up he can't put up the twins.
6:31pm Feeds cut for zingbot (POV)
7:19pm No feeds for you

8:03pm NO
9:10pm Feeds NO
10:10 NO
11:06pm No never feeds
ALLIANCES:
"Goblins/Gremlins" = James and Meg
"The Generals" = anyone allied with Becky
"SOS" (Students of Sound) = Steve and Vanessa
Rockstars = Steve and Jmac
AUS-Twins = Austin, Julia and Liz
"Austin's Angels" = Austin, Liz, Julia, Vanessa
"Brass Tacks" = Gobins and Austwins
The new "Brass Tacks" = Aus-Twins, Meg, James + Vanessa
"Freaks and Geeks" "The Scamper Squad" = Aus-Twins, Vanessa, Steve
"The new Freaks and Geeks minus Vanessa" = Austin, Liz, Julia, Steve, Johnny Mac
"The Authority" = Austin, Liz, Julia, Steve
[polldaddy poll=9035699]