POV Holder:
James
POV Competition
Aug 29th
POV Used
?
POV Ceremony
Aug 31st
HOH
Vanessa
Next HOH
Sept 3rd
Original Nominations:
Meg and James
After POV Nominations:
?and ?
Have Nots
Johnny Mac, Julia, James, Meg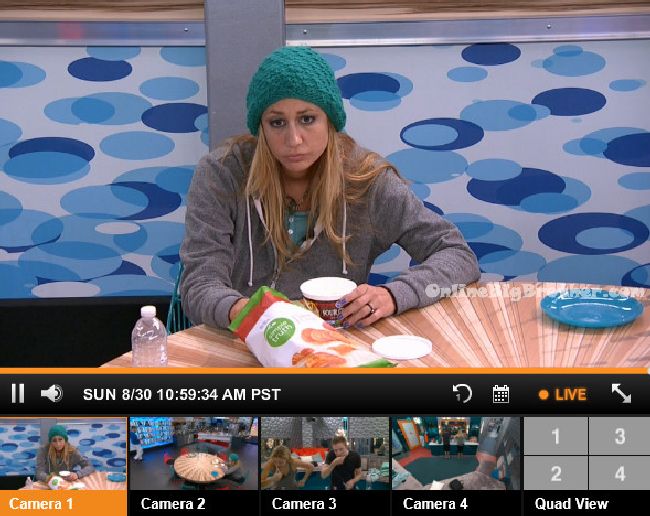 10:55am Big Brother wakes up the house guests. The live feeds return to Johnny Mac still out on the backyard hammock. Vanessa is in the kitchen having the breakfast of champions – chips and dip. Johnny Mac and Steve join her in the kitchen. Vanessa says Johnny Mac has been upping his hair gel game. Steve says I have not even attempted to get in the hair gel game. Vanessa contemplates going back to bed. Austin and Liz are up and in the bathroom getting ready for the day. Johnny Mac and Steve head outside. Steve says I think we're doing well. Just to double check you figured it out but not from me directly. I also mentioned that you would be okay voting out Meg. Johnnny says MmmmhHmm. Steve says if she put a pawn up. That was my way of covering our a$$. Which is true. Johnny says I had a really good idea last night.. We vote out Meg, then preferably I win HOH but if you win it that's good too. Or if James wins it we redirect him. We take out Liz. You get close to Julia. Vanessa gets close to Austin and I get close to James. Johnny motions to it being a circle. Steve says that's a thought. That would be hard if we're putting them up but thats an interesting idea. Johnny says no, Vanessa could be like Austin I never put you up and you're free to do whatever you want when Liz is gone. And same with you with Julia. You guys are tight. Think about it. I'll run it by her too. One thing that we've got that Austin and the twins don't is that we can spit up. Austin and the twins can't. Steve cautions Johnny not to say any strategies to Vanessa until after the veto is used. All she needs to hear is that you will vote out Meg. Johnny says I will 100% vote out Meg. Steve heads inside.

Watch the last month of the feeds for ONLY $5.99! Try it 1 week for FREE!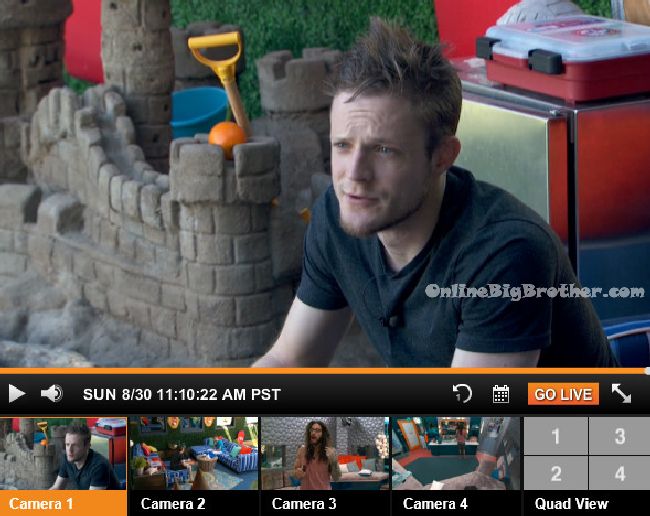 Steve comments to Austin that bowling and pot ball are cancelled. Everything is cancelled this week. Austin says I know. Austin says hopefully he doesn't hate us. Steve says I hope so too. Austin says its a game. Liz is just scared with her sister on the block. Just keep reaffirming her. They (James & Meg) are going to come at you hard for your vote. Steve says I am going to ask for permission to ask about how they wanted to come after me last week. Austin says you can also say you already promised Julia your vote when you heard she was going up. Steve asks James isn't going to do something funky with the veto is he. Austin says no. He'll use it on himself. Steve says they could make up whatever the hell they want and I wouldn't believe them. Austin says it could get crazy. Steve says even if you don't trust me just look at my game. If I did it I would have a whole lot of people after me. It doesn't make sense for my game. Austin says checkmate.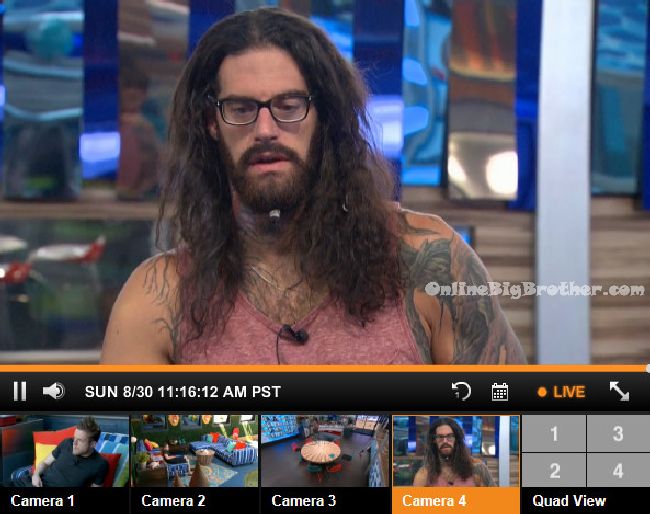 11:25am – 11:35am Steve joins Johnny Mac again. I don't think you should be hiding stuff from Vanessa about what you told me. Don't listen to me, you do what is best for you. Johnny says as far as I'm concerned its just us three (Johnny Mac, Vanessa, Steve). Thats everything I've thought of. Steve says that is an very interesting idea. Johnny Mac says a lot has to go right for that to happen though. It would be an interesting set up. Steve says it would be. Johnny says I'm just playing video games. Johnny Mac and Steve talk about video games and game shows.
See what they can't show you on TV Try the live feeds for FREE!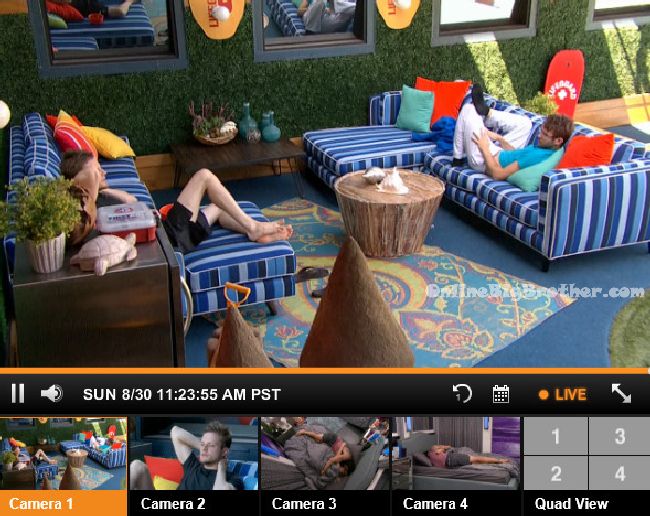 11:50am – 12:15pm Vanessa heads outside and plays a game of pool with Johnny Mac. Big Brother puts the house guests on a backyard lockdown. All the house guest head outside. James says he forgot where he worked at Staples or Office Depot. Meg says I cannot picture you at office depot. James says the secretaries that come in are hot.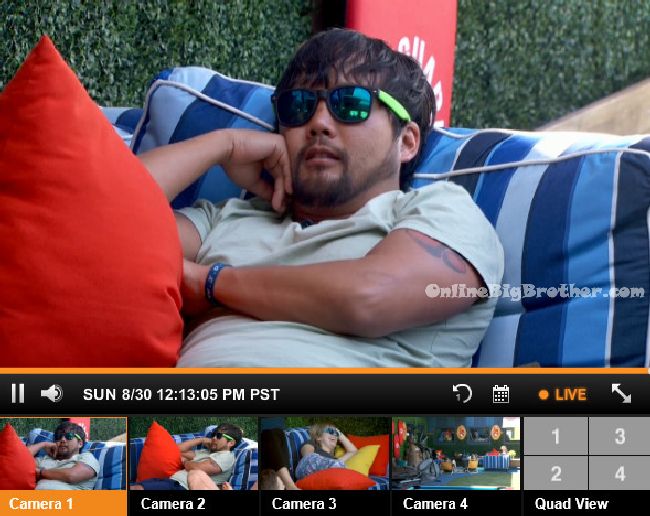 Help support all the live feed updates we provide.
Show your support by making a donation. Any amount is greatly appreciated!
ALLIANCES:
"Goblins/Gremlins" = James and Meg
"The Generals" = anyone allied with Becky
"SOS" (Students of Sound) = Steve and Vanessa
Rockstars = Steve and Jmac
AUS-Twins = Austin, Julia and Liz
"Austin's Angels" = Austin, Liz, Julia, Vanessa
"Brass Tacks" = Gobins and Austwins
The new "Brass Tacks" = Aus-Twins, Meg, James + Vanessa
"Freaks and Geeks" "The Scamper Squad" = Aus-Twins, Vanessa, Steve
"The new Freaks and Geeks minus Vanessa" = Austin, Liz, Julia, Steve, Johnny Mac
"The Authority" = Austin, Liz, Julia, Steve
[polldaddy poll=9046808]