POV Holder:
McCrae
Next POV
?
POV Used
POV Ceremony
Sept 9th
HOH Winner:
Spencer
Next HOH:
Sept 11th*
Original Nominations:
Gm and McCrae
Current Nominations:
Last Evicted Houseguest
Aaryn, Amanda, Elissa
Have Nots
3:12pm Backyard JUDD and Andy
Chatting about the jury votes. JUDD jokes that Andy is this years Shelly. Andy says that was his plan all along.
JUDD is worried that he's lost Candice's vote because he kissed Aaryn. Andy – "she won't base her vote off of who you kisses"
JUDD – "She looks at it like that she'll look at it like I kissed a racist".
Andy says Aaryn has probably told everyone in the jury house she kissed JUDD.
Andy – Oh my god I don't want to go to that Jury house"
JUDD – "I don't want to go this week.. next week wouldn't be as bad"
THey mention that one of the people filming in the walls wears high heels and she always walks around at 4am.
Andy wonders what the girls were thinking when Amanda and Elissa walked in. JUDD thinks Aaryn was very happy. They agree Spencer does not have too many people against him in the jury house because he spent most of the game on the block.
JUDD says the only reason he wanted to keep Elissa over McCrae was she wasn't very good at competition. Andy mentions how Elissa was able to get into the zone and win them from time of time. JUDD thinks it doesn't matter most of the time if you want it or not sometimes you just can't win it. Brings up the puzzle yesterday how he wanted it so bad but just wasn't going to win it.
Andy – "This game is better suited for guys.. girls are way too emotional'
JUDD – "Helen… that's probably why Janelle did so good she wasn't emotional.. Rachel was emotional"
JUDD says he does kinda feel bad for ELissa because she was a bit in Rachel's shower. Andy doesn't feel bad for her she applied for the show she knew what she was getting into to.
Andy – "She wasn't nice or easy to be around with.. Some days She we joked around but it would always get undermine if you looked at her wrong she would get pissed"
JUDD- "She did.. she would get mad at the weirdest things.. and stay mad"
Andy – "She wasn't rational you couldn't deal with her
JUDD – "Amanda was just a b!tch"
Andy – "Amanda was nice to me but she was a a$$hole to other people and I didn't like her.. there was some days I was thinking I don't know if AManda is a nice person"
JUDD says his speech is going to be like " I lied about my profession I'm really a exterminator.. I'm afraid GM will yell out YA exterminators"
Andy laughs mentions how GM was doing cartwheels in the kitchen on a broken toe.
GM joins them.. Start to tell them about her stitches. She says her body went into shock and she started shaking.
JUDD – "Hey GM you look nice.. " GM says she's getting ready for the photo booth.
They bring up that Amanda would use 10 dishes to make the most simple thing in the kitchen. GM says Amanda was the worst cook. JUDD agrees says he had tho throw out that burger she made because it wasn't even cooked.
Andy says the best cooks were GM, Elissa and Candice. GM and JUDD agree.
GM adds that Aaryn was the best at baking.
Andy says Aaryn was pretty good at cooking mentions the quesadillas she made.
They all agree they had no intentions to going on the party bus to the Vegas bash. Andy is glad there is not Vega bash he kinda just wants to go home. GM would rather spend the time with Nick.
JUDD – 'I don't want to get blackout drunk.."
GM – "Hopefully Nick and I will take the same flight back"
Andy says he always thought he was the biggest Big Brother fan then coming in to the house he realizes he's not, 'I never even watched Big Brother After Dark"
JUDD – 'Will you get the feeds next year"
Andy – "I think I will.. If I have the time"
JUDD says he watched the feeds for Big Brother Canada.
They all agree Jillian from ET Canada was super cool. Andy says Jeff's interview was the best he kinda feels bad for rooting against Jeff during Big Brother 13. JUDD liked Jeff's interview a lot.
Andy – "I kinda hope Spencer gets a Pandora's box just something to pass the time this week"
JUDD – 'it's way too late for a Pandora's box "
GM – "Usually thieve had four already."
GM points out that McCrae's life is probably just like waht he's doing now. Delivers pizza at night and sleeps all day. Andy – "And obsesses about Big Brother"
Big Brother 15 N*de flashback times here
3:46pm Backyard Andy and JUDD
JUDD wishes there was a competition where they could distract each other. JUDD would hold McCrae down so Andy would get HOH.
GM joins them
JUDD jokes if he wins he's buying GM a big plastic bubble so she doesn't hurt herself anymore.
JUDD – "I'm officially out of cigarettes"
Andy – "Oh no JUDD"
JUDD – 'I've been 5 weeks without cigarettes before
Andy – 'why was that'
JUDD – 'I just quit.. I was very grouchy.. I wish I could trade McCrae something.'
McCrae joins them.
JUDD – "McCrazy.. you just slept the day away"
Andy – 'you missed the luxury comp this morning'
JUDD – 'we watched a movie'
You can re-watch ever second on the feeds using the flashback feature.. It's just like a DVR and is super easy to use. click this link for a Free Trial —> Subscribe to the Big Brother Live Feeds
4:07pm Backyard ANdy, GM and JUDD
GM says the longest guy Amanda has ever been with is McCrae because she was stuck in the house with her. GM says Amanda has a new guys every week.
4:15PM Spencer finally rolls out of bed. Chats with McCrae in the kitchen. McCrae says everyone outside thought he was on the hammock. They kept calling him from the couch outside.
Spencer – 'Dude.. like GM is so f*** wildcard.. even if she cut her foot off if there is an endurance.. "
S – "If she made it to the final 3 with us she's fast.."
Andy joins them asks what they are talking about.
Spencer – "Gm being such a wild card"
4:25pm Showing off their bruises from the POV competition
Everyone is up milling around the kitchen.
They don't think they will be getting the BBQ back.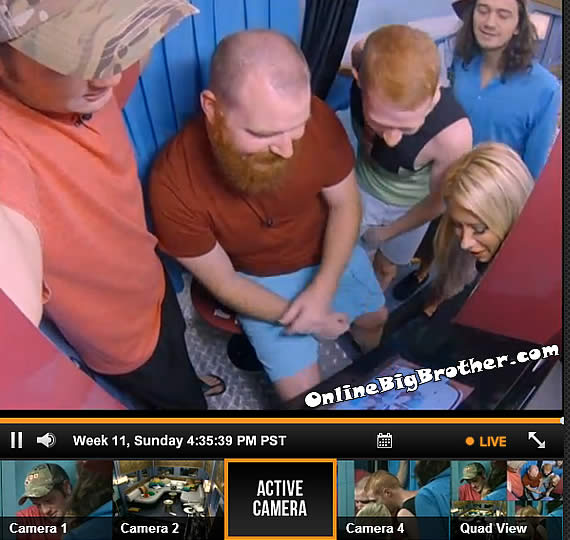 4:37pm Photo Booth time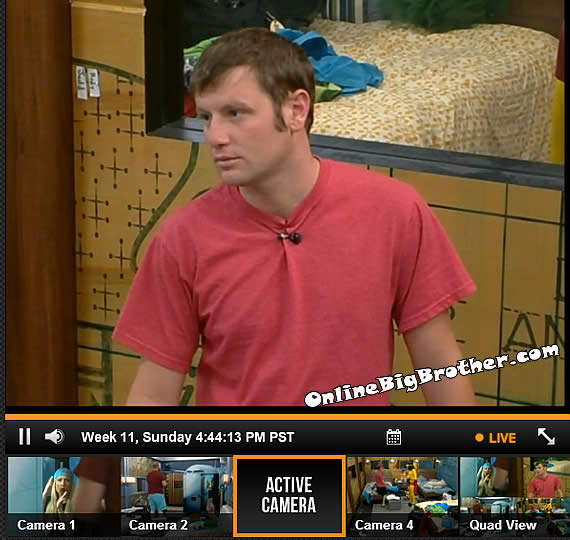 4:45pm Bedroom JUDD and McCrae
JUDD asks MC if he's voting out GM. MC says yes.
4:46pm Bedroom Andy and JUDD
JUDD asks Andy if he's voting to keep him.
Andy says yes of course.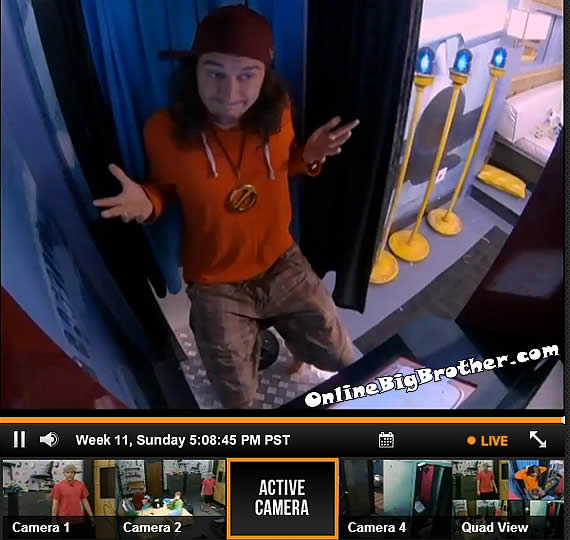 5:10pm Photo booth
5:56pm Everyone bedroom
Chatting about how awesome Chef Joe was last season because of all the stories he use to tell. Like the time he said he made up the name for "I can't believe it's not butter"
McCrae says once he heard him say that on the feeds he was a insta fan of Joe. (LOL same with me)
If you enjoyed the site this season please consider a donation.