POV Holder:
McCRAE
Next POV
Aug 31st
POV Used
POV Ceremony
Sep 1st
HOH Winner:
GM
Next HOH:
Sept 5th
Original Nominations:
Amanda and McCrae
Current Nominations:
Last Evicted Houseguest
Aaryn
Have Nots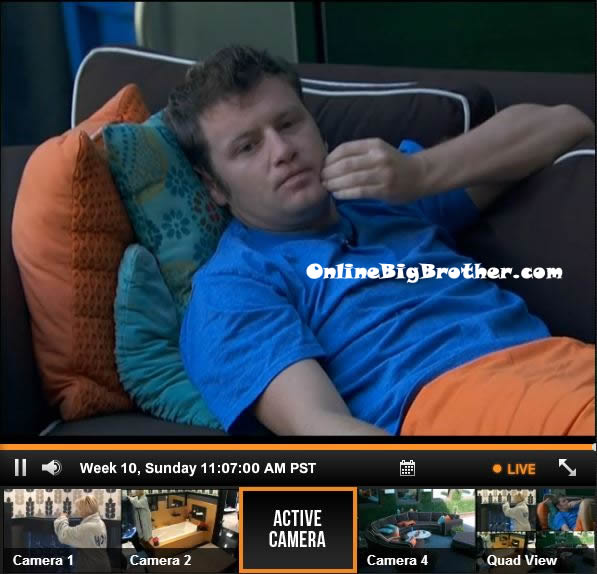 Big Brother 15 Live Feeds FREE TRIAL: FLASHBACK FEATURE
11am – 11:40am Judd joins Elissa out in the backyard. Elissa tells him that she was just thinking about the possibility of a question competition. She tells Judd would be at a disadvantage because he missed stuff while he was in jury. She says she guesses they could do a before and after competition though. Judd and Elissa start going over past events. They think they will be asked a questions about when they got the big brother cups and bowls. Elissa says one of us has to win HOH this week. Either me, you, Ginamarie or Spencer need to win it. Elissa asks Judd who he would put up if he won. Judd says Amanda for sure and a pawn. Elissa asks would you put me up? Judd says I don't know I would want someone to volunteer to go up. Elissa says well I definitely don't want to go up. Judd asks if Ginamarie will put him up tomorrow. Elissa says no. Judd says he is impressed with Ginamarie so far. I am jealous that she got to put up Amanda and McCrae, I wish I would have done it. Elissa says yeah me too. Judd says he wishes he hadn't got into an argument with Amanda while he was in his chicken suit. Elissa says Amanda is a hot mess! Judd says in all honesty I wish Amanda would have won the veto because I would feel more comfortable going against her in the HOH and veto competitions. Judd and Elissa continue to talk about the POV competition. Judd says he doesn't know why Amanda picked Spencer because he wouldn't have used it on her. Elissa says she is delusional. Judd says not one person would have used it on her. They wonder if the face morph competition will happen this week if they have a double eviction. Judd and Elissa talk about the possibility of the what would you do for the veto next week. Judd asks Elissa would you give up all your clothes. Elissa says yeah I would. Do you get them back. Judd says no they give them to charity. Elissa says oh yeah that's cool I was going to sell them anyway and give the money to charity. Elissa tells Judd he should make McCrae feel safe so he doesn't try to hard for the HOH. Judd says I am going to try to make him think I want to work with him. Judd says he can't believe there hasn't been a Pandora's Box yet.
11:45am – 12:05pm Judd comments that he doesn't want to say anything he saw or heard in the jury house because he doesn't want to get a penalty nomination. He says not that I saw anything that would be an advantage anyways. Judd says I think you guys had more of an advantage being able to count stuff. Judd says watch McCrae win HOH next week he would clearly put you and I up. Elissa says don't even say that, I hope not. Judd says we just have to make sure we beat him. Elissa says I wasn't even mad at Amanda, I was just scared because she is crazy. Elissa and Judd head inside. Elissa goes to lay down again. Andy gets up and Judd jokingly says well well if it isn't the ugly big old liar. Andy laughs.
12:25pm – 12:45pm All the house guests are in bed sleeping..
1:25pm Still sleeping..
2pm Nothing going on – All four cameras showing the house guests sleeping..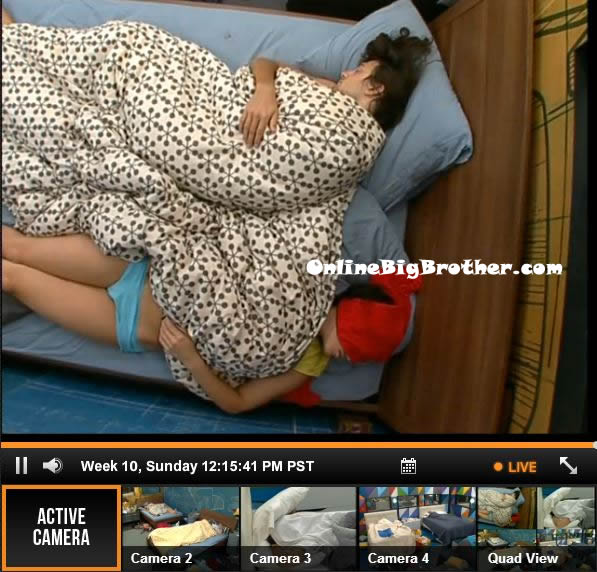 2:05pm – 2:25pm Amanda wakes up and heads straight to the HOH room. She opens the door and looks in to see Ginamarie sleeping. She then shuts the door and heads back downstairs to the washroom. Judd joins her in the bathroom. Amanda comments that she can't believe its 2pm and everyone is still sleeping. Judd says he couldn't sleep last night. Amanda asks why do they wake you up first thing every morning? Big Brother cuts the feeds. When the feeds come back – Judd says he wondered if McCrae used the veto on you and then Elissa went up and we all vote her out. Amanda says she was thinking the same thing this morning. Judd says he doesn't know if McCrae would do it though. Judd says I would definitely vote for McCrae to stay. Amanda says all I would need is 3 votes. If she (Ginamarie) won't put up Elissa, then I don't have any loyalty to her because that means she wants me gone. Judd agrees and asks so you really don't think she would put me up? Amanda says no. Andy joins them. Andy and Amanda talk about their dreams. Andy comments that McCrae will probably sleep in till 6pm. Andy asks does he normally sleep this much in his everyday life? Amanda says yeah, but its not going to happen if he moves in with me. Amanda and Andy head into the kitchen. McCrae is now awake and heads outside for a smoke. Judd, Andy and Amanda join him on the backyard couch.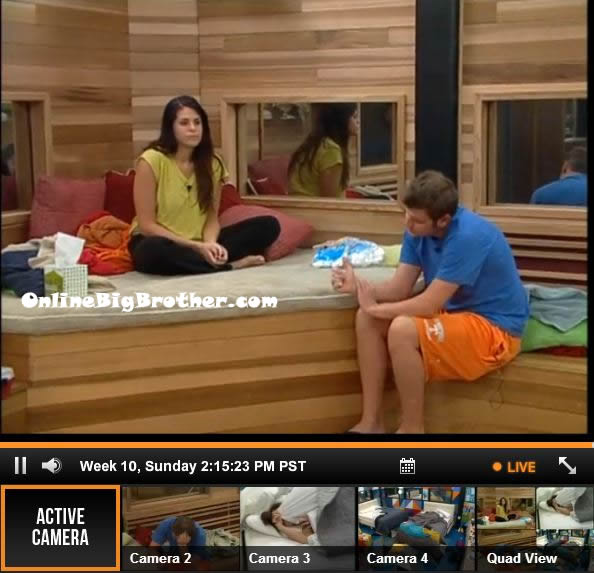 2:40pm Out in the backyard – Amanda talks to Andy and McCrae about trying to get Ginamarie to put up Elissa as the replacement. Amanda says you know when Kaitlin won the veto and people were scared she would use the veto on Jeremy. Amanda then turns to McCrae and says I am not asking you to use the veto on me by the way, I would never ask for that. Amanda says what if you brought it up to Ginamarie that you are thinking of using the veto on me. No one else would know but me, you and Andy. You tell her that you feel like you would have the votes no matter who you were up on the block against. You could make a deal with her that if you use it on me that she would put up Elissa. And we make everyone think that you would use it on me. Andy and McCrae both say it's worth a shot. Amanda says that Judd keeps coming up to her asking if there is any way to keep both of them. Judd is fishing for information. He is the one that brought it up to me. Andy says but if you say your going to use it on her but don't then she wouldn't put up Elissa. Amanda says but you swear to her that you would use it on yourself and for her to put up Elissa. Amanda says because she wants McCrae to stay, she doesn't want him to go. Amanda ask do you think that would work. McCrae says it could. Andy says that it all depends on how gullible Ginamarie is. Andy tries to think through different possible scenarios. He says that if that did happen and Elissa did go up she would freak. Amanda heads up to the HOH room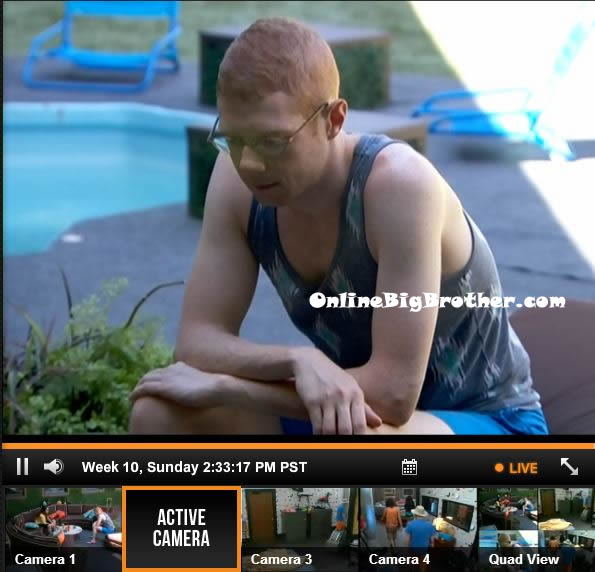 2:45pm – 3pm Photo Booth time..

Use the Big Brother Live Feeds to FLASHBACK to SEE what they can't show you on TV:
BB15 N!p Sl!ps / N*des
Share it YO!!
Tweet