POV Holder:
McCRAE
Next POV
Aug 31st
POV Used
POV Ceremony
Sep 1st
HOH Winner:
GM
Next HOH:
Sept 5th
Original Nominations:
Amanda and McCrae
Current Nominations:
Last Evicted Houseguest
Aaryn
Have Nots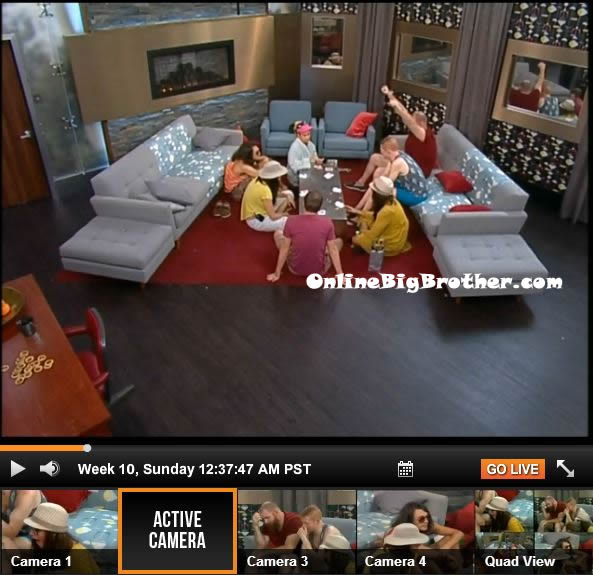 Big Brother 15 Live Feeds: FREE 2 DAY TRIAL
12:40am – 12:50am Big Brother opens up the backyard and house guests finish their blackjack game. Amanda sits on the HOH stairs and asks Ginamarie when can we have your room again. Gina says maybe the last night. Amanda says but I want to get him drunk. Gina says but the thing is, I don't want to have to wash the sheets again. Amanda says yeah that makes sense. Gina says no not like you're going to get them all.. Amanda says no we will! Amanda questions who's sheets did we get really dirty that one time? McCrae says no ones! Gina says well you got tanning on my bed. McCrae says no ones Amanda! Judd asks did ya'll have sex in my bed. Amanda says yeah we did. McCrae says no we didn't! Judd says gross. McCrae says it did not happen Judd. Judd asks whenever I was HOH did ya'll have $ex in my bed? McCrae says no. Judd says gross I'm going to get ring worm and all the new deseases. Amanda says you're going to get pregnant with McCrababies babies! Judd says we need a Spanish fly trap in the bathroom, those flies are everywhere!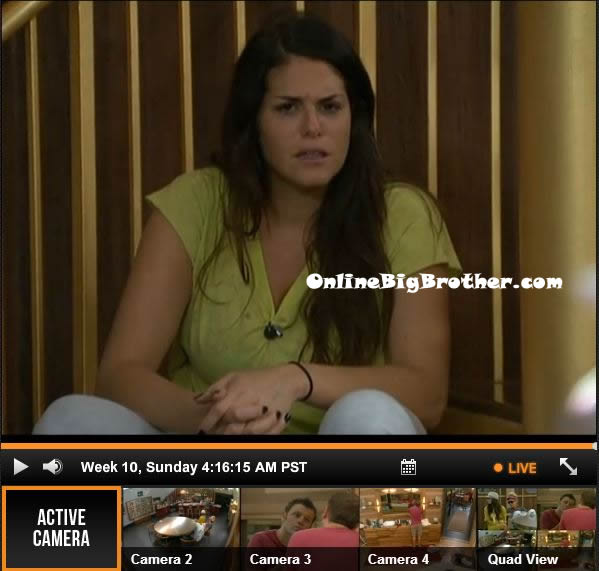 12:55am Amanda and McCrae are in bed. Amanda is crying and telling McCrae about how much she is going to miss him. I just love you so much. I don't even care about the money. I am so happy you won. I am just going to miss you so much. I know you are going to be around till the end. Amanda says I know she doesn't want me to stay here, she is not going to make it happen. She isn't going to put Elissa up. She's just not going to do it. We can try but it's not going to happen. Amanda says I love you and I fell in love with you and I never would have met you if I hadn't come in here.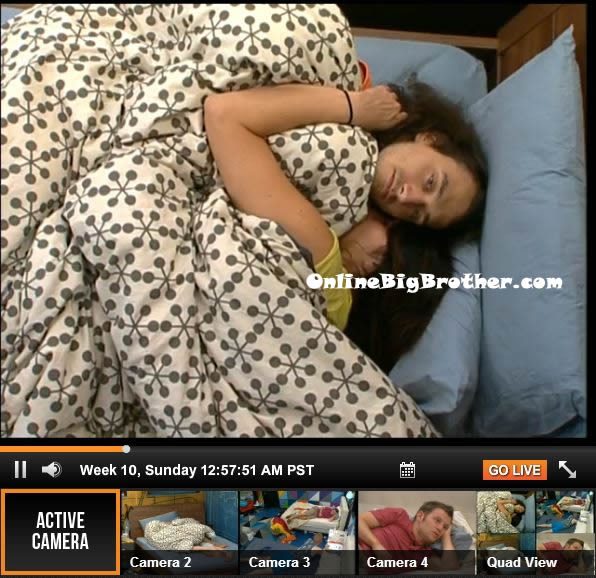 Meanwhile in the rainbow bedroom – Judd and Andy talk about if McCrae wins HOH this week. Judd think he would go up. Andy says he think McCrae would put up Elissa and Ginamarie. Judd says unless there is a twist Amanda is a walking dead woman. I do not want to be the first guy in the jury with the 5 women. Andy and Judd discuss letting Amanda know about the exterminators alliance (Gina, Judd, Andy, Spencer). They want the jury members to know. Judd says who ever wins HOH they would need to put up Elissa. Andy says we would need to put up one of us like me or Ginamarie so that if he (McCrae) doesn't get the veto we can put him up. We just have to make sure that Elissa and McCrae don't win the veto. Andy and Judd talk about there not being any pandora's box's and how they wonder if there will be any.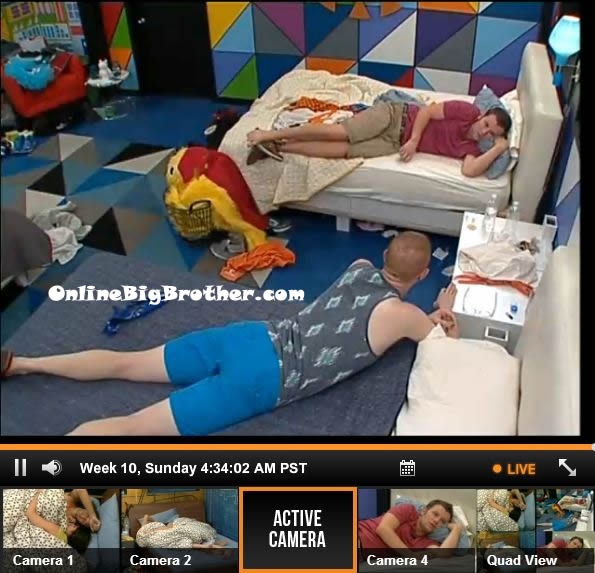 1:30am In the bedroom – Amanda, McCrae, Andy, Ginamarie and Spencer talk and joke around about past events of the house. They talk about Jeremy, Aaryn and Kaitlins alliances the Triangle of Thrust and Boats and Hoes. Andy questions who was in boats and hoes. Gina laughs and says I don't know I might have been in it. They continue to laugh and joke around about random things.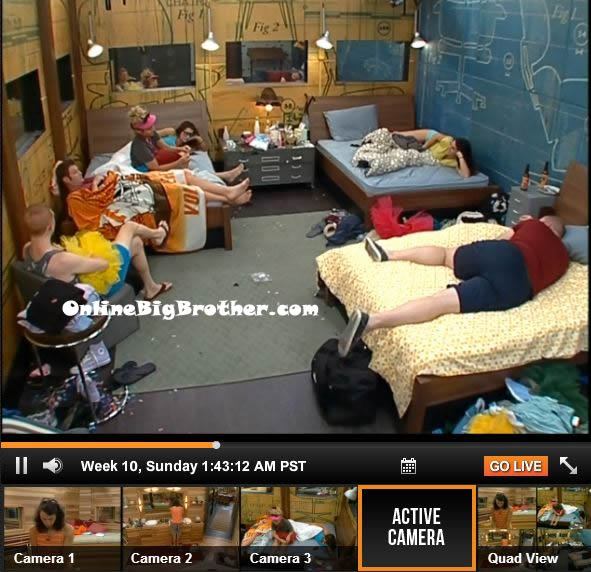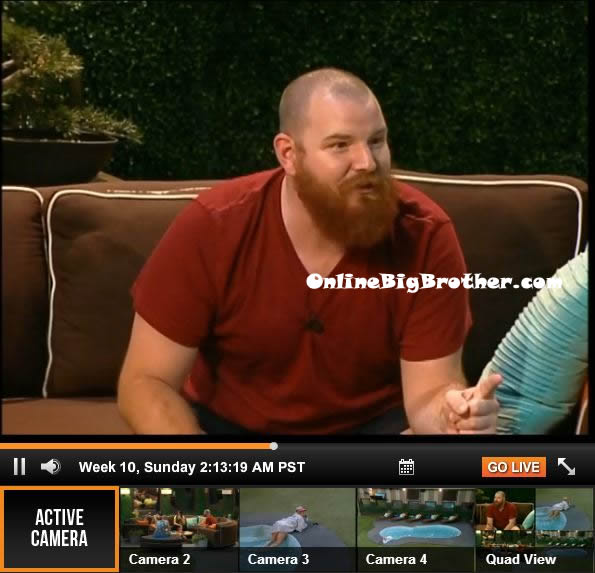 2:15am Out on the backyard couch – Andy, Amanda, Spencer Ginamarie and McCrae talk about past events of the house like the hat incident when Spencer told Aaryn that Candice sat on her hat and Aaryn flipped out. Spencer says I was sitting out here and I grabbed her hat kind of aggressively you know and it was just a straw hat. So I went inside and handed it to her and Aaryn asked what happened to my hat?! So I said I think Candice sat on it. Amanda cracks up laughing. They all laugh and find it hilarious that Candice never did it. Andy says let me add that to the list of how Spencer screwed over Candice. They continue talking about other past events of the season. Ginamarie says I don't think anyone will remember Helen because all Chinese people look-a-like. Amanda laughs so hard. Judd says Ginamarie! Ginamarie! She is Korean. Andy says oh my god! Judd says Ginamarie is going to have people chasing her with knives. Ginamarie says the only ones I know are the ones that do my nails. Judd says don't say that. Ginamarie says it's not like, well you know what I mean. It's like saying all black people look-a-like. Judd says stop! Andy says I feel like you never really know how we are being portrayed or what America thinks of us. Judd says yeah some people watching the live feeds are offended. Amanda says I have a strong feeling that I am loved and hated. Amanda says I just feel safe saying anyone in the brenchel Army hate me. Andy says maybe this f**ks me over for America's player but anyone who is in the brenchel army are idiots. Spencer says I would be happy if anyone of us got it. They talk about how none of them want Elissa to get it and how they think she will get it. Amanda say Elissa doesn't deserve it, she didn't make game moves and doesn't respect the game, she wanted to walk out and not go to jury. Amanda and McCrae head inside.
Big Brother 15 Live Feeds FREE TRIAL: FLASHBACK FEATURE
3:20am – 4:50am The Exterminators Alliance talk in the backyard – Andy, Judd, Spencer and Ginamarie. Judd asks so Amanda and McCrae are pushing for me to go up. Gina says yeah you and Elissa. Gina says I will put up Spencer and tell them that he's been the pawn before. Spencer says he know if he is up Elissa will for sure vote out Amanda. Spencer says he thinks the fans are like finally some people came together to get Amanda and McCrae out. Gina comments she called Elissa f**king loonie toons all the time! Andy says she is f**king crazy. They talk about Amanda's behaviour. Spencer hopes that Amanda is like she is now outside the house when they go to Vegas. Gina tells Spencer about how Aaryn hates his guts. Judd asks if they think Amanda is viewed as the biggest villain? Andy says yes, but says Aaryn was in the beginning. Judd says he thinks Aaryn shed that role. Ginamarie asks Spencer what her nomination speech should be when she puts him up. Spencer tells her that she should say that he is a good dude but that Elissa, Judd and Andy never nominated her. They all decide to go to bed.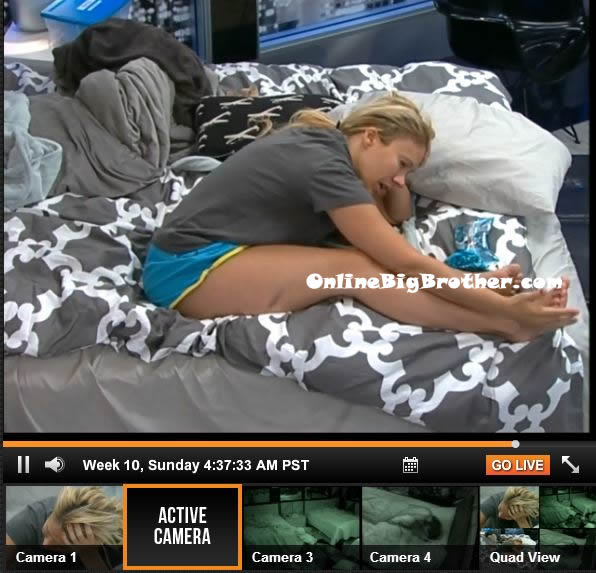 5:40am All the house guests are still sleeping..
10am Big Brother wakes up the house guests..
11am Elissa is the only house guest awake. She is out in the backyard drinking her coffee. All the other house guests are still sleeping..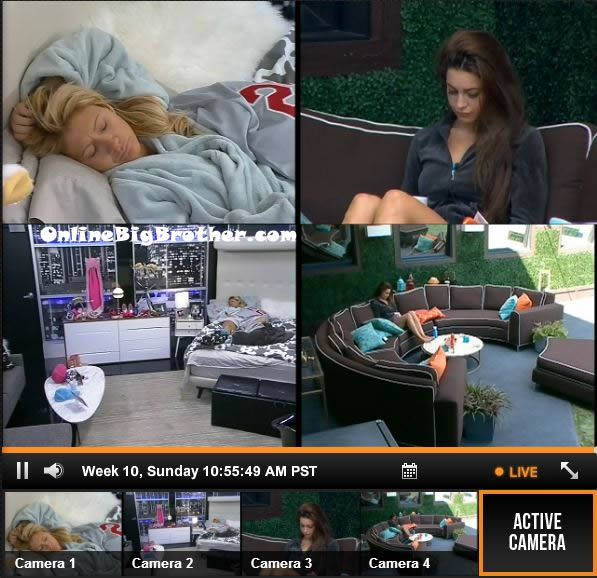 Use the Big Brother Live Feeds to FLASHBACK to SEE what they can't show you on TV:
BB15 N!p Sl!ps / N*des
Share it YO!!
Tweet