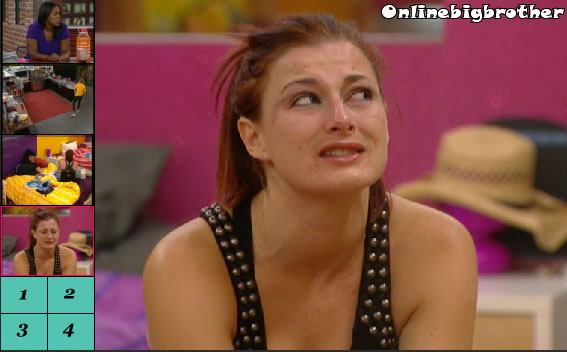 9:35pm Bedroom rachel and Jordan (they're team is decimated so there very sad.. rachel is taking it the hardest)
Rachel says that Shelly is a fake liar. Jordan agrees, Jordan cannot handle another week in this house with those girls. She feels like they're getting picked off one by one. Jordan seems to be taking it alright.. She says they will all be in the Jury house with Dani and we can tell her she should of stuck to the plan. Rachel bawling says she had it with this game and these stupid people.
Jordan tries to comfort her tells her they both know how this game works they'll win again they just need to suck it up. Rachel says she really misses brendon.
Jordan: "Believe me Jeff is going to be tough this year on his voting"
Rachel says Porsche is just jealous because she's never had a boyfriend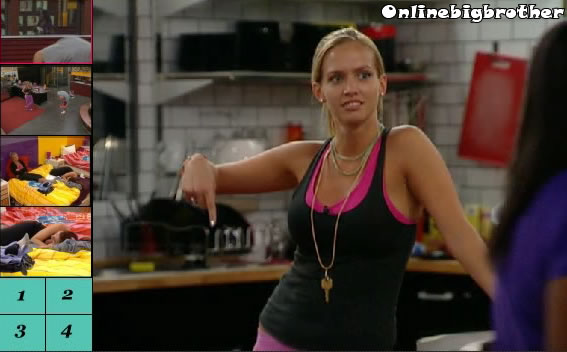 9:45pm Kitchen Adam has now surgically attached his lips to Porsche. He congratulates her on kicking ass in the HOH comp says this is a good day for her One POV and a HOH
Porsche goes to see Shelly in the bedroom. Shelly is pretty torn up about what happened today. Porsche tries to comfort her tells her everyone needs to realize it's a game.
Porsche now sneaks in and listens in on JR's sadness. They are calling Dani a bitter BLANK in real life. They think all the people in the kitchen (newvs) Hate jeff and are jealous of him
Porsche tells Adam that last night she was practicing and before she went to bed she got 4 in a row in the hole. (The HOH comp was the snake they practiced last night)
(Adam is a BLANK… seriously what a disappointing player)
10:01pm Quad
Adam is kissing up to the newbs now telling them that he had a fake alliance with JJR.. JR are keeping to themselves but have at least stopped crying.. Shelly is broken up and laying in bed.
Share it YO!!
Tweet