POV Holder:
Zach
Next POV
April 24
POV Used
?
POV Ceremony
April 19
HOH Winner
Zach
Next HOH
April 22nd
Nominations:
Godfrey and Jordan
Have Nots
Godfrey, Sarah, Jordan, Bruno
POV Players
Zach, Jordan, Godfrey, Sarah, Ashleigh, Pilar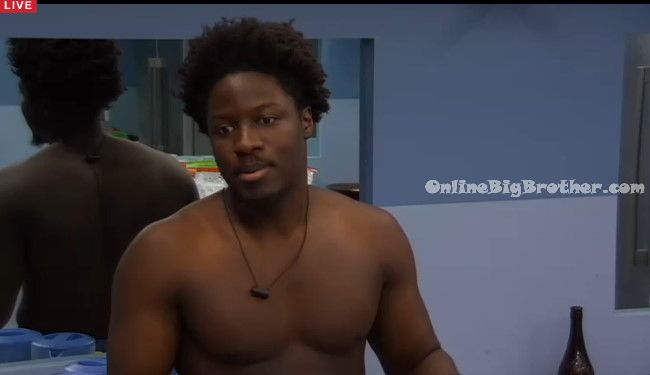 In the storage room – Godfrey campaigns to Cindy for her vote: Godfrey tells her that he already has 4 votes. (He thinks he has four votes but he doesn't) He tells her that if he stays he would be the target next week and not her. She tells him that's what she told him the week she was voted out and he didn't vote for her to stay. Cindy says that she doesn't even know if she can vote this week since she wasn't allowed to compete.


11:30am Up in the HOH room – Zach says oh, yeah people do know. Jordan says Yeah that was me .. If anyone asks I am weak, I f**ked up, she's manipulated me and that she needs to go because she's going to control me and get me to do stuff. That's a test, to see if I could trust her and its already leaked out. So I know we cannot trust her. Zach says Nice! Jordan says we can trust her with very minute details but nothing major because if we do the whole house will know. Sarah told me that she already told her and Willow. Willow is saying I'm dangerous because I'm telling Cindy stuff. Zach says we can't trust her. You had to test her out. Jordan says obviously we can't trust her. She'll be going home next week. Zach says I know I'm f**king you by keeping you on the block buddy but right now with Bobby and Bruno in front of me .. keep two big targets in front of me. And they're not coming after you. Jordan says with everyone knowing I'm the pawn this week, I'm going to end up there again next week. Zach says I won't let that happen. You add too much to peoples game to let that happen. Bobby and Bruno were just talking about how huge you are to their game. Bobby joins them. Bobby tells Jordan that he will return the favor. You keep me off the block and I'll do the same. Jordan says just so you know next week I am 100% on board with getting Cindy out. Bobby leaves. Zach says that was perfect. Bobby and Bruno really trust you so when we do backstab them you'll take heat from it too. For now I think we can do our ride the middle stuff for the next 3 weeks. We can't get comfortable but we can let the fire go back and forth. Zach says even Pili might take a shot at Bobby. She was just saying that the other day. Jordan says we need Willow out of here. Zach says she was in bed with me saying she would never put me up. How do you expect to win saying that to everyone.
Jordan says he'll say in the veto ceremony "As a wise man once said Alec.. Zach why use the power on me? Because why not Bro! Tom Plant!"
11:50pm – 12:10pm In the HOH room – Jordan and Zach continue their conversation. Jordan tells Zach about how Cindy said one of the social media questions said Willow sucks. So if there is a Canada's HOH she would go up. Zach says I think people hate Willow because she is so nuts. If I was watching I would hate that. Jordan says Willow is kind of like Talla (BBCAN1). Zach says I would like some of these girls on the side get picked off. Like B. They're just votes if someone flips. I don't think B will ever put me up. Zach says Bruno said someone got in his ear and flipped him. I said it was Sarah and he said it was Sarah. She's got to go! Jordan says that's perfect!! We just can't let it get out that I was the one that planted the seeds.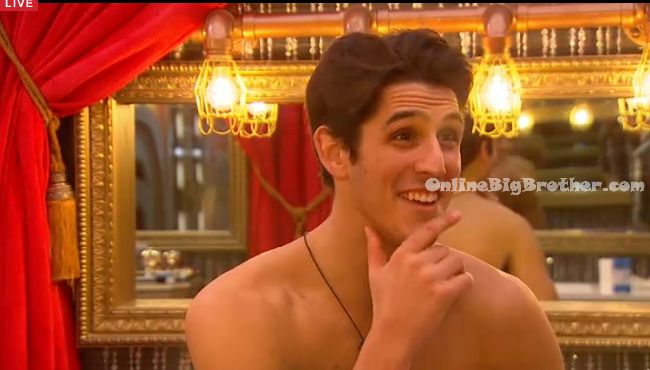 In the backyard – Kevin bench presses Pilar. She then tries to bench press him but can't. She says I'm weak!
In the kitchen – Zach tells Godfrey I love JP but I need the big boys here. Godfrey says that he is going to campaign to the girls because they're the ones that will vote me out. Zach says that everyone has been voting with the house and probably will continue to do that.

12:45am Godfrey heads out to the hot tub room and tells Brittnee he wants to talk to her. He says that Zach said he is keeping it the same. He says that he has 4 votes and asks if she'll be his fifth. Godfrey says that Zach says that he wants me to stay. He doesn't vote unless its a tie but why would he tell me that unless he is stringing me around. Bobby says he wouldn't go out of his way to tell you that. Britt says lets just wait until after the veto ceremony. Britt leaves and runs into Bruno. Britt tells Bruno that if he every ended up on the block she would probably put a target on her back because she would never put his name down. Bruno tells her he wouldn't put her name down either.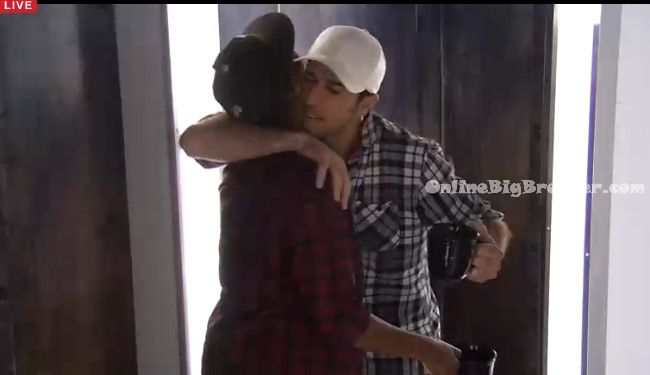 Zach and Ashleigh talk in the middle of the backyard. She talks to him about her conversation with Pilar wanting to backdoor Bobby. Zach then talks to her about Jordan and Godfrey.
1:10pm – 1:35pm In the living room – Sarah and Brittnee talk. Sarah says I almost feel like being Evil Dick in this place and f**king everyone's sh*t up. I kind of want to go on the block so I can call everyone out. If I go on that block people better watch out. Classy I didn't come in here to be classy! Classy like not calling people's sh*t out when you walk out the door. Cindy joins them. Sarah says there is no f**king way that Pilar is going to vote against Zach and Ashleigh. Cindy says I'm going to walk away (to not be seen talking) Sarah says I thought about the moment he said he isn't going to use the veto. I know JP is lying he was planning on staying on the block the whole time. He threw that competition. He could have done it way faster. I was going to win it to take him off the block too. But I realize now that he would have put one of you up. Britt says this is exhausting. Sarah says they must be closer than we think. (Bobby, Bruno and Zach)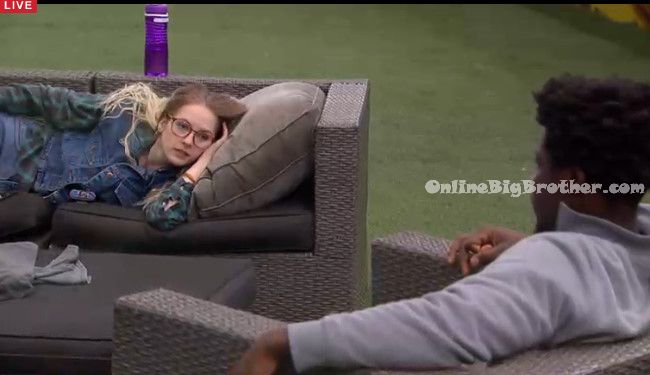 Godfrey and Sarah are in the backyard. They're going to give em a sip of the same koolaid. Godfrey says JP, Ash, Zach, Willow. And then they bring in other people. Sarah says but Bruno and Bobby aren't a part of that? Godfrey says no they've been telling me since the beginning to get them out. Godfrey says whatever the test was I think I failed. Sarah says well I'm next. JP knows that I don't trust Zach. He pretended that he was mad at Zach. Godfrey says he's not mad at Zach, they're best friends. Godfrey says don't worry they're not going to come after you. I thought I was part of the clique, but I found out I'm expendable. I am telling you Bobby and Bruno's heads are on the chopping block. Sarah asks so they're not on to me and B? Godfrey says they are on to you. Sarah says I'll talk to Bruno. Godfrey says Bruno will vote to keep me because he knows he's next. Sarah says Zach is playing all sides. Godfrey says the only people games I'll blow up are Zach and JP's. Sarah tells Godfrey that if he can get the Bobby and Bruno to tell her they're saving him 100%, she'll vote for him to stay.
Up in the HOH room – Zach, Ashleigh, Bruno, Bobby and Willow talk game having a chop shop meeting. Bruno tells Zach and Ashleigh that he caught Jordan and Sarah talking a last night. He says they seemed so sketched. Bruno says they have to get Sarah out. Zach says let's add her to the list. Bobby wonders who they should nominate next week. Zach says Cindy and Sarah and if one of them wins the veto ..then we put up Brittnee. Bobby says the magic number is 10! Once we make that we'll get to the final 5!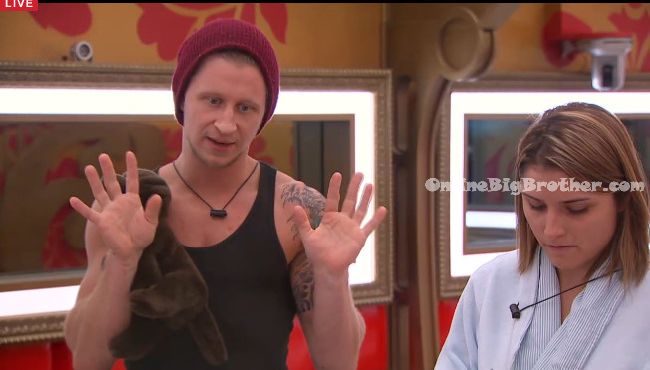 2:10pm Out in the hot tub room – Sarah talks to Brittnee about her conversation with Godfrey. Sarah says we're f**Ked!! Should we just blow up everything?!! Brittnee says how would that help us, it would be fun but.. We need to wait until the veto ceremony is over. Britt says no f**ks given! I would love to blow some sh*t up! Sarah says I want to try and talk to Zach. Brittnee says good luck he's always surrounded by his posy.