POV Holder:
HEATHER
Next POV
April 26th
POV Used
?
POV Ceremony
April 28th
HOH Winner:
Jon
Next HOH:
May 1st
Original Nominations:
Heather and Sabrina
Current Nominations:
?
Have Nots
None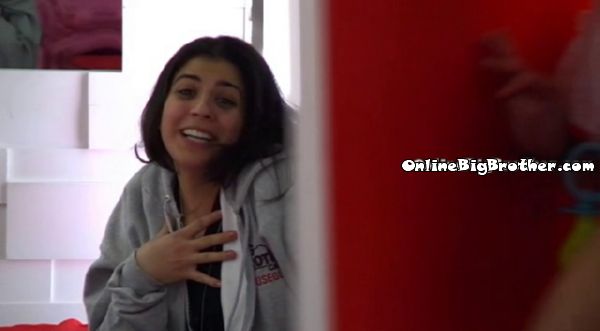 10:19pm Heather and Sabrina Bedroom

Chatting about meeting their families (They each got 2 minutes with a Family or friend. they were separated by glass in the Diary room. Neda saw her sister, Heather saw William, Jon saw his dad and Adel saw his friend, Sabrina saw her sister)
They each had to give something up to see their loved ones. Heather losses the HOH room if she wins HOH, Neda lost her clothes has to wear the onesie, Jon goes in solitary confinement for 24 hours. Adel has to stay up for 36 hours .
Heather didn't know if it was going to be cheesy she wanted to kiss William through the glass.
Sabrina says she lived in Mexico for 3 years and didn't miss her family the same amount as she has in the Big Brother Canada House.
Neda and Jon join them.
Random chit chat about seeing their family.
Jon talking about seeing his dad. Says his dad never mentioned anything about drinking or swearing just said that he'll have no idea how popular he is. Jon doesn't think they show much of the drinking and wearing on the TV show.
Sabrina says the live feeders and the after dark watchers are the ones that get to see the cool side of you.
Adel joins them tells them all help out make dinner and do the dishes.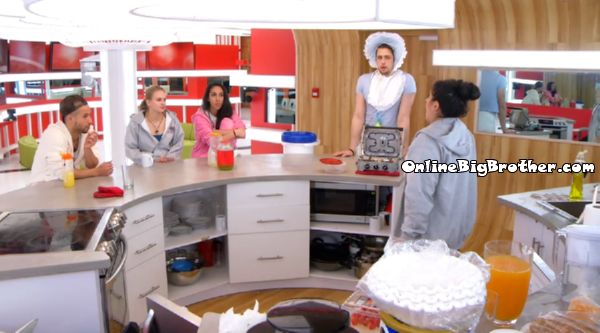 11:18pm Kitchen.. Chit chatting about seeing their family and the potential they will have a new twist.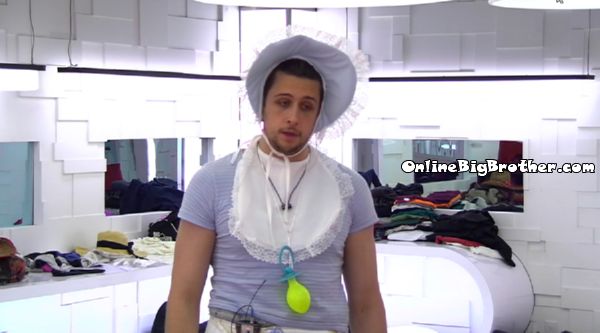 11:27pm Bedroom Jon and Neda
Jon – "wheres your head up"
Neda says she needs time to think
JOn – If you loss to Heather and Sabs in the competition one of us is going home (Next HOH)
Neda – "I have to think about it"
Jon – "I would feel better competing in a veto against Heather and Sabrina
Neda says she will think about it tonight and they will talk after he's out of solitary.
Neda says her sister warned her to not get too cocky, Nead doesn't think she has been because she's not that type of person. neda thinks her sister was meaning Adel.
Neda tells Jon he will be Canada favorite. She mentions looking at the fans faces when they are talking and she can tell.
Jon asks her how are they going to get rid of Adel.. Neda – "We'll need to get Heather on board"
Jon – "If he finds out he'll start talking sh1t up"
Neda tells him that Heather will not take Jon to the end
Neda adds that her sister told her to not get too comfortable and "keep playing the game". Jon says that is the same thing his dad said.
Neda – "Do you think it was some sort of hint don't get too comfortable with the 4"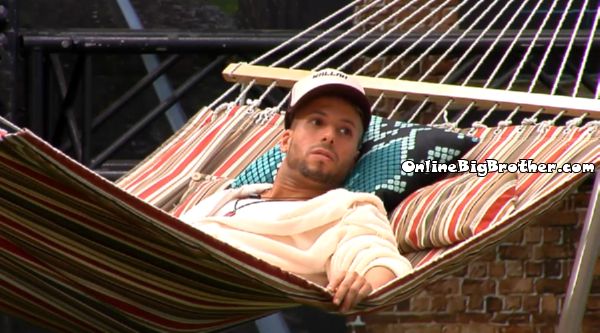 11:30pm Hammock Adel alone
Adel – "F***** how did I lose that last f*** veto.. I didn't even go for no f** money.. how did I lose that last veto it didn't make no sense.. she must have gone for no money and spelt it right"
Adel says it took him 10 minutes and took Heather 8.
Adel – "How did I not win that veto now I have to count on the biggest miracle or a rabbit coming out of my a$$.. this is crazy this is near impossible for me to win this now. "
Adel – "If I make it to the end I'll have the votes.. now i'm against the worst player on the block why would they keep me"
Adel – "If Heather wins she is going to put up Sabrina and Jon"
Adel – "I gotta get bye this week.. Heather will put up Neda and Jon maybe.. "
Adel – "I gotta hope and pray that these guys keep me"
11:35pm Hot Tub Room Sabrina and Heather
Sabrina says she has something to tell Heather it's nothing crazy but important. Heather says she's never going to say the things Sabrina tells her.
Sabrina says if Heather says anything she's dead and Heather's dead.
Sabrina – "I don't want to tell you until I leave because I think it's important for you to know in case you make it to final 3"
Sabrina I will tell you but I am scared you'll tell NEda
Heather says she won't
Sabrina says she's heard Heather listening in on Jon and Neda's conversation twice, "I know you know" (Know about hearing through the doors)
11:45pm Jon and Adel
Jon says solitary confinement is going to suck.
Adel – "How I'm looking bro"
Jon – "Good"
Jon says Neda keeps telling him it would make no sense for them to not get rid of Sabrina.
Jon – "I still haven't decided I might put Neds up i'm not sure"
Adel – "think about all the scenarios because it's coming down to the money you gotta think.
Adel says Neda will understand in a month.
Jon says Heather is going to take Sabrian to the final 2.
Adel says HEather wants Sabrian and Neda, "theres girls thing brewing"
Adel – "When you are in their 24 hours really think about every scenario man"
Adel again tells him to think about it when he's in confinement "I know I won't win against the girls"
Jon – "Same.. it's a game.. just a game"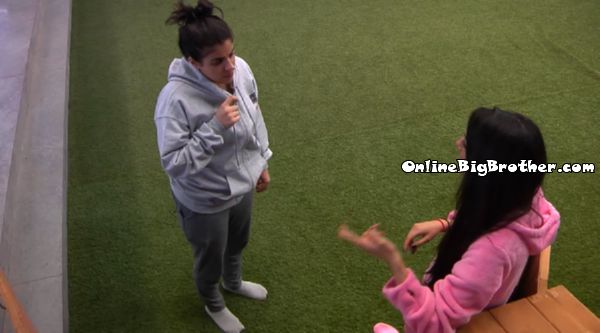 12:15AM Neda and Sabrina
Neda says it's pretty equal right now Sabrina or Adel staying. Neda adds that Jon is going to wait to talk to her when he comes out of solitary confinement. they still have plenty of time until the eviction. Sabrina wants to know as much before as possible so she can be prepared.
12:24AM Bedroom Adel and Jon
Adel – The key to this game is numbers.. Bro i'm taking you to final 2.
Adel – "Neda has three final 2's for sure"
Adel explains that Jon cannot win the HOH next week but Adel and Neda can. Adel pushes Jon to put up Neda and explain to her that he's only putting her up to make sure Adel stays.
Jon – "If you go up Neda will not send you home 100%.. Hundo.. I know that for a fact.. strictly game I'm talking.. "
Adel -"If I'm going up i'm going home.." Adel adds that Neda has all the jury votes she will win this game.
Adel says Heather and Sabrina are going to take Neda, "Neda has it in the bank if I go up on the block"
Adel says Neda never went for the Veto she went for the money , "That is confidence.. right now they are laughing all the way to the bank"
Adel brings up the final 3 he has with Neda and Heather.
12:43AM HOH Neda and Jon
Jon says Adel is bringing up how Adel is trying to get Neda up.
Neda – "Is this a f**g joke.. just for that I want him gone"
Jon – "It' makes no sense to send him home"
Neda – "He's shady"
Heather joins them, Jon asks her how many final 3's does she have. Heather swears on her mothers life she only has a final 3 with Neda and Jon. Jon says Adel is gong around saying that Neda and Hheather have a final 3 with him.
JOn asks her what they should do this week, "You and Neda are the votes"
Heather says she would rather see Sabrina go home. Jon asks who she would rather compete against Sabrina or Adel.
Heather – "You think Adel should go home.. Adel will be a bitter a$$ jury member if he goes home before Sabrina"
Jon says the jury has to vote for someone.
Heather says she would rather Adel over Neda but wants Sabrian over Adel. Points out that Once Adel goes on the block he's going to blow sh1t out.
Heather- "Adel doesn't even talk game with me"
Jon says he's putting Adel up and wants to still be in the loop about what is going on.
1:27AM Neda, Heather and Sabrina Talking about the season. They all agree the house is much better to be in once Kenny and Sarah left.
Heather is in a very good mood. Neda asks her what is she on.
Heather "I'm on giggling girlyness for having my boyfriend in the same house as me"
1:30Am Heather and Neda backyard
Talking about the vote this week. Heather isn't keen on getting Adel out but she's also worried about Sabrina getting far in the game. Neda pushes Sabrina to stay.
Heather tells Neda Adel leaving before Sabrina hurts their game.
Neda claims to be 50/50 on who to send home this week.
2:00AM Sabrina campaigns to Heather and Neda
2:15AM they are sleeping
[polldaddy poll=8001357]