POV Holder:
HEATHER
Next POV
April 26th
POV Used
Yes
POV Ceremony
April 28th
HOH Winner:
Jon
Next HOH:
May 1st
Original Nominations:
Heather and Sabrina
Current Nominations:
Sabrina and Adel
Have Nots
None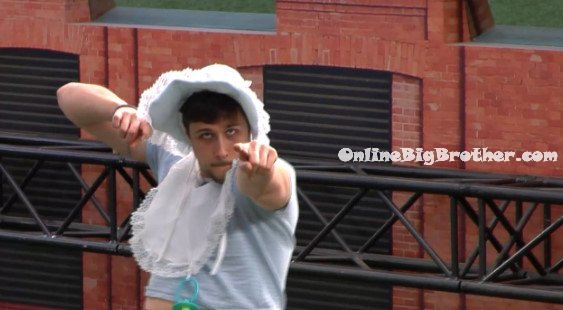 1:50pm – 2:15pm
Neda says that she's going to try and make an outfit or a dress out of a garbage bag and other items around the house for tomorrow nights show. Neda says they said I could use household items! Jon grabs a garbage bag and puts it on Neda. Jon says she actually looks good! Secret is I'm the fashion stylist! Jon tells Neda your hair looks shitty like that, don't wear it like that. Neda says I'm not finished yet. Jon says I made your outfit .. the least you can do is do your hair! Neda says all you did was cut a hole in a garbage bag! Adel says now you can sell garbage bags on your website too. Adel says he wants to wear a garbage bag too. Neda says no only I want to. Adel says he will wear his WALLAH BRO shirt. Adel says maybe Big Brother Canada will buy it off me. Jon tells Adel he is such a Weenus! 1 hundo you are being a Weenus! Sabrina says hire me MAXIM! I will lose weight for you!!! Adel says he's got his eviction speech all planned out. Sabrina says if you do something to embarrass me on the live show I will f**King put my heel in your eye ball!! Adel says its not all about you Sabrina!
NEDA's outfit for tomorrows EVICTION SHOW! Jon says you look cute! You're trending right now! @bigbspoilers #BBCAN2 pic.twitter.com/zvTVDy0Frq

— Dawg (@DawgsBigBrother) April 30, 2014
SABRINA tells her club story – He was so HOT I HAD TO CHANGE MY UNDERWEAR! ..And not bcuz I pee'd! Neda's reaction to Sabrina's story:
2:40pm Jon then tells his story about when he was 17 and how he slept with a girl that had a boyfriend. Jon comments on how she is now blocked on his facebook because of Janelle. Jon says that she checks in every once in a while. He says now that girl is dating a guy that looks just like me.
They head inside. Jon brushes Neda's teeth.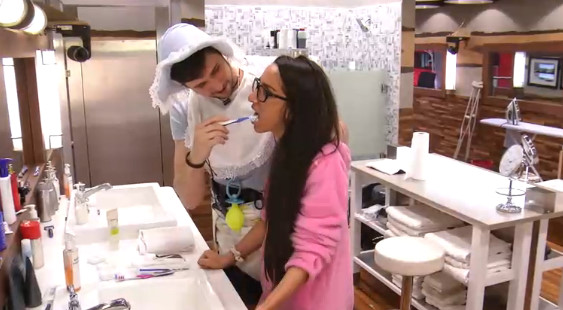 3pm – 3:30pm Neda and Heather head to the bedroom. Jon grabs Sabrina and they head to the bedroom to follow them. They break up their conversation. Neda and Heather get up to leave. Jon says he's going to follow them where ever they go. Neda and Heather leave and go to the bathroom. Jon tells Sabrina that maybe they're thinking of keeping Adel. Sabrina starts getting worried and Jon says he just wonders. Sabrina tells Jon that she can't trust Heather. Jon says me neither. In the bathroom – Neda says the main thing that scares me is what was said that if we keep Sabrina and she skates through to the final 2. BUT this way its better for us to get through next week. Heather says you and me don't have a choice any more ..if we want to go to the final 2 we have to win. Sabrina break up the conversation and asks if they have reached a decision? Heather says we're talking. Sabrina asks if they will tell her their decision after. Heather says yes. Sabrina says okay I want to talk to you (Neda) after is that okay? Sabrina tells Heather don't worry its not about you. When Sabrina leaves Heather pretends to shoot herself. Neda and Heather continue talking..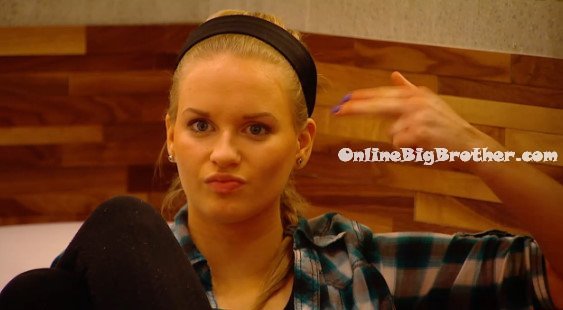 3:45pm – Heather and Neda finish their conversation and go with Sabrina to the bedroom. IN the bedroom – Heather tells Sabrina that we have decided to keep you. Sabrina jumps up and says thank you thank you! She hugs them both. Neda and Heather tell Sabrina that she has to pretend that she thinks she's going and is shocked when she stays. We're not telling Adel. Sabrina says oh goodie you're blind-siding him! Sabrina says Adel isn't going to leave badly. Heather says he is going to leave awfully. Sabrina then talks to Neda alone. Neda says by doing this that is one vote I am losing for sure. Sabrina says when it comes to me I know Adel will never vote for me. Sabrina says if I get the choice .. I am bringing you. Neda asks why? Sabrina says there are so many reasons why I want you to win the money. Sabrina tells Neda ..you are going to win! Neda says I don't think so but okay.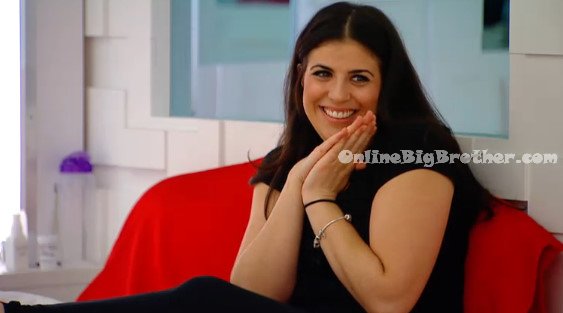 4pm – 4:10pm IN the bathroom –
Heather tells Jon that they told Sabrina that she is staying. Heather says I do not want Sabrina to make it to the final 3. I want it to be me, you and Neda. Jon tells Heather that if you take Neda she will win. Jon says when it comes to this game Neda is a genius. She knows every single thing about this game. Heather says and she has never had to go on the block. Jon says it would be extremely stupid of me to take anyone else other than you to the final 2. Jon tells Heather that I swear to you on my grandparents that if you are on the block and I win the veto you are the one I am saving. EVEN if its against NEDA. Heather says thank you! They hug. Jon says I swear to tyou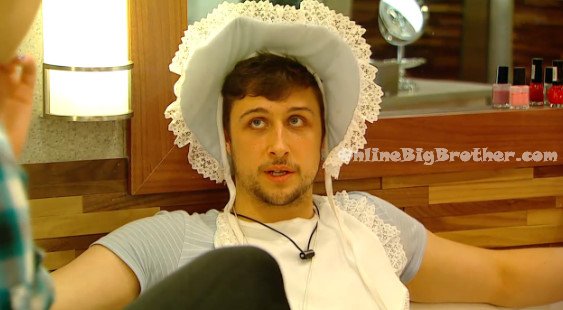 HELP keep the spoilers coming.. Show your support by making a donation. ANY amount is greatly appreciated! Simon and I work 24/7 all season long to keep you updated on everything that happens inside the Big Brother house. Your donations go directly to paying the fees required to run this site.
[polldaddy poll=8001357]
Stay connected and interact with other Big Brother Fans on our Facebook page.
And Follow: @BigBspoilers and @Dawgsbigbrother on Twitter for the most up to date spoilers.