POV Holder:
HEATHER
Next POV
April 26th
POV Used
Yes
POV Ceremony
April 28th
HOH Winner:
Jon
Next HOH:
May 1st
Original Nominations:
Heather and Sabrina
Current Nominations:
Sabrina and Adel
Have Nots
None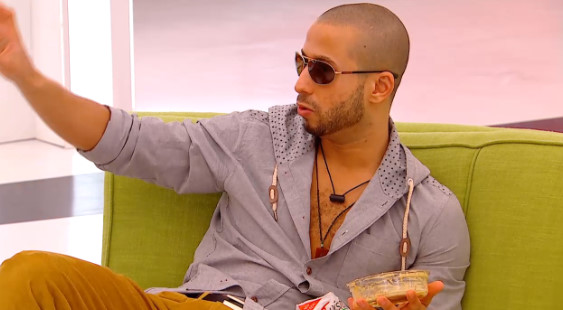 11am Adel says today's the day I lose my eye! Adel says I got the same f**king pills that Sabrina got for her f**king hands. Sabrina says it's still an allergic reaction. Adel says I have never had an allergic reaction in my life. Neda tells him to just stop washing his face, stop putting whatever you're putting on your face. Adel says okay. Adel goes to fill up Sabrina's water. Sabrina says I think Adel loves me. Adel says I am going to dip my balls in this water for you. Sabrina says oh yeah I would drink it even more!! Sabrina asks if the others think Adel is flirting with her? Neda says no. Sabrina jokes that she's pregnant. Adel says Jon stop sperming on the loofah and getting girls pregnant. Sabrina says the secret is Adel and I are really girlfriend and boyfriend. Adel says no we're not. Sabina says you think you're so fresh in the club with your sunglasses on! JOn gets called to the dairy room and there's a diary room leak – Jon asks can I just sit here for a full hour and take selfies?
Meanwhile in the bathroom – Heather tells Sabrina that she is voting to keep her tomorrow.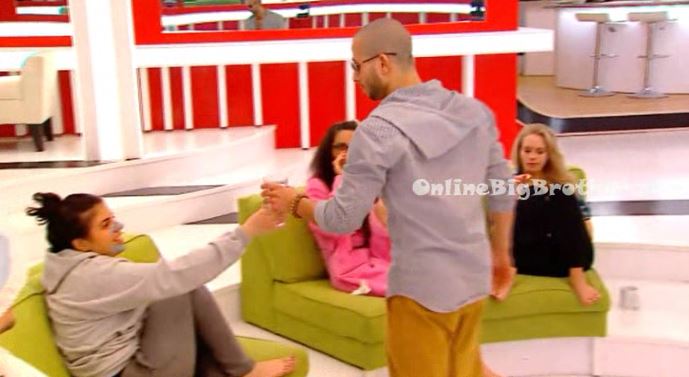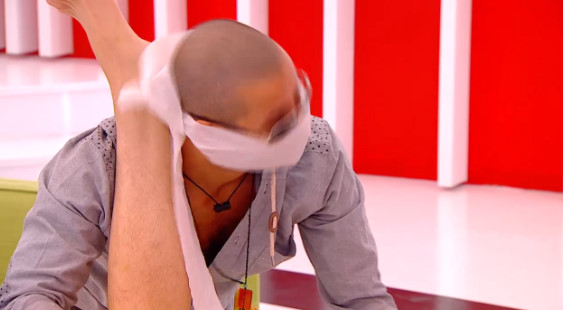 11:20am – 11:30am Jon comes out of the diary room with the camera and tells the other house guests that the fans voted on T. (Twitter). And the majority of the photos have to be you guys feeding, burping and changing my diaper. Adel says oh can I be first?! Adel runs and grabs a blanket and paper towel. Adel pretends to change his diaper. Jon then says okay who wants to feed me?! Neda says I do! Sabrina says okay I have another one .. bend over .. like you're sh*tting your diaper!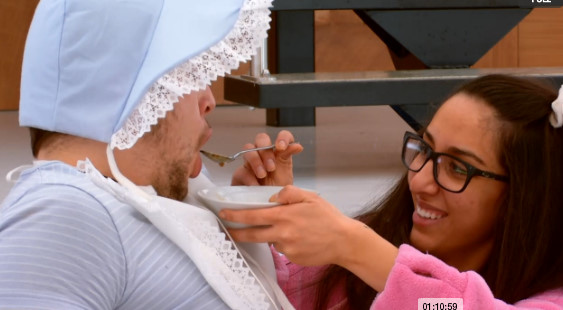 11:40am – 11:50am They comment on how they should all try and get in the diaper. Jon starts to take it off and Neda sees how gross and dirty it is and says no way I'm not doing it! Jon says what do you think, I've been living in it for 6 days!
11:55am – 12:10pm Adel out in the backyard looking at the House Guest photos. Adel says lets hope this works.. I just need everyone to think .. I just need to stay away from them. Meanwhile in the bathroom – Jon and Neda tell Sabrina they are keeping her this week. Sabrina says thank you. If I have to lose to someone, I want to lose to you guys. Jon says we're not going to tell Adel at all!
12:15pm – 12:50pm In the main bedroom – Adel says I like that idea. He gets up and starts to head out of the room. Sabrina asks what idea? Adel says never mind. Sabrina tells him he is staying. Adel heads to the storage room with Jon and asks him what he's heard. Jon says he thinks its still up in the air. Adel comments on how he keeps seeing Sabrina campaigning to Heather. I just caught them. Adel says that Heather is pissing him off. I am going to start calling out Heather. Jon tells him yeah do that. I'll pretend like I don't know anything about it too. Adel heads up to the HOH and asks to talk to Neda. Adel tells Neda that Heathers pissing him off and he's going to start calling her out. Neda says no, don't do that. You can't do that when you're on the block. Just chill don't do anything. Neda leaves for the bathroom. Jon asks her what Adel was saying. Neda says he's sketching out about Heather! Heather asks really! HEHAA! She laughs. Neda comments that in the last 10 minutes now she is afraid that Sabrina will slip through to the final 2. What if she wins something? Heather says but Adel could win too. Jon says either way it could be a good decision or a bad decision. JOn says so we're going Sabrina is staying 1 billion percent! 1 Billion HUNDOS?! Neda and Heather say yes. Jon says okay doesn't matter to me.
12:45pm – 1pm Heather, Jon, Neda and Sabrina talk about the Big Brother 15 house guests:

1:10pm In the kitchen – Jon, Heather, Neda and Adel are talking and eating. Heather comments on how if Adel or Neda win the HOH this week she won't be able to see the room until Monday. Adel says Jon can't win it. Heather says I didn't say Jon, I said you. Adel says say there's a twist and Sabrina is taken off the block and saved .. who is going to team up with her? Adel says Canada likes to root for the underdog. Neda says no one because if she makes it to the final 2 she wins.
1:15pm – 1:35pm Jon and Neda head out to the hammock. Neda says it hurts my heart that Sabrina is still in this game. Jon agrees and says and we're keeping her. Just watch she is going to make it to the final 2 and this is going to be the moment we look back as the decision that did it too. Neda says if Adel stays, Heather would take him to final 2. Jon disagrees. Heather joins them. Neda says that she will literally stop watching this show if Sabrina makes it to final 2. Jon says then why are we keeping her!? Jon says I feel bad that we're screwing over Adel. Neda says if he had the chance he would screw all of us. Jon says he can't screw all of us. Heather says okay he would screw me and Neda. Jon says he can't screw both of you.
Meanwhile in the living room – Adel says to himself if I stay in this game I will evict Neda! Adel says I am going to keep dropping 1 liners. Sabrina joins him.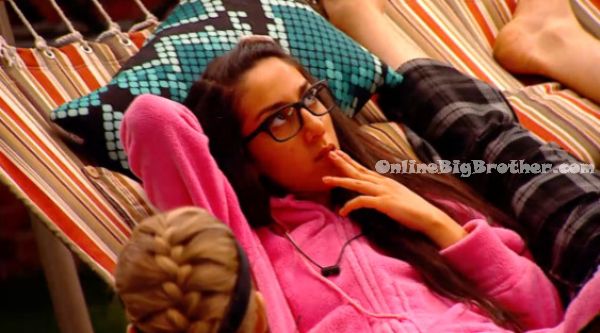 [polldaddy poll=8001357]
Stay connected and interact with other Big Brother Fans on our Facebook page.
And Follow: @BigBspoilers and @Dawgsbigbrother on Twitter for the most up to date spoilers.
HELP keep the spoilers coming.. Show your support by making a donation. ANY amount is greatly appreciated! Simon and I work 24/7 all season long to keep you updated on everything that happens inside the Big Brother house. Your donations go directly to paying the fees required to run this site.