POV Holder:
?
Next POV
April 26th
POV Used
?
POV Ceremony
April 28th
HOH Winner:
Jon
Next HOH:
May 1st
Original Nominations:
Heather and Sabrina
Current Nominations:
?
Have Nots
?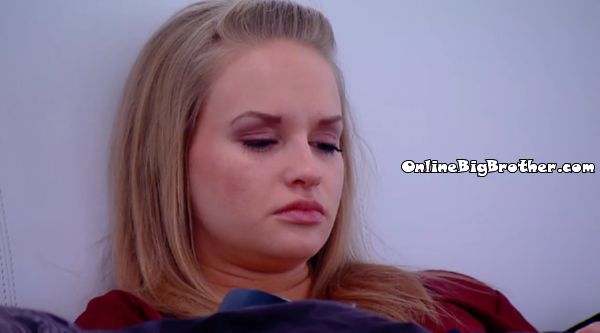 11:24AM Adel and Jon Living room
Jon telling him he has to win the Veto to make sure it doesn't get used. Adel tells him they have to make sure Neda doesn't get wind of what they have.
11:24am HOH
Neda I just wanted to give you some alone time before I bugged you
Neda says she doesn't like the game she doesn't like seeing people upset
Heather- "It just sucks.. some warning would have been nice.. I feel like the conversation I had with him this morning was a lie he knew at that point"
Heather – "We always say final 3 final 3 so why didn't you tell me"
heather- "If it's supposed to be final 3 why not pout DEli on the block"
Heather – "He hasn't come to talk to me ONCE not ONCE"
Neda – "I don't know why"
Heather all he says is sorry Heather
Neda – "I wish I knew what to say.. I really don't.. he's just being a idiot"
Heather – "Has your ideas changed"
Neda – "No"
Heather – "that's good.. I still want us to be the final 3 people… I just don't know what this means."
Heather – "I'm so pissed off.. I was so close to beating him in the competition and then he puts me in the block"
Heather points out that nobody has come up to her and asked her how she's doing, 'What great friends I have"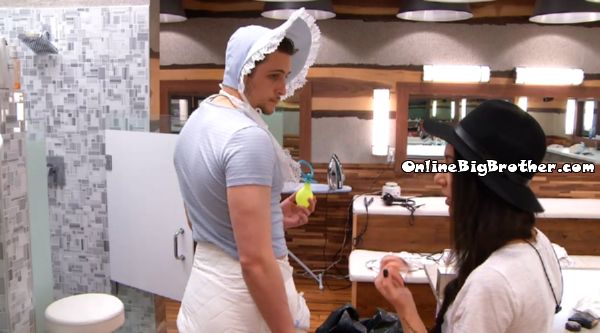 11:35AM Bathroom Jon and Neda
Neda goes over her conversation with Heather. Saying how upset Heather is that Jon never told her. Heather is also onto Jon lying to her earlier today. They go over the plan agreeing Heather will go home unless she wins the POV.
Neda says Heather will be less bitter if Heather goes home beside Adel than Sabrina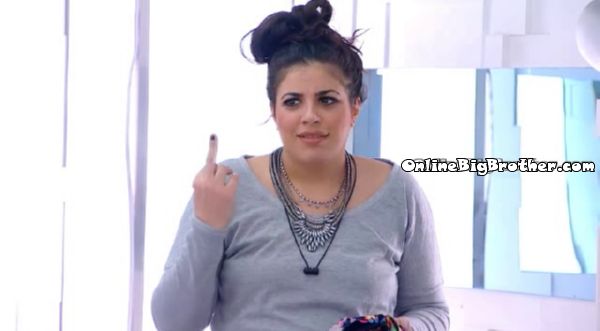 11:48am bedroom Sabrina and Heather
Heather says she's upset because she thought when you are in an alliance with someone they will tell her if she's going up. Sabrina doesn't think her alliance will screw her over this week.
Sabrina says she has to win the veto to stay in tha game. Heather isn't sure about it, she doesn't know what is going on anymore.
Sabrina says it all comes down to who wins the veto.
Heather – "Ya.. against two strong guys you and Neda"
Sabrina says HEather did great in the HOH competition why does she think she cannot compete physically. .
Heather – "Adel wasn't playing"
Sabrina – "Adel has asthma"
Sabrina says she's not trying to stress Heather out but this is not a good week to be on the block. Heather knows they both are expecting some HUGE twist to drop.
Sabrina asks her who she thinks the final 3 will be. Neda /Jon walk in Heather leave.
THey start talking abut how Heather is reacting to being nominated. One thing that Heather is doing which is bugging them is packing her clothes.
Jon says he doesn't give a sh1t about Heather anymore if she wants to be acting like she is, She needs to get over it.
Jon – "She's packing her stuff… that makes no f*** sense"
Jon says heather is being a "d1ck" right now, Sabrina is on the block to and she's not being a d1ck. Jon adds that Rachelle and Sabrina were d1cks last week but only early on and it died down quickly. Sabrina fingers him (See image above)
Sabrina warns them Heather is going to be very bitter person. Neda thinks Heather is just hurt right now. Jon says he never told Heather she was going to be nominated this morning because "He didn't know". Jon – "Well I did know but I did"
They start going through scenarios where Sabrina goes home. Jon tells her Sabrina stays in the game as long as Adel doesn't win anything.
Sabrina – "You are keeping Adel over me.. "
Jon – "No offense I don't think you know sh1t"
Sabrina asks them if Heather wins the Veto does she go home. Jon – "We don't know"
Adel rolls in asks Sabrina why she's unpacking then leaves. Sabrina points out to Jon and Neda that Adel wasn't supposed to be mean anymore.
Jon – "Ohh put the pacifier in your mouth"
Sabrina – "I can put it in your a$$ if you like no problem"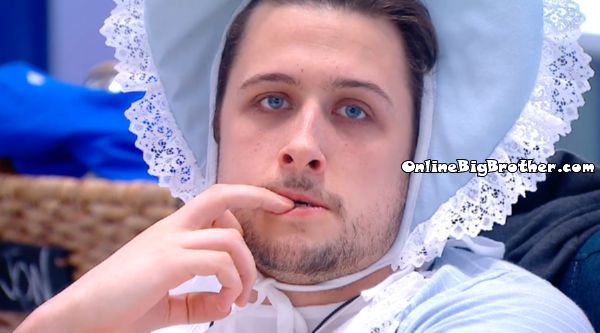 12:25pm HOH Heather and Jon
Heather "You and I have been in an alliance since day one.. I don't understand"
Jon says he never knew what he was going to do. He didn't want to put up Adel because adel was the pawn last time. it was really between Ned And Heather and he picked heather at the last minute.
Jon – "Why are you packing your things"
Heather says she's just packing some things she won't be wearing anymore.
Heather – "I wish I had known before"
Jon says they pulled him into the Diary room to get the nominations and he didn't know the nominations going in. He couldn't get to talk to Heather once he was in the DR. "My intentions this morning was Adel going up.. But he had a good point. Whats your biggest fear"
Heather says she's scared she starts to cry, "I don't know.. we are supposed to have a final 2.. this is a bad week to be on the block some f***d up thing can happen what If I go home over Sabrina"
Jon says there's no twist he can see that Sabrina stays over Heather.
Jon – "If I knew who I was going to nominate before going in I would have told you"
Jon – "Where's your head at.. obviously you are second guessing.. not even Adel and Neds knew what was going on"
Jon says Sabrina is going home they are all going to final 4 to battle it out.
Jon – "Stop packing your stuff.. Promise"
Heather – "Nothing has changed with the three"
Jon – "NOTHING.. NOTHING"
Jon says they are still final 3 the plan has always been to take out Sabrina this week followed by Adel.
(Video Coming)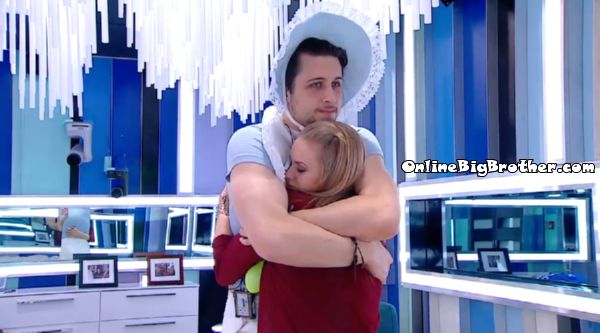 1:11pm everyone sleeping in the bedroom
Adel – "We got like 5 more hours until the comp"