POV Holder:
HEATHER
Next POV
April 26th
POV Used
Yes
POV Ceremony
April 28th
HOH Winner:
Jon
Next HOH:
May 1st
Original Nominations:
Heather and Sabrina
Current Nominations:
Sabrina and Adel
Have Nots
None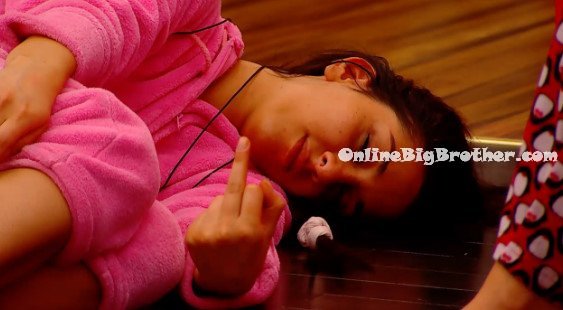 9:20am
Big Brother wakes up the house guests. The other house guests comment on how last night Adel talked in his sleep. Sabrina says at one point you were calling for you mom. Jon tells Adel that he was talking in his sleep .. you were going BUCK! Jon comments on how puffy Adel's eye is looking. Adel says yeah it looks like I got punched out. Jon says you were talking so much I wanted to round house kick you to the face. Adel says yeah go to sleep. Jon says that's why you called out for your mommy. Jon comments on how the way Neda is laying it looks like she has the biggest camel toe. Jon says its like a horse v@gina@. Neda gives Jon the finger. Jon says that's not very lady like! Neda and Sabrina talk about their type of guy. Neda talks about some guy. Sabrina says I want to r*pe him. Adel yells from downstairs – I want your honest f**king opinion, does it look like I got punched in the face? Jon says yes. Adel then asks Neda – I want your honest f**king opinion, does it look like I got punched in the face? Neda says yes. Adel then asks Sabrina – I want your honest f**king opinion, does it look like I got punched in the face? Sabrina says yes. Big Brother blocks the feeds..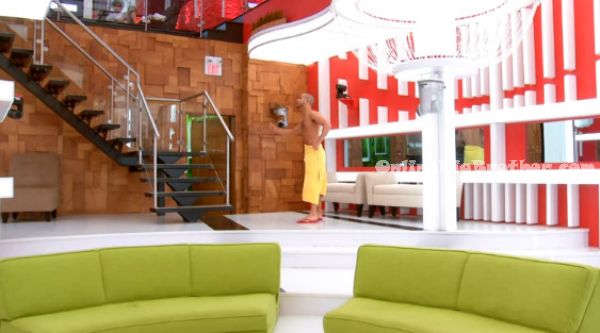 9:45am – 10am
Big Brother turns the live feeds back on – Jon and Neda are talking. Jon asks if Heather wins HOH and I win the veto ..Then you or Sabrina would be on the block. Jon says my game come down to me winning veto. Its if you do keep me if you win stuff. Jon says don't roll your eyes. If you don't win this HOH I am going to be so f**King livid! Jon says I enjoyed us this whole game. Neda says I did too. Jon says obviously there is a point when you go with your own game as a posed to our game, which is understandable. Neda says yup I've been told. Jon asks do you think anyone would take me to the final two. Neda asks if he believes Sabrina will. Jon says you would beat me. Neda says when she thinks of the end she doesn't know if Jon or her would win in the end. Jon says you and me will not make it to the end. Neda walks off and starts to cry. She goes into the bathroom stall and Heather asks are you okay?! Is there anything I can do? Big Brother blocks the feeds again ..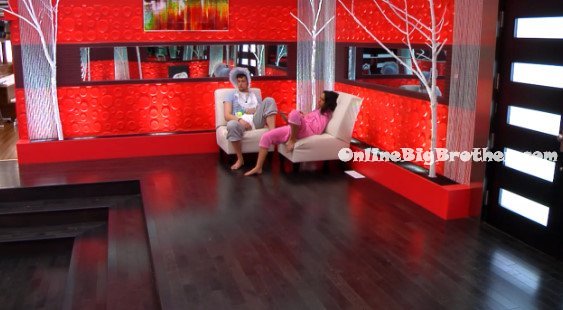 Jon goes and tells Adel that when Neda comes to talk to him – he needs to swear on everything ..


Sabrina waxing her moustache

10:20am
Neda goes to the HOH room and Jon and her hug. She starts to cry. Jon asks what? Talk to me? Neda says this game is just hard. Jon says I said I was taking you to the final two and I am still going to do it if I have the option. If you don't then that's fine. Jon tells Neda that if she kicks him out she won't have his vote. If you make it to the final two and don't kick me out then you obviously have my vote. Jon says the way my head was thinking was me and Adel would be working to bring you to the final 3 and then I would take you to the final 2. Jon says I have just put my trust in you the entire season and this could be the last time. Jon says if you don't win HOH and I don't win Veto then I am probably going home. Jon asks what would you do if you win HOH and I win veto? Neda says maybe take Sabs, I don't know. Jon says I wouldn't lose to anything against Sabs. Jon asks are you going to tell Adel he's going? Neda says I don't think so because then he would blow up and tell Heather that whole thing and then she really wouldn't take you. Jon says I f**ked so much up the last few weeks. Jon says oh well if I go home at least I made it to final 4. Jon says I don't like seeing you cry either. Neda says I hate it. Jon says I genuinely care about you outside of this house. Jon says no matter how bitter I get.. I still love you.. and Janelle isn't going to beat your face in..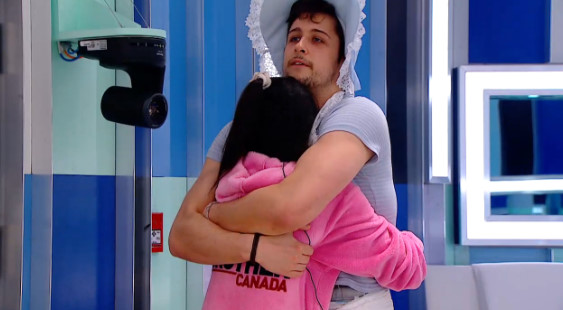 10:45am In the storage room – Jon and Heather talk. Jon says if Neda makes it to the final 2 with anyone she wins hands down!

10:55am Adel campaigns to Neda in the HOH room: Adel tells Neda that he will be a bitter jury member if he goes this week but won't be if they send him home next week. Jon joins them and Adel leaves. Neda says I hate when people threaten me. Jon says do people not know you at all?!
[polldaddy poll=8001357]
Stay connected and interact with other Big Brother Fans on our Facebook page.
And Follow: @BigBspoilers and @Dawgsbigbrother on Twitter for the most up to date spoilers.
HELP keep the spoilers coming.. Show your support by making a donation. ANY amount is greatly appreciated! Simon and I work 24/7 all season long to keep you updated on everything that happens inside the Big Brother house. Your donations go directly to paying the fees required to run this site.