POV Holder:
Neda
Next POV
April 26th
POV Used
NO
POV Ceremony
April 21st
HOH Winner:
Adel
Next HOH:
April 24th
Original Nominations:
Sabrina and Rachelle
Current Nominations:
Sabrina and Rachelle
Have Nots
Neda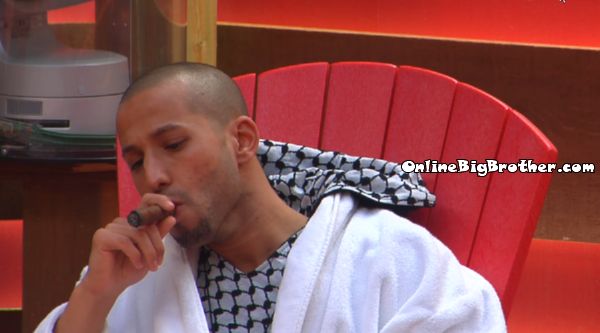 7:55pm Living Room
Jon drinking a beer.. says he might save one of the beers for later.
8:00pm Adel and Jon Share a cigar
They are happy Big Brother gave them beer, Cigars and pizza.
Adel – "I'm going to be hacking all night tonight I love it"
Adel mentions if the gremlins had won HOH Big Brother wouldn't have given them anything.
Jon says they made a fake final 5 with Allison and the gremlins and told them they would target Adel/Heather. Jon adds how surprised him and NEda were that Allison agreed to it.
Adel says if he wins HOH and needs someone to sit next to Sabrina he'll do it.
Adel thinks the only chance the two of them have to win the game is to take each other.
Jon says if he takes Neda out in the game she will vote for Adel.
Adell tell him final 3 with Heather is safer than with Neda. They both agree taking Neda to the end is giving her the win.
Adel tells him the gremlins and Allison will vote for Jon
JOn says Adel will get Heather and Arlie
JOn says as soon as he send Arlie home he realized the only way he's going to win this is if he takes Adel with him.
Adel tells him if Heather wins the HOH they really need to stir thing up between her and Sabrina.
Jon – "If Sab's wins HOH it's not going to be me and Neds going up"
Adel – "It's going to be me and you"
They start running scenarios for next week. They want Heather to win the HOH and to put up Sabrina and A pawn. This opens them both up to play in the following HOH against Neda.
Adel – "You're the brains… I can do other stuff"
Jon brings up how important the next power of veto is if they throw the HOH.
Jon – "If we win that Veto we go to final 2"
Jon leaves
8:17pm Kitchen
Jon telling the girls about the cigars.
Jon – "He's (Adel) attacking that cigar like a boss"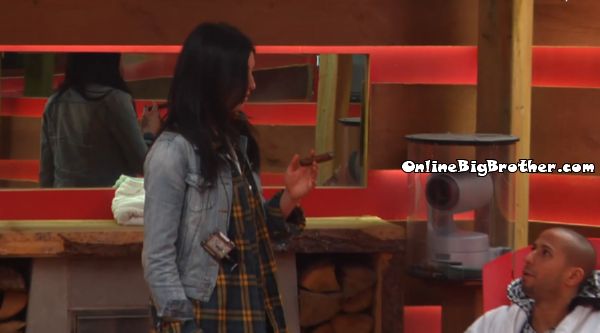 8:23pm Hot Tub Adel, Rachelle and Sabrina
Adel telling them how they have to make sure to get as many pictures of themselves taken with fans because it will boost their social media presence. He suggests to Rachelle they hit up 3 to 5 charities right in the beginning.
Rachelle brings up when Adel said he wanted to be a star, she asks him what type of star he wants to become.
Adel "I'm a welder I can barely speak english what kind of star will I be"
Adel explains when he said star he meant just in the show, he wanted to make the show fun and entertaining.
Adel says nobody from Big Brother Canada or US has ever become a "star".
Rachelle says Rachel reilly was a bit of a star.
Adel – "Is Rachel married to that hunk.. he' so cool, good looking, smart and weird"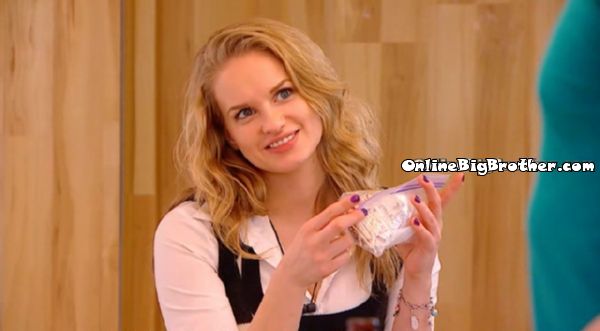 8:29pm Kitchen Jon and Heather
Heather and Jon agree it's a very good looking season.
Heather – "You know usually when you watch on a TV show and as soon as the good looking ones are out you are like… OK i'm done watching"
Jon – "The best looking are left"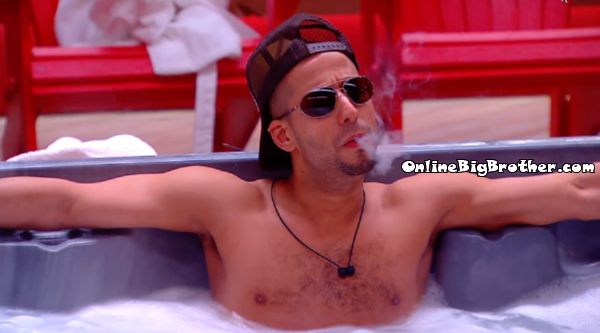 8:45pm Hot tub Adel and Jon
Adel says outside of the house he always preached to his friends not to drink.
Jon – "As bad as it sounds I love an alternated state of mind"
Adel -"I'm addicted to Percs.. I came here and two weeks prior… "
Jon -"shows you are not addicted"
Adel – "Oh I know I'm not addicted.. we have a holy month called Ramadan where we fast I drop it completely.. Before every job I detox for two weeks.. Boredom will kill you bro"
Jon – "And you're never bored when you are f*** percing"
Girls getting ready to go into the hot tub.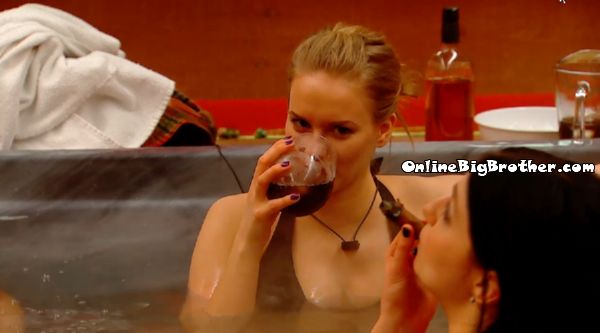 9:00pm Hot Tub THe bottle of rye is going down FAST
(Talking about pen1s size)
Adel – "I have a 6 banger"
Jon – "I can't give you 6 inches I can give you 3 inches twice"
Jon says the national average is 5.5 1nches
Rachelle – "Thats small"
Jon jokes that Neda would only need a l1ttle 2 incher
Adel – It's not the size of the worm it's how you wiggle it.
Rachelle says Size matters.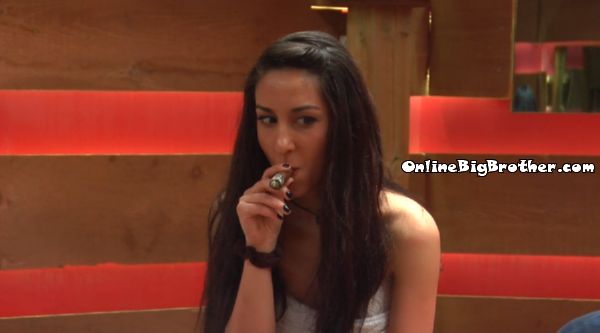 9:27pm Hot Tub
Jon Asks Sabrina knowing what she knows now would she have made up a 1st5 Alliance again. Sabrina says the alliances that are made in the beginning are risky but can pay off. Sabrina says the 1st5 were in the house for the first 25 minutes until the other players came into the game.
They start talking about what they thought of everyone based on their first impressions.
Adel brings up the argument Sabrina had with IKA when Sabrina got called out by Big Brother for stretching the truth.
Adel keeps bringing things up that Sabrina did. Sabrina starts to cry says a lot of people did sh!t in the house why is she the one that is always singled out. Jon leaves.
Neda says Everyone is drinking they should drop the subject.
Sabrina tells Adel he always goes after her.
Adel – "Through this entire game you've been after me"
Sabrina says Adel is mean
Adel – "you are so fake it's no even funny.. you are being fake right now.. I don't give a sh!t about you"
Adel -"I'm as f***ing real as you are going to get in this game"
Everyone leaves the hot tub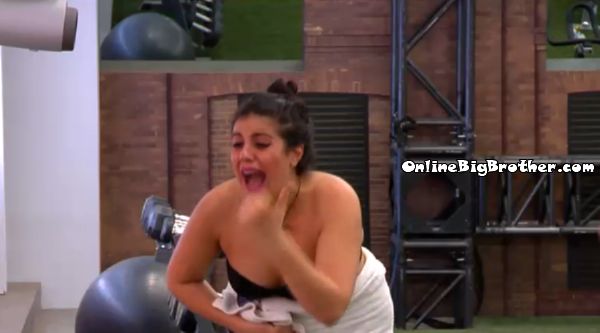 10:00pm Backyard Neda, Rachelle, Sabrina and Jon
Sabrina marches into teh backyard "he's so f** mean.. he's so f** mean I don't need this bullsh!t it's my dream to not just you guys.. Yes or no though he always does it in a crossing the line way"
Neda suggests Adel and Sabrina never stay in the same room together.
Rachelle – "Sabrina he's going to do the entire time"
Sabrain – "He lied 20 thousands times on his own bible and I'm the bad one"
10:10pm Sabrina freaks out
She screams out that she wants to go home… runs amok throughout the house.
[polldaddy poll=7983425]
Share it YO!!
Tweet