POV Holder:
HEATHER
Next POV
?
POV Used
Yes
POV Ceremony
?
HOH Winner:
Jon
Next HOH:
May 1st
Original Nominations:
Heather and Sabrina
Current Nominations:
Sabrina and Adel
Have Nots
None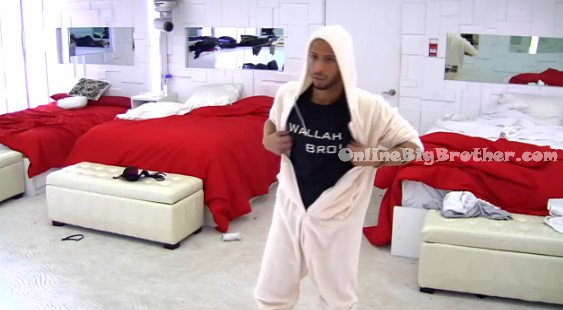 10:50am Adel heads into the main bedroom and tries out the different ways he can wear the Big Brother Canada onesie. Adel heads to the HOH room and tells him that Neda's still in the shower. Jon says she will come over in a minute. Jon says F**K! Jon says I think what you said might work though.. Adel says maybe. Jon says just because Neda wants jury votes so f**king bad.. could be a big game play right there! Adel says when you do talk to her don't bring up my name or keeping me any more. Jon says no.. Adel says just be like.. Jon says what the f**K are you doing? Adel says no, be like you were my sister in this game. Every move, every decision I made I came and told you. Jon nods and says so why is it a double standard. Adel says tell her why now, why now did you do it. DOes that mean I'm game over? Does that mean I am not Neds.. You were my sister, I was going to take you no matter what. Adel was a joke, Heather was a joke! You know what I mean?! Cut us up! Jon says yeah. Jon says F**K.. Alright you probably better piece just in case she wants to come back.. Adel leaves the HOH room.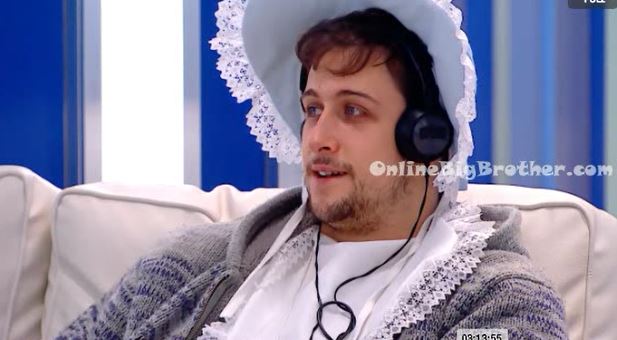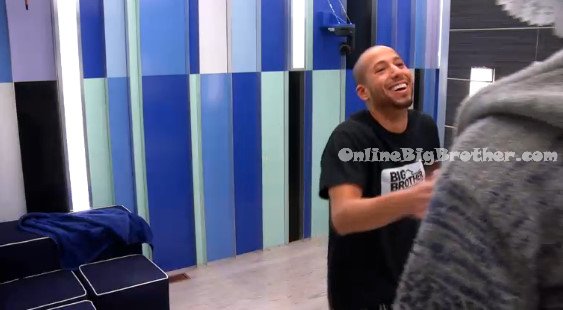 11am – 11:30am Neda questions why Adel is so happy. Heather says unless he saw Marsh (The Moose). Neda asks why that would matter. Heather says to have a surprise twist up our a$$. Adel comes into the bathroom and asks if he is still going? Neda looks at Heather and says Ahhh.. I think so. Adel says okay, I just wanted to know so that I can know if I need to pack everything. Adel tells Neda to be happy, its okay. Adel heads back to the bedroom to pack. In the bedroom – Jon says I'm f**ked I have to win this week. Adel tells Jon good luck. Jon says yeah it's not what I planned at all. Adel tells Jon I did something so sneaky this year bro! Jon asks what?! Adel says you're going to sh*t your pants! Jon asks what? Adel says think! Adel tells Jon remember my power? I didn't have anything.. I could only replace someone in the veto. Adel laughs. Jon laughs and says WHAT?! Jon says Canada must have gone BUCK! Jon says so all that buzz worthy sh*t was all you got. If I had know that I wouldn't have done all that girl sh*t. Jon says and you threatened that whole house.. what the F**K! That was F**KED! Adel gets called to the diary room. Jon leaves and comes back. Sabrina comes into the bedroom. Adel tells Sabrina see I told you BURRITO. Sabrina laughs. Jon asks what Adel just told her. Sabrina says just told you burrito! Jon says oh. Jon tells her that Adel made the biggest game move of the season! Sabrina asks what?! Should I be worried? Is it going to affect today!? Jon says I don't know. Sabrina leaves. Adel comes back and Jon says that is the best that veto thing. You are the biggest idiot but the smartest idiot! Adel gets called to the diary room again.
11:30am – 11:50am When he comes back out he goes and tells Neda that he had to just go do a goodbye message to Neda too. Adel says I have to go tell Jon too! Neda starts freaking out. Sabrina and Heather say no. Heather says I just did mine and I didn't have to do one for you. Neda goes and questions Jon about what Adel just said. Jon tells her Adel just told me he had to do a goodbye message to you. Neda asks if Adel is just f**king with me? Jon says probably. Neda leaves and goes to the diary room. Adel goes into the bathroom and tells Sabrina if twisterson saves me.. you're done!! Sabrina asks why me?! Adel says rule number one is get your nemesis out! Adel tells Heather looks like we could have our final 2 deal! Adel walks out of the bathroom and yells WHOA!! I think I'm staying now!! Sabrina follows him and asks him why?! Adel says I went into the diary room telling them I think I'm done .. and they.. Big Brother tells them to stop talking about production. Adel tells Sabrina that she is done! Sabrina tells Adel that she thinks he's Canada's Player. Sabrina leaves and talks to Jon to ask him what's going on. Jon says I don't know, I'm staying out of the girls conversations.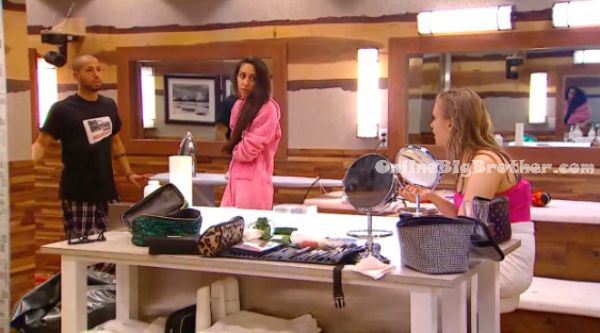 11:50am – 12:20pm Jon goes to the bedroom and tells Adel he is going to ask Neda if she is packed. Jon and Adel laugh. Jon heads into the bathroom and asks Neda how much of her sh*t she has packed. Neda pauses and looks all freaked out. Jon says he wonders if there's a twist today. Neda is all freaked out now that she might be going home. Jon and Neda head into the HOH room. Jon tells Neda that she has now twice f**ked him over. Jon says what is going through my mind is that you are f**king me and have been this entire season. Neda says that it wasn't intentional. Jon says you know this game inside and out. You've been watching since you were 8 years old. I just started watching before coming in here. Neda says I slipped up. Neda says I'm f**ked. Jon says if you're f**ked then I'm f**ked! I don't have a final 2 with any one else. Jon says to me there's no you, there's no me… it just us!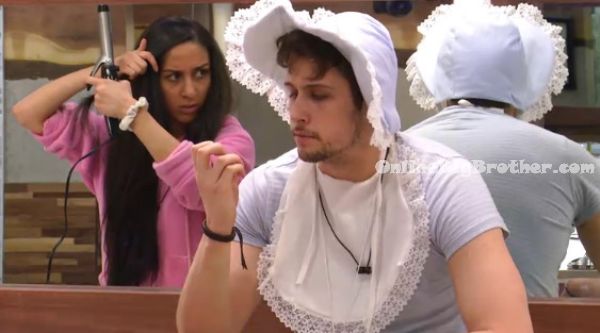 12:20pm – 12:30pm Big Brother blocks the live feeds…
[polldaddy poll=8001357]
If you've enjoyed the Big Brother Canada Spoilers this season, show your support by making a donation. ANY amount is greatly appreciated! Simon and I work 24/7 all season long to keep you updated on everything that happens inside the Big Brother house. Your donations go directly to paying the fees required to run this site.
Stay connected and interact with other Big Brother Fans on our Facebook page.
And Follow: @BigBspoilers and @Dawgsbigbrother on Twitter for the most up to date spoilers.