POV Holder:
Austin
POV Competition
Sept 5th
POV Used
?
POV Ceremony
Sept 7th
HOH
STEVE
Next HOH
Sept 10th
Original Nominations:
Austin and liz
After POV Nominations:
? and ?
[envira-gallery id="132460″]
3:00pm
Nothing much is going on here is a collection of Julia pictures..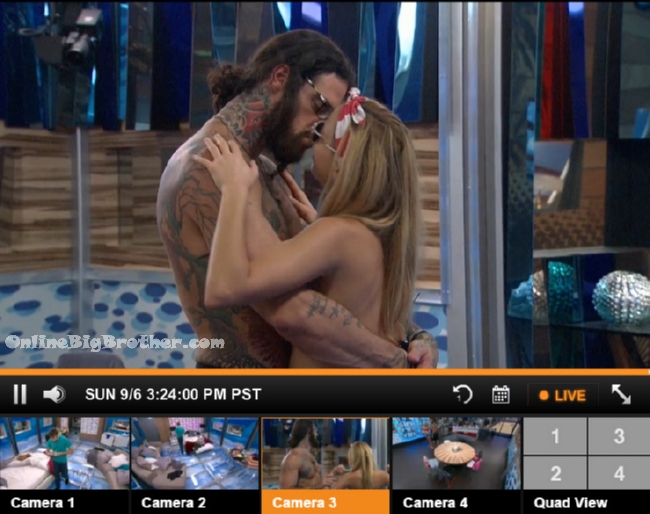 3:20pm Kitchen twins, Steve, Vanessa and Austin
The twins telling Vanessa that Jessie was looking at her during the POV.
Vanessa – he's barking up the wrong tree.
they laugh
Julia says she thought Jeff was 40 years old, "I thought he was the 40 year old guy"
Vanessa, and the twins are telling Serve they've been doing his dishes for the last 3 days they are over it.
Steve laughs didn't think he was leaving dirty dishes around.
Twins – STEVEEEEEEAHHHHH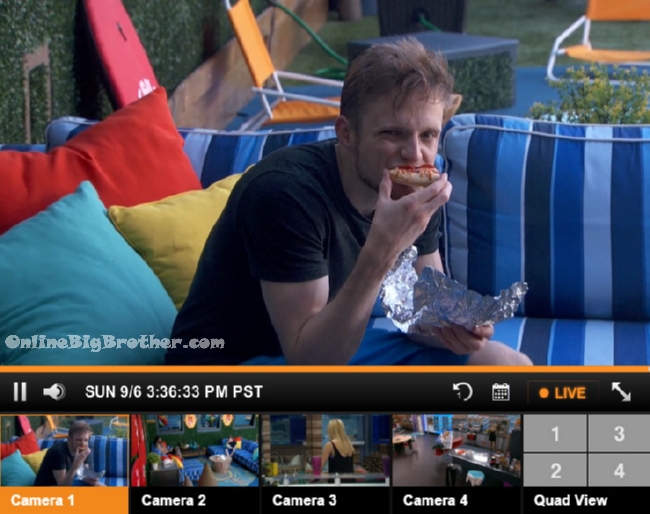 3:34pm Jmac and Austin
Austin says he doesn't have an opinion on which twin to keep until they tell him who they want to stay. He's fine with doing what the twins want but won't start worrying about it until they tell him.
Austin's speech tomorrow will be a quote from Jean-Paul Sartre "Hell is other people"
Austin starts going over more ideas for his speech saying that he created his Judas character because people deceive but in this game he met someone that doesn't deceive.. He covered his body in tree tattoos because nature doesn't deceive. Austin adds being in this game is a dream for him.
4:14pm Backyard Steve and Jmac
Steve tells jmac he better not be throwing HOH comps
Jmac wants to get rid of Liz this week but doesn't really care he'll do what the twins want
Jamc says the week following this one they need to take out the surviving twin otherwise none of them will trust each other. He's worried about someone scumbaging and taking Julia to the end.
Steve asks about who Vanessa was telling him to target in the POV,
Jmac says Before the POV started Vanessa told him to go after Liz.
Steve – do your cardio things.. please I need you
Jmac – Clearly she (vanessa) wanted Julia out first
Jamc will do what the twins want he doesn't feel if matter too much either way.
Jmac – there's no winning decision you have to win comps.
Steve – you are building a relationship with Austin.. are you talking game with him
Jamc – when he's ready
Steve – keep building that.
After the talk Jmac wanders around the back yard kicking the beachball around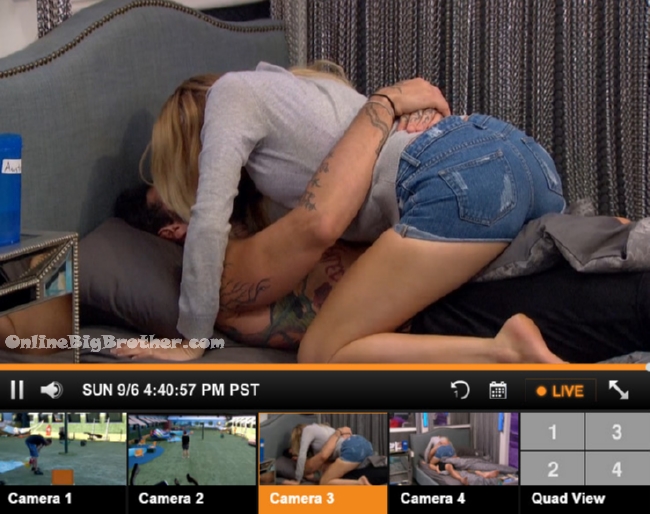 4:36pm Austin and Liz kissing
Liz – how long did you think I wasn't going to talk to yo i
Austin – I don't know, not as long as you did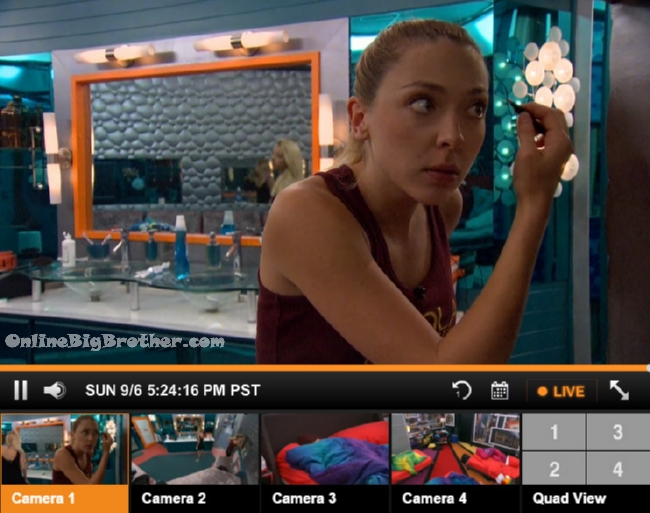 5:24pm Bathroom Liz and Julia
The twins wonder what Austin and Jmac were talking about outside they were out there for a long time.
Liz thinks Austin will win the game over Steve, "I think Austin will get top two"
Julia – Depends..
[envira-gallery id="132472″]
6:00pm Austin's workout plan..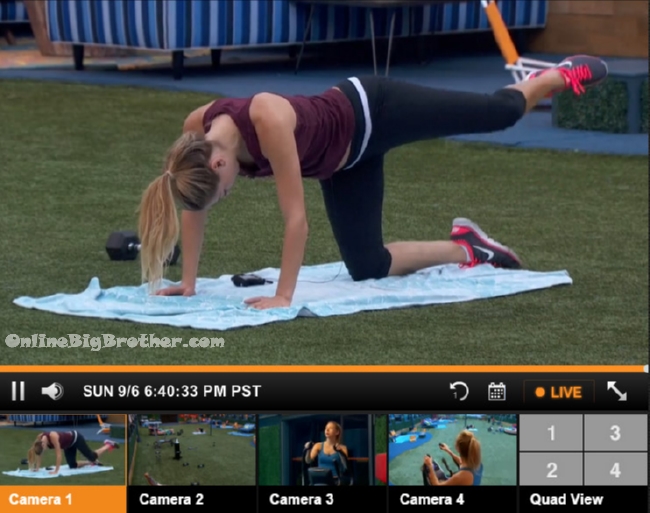 6:43pm working out Chit chat..
The twins and Austin are talking about jace and how he would give himself shoutouts. Liz says Jace was more flirting with Julia than Austin.
They're all giving Jace shout outs.
Johnnymac – Follow Johnnymac on twitter @NikolaPoe
Austin – Shout out @NikolaPoe
Steve – @NikolaPoe
Liz – @NikolaPoe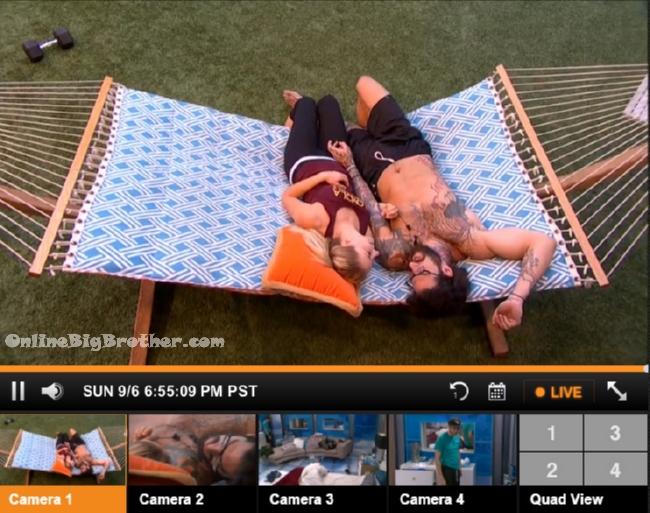 6:53pm
liz asks Austin "You still like me
Austin – Of course I still like you what type of question is that
Austin – do you still like me
Liz – ya
Austin says he's looking forward with them spending time with each other outside the house.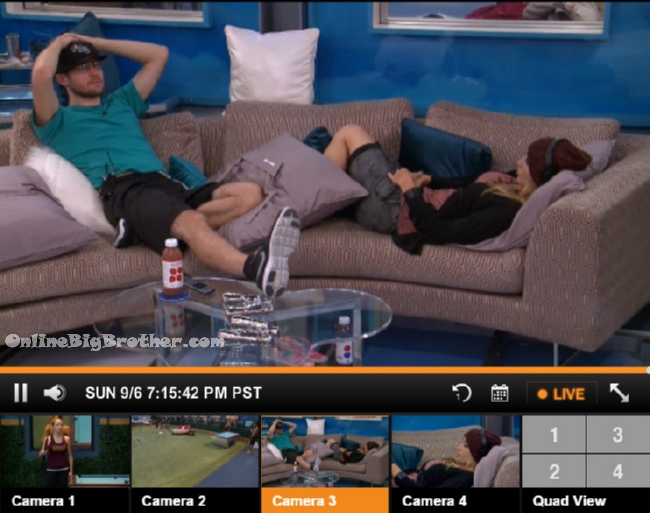 7:03pm -7:30pmHOH Steve and Vanessa
Vanessa getting pissy at Steve.. asking him if he felt it was the obvious move for her to recommend to Julia to take out Austin in the POV, 'She didn't want to be on the block with her sister"
Steve just says he doesn't know that was the best move
Vanessa goes on and one about how Steve can say he doesn't know it's like looking at a chess board and making a call on the move.
Vanessa comments on how cute Austin and Liz look on the HOH camera (See iamge below)
They start talking about everyone that comes into the house has a dream and when they leave that dream ends. Steve says he never had a dream.
Steve doesn't see himself making it to the finals.
Vanessa says here is a scenario that he makes it to the final 2.
-This week Liz goes home
-Jmac wins the next HOH, Julia vs Austin they evict Julia
-The final 4 is Austin, Steve, Jmac and Vanessa
-Austin, Steve and Vanessas go to final 3
Vanessa wins the final HOH and takes Steve
Steve – would I beat you in finals
Vanesa- 100%
Steve – then why would you take me
Vanessa- everyone will beat me except Julia
Steve – I don't know you played a hell a lot more than me
Vanessa says the only people Steve cannot beat are Austin and LIz.
Steve – who can I beat in finals
Vanessa- ME
Vanessa – who is your ideal final 3
Steve – I don't' know.. Vanessa yo think I have my shit together way more than I do
Doesn't sounds like Steve is buying this keeps asking why should he think she'll take him when she's so certain he'll beat her.
Vanessa says they gave each other their word they would take themselves to finals.
Vanessa and Steve agree they need each other for final 3.
Vanessa – I'm hoping the girls say they want Julia to stay
Steve – do we have to do what they ask
Vanessa – no
Vanessa says Austin still has to be loyal to Julia so if she win the HOH next week
Steve – what if I put you up as a pawn tomorrow
Vanessa – I would go out
Steve – I'm joking.. I could send you out tomorrow.
Vanessa – you would be out the following week
Steve – I'm guessing the next eviction is going to be Tuesday (sept 15th)
Steve feels bad for taking out a twin
Vanessa – cmon you shouldn't feel bad about the twins this wasn't their dream they got great exposure one of them got a boyfriend..
Steve – you are right
Vanessa says it's been a great game but she's glad it's coming to an end.
Steve- I'm Scared.. I'm scared of the unknown
Vanessa laughs because she likes risk and the unknown and Steve hates it so much.
Steve goes on about thinking when this show started he would never make it to Jury it was part of the reason he did it because he never thought he would make it far or make it on the show at all. "I made top 5 I don't know how but I did"
Vanessa- you are a BIG favorite
Steve – that's not a good thing.. that means I'm a threat
Vanessa- it's nothing but threats.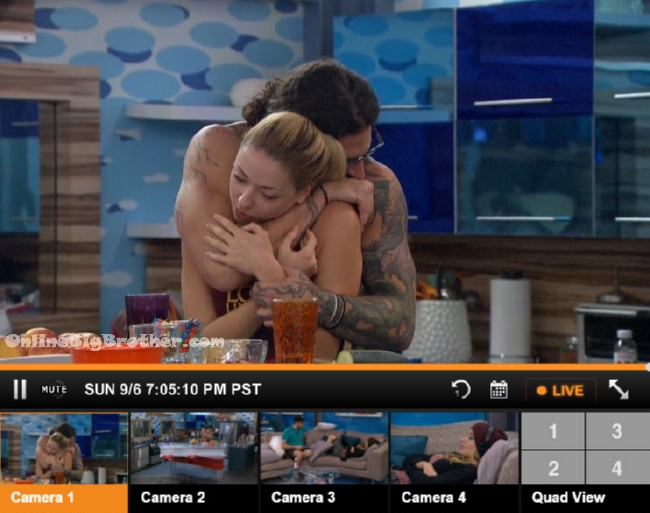 If you've enjoyed the spoilers please consider a donation using the drop down box below. Simon and I work 24/7 all season long to keep you updated on everything that happens inside the Big Brother house.
[polldaddy poll=9059938]

[polldaddy poll=9063299]