POV Holder:
Austin
POV Competition
Sept 5th
POV Used
?
POV Ceremony
Sept 7th
HOH
STEVE
Next HOH
Sept 10th
Original Nominations:
Austin and liz
After POV Nominations:
? and ?
8:06pm pool table Austin and Steve
Asuint tells him things have gotten better between him and Liz she just needed that day
Steve asks if there's anything he can do
Austin – Just play pot ball at 9
Austin adds he's going to try and say something nice during the veto tomorrow.
They start talking about the wrap party for Big Brother 15 Austin was part of it. Austin says rachel Reilly is the best she's so nice and friendly.
Steve apologize for putting the twins up
Austin says he wants Vanessa and jmac to decide who the vote is he just wanted to be able to vote for liz, "because she's my girlfriend.. the fan in me hates to see her give up after she's played so well.. it's like janelle walked out"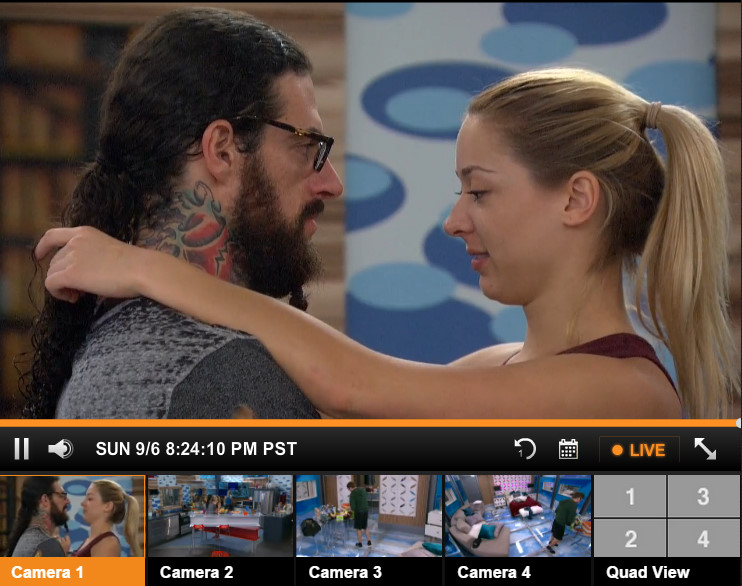 8:26pm Liz and Austin in the kitchen
Liz asks Austin how to punch. He starts to show her
Liz – You've never been in a fight before how do you know
Austin – Sparring ..
Austin tell her if she bends her wrist like that she'll break it.
Twins – last week of twinstin.. it's that depressing
Austin – one week later the show is over.
They agree the reason they are still in the house is everyone else played way too hard forming too many alliances.
The twins ask Austin what their sister's name is.
Asuint says he doesn't know it's on the tip of his tongue
Big brother comes over the Speakers "You got to be kidding me"
Julia says not an angel… .
Austin – Angela.
Vanessa now joins them.. They twins start telling them a time when they were 18 and "Clubbing" the club got raided by the police. (Remember drinking age in the US is 21… )
Austin how worked as a bouncer tells them if people come in with Fake ID the bouncers won't get pressed too hard by the police.
Austin says the police try test to the bouncers by coming in to make sure they are checking ID's. Austin explains as long as you ask for ID and the Age you will be fine.
Liz asks him about fake ID
Austin – you are not legally allowed to take it.. sometimes I say you want it back 20 bucks..
Vanessa asks the girls if they've ever been in a fight . the twins say never.
Liz says they went to a ghetto middle school and there was a fight every day.
Vanessa says she's only seen fights from far away.
Austin says he's seen hundreds of fights but nevers been in one himself. Adds that fights always seemed to disintegrate when he walked out.
Liz asks Austin if he really knows how to throw a punch because in wrestling it's fake.
The twins start grilling Austin if he really knows how to fight and throw a punch
Austin argues that he wouldn't throw a punch, "I would use my Foot or elbow first"
Big Brother – that's what she said
Everyone "AHHHHHH they are f****g with us"
[envira-gallery id="132490″]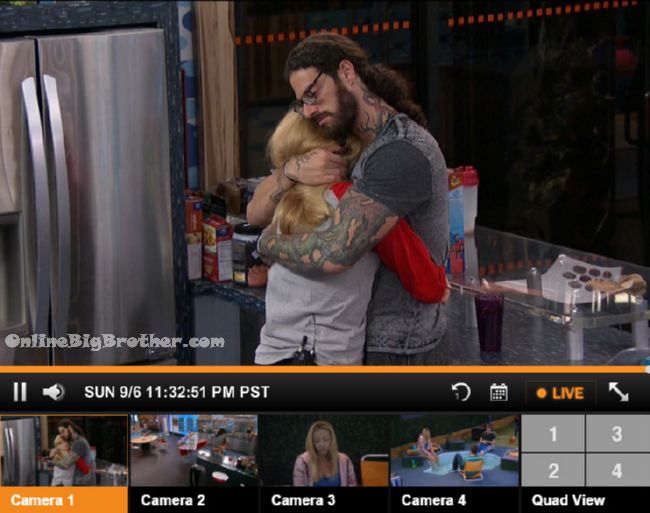 11:43pm everyone in the backyard chit chat
Julia says the face morph was the first POV she played in
Johnnymac breaks out in laughter.
9:07pm eating
Vanessa – so are all the Goblins in Jury
Austin – yup, and Shelli is now a goblin
Liz – we beat the goblins
Twins – We beat the goblin hordes
Julia – they were the goblins slash gremlins
Austin – they moved in a packed like gremlins
Vanessa – they were all short
Austin – they were all short
They agree once jason was on the block it became really apparent how close they all were.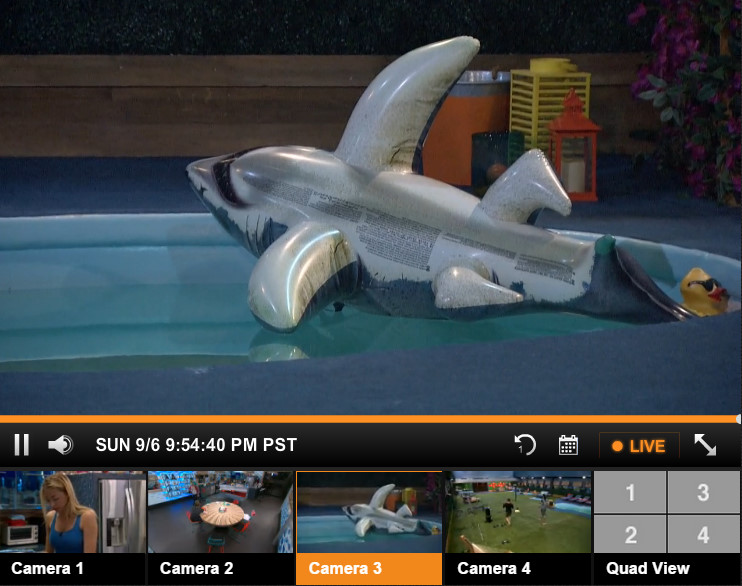 9:42pm Austin and Vanessa backyard
Austin saying worst case scenario is in the final three with Johnny Mac and Steve
Austin – they will take each other.. this is why I want to win this top 5 HOH so they don't get to 4
Vanessa- who's your preference to get out
Austin – Steve
Vanessa – you think steve I'm thinking Johnny Mac
Vanessa says johnny mac has a better chance to get to the end but Steve is more likely to win if he makes it.
Austin – you think the jury will give it to him, Meg and James will never vote for him
Vanessa- steve didn't piss anybody off
Vanessa – what's your best case scenario final 3
Austin – lets see.. Johnny Mac and Steve would be the worst case… You and Julia would be the best case.
Austin – Me and Julia and one of them really bad.. me and you and one of them better but still tricky.. .ideally me you and a twin
Austin – Ideally me you get to the finals in that top 3 HOH and I just lose..
Austin – that's best case scenario
Vanessa – there's even a possibility if we did that we tell julia we just made a deal we would take each other
Austin says the twins do not like Steve and Johnny Mac they want them gone.
Austin says Johnny Mac and steve are the worst final 2 the most boring, "Ugh"
They are talking about putting jmac and Steve up if they win HOH.
Vanessa – and you and I agree if one of them comes down Julia is the pawn
Austin – yeah I'll make that deal fine, totally..
Austin – at this point I'm ready to push the envelope on this it's time We're this close, we're there.. she will understand and she'll be fine.. she'll have your vote and I'll break the tie.. and if she wins HOH even better.
[envira-gallery id="132501″]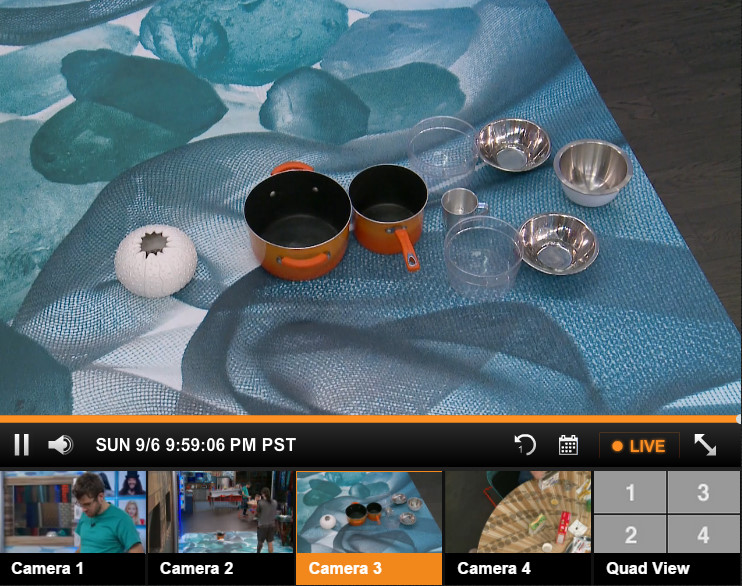 10:43pm pot ball is back
[envira-gallery id="132505″]