POV Holder:
Austin
POV Competition
Sept 5th
POV Used
?
POV Ceremony
Sept 7th
HOH
STEVE
Next HOH
Sept 10th
Original Nominations:
Austin and liz
After POV Nominations:
? and ?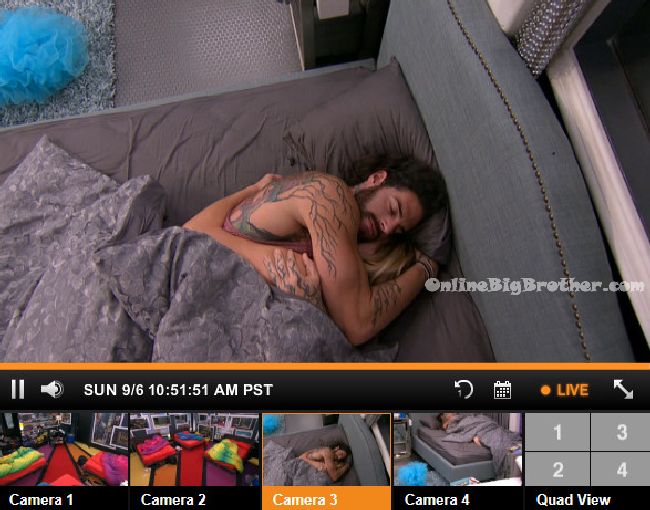 10:50am – 11:30am Big Brother wakes up the house guests. When the live feeds return – Liz gets up from the bed with Julia and goes to the bed with Austin. They curl up together and he starts kissing her forehead. Austin says sorry. Liz says sorry. Austin says yesterday was very confusing with a lot of things happen. Liz says the last thing I want is for this to tear us apart. Austin says the thing with Jessie (Godderz) coming in here is something I wanted to happen coming in here because its stuff that will help me build a career outside of here. It was a really crazy big brother moment that should be really great but its not because of you guys. Liz says I know. Vanessa joins them and asks why the backdoor is closed. Austin says good question. Austin asks did you hear any noises out there? Vanessa says she didn't listen. Austin says he doesn't think they would do anything on Sunday unless it was a luxury comp. Vanessa says I like seeing you guys like that. Vanessa leaves. Austin tells Liz I hated not sleeping with you. Liz says me too. Austin says I took a big risk doing that and I would do it again because of how I feel about you. I've never felt this strongly about someone like how I feel about you. (I find that hard to believe) Liz says I know, I just think it came out wrong. Liz says I had to torture you for one night! Austin says you did torture me. They start making out. Austin says tomorrow is labour day.. maybe they'll give us a labour day party.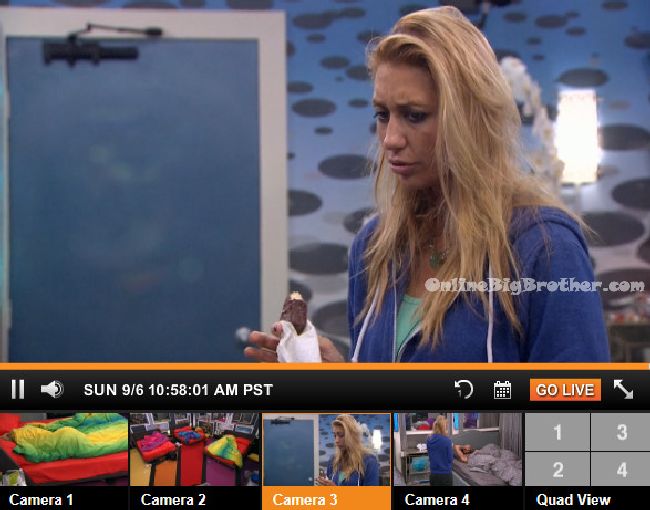 12:10pm – 12:20pm The house guests are still sleeping.
Liztin update: Liz says your fingers smell like garlic. My favourite!
Liz says this week is going to be the worst! Austin says yeah. Liz says that was our longest fight yet! Austin say I know it was the worst!

Vanessa wakes up and finds the backyard open so she heads out to suntan. (Does Vanessa not own a bathing suit? Or is she really that self-conscious?)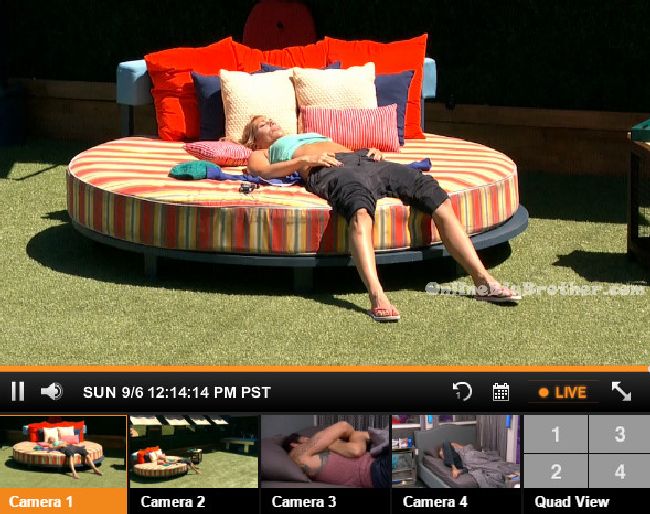 12:35pm – 12:55pmKitchen – Liz, Austin and Vanessa are chatting / making breakfast. Austin pull ham out of the fridge and asks if its okay still. Liz reads the date 08/30 (August 30th). Austin says it should still be good. Austin tastes and says its fine. They use it in their omelette. After Liz finds a new package of ham and Austin tries it. He says that's what ham is supposed to taste like. Vanessa says the other should be fine its cook meats.

1pm – 1:15pm Johnny Mac heads outside. Vanessa is working out on the elliptical. Johnny asks I am almost wondering do we keep it simple and take out Liz so its easier to win HOH. Vanessa says If Austin wins HOH Liz would want him to target Steve. Do you think he will. Johnny says he isn't sure and will talk to Austin over the next few days to find out. Vanessa says If Julia wins Steve is going up 100%! Vanessa says as far as us we're not each others pawn or front door / backdoor target. Johnny says deal. Vanessa says you're the only one I have that deal with. Johnny says me too. Vanessa says I think we make a deal with Austin. Johnny says then break it. Vanessa says as it stands we shouldn't be anyone's main target. Austin joins them and the conversation ends.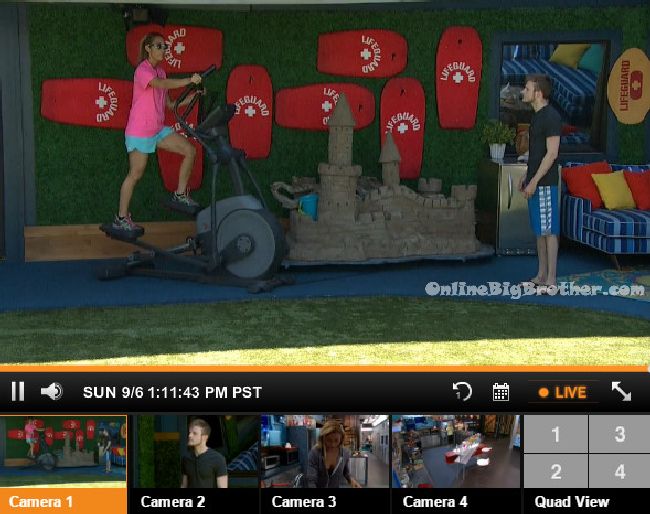 1:30pm – 2:25pm Backyard – Johnny says it looks like things are better for you this morning. Austin says yeah just had to let her cool down. You were right. Dodged that bullet. Austin and Johnny Mac start working out. Steve comes out and gets on the elliptical. Julia and Liz come out to lay by the pool. Liz says I can't believe that ham was 7 days old. I can't believe I ate that! Julia says I am done with Josh when I get back. He was like I'll wait for you. Liz says please I bet he has boned like 10 million girls. What if I go back and R has a girlfriend. Julia says he won't. Vanessa joins them.
2:25pm – 2:40pm Bathroom – Julia asks can you tell me about your conversation. Liz says yeah .. we changed our mic packs at the same time this morning. So he said hi. He looked so pathetic. I didn't want to talk to him then because I had stank a$$ breath. I went to the bathroom and he came too. I just ignored him. Then joined him in bed after. I told him I'm sorry for being a bit*h. He says he was sorry for the way he reacted. Julia says I'm sorry but that is no way to act you just sent your girlfriends sister up on to the block. Liz says it doesn't even matter he wouldn't have thrown it to you any ways. You had to beat him fair and square. I told him I really like you and I don't want to fight with him over the game again. If its my time to go, then its my time to go. It was really selfish of me to get upset over that. I swallowed my pride. Julia says if I stay there is no chance at me winning first place. Liz says but I have a bigger chance of being taken out. Julia says if you go I hope you tell Austin to look after her. Liz says Steve is coming after me or Austin. Julia says I think Steve and Austin have a final 2 deal. Liz says no they don't. Julia says one of us will still be here and we still have a chance. I just wish you and Austin weren't a thing because if you weren't you would 100% be staying and not be a target. Liz says from here on out if I stay I am going on the block. If you stay you're not going on the block. Julia says if I get to the finals at least we know we are winning some kind of money. Liz says by the way we can't say what we're doing with the money. Julia says yeah I'm keeping that money. Liz says you can buy me a car. And then we're going on a EURO trip. And then invest the rest.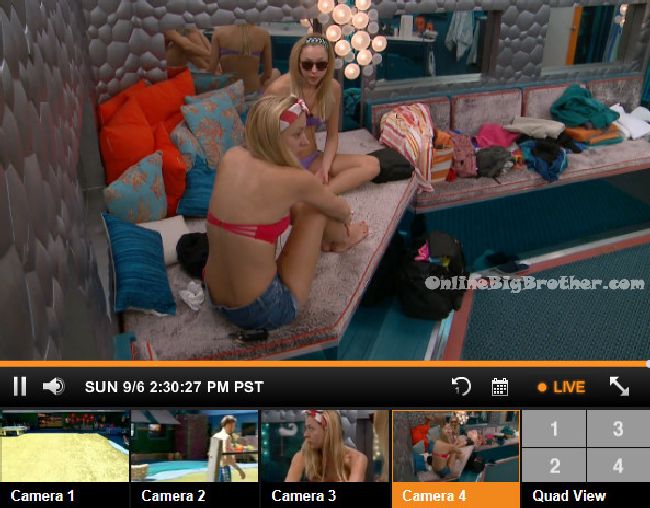 2:50pm Austin, Liz and Steve are hanging out by the pool talking about this seasons cast and past seasons. Steve says its very important that I meet Jodi at some point in my life.
If you've enjoyed the spoilers please consider a donation using the drop down box below. Simon and I work 24/7 all season long to keep you updated on everything that happens inside the Big Brother house.
[polldaddy poll=9059938]

[polldaddy poll=9063299]