POV Holder:
Vanessa
POV Competition
Aug 22nd
POV Used
?
POV Ceremony
Aug 24th
HOH
Austin
Next HOH
Aug 27th
Original Nominations:
Steve and Jmac
After POV Nominations:
? and ?
Have Nots
No have nots this week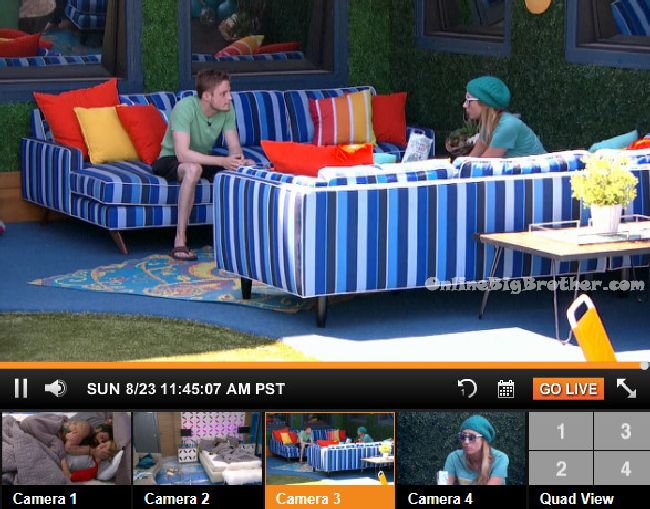 Watch the NEXT WEEK of the Live Feeds for FREE! Click here for your: 1 Week Trial

11:40am – 12:20pm Backyard – Vanessa joins Johnny Mac. Vanessa tells Johnny to just be honest with her. When you made that deal to not put each other up did you intend to keep that deal? Johnny says I was on the fence. I didn't even know if I was going to win HOH. Vanessa asks but if you did win? Johnny says I was going to, unless I heard other information. There was no reason for me to break it. Vanessa says it would be disappointing if I heard otherwise. Did you ever tell anyone you intended to break that deal? Johnny pauses and says to keep myself safe yeah. Vanessa says I would understand why you would say it for your game. Are you over the thing with Becky .. are you over the thing with CLay? Johnny says I'm over it. By back is against the wall. I have nobody. Vanessa asks who are you scared of in the house. Johnny says everyone .. I don't want to throw anyone under the bus. Vanessa says I didn't even know my back was against the wall. I thought I was just winning it (veto) to keep the noms the same. Johnny asks what happened with your conversation with Austin last night. Vanessa says a lot of things. Austin and I cleared a lot of things up. I found out a lot of people were throwing me under the bus. Vanessa says I have a hard time trusting you at your word. I know you had animosity towards me. Johnny says I've lost friend after friend. I know you might have had a part in it but it doesn't matter any more. I know people are close to Steve and that I am probably going home. Vanessa says I am frustrated with Steve because he lied to me last night. His back wasn't against the wall. Johnny asks so if everything went to plan I was going home this week. I am alone in this house. I am at the bottom and once you figure out things I am willing to talk. I've lost everyone. I've got nothing left. There is nothing I can say for them to keep me over Steve. I can't do anything you know. Vanessa talks about the issues she had with Becky. All I asked was for her word and anyone who's watched Big Brother knows that's a common thing to ask for. Johnny says going forward I am done. You could have lied to me since we walked in the door and I wouldn't care at this point. Johnny brings up the Vanessa/Audrey fight and says that Audrey told me you ratted me out. Vanessa says Audrey is a liar. I thought it was Jeff who was the one who told me. You may have thought you had told me but he told me. You later confirmed it. Audrey threw us under the bus to not trust each other. Johnny says that always made me uneasy about you. Vanessa says Audrey was starting sh*t between us. I'm glad Audrey is not here any more. Johnny says I think the only other thing is that we had different allies in the house. Vanessa asks has there been information that Steve gave you that you lead me to believe it came from somewhere else? Johnny says no. Johnny explains the fight with him/Clay/James and Vanessa. Vanessa says that is the first time that makes sense to me. Johnny says Clay took the bullet for it. Vanessa says I hope you know that you've never been my enemy in the house.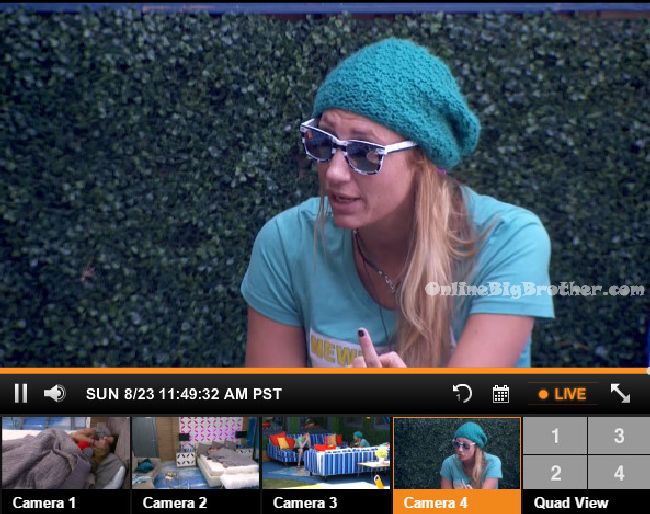 11:40am – 12:20pm HOH room – Austin and Liz are talking. Liz says I am over listening to Steve. Like literally he is a 22 year old nerd. I love you but you need to check yourself! Austin says I am going to question Johnny Mac and find out if there really was a final 2 with Steve. Steve told me there wasn't. Liz says he is so fake. Austin says he always tells me Austin James is putting you up next week. And I'm like how would you know that. Austin and Liz head down to make breakfast.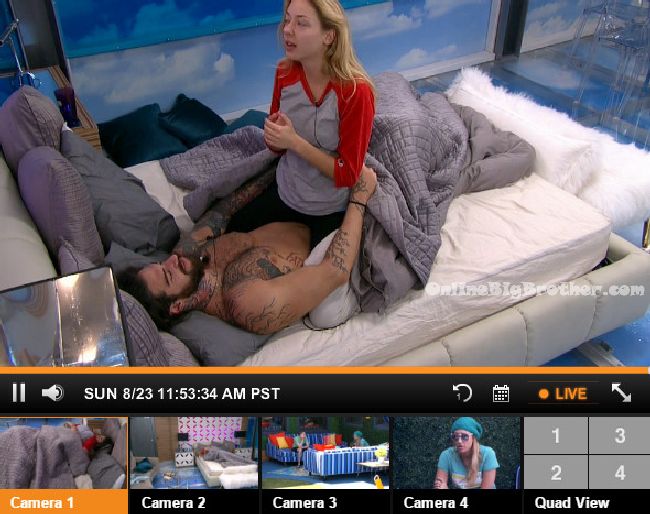 12:25pm – 12:50pm Vanessa tells Johnny I am going to do what I can to help your situation. And I think there is something that I can do to help your situation out. I can't take two people down, if I did take you down .. that's all it would take. Johnny says I don't even care if you take me down as long as I stay. Johnny tells Vanessa that Austin and the twins know the true story about what happened during the Clay fight. Vanessa says motherf**kers and they didn't tell me?! That would have cleared up a lot with my feelings towards you and they didn't tell me. I guess they didn't understand the situation because they weren't there. Vanessa says I don't want you to go home. I don't want you to go home.. That would be so dumb. Johnny asks do we still act like we hate each other? I feel like that's what's been keeping us safe. Vanessa says that is probably smart.. okay so I have to be creative on how to keep you. Johnny asks so they really want James and Meg here? I haven't been that great in competitions. Meg did better than me in this one. Vanessa says I think their fear with James is that he could come back and he can win comps. Vanessa says we are 100% cool. I hope you stay. The only person that I think shouldn't think we're mad is Steve. There is something he did that made me mad and I need to ask him about it. Johnny says I couldn't tell if Steve and I were going up as pawns or if Steve or I were the target. Vanessa asks have James or Meg ever thrown me under the bus to you? Johnny says not to me. They have no reason to tell me anything against you. When Liz won HOH and after Becky & I were nominated Meg told me if I had anything to vent on about Vanessa I should probably do it. Vanessa says everyone was doing it. They didn't want to go up so they were framing me. Johnny says the thing I don't like about them (James & Meg) is how fast they turned on Becky. Johnny says no matter if you use it or not you still need the twins vote. Vanessa says so I have your word that we are cool. Johnny says its all I've got. Vanessa says if everyone thinks we do hate each other.. then we'll never be put up on the block together. Johnny says I feel like you're a better game player than Steve and I know we're going to get broken up. Johnny says think about whether we should be mad at each other or not. We could say that Meg put all this in their heads. Vanessa says it will make Meg look like the mastermind which she has been to a certain extent. They decide to keep it cool / kind of uneasy. Vanessa says you can talk sh*t about me. Johnny says if I do I will come tell you everything I say. This is crazy .. this is awesome! Vanessa says I really hope it works. Johnny says we have to make sure we're not seen as a 3 (Johnny, Steve, Vanessa). We need them (James and Meg) to be seen as a group that will become 3 when someone comes back.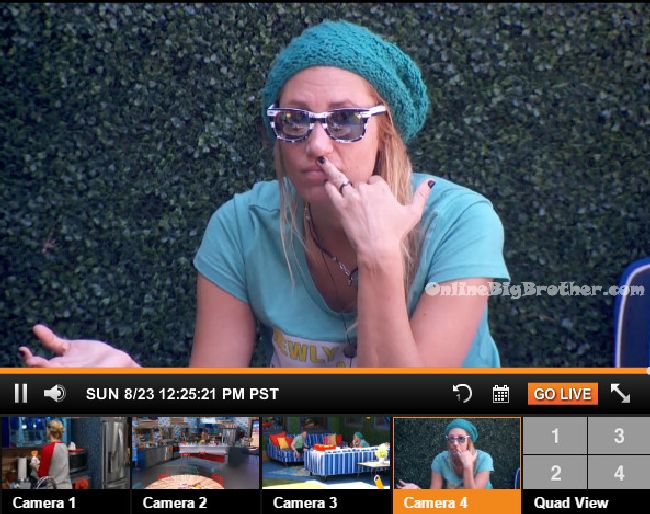 12:55pm
Vanessa talks to Austin and Liz. She says Johnny Mac knows he's done. Vanessa tells them why Johnny has been upset with her since week 1. Vanessa says that this sh*t has to do with Audrey! She is still haunting me!! He then told me everything that happened with Clay. We don't have to be enemies, for the first time in the game we're on the same playing level. Austin says that he needs to talk to Johnny and find out if he and Steve have a final 2. I need to know if Steve lied about that. Steve has the face morph in his backyard and the zingbot in his mom's basement. Vanessa says that Johnny said his target next week would be the one that is left James or Meg and the person that comes back. Austin says so he will probably throw it. Vanessa says which is good for us. Vanessa tells them about how Meg told Johnny to throw me under the bus. That's how much of a mastermind she is. Liz says Meg is always the one that has been vocal about you. James never says anything. Austin says we need to connect James and Meg to a plot to get you out.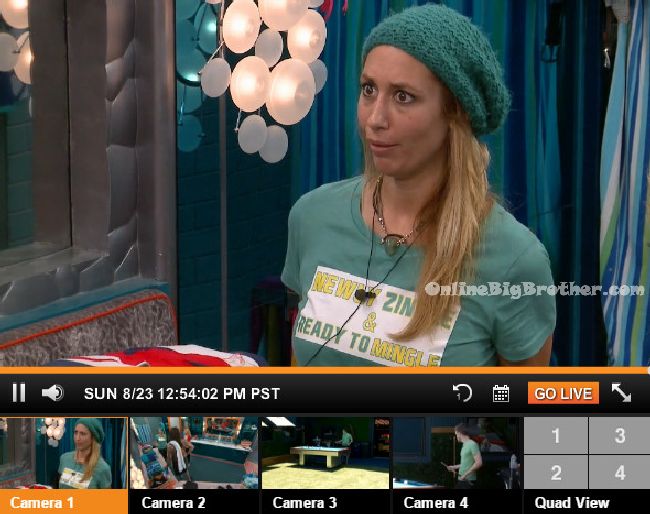 1:05pm Austin asks did you talk to Vanessa? Johnny says yeah, she doesn't know what to do with it. Austin says Meg and James are trying to get her not to use it so that you will go. Austin says I am looking for loyal people to work with. Austin says that Clay told me to trust you and that pretty much you and Steve had a final 2 kind of thing. Johnny says yeah. Austin asks so you are cool going to the final 2 with him. Austin asks when did you decide to be a final 2. Johnny says it never was decided but when Clay and Shelli were looking for someone for me to be safe. Austin says so you knew you guys had to band together because they were a 2. That makes sense why Steve was so afraid to be on the block with you. I wish Steve had told me how close you two were. I don't look at it as a bad thing. Austin asks do you think I can trust James? Because if he comes back I am f**ked. Johnny says keep James and they could possibly become a 3 (with returning jury member). Nothing bad about him, its just a numbers thing. Austin says if you know anything on Meg and James .. I am looking for reasons not to trust them. My goal today is to fish for sh*t. Johnny says James told me if it came down to him and me .. he said he would throw it to me. Austin says he said he would throw it to me too. Johnny says if he is saying he would throw it to me and doesn't that means he's unease about others. Austin says Vanessa is a shield but can only be for so long. I made the right move keeping her because she is on our side again. And if we keep you and Shelli comes back you could possible keep her from coming after us. Johnny says I could. Austin says you're the easy one to get out because no one would be mad. I need to find something about James.
1:25pm Julia tells Liz I am not going to be the less intelligent twin any more. Liz tells Julia about their conversation with Vanessa. Vanessa doesn't have any concrete evidence against James and Meg. Vanessa had a conversation with Johnny Mac and he came clean about everything. Liz says I am really sketched out about Steve. I understand would have a final 2 with Johnny. He wouldn't have one with Austin, me, you, Meg, Vanessa or James. Julia says I was right about Vanessa. You and Austin were sketched out about her but I am glad she really is on our side. Liz says I feel bad about trashing her in the DR. Big Brother blocks the feeds. Julia says it would be awesome for our game to get our Steve because he is going to win things. Johnny Mac isn't winning things lately. But I think anyone that would come back won't work with Steve. They would all work with Johnny Mac. Liz says I am just scared… this is how you and I get f**ked. Someone comes back and puts you and I up and one of us go. Julia says unless one of us wins the veto .. or Austin. Julia says I think this week Johnny needs to go. Liz agrees. Julia says I don't think if Steve wins he would come after us. There are 4 of us I mean like come on lets be real. Liz says I didn't put him up when I was HOH. Lets be real little boy!