POV Holder:
Vanessa
POV Competition
Aug 22nd
POV Used
?
POV Ceremony
Aug 24th
HOH
Austin
Next HOH
Aug 27th
Original Nominations:
Steve and Jmac
After POV Nominations:
? and ?
Have Nots
No have nots this week
2:50pm Vanessa and Steve Comic room
Steve pulls out the bible tells him he's told her everything (Prior to me coming in on this conversation Vanessa had sworn on the bible she was telling the truth. Dawg covered this conversation in the previous post. Basically Vanessa is building up trust with Steve and Jmac and trying to get Austin to take out a goblin.)
Vanessa say Johnnymac came clean with her about everything "I've never felt more fine with him.. and he never felt more fine with me"
Vanessa – I don't think you are aware what you are capable in this game..
Vanessa – Johnny believes you have a final 2 deal with him
Steve – yes
Vanessa – does Austin
Steve – he asked me about it
Vanessa – for f*** sake I don't know what more to do to prove to you I have your back
Vanessa- Austin and I have been working together since the fast forward.. Then he fell in love with LIz
Vanessa says she would be a fool to think Austin is going to the end with her. Austin is with the twins first.
Vanessa seems to think Meg was purposely trying to heighten paranoia to get Vanessa out.
Vanessa – Steve I'm telling you Austin's doubting you.,..
Steve – Because of Johnny
Vanessa points out Johnnymac must have told Austin he was in a final 2 with you.
[envira-gallery id="130069″]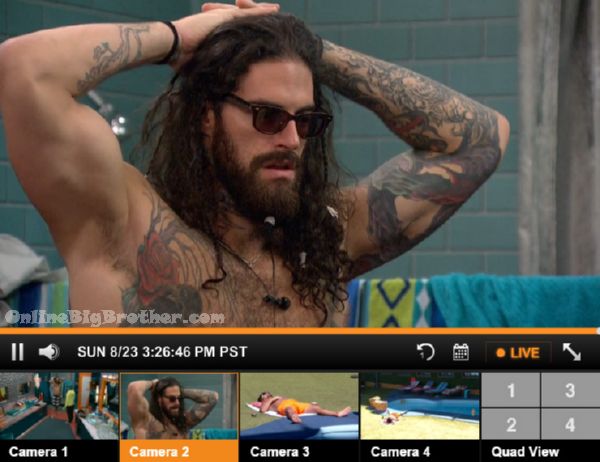 3:11pm Bathroom Vanessa and Austin
Vanessa says Steve proof that he's more loyal to them was his HOH during double eviction because jmac wanted James out not jackie.
Austin says Steve was brought to him through Clay and Shelli..
Austin – It's been Steve and Johnnymac through Shelli/Clay all this time
Vanessa saying that Meg usually laughs after losing a competition this last POV last night she was crying after, "There was something"
Vanessa – Best bet target Meg over James, Meg won't come back
Austin – He will be nuts irrational and If Jackie comes back it will be BOOOM…
Austin – If James goes into the Jury all four of those people are vicious competitors
Adds that whoever comes back will be teamed up with Meg. Austin thinks this is a better outcome.
Austin – who do you take down
Vanessa – I don't know
Vanessa mentions how scary it is leaving Meg and james in the game with the good chance Jackie comes back in. Austin says that can be their reason. Based on the information Johnnymac has been telling you there's reason.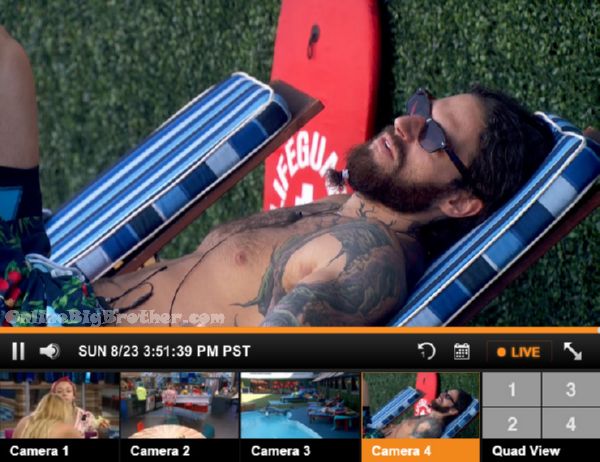 3:50pm Austin and Meg
Austin says his girlfriend will be very upset and probably never talk to him again, "I should have been not selfish and finished things months before"
Austin says his girlfriend told him if he went on the show she would be around when he came out.
Austin says he had no intention on finding a showmance but once he went into the house 'Surprise surprise I found someone"
Austin feels bad that his girlfriend will find out on a TV show. Austin says showmances are a cool element in the show, Adds it's not like he was living with the girl they were just seeing each other.
Feeds switch to the kitchen eating and chit chat..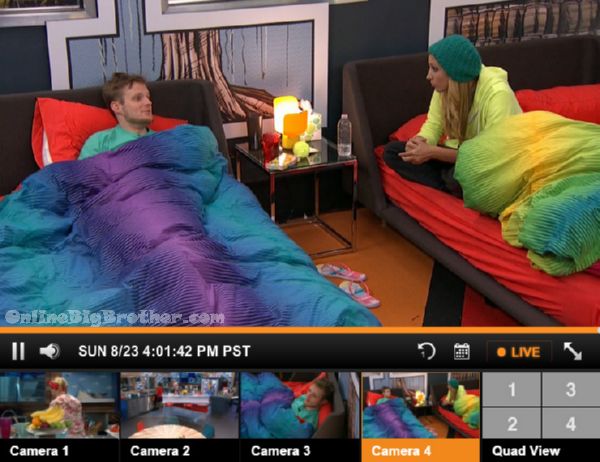 4:01pm Jmac and Vanessa
Jamac tell her to use the veto on him
Jmac says Steve is tight with twins and Austin.
Vanessa- he's tight with them.
Jmac says it will be easier for them to get a goblin out if they're up against Steve
4:11pm HOH twins and Vanessa
Vanessa working on equating Meg's name with MUD. Saying that Meg was trying to get her out this week.
Vanessa says Meg is the furthest off her radar.
A twin is now saying they need to take out Meg, "She's so sneaky"
Vanessa tells them what Austin told Steve about Brass tacks
Vanessa warns
Vanessa tells them that Steve thinks Jmac believes he's in a final 2 with Steve but Steve is really loyal to them, 'He's allowed to have other people, there's level of loyalties"
Liz – we need to get Johnnymac out he's sketchy Mc sketcher in the Diary room
Julia- Either James or John need to go
Vaness a- what if becky comes back and has james and Meg
Liz points out they have no relationships with Johnnymac compared to Steve
Vanessa says jmac is less capable than Steve
Julia says Steve has been a "Complete Sh1t head" this week
Liz – you're 22 year old you're a nincompoop stop telling Austin what to do he can flick you across the room
LIz – Johnnymac has gotta go
Julia now saying that they should send Steve home because he's more dangerous in competitions.. (LOL I give up they flip flop all over the place)
Vanessa tells them she's predicted every single competition. She believes the next competitions is dates.
Liz mentions that a lot of the vetoes Jmac won were thrown to her.
Julia says the one he won during double eviction wasn't thrown to him
Julia – "I think we should put James up I would love to see him go home"
Liz – I know and Meg is all by herself and she'll friggin crack
Steve comes up, explains to them the deal he had made with Johnnymac. It was a simple deal what they would work together.
Steve says he doesn't know what Jmac would do if he won HOH, Steve thinks he might be closer to them than anyone.
[envira-gallery id="130078″]
4:46pm James and Meg
Meg – how far do you think Vanessa will get
James – she's going to get far
james – you know how we would say Shelli was going to be hard to get..
Meg – no
James – it's Vanessa
James – Do you still feel good about your decision to get the Shelli out first
Meg- Ya, Do you not
James- I'm trying to think of the comps we just played, Vanessa is a lot closer to Austin that's a problem
Meg – Shelli is closer to Steve and Johnnymac
James- that would have caused conflict between the house sides not particularly us.. this side would throw grenades at that side and me and you could have been in the middle of it
Meg – Big time
ALLIANCES:
"Goblins/Gremlins" = James and Meg
"The Generals" = anyone allied with Becky
"SOS" (Students of Sound) = Steve and Vanessa
Rockstars = Steve and Jmac
AUS-Twins = Austin, Julia and Liz
"Austin's Angels" = Austin, Liz, Julia, Vanessa
"Brass Tacks" = Gobins and Austwins
The new "Brass Tacks" = Aus-Twins, Meg, James + Vanessa
"Freaks and Geeks" "The Scamper Squad" = Aus-Twins, Vanessa, Steve
"The new Freaks and Geeks minus Vanessa" = Austin, Liz, Julia, Steve, Johnny Mac
"The Authority" = Austin, Liz, Julia, Steve
[polldaddy poll=9035699]