POV Holder:
Vanessa
POV Competition
Aug 22nd
POV Used
?
POV Ceremony
Aug 24th
HOH
Austin
Next HOH
Aug 27th
Original Nominations:
Steve and Jmac
After POV Nominations:
? and ?
Have Nots
No have nots this week
Vanessa won the veto
11:23pm In the HOH Vanessa, Twins, Asuitn and Steve.
Talking about johnnymac going this week. Asutin says Vanessa creamed the comp.
The POV was face morph and Zing bot. Steve mentions that it's strange to combine those two.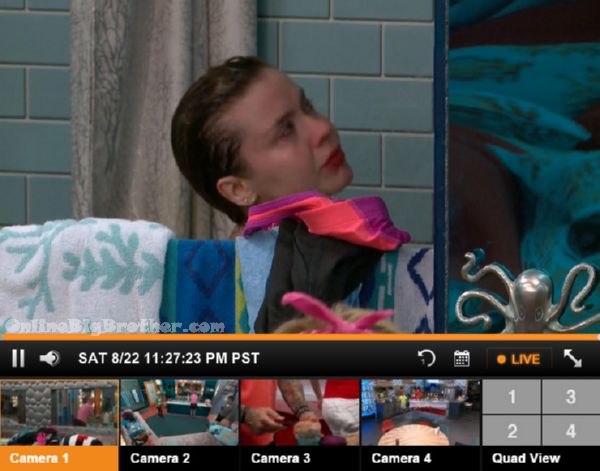 11:26pm Meg is upset because she's sucking at all the competitions.
Vanessa points out that Meg did great at the comic competition.
11:30pm Have nots Twins and Vanessa
Talking about how fake Johnnymac is. They start contemplating who should go this week Steve or Johnnymac. Twins are pointing out how poorly johnnymac is going in competitions compared to Steve.
Vanessa says she's glad she won something it's been a while.
Liz says Steve is acting like she's going to use it on him .
Vanessa says Steve is stupid if he thinks that.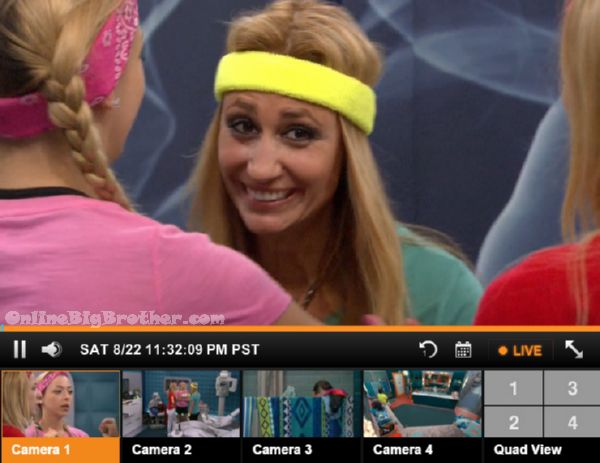 11:46pm Bathroom Meg and Vanessa Meg continues to be sad that she sucks
Vanessa says Julia went first and did it in 4minutes 40seconds,
Austin and Jmac did poorly, She did it in 2 minutes+
Vanessa – Austin broke my button
Meg – I've never felt like I sucked at something so much in my life
Vanessa- Meg be reasonably you just had surgery.. be fair to yourself.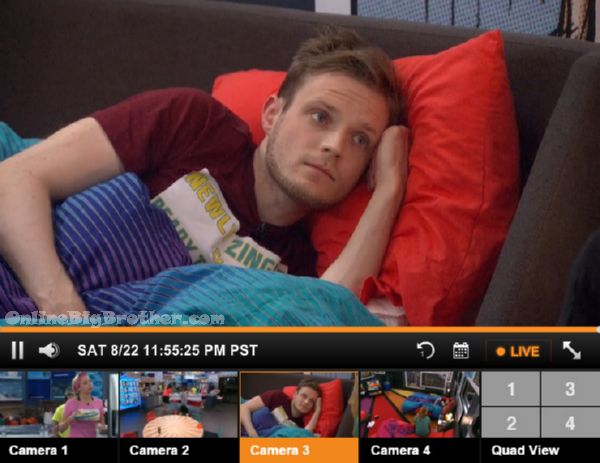 11:55pm Vanessa and Jmac
Vanessa tells him she will do what Austin wants with the veto..
Jmac – I've been on the block so many time i'm like dead
12:26am Steve telling Vanessa, Meg is personally embarrassed by her performance and is worried about a potential James Backdoor. He thinks this is why she's crying.
12:28am Jmac tells Steve he needs to tell Austin that the goblins are goign to sell them all out to Vanessa.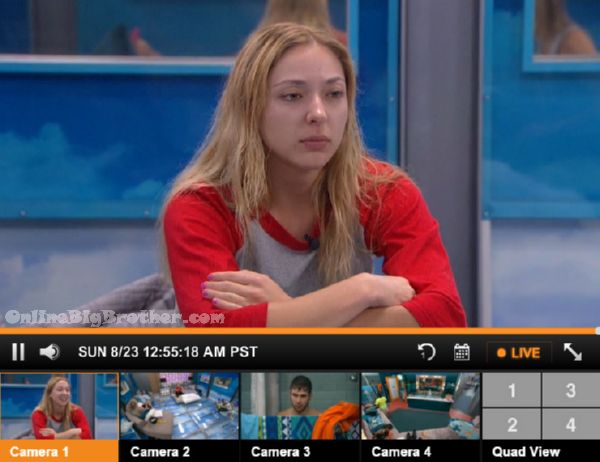 12:34am twins in the HOH
Agreeing that Johnnymac has to go
Julia – For me I want John gone
Liz – we have to get information from Steve
Julia – steve is more loyal to us than john
Julia hinting that maybe Vanessa should use the veto on Steve and they can "Opps" put up James
Liz says she's talked to James he's cool with them for now.
Liz is saying that Steve and Jmac are boring that is why they "Gotta go sorry"
Julia says it was embarrassing that Meg didn't even know her own nose in the POV competition.
They talk about Vanessa's Zing something about her being mastermind but Crying a lot.
Liz – Who do you think you are you're a nerd dude
12:52am They think Steve is expecting the Veto to get used and James goes up. Meg comes up.. Starts complaining that every single competition she makes a fool of herself. They tell Meg teh Veto isn't being used it's between Johnnymac and Steve
Meg asks who Vanessa wants out.
Liz says Johnnymac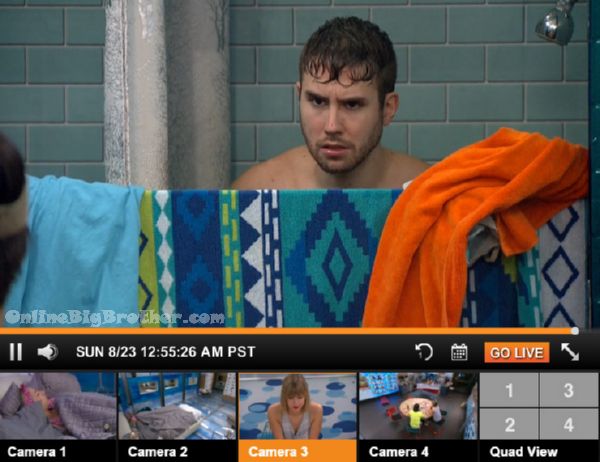 12:56am Steve tells James the POV won't be used this week. Steve says it's tacky if he starts campaigning right now.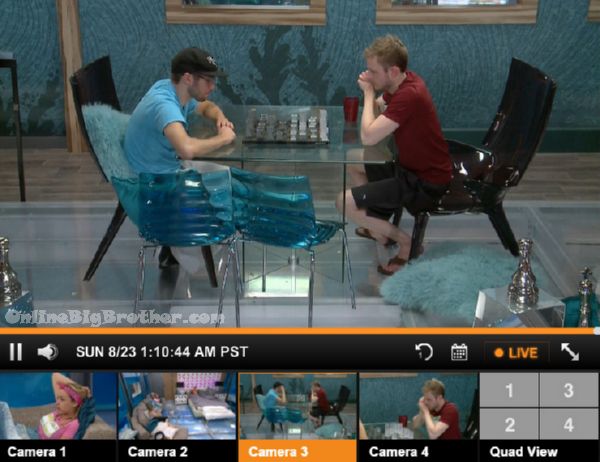 1:12am Chess….
ALLIANCES:
"Goblins/Gremlins" = James and Meg
"The Generals" = anyone allied with Becky
"SOS" (Students of Sound) = Steve and Vanessa
Rockstars = Steve and Jmac
AUS-Twins = Austin, Julia and Liz
"Austin's Angels" = Austin, Liz, Julia, Vanessa
"Brass Tacks" = Gobins and Austwins
The new "Brass Tacks" = Aus-Twins, Meg, James + Vanessa
"Freaks and Geeks" "The Scamper Squad" = Aus-Twins, Vanessa, Steve
"The new Freaks and Geeks minus Vanessa" = Austin, Liz, Julia, Steve, Johnny Mac
"The Authority" = Austin, Liz, Julia, Steve
[polldaddy poll=9035699]