POV Holder:
James
POV Competition
Aug 29th
POV Used
?
POV Ceremony
Aug 31st
HOH
Vanessa
Next HOH
Sept 3rd
Original Nominations:
Meg and James
After POV Nominations:
?and ?
Have Nots
Johnny Mac, Julia, James, Meg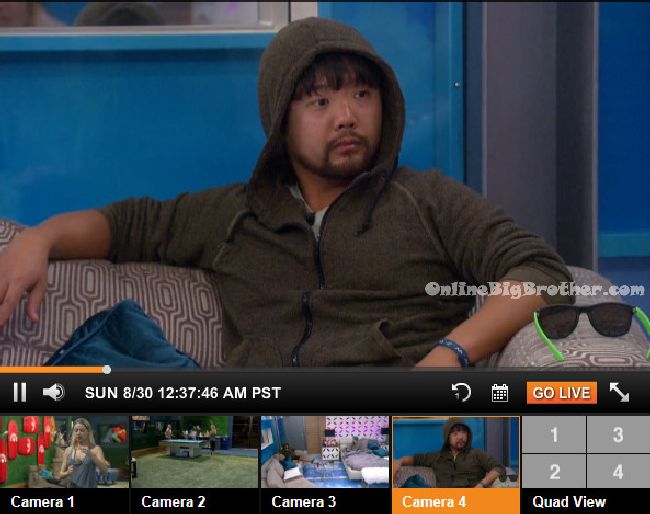 12am HOH room – James and Vanessa continue to talk. James says the thing that I did where I withheld information.. I didn't come to you about Austin. You put me up on the block and I was just kind of hoping it was scratch it even. Like tick for tack. Vanessa says totally! 100% and yeah I'm no matter which way it goes. I need to win comps to stay. James says me too. Vanessa says taking out people who win comps is a big advantage for me. So I feels like a big waste to take out Meg. James says I told her that. Vanessa says I'm not even trying to insult her. She just had surgery! Like wow for even being here. It makes it hard when there is a physical component in everything we do. So I am open minded. It will be so hard to have a replacement nom. I just need to figure out where everyones game is and what I should do. I have such terrible options. James says I said to Austin next week one of us are going to have to go up on the block. Its getting down to that point. If we put each other up lets just keep it game, game, game. Vanessa says yeah just don't insult me. I am just so tried of being reasonable. I offer to go up as a pawn. I try to make things easier but I don't feel others do the same. James says that he is sorry about blowing up downstairs. I just had some steam built up. Vanessa says just next time come talk to me before that happens. Vanessa says honestly if I could pick a number 2 you would have been it. Its just a shame we were on different sides. I have nothing against you. I think very highly of you. James says you too. I speak very highly of your mom in the diary room.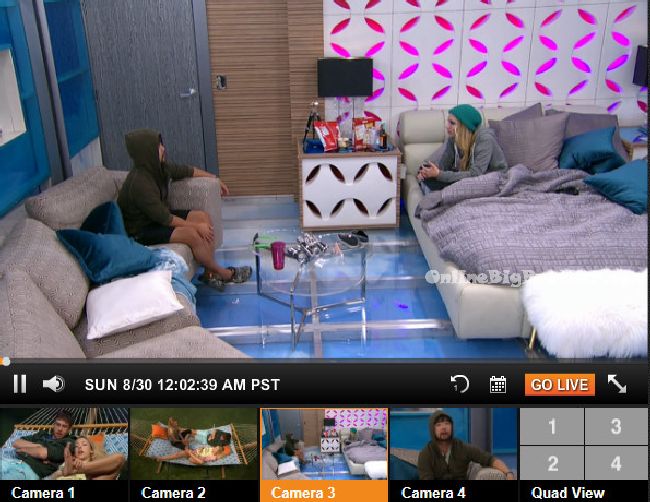 12:40am – 1:23am Vanessa says if Meg does go home .. that leaves Johnny Mac, Steve, Me, Austin and the twins.. Have you thought about what that means for your game? James says I don't know what is best for my game to be honest. James says I feel like we're a dying breed. Vanessa says we are. James says its hard to keep loyalties to everyone. Its to that point where its more everyone for themselves. Vanessa asks if you win HOH give me the opportunity to talk to you first. I could give you information that you don't have. James says sh*t I hate when you do that. Vanessa says I could give you a different perspective. If you have to put me up, I would understand. James says after this talk I definitely feel better about you. Vanessa asks what do you think Johnny Mac would do if he won HOH? James says I have no idea. Vanessa laughs and says no one knows. James says I believe what Austin says if Johnny Mac wins HOH he is going to go Taxi Driver and go BANG BANG BANG! Vanessa says everyone else had put him up. He definitely has four people he could put up. James says he's got that attitude that he doesn't care. You're a gazelle and I'm a lion. James says as a friend and a game player I want you to make the best move for you. When you make it to the end the jury is going to ask what strategic moves did you make. That's what I'm going to ask. Vanessa says worst case we all make day 85. Vanessa says that Steve and Johnny Mac both have 4 comp wins. Austin and Liz join them. They talk about the veto comp and where they hid theirs were hidden. Austin says he knew the point was to protect his so no one would find it. James heads to bed. Vanessa says good conversation.
Watch the NEXT WEEK of the Live Feeds for FREE! Click here for your: 1 Week Trial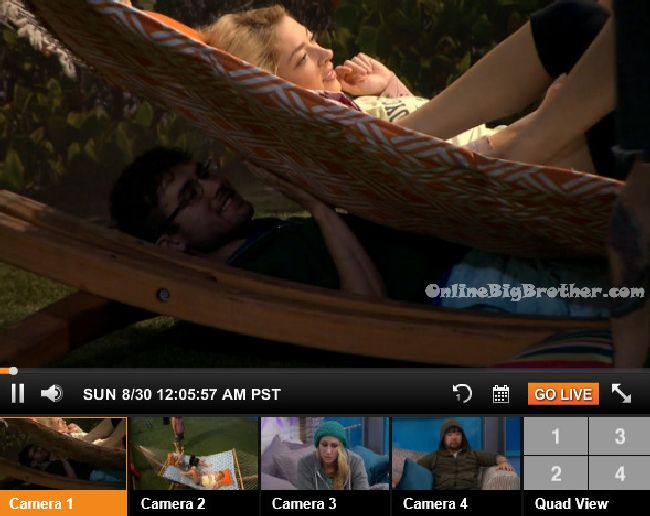 12am – 12:50am Backyard hammock – Liz asks if James is still up in the HOH? Austin says I don't know. I didn't see him come down. Its a long one. Julia says I just can't believe she is willing to use me as a pawn and not Johnny Mac. Like we control the votes Aghhhh. Austin says I told her that's not a good idea. Julia says I just don't want to be like how Steve was and be a brat about it. Like no I don't want to. I kinda just don't! Austin says Johnny Mac and James could get together. So what is the best way to make sure they don't get together.. Johnny Mac and Meg on the block. Now they can't hang out this week, they're not going to be friends and we can still decide. Johnny Mac is fine being a pawn if he things we 3 are voting for him. In fact it makes us better in his mind because now we've actually done something for him. Julia says and we'll do whatever she wants. If she wants Meg out then we'll do that …but at this point I would rather Johnny Mac leave. Austin says its probably in her best interest to get Johnny Mac out but maybe he will be cool. Austin says that James agreed that next week none of us (Austin, Liz, Julia) will go up. Liz says this is the problem with Vanessa she needs reasons to put someone up. Like from 3 weeks ago. When I put up Becky it was for strategic reasons. Johnny Mac and Steve joins them. They chat about random things and then head inside to eat. Liz and Julia play a game of pool.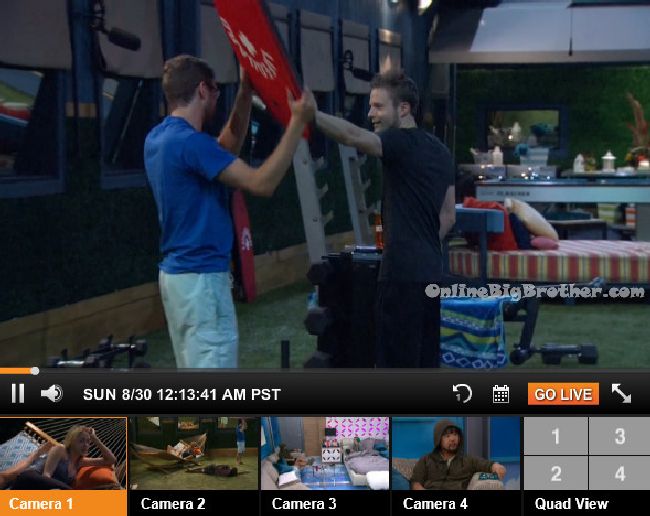 1:25am James joins Johnny Mac, Meg and Julia in the havenot room to go to sleep. Meanwhile up in the HOH room – Vanessa, Steve, Austin and Liz are talking after James left. Vanessa talks about how she and James are fine now. I'm obviously his target. We have respect for each other but we're on different sides. I am leaning towards targeting Meg. That was my plan going into this week and it think its stupid to turn back from that and have 2 people gunning for me. I think I've burned bridges irreconcilably with James in terms of this game and I think with Meg as well. I think if I leave them in the game then I am going to have to not play HOH and root against 2 people not winning. When I don't think its physical and I think Meg can win a not physical comp. I don't know what Johnny Mac will do but I know its not as much of a risk. I know Meg is gunning for me. I don't want any more blood on my hands. Austin says okay. Vanessa says Meg lies whereas James doesn't. Austin asks what do you think about a pawn then. Johnny Mac said he trusts us if he was the pawn. That will seal his deal with next week. Vanessa says she doesn't want to put Johnny Mac up. That would then be 3 people coming after me. That is the easiest reason for him to come after me. I might put up Steve. With trying to keep all 3 of you safe is hard. It would be great if someone would volunteer. Vanessa says she wants to ask Austin 2 things James said. Steve and Liz leave. Vanessa says first he said after that ready set whoa, you asked why would he not have thrown it to you. Why was he trying so hard to win. Austin says this was before we cleared the air. Vanessa says yeah so if you didn't trust me then, that makes sense. The other thing he said was when you stormed out of the room when I was on the block. I thought it was about how you were campaigning for me and I didn't appreciate it. But James says it was because I implied you couldn't trust James. Austin says no, no, no I was pissed that I was studying with them.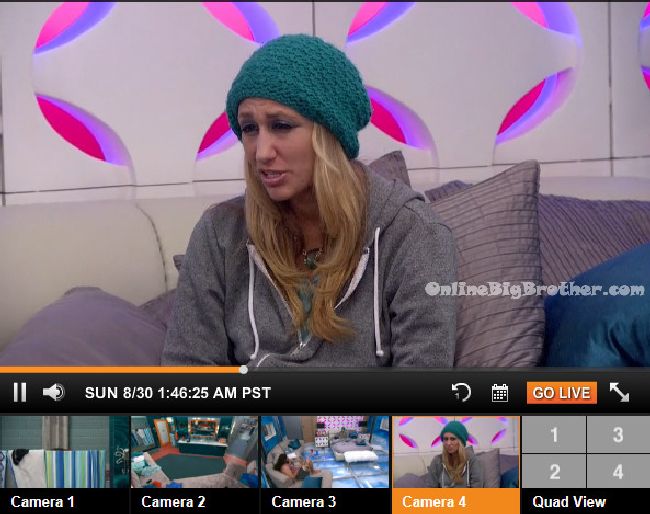 1:35am – 2:25am The continue to talk about who should go up. Vanessa says I don't want to put up someone and make another target for me. I would rather put up a pawn from our group because we have the numbers. Were the girls mad about me suggesting Julia. Austin says yes, Julia was weirded out by it but was afraid to not be a loyal soldier. Their minds are not going to be able to comprehend that level of strategy. You know that. Vanessa says but at the same point she is not winning HOHs. There has to be blood on her hands some how. For your game you can only protect the 3 of you so much. You can make deals for you or you and Liz much more than.. Austin says I'm almost at the point where I need to make deals for myself. I can't make deals for 3 of us any more. Vanessa says everyone has to pull their own weight. Austin says I know, I'm a big boy and I know I have to face my own reality when I get out of here. Vanessa says I might just put up Steve. I would rather one of the girls do it but I didn't think they would be so pissed about it. Austin asks so you're not worried about Johnny Mac and James forming a duo in the havenot room now that they're safe. Vanessa says I asked Johnny Mac if he had a problem targeting James next week and he said no. Vanessa and Austin agree to make a deal with Johnny Mac so that only the 2 of them are safe next week and for Johnny Mac to go after James next week. Austin says he's made a deal before but gone back on it. Vanessa says I can make him give his word. Austin asks what is James going to do if he wins HOH? Vanessa says he'll put up me and Steve. Vanessa says that Steve is a much better option as long as you guys give your word so vote Meg out. Austin says oh we will. I think it would be good for me, you and James to work together. But that can't happen if he is hell bent on getting you out. Vanessa says it could work once Meg is gone. Austin plans to get on James good side to influence him and get information from him. Austin heads down stairs.
FLASHBACK and watch ALL the DRAMA: Big Brother 17 Live Feed 7 day FREE Trial!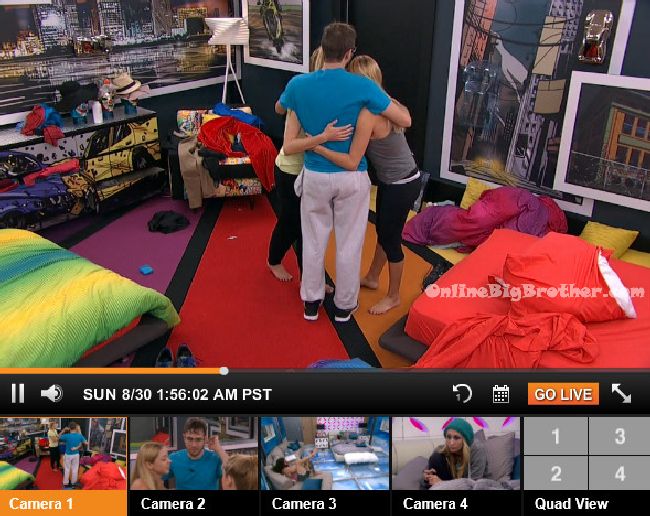 1:55am – 2am Comic Bedroom – Liz and Steve are talking. Steve says even if Vanessa wanted one of us to go home it couldn't happen because we have the votes. Julia joins them. Liz tells Julia that Steve would never vote against you and we would never vote against him. Julia says I know its just not a good feeling. Steve says there are 4 of us and you only need 3 votes. Steve says Meg tried to flip it all on us last week. They all hug. Julia says if I have to be a pawn I will. I just know if its you, Liz and Austin I know I am staying. If I have to do it, I'll do it. Just help me write my speech. Steve says Vanessa wants Meg to go. Julia says you did it last week, you know like f**k it. Steve says I am not voting against you or you. That's kind of how an alliance works.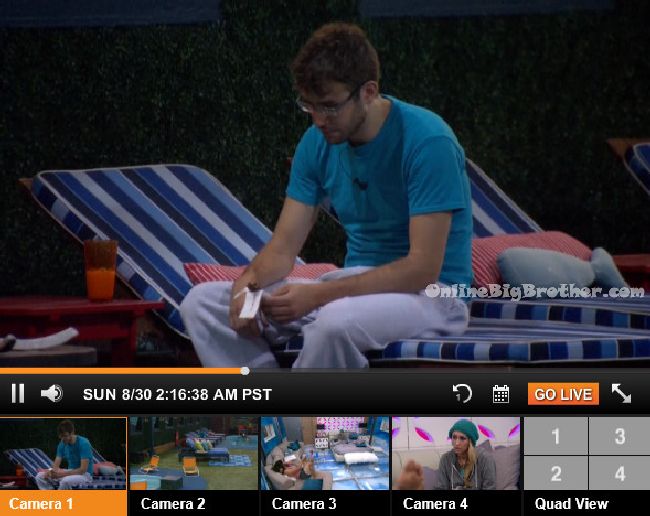 2:15am Backyard – Steve talks to himself. The only person that wants Vanessa out this week is James. But If I'm HOH next week, Vanessa won't be touching the block.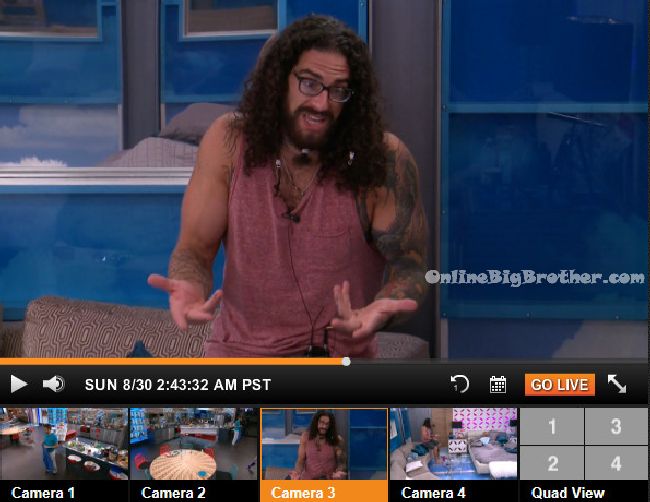 2:40am – 3am Austin goes back up to the HOH room to talk to Vanessa again. Austin says my James play is fool proof because now he knows I can't keep Meg safe over Steve. So its not my fault any more which would allow me to make it even more solid with him. Vanessa asks Liz is agreeable? Austin says she said for me to tell you that and Julia would be too. Not that she really wants to but they trust Steve. It's a fool proof thing. It allows James to understand why we can't vote to keep Meg. Better than us just saying because of our word because you actually did just put one of us up. Its now also my time to be like look James I can't save 3 people. I've got to start thinking about myself in here. Liz said that Julia is okay with it. They don't want to do it to Steve again because he knows he's the low man on the totem pole. I just feel so bad for Steve, I think we should do that. Liz joins them. Vanessa tells her sorry for bringing up Julia as an option and would never do it if it was a risk. Liz says no one wants to do it. Steve already feels like he is the low man on the totem pole and he already said he would vote to keep her. Vanessa says its better she go on the block under my watch where she won't go home. If she goes home I will like give her $10,000! Putting her up ensures Meg goes home. Steve joins them. Vanessa explains the two pawn options are him and Julia. They think we're working together and putting you up would be a good smoke screen. Putting up Julia its easier for Austin and Liz to justify voting out Meg. Liz says Julia understands and you've got to do what you've got to do. Obviously we have the votes. Liz says we still have a day to think about it. Austin asks Steve do you think Johnny Mac will be workable next week if he doesn't go on the block. Steve says yes, and that's why I need to keep hanging out with him. Austin says me too and hopefully he goes after James. Liz says it just makes more strategic sense to put up Julia. They there is no reason for them (James & Meg) to even campaign to us. Austin says putting up Julia also make it look like we're less close. Vanessa says and Johnny Mac will feel less like the low man on the totem pole. The thing I do feel bad about is Julia is already on slop. I can promise her there is no way she can go home. Liz and Austin head back to bed.
Watch the last month of the feeds for ONLY $5.99! Try it 1 week for FREE!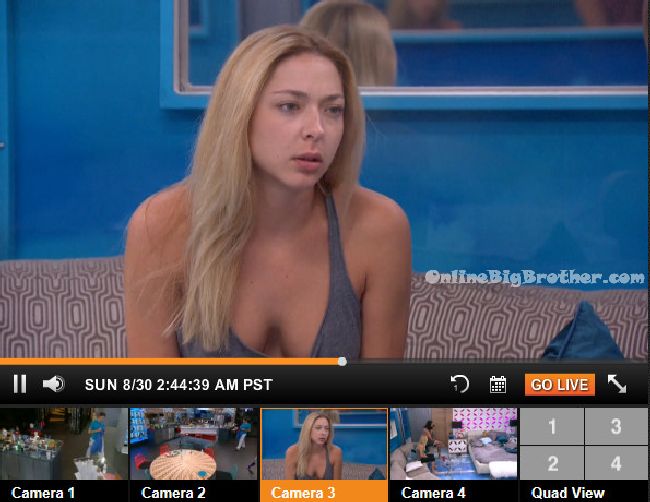 3:10am – 4:20am HOH room – Steve tells Vanessa that Johnny Mac is cool with voting out Meg over whoever goes up next to her. Vanessa says its just going to be awkward for 4 days. She (Meg) is highly emotional and not logical. Steve says I am very good with awkwardness. Steve and Vanessa talk about school, life, Steve tells Vanessa that there is something beautiful about getting information out of him, then put him up and then used that information against him after you put him up. Steve says I love this game, when its in my favour. I didn't like it when you said goodbye to me. Vanessa says I was so mad at you. Steve says I don't handle confrontation well. The conversation turns to talking about the veto comp, school.. Steve then heads downstairs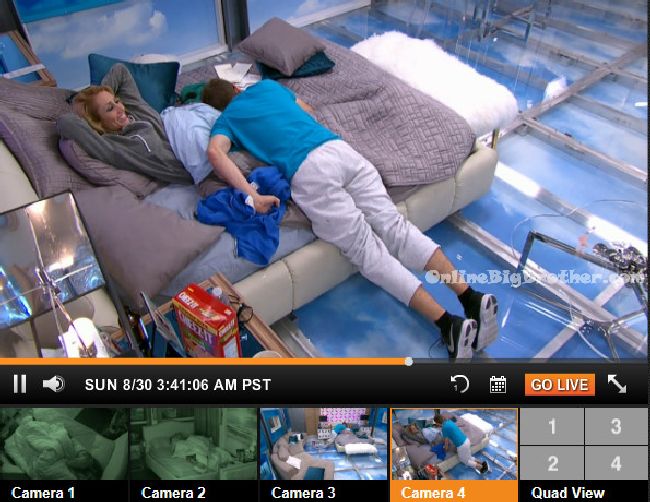 4:40am All the house guests are sleeping..

10:40am Big Brother wakes up the house guests. Johnny Mac was the only house guest awake and out on the hammock.
Help support all the live feed updates we provide.
Show your support by making a donation. Any amount is greatly appreciated!
ALLIANCES:
"Goblins/Gremlins" = James and Meg
"The Generals" = anyone allied with Becky
"SOS" (Students of Sound) = Steve and Vanessa
Rockstars = Steve and Jmac
AUS-Twins = Austin, Julia and Liz
"Austin's Angels" = Austin, Liz, Julia, Vanessa
"Brass Tacks" = Gobins and Austwins
The new "Brass Tacks" = Aus-Twins, Meg, James + Vanessa
"Freaks and Geeks" "The Scamper Squad" = Aus-Twins, Vanessa, Steve
"The new Freaks and Geeks minus Vanessa" = Austin, Liz, Julia, Steve, Johnny Mac
"The Authority" = Austin, Liz, Julia, Steve
[polldaddy poll=9046808]