POV Holder:
Liz
POV Competition
Aug 15th
POV Used
?
POV Ceremony
Aug 10th
HOH
Liz
Next HOH
Aug 20th
Original Nominations:
Johnny Mac and Becky
After POV Nominations:
? and ?
Have Nots
Vanessa, Johnny Mac, Steve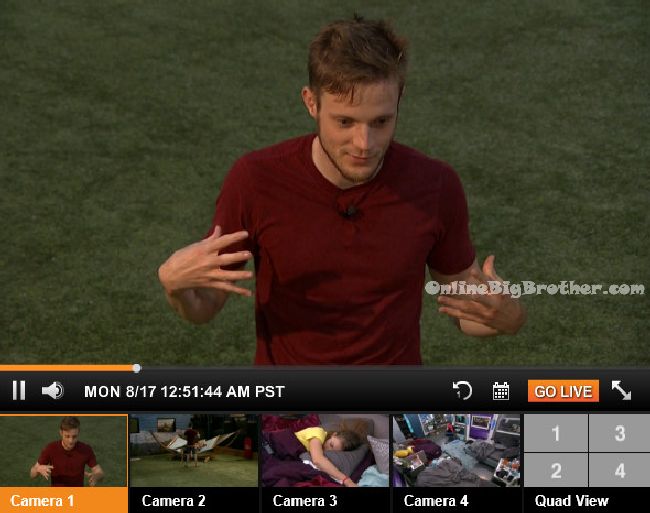 12:50am – 1:10am Hammock- Johnny Mac comes out to talk to Austin and Liz. Austin tells Johnny he has his votes 100%. And if there were a tie and she's breaking it, you're good. Johnny says that makes me excited. Austin says I hope next week we're all on the same page. Johnny says oh yeah you know what page I'm on. That's not going to change because the tears are running. Liz says she was asking me if Austin was acting weird. I was like oh my god here we go again. Austin says you don't think that will come back to me. Johnny says the paranoia that was started last week was so good. Austin says I wish you and Shelli had given us this information about her last week. Liz says I think she left right before all her craziness came out. Austin says we want her (Vanessa) to throw this HOH and if she does it will be beautiful because everyone can take her out. Liz and Julia don't have an issue with her so it would be weird for one of them to take her out. Johnny agrees. Austin says but I could. It would be a massive blow if I did but I'm willing to do it. Austin says if its down to me and you I would probably throw it to you. As long as you would put up two pawn and backdoor her. If there were two pawns up and she didn't know it. She probably wouldnt want to win the veto because she would have a deal with everyone. Problem is she is already freaking out now. Johnny says she's freaking out because I already caught her in that lie. Austin says she keeps asking me who your target is and I said you're on our side. Johnny says I want to be the one to send her to jury. Austin says and if its endurance she won't be the one to come back.Johnny says she wasn't trying to get me up as the pawn she was trying to get me out instead of Shelli. Johnny says I brought up how she came to me about the 8 person alliance and she lost it. That didn't happen. I was like its on camera. Johnny says I get you guys should not use the veto. Liz asks how is Becky? Johnny says she was upset with how it was flipping last week. Austin says I have to do it her (Vanessa) before she does it to me. She doesn't even come up and talk to us. She just mopes around. Johnny says I don't like the blowing up and calling people out for no reason. Johnny asks should I make a deal with her? Austin says yeah make a deal with her, lie to her unless you have a problem with lying. Johnny says not to her. Austin says I don't want to do anything for her ever. She tries to get us to do her dirty works. Johnny says she's done too much sh*t. Liz brings up what was up with Steve making fun of Grandma (Meg). Johnny says he was making fun of her for rheumatoid arthritis.. I had to pull him aside and say you can do that. Its like making fun of someone for parkinson's. Liz asks she has rheumatoid arthritis? Johnny says yeah. Liz says that scares me for Meg.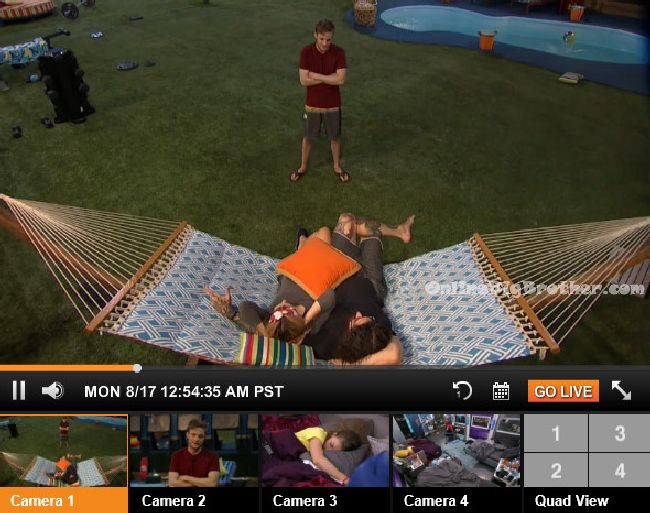 See what they can't show you on TV Try the live feeds for FREE!
1:25am – 1:35am Backyard Austin and Johnny talking. Austin talks to Johnny about what happened with Jason and how he turned their conversation around. Vanessa then used that to try and backdoor me because I lied about it. Johnny says she told me about the 8 person then and then lied about it. Austin says that Vanessa puts the 8 person thing on James. Austin says no it was her idea from the beginning. I think James, Meg and Jackie wanted to make some truce but they didn't get a chance. Austin says if the HOH is down to me and you I might just throw it to you. It would be messy if I did it. She didn't foresee me having a showmance or that Liz would have a twin .. so she's the fourth wheel. Johnny says so everyone is on board. Johnny says hopefully she doesn't come back. Austin says she won't if its anything physical.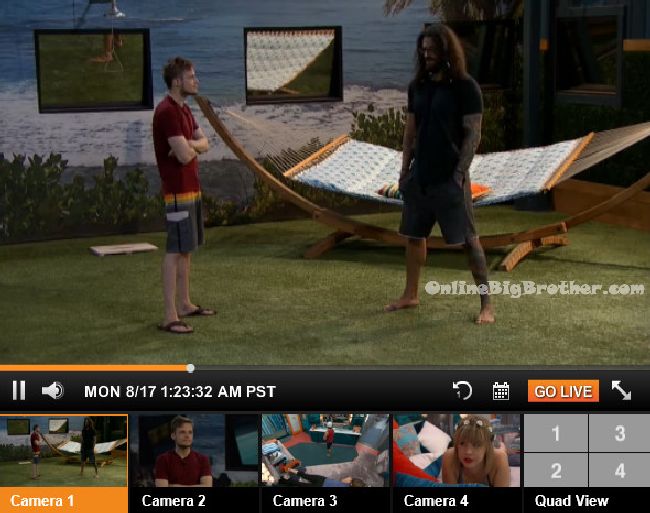 1am Bathroom – Meg and James talk. James says I think we have a strong team. Austin, Julia, Liz, you and me. Meg says I'm just nervous because we've never really trusted them in this game. James says I never would have though you, me and Austin would have been .. but I feel so tight with him. Meg says I feel like they like us a lot too. I heard the girls talking about me today. James says and Austin and I are Bromancing.. We're in like sin. Meg says I'm just worried if she (Vanessa) wins. James says not if she feels safe. Meg says she would put us up. We should talk to her. James says she might be like I don't need to make a deal with James and Meg, they're going up next. Meg says you might as well talk to her and force her into a deal. Just bring it up, like didn't you want to talk. James says oh wow that, sketchy!! Meg says she did though. James says I don't want her to think I'm forcing her to talk. James says we've got a good team and I think we can go far. Meg asks what is Austin planning on doing. James says they're going to have to split up eventually. James says he might have a final 2 with Liz. James says he might have to take out Julia. James says I don't want to be the ones to take the twins out because they've been so loyal. They could have put us up this week. Meg says someone has to go after them .. not this week. James says I think we do what they want this week.. take Becky out or whatever. Then next week hopefully Vanessa doesn't win and they take out her. Then we go after the twins. If we put Austin and Liz up. Meg says Johnny Mac and Steve have to go though. James says I would rather get Steve out over Johnny. Steve is so smart. Meg asks what are we going to tell her with the vote? James says I can't vote for her, I can't go against the house.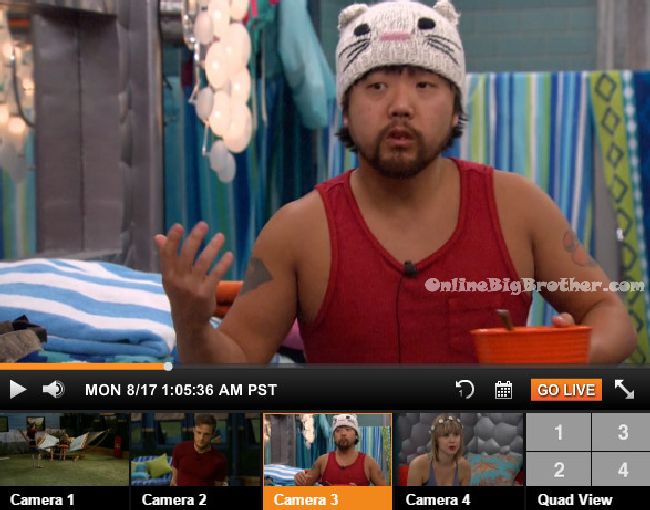 1:45am – 3:20am Hammock Johnny Mac and Becky are talking. Becky says I don't know what I did wrong so I don't know how to fight it. Johnny says and I'm on the block .. Becky says because you're the one person that would vote for me. So you need to just sit there and look pretty. Johnny says I'm screwed for the upcoming weeks if I don't start winning sh*t. Do people know we're working together? Becky says people know we talk and that I didn't send you home during my HOH. Johnny says I think Vanessa's lost all her power. Becky says she always looks defeated. It's part of her poker face. No one thinks its Vanessa because it looks like she doesn't have her sh*t together. Steve joins them. Johnny asks did you apologize to Becky yet? Steve says yes I did. Johnny says its like making fun of someone with a really bad disease. Steve says I did apologize, thank you for telling me. Steve tells Johnny we need to play nice with Vanessa and make her feel comfortable and safe. Becky joins them and they talk about random things. Becky talking about her jobs and Europe. They head inside to bed.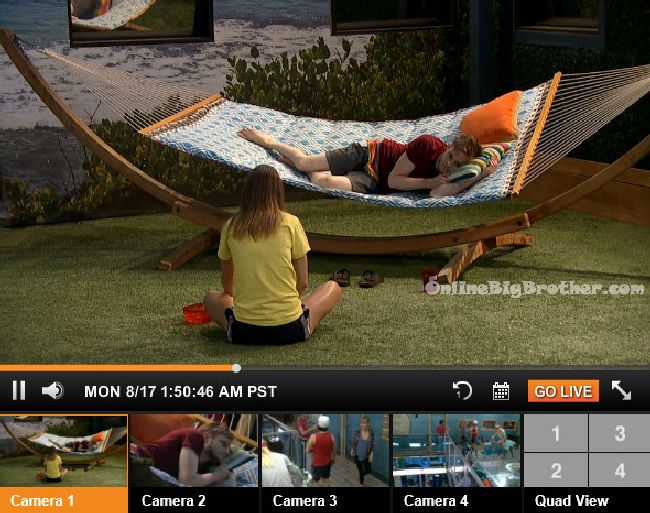 2am HOH room – James and Meg talk to Liz and Julia. Julia and Meg tell Liz that Becky is freaking out. Meg says every since you said if she goes she could come back she is sold that she isn't the pawn. Liz says I tried to save it and said you or Johnny Mac could have a chance to come back. Meg says yeah but she is like why would she say that if I really was safe. She is freaking out. Liz says well hello if I'm not using the veto she is still on the block. Meg says she knows Vanessa is voting against her and then if you (Julia) and Austin do. Liz says I didn't know what else to say. Steve joins them. They asks him why Johnny Mac gets called to the diary room so much. Steve says he doesn't know but says America is voting for something.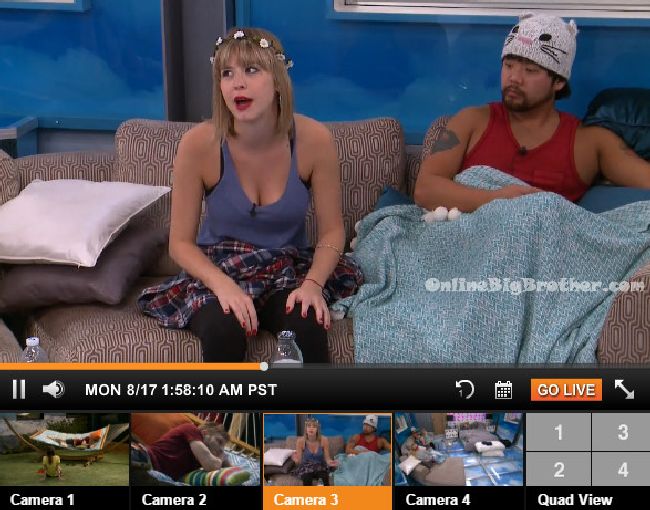 2:15am Steve gets up close with the spy tv camera: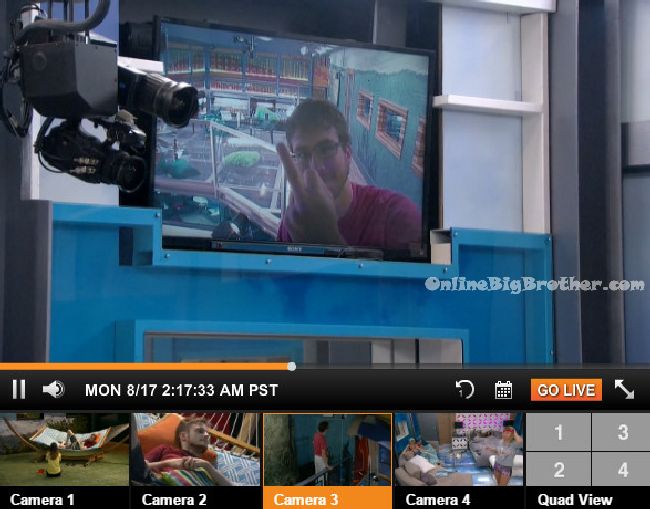 Steve on the SPY TV @bigbspoilers #bb17 pic.twitter.com/EmJaT073kw

— Dawg (@DawgsBigBrother) August 17, 2015

Watch the NEXT WEEK of the Live Feeds for FREE! Click here for your: 1 Week Trial
2:25am – 3am HOH room – Steve leaves and Meg, Julia, Liz and Austin talk about Becky knowing she's the pawn. Austin says I'm more worried about Vanessa. Austin says it uncomfortable being around her she is just moping around the house. Julia says she acting like Audrey. Meg says that's becoming a thing (DR questioning?). Austin says I would rather take her out this week but Liz doesn't have a reason. Meg says Vanessa has been talking to Johnny Mac like crazy. Austin says Johnny Mac wants to be the one to take her out. Austin wonders should we all bring her up here and make her feel comfortable for next week. Meg says it would be perfect if Johnny Mac did it. Austin says I told him if it came down to it I might throw it to me. I kind of what to be the one to take her out too. Meg says either of you would be perfect. Meg says if she (Becky) comes back, she has to go. Austin says by the end of the week it is going to be a landslide for Becky to go .. just watch Vanessa give her a pity vote for jury. Meg says if she does that I'm going to lie and say it was me. Austin says Vanessa needs to win veto the rest of the way. She's the scariest one. They talk about how Johnny Mac has a target (Vanessa) and Becky is more likely to win so she has to go. Meg and Julia leave. Austin and Liz talk about Vanessa coming potentially coming after him. Austin says she wouldn't take me out until after the 4 get a chance to come back because why would she risk me coming back. Lis says if you think its possible she might take you out next week you need to be nice to her. Liz says you've got me scared not that she's (Vanessa) threatened by you. Austin asks is there anyway Becky wouldn't be a threat next week? If you veto'd her she would owe you her life. Liz says maybe if Becky had won and I had to put someone up. She's threatened by you. You're close with everyone. You have a great social game. You're close to me and Julia. Austin says I don't think if she put me up against anyone .. I would stay. I just have to make nice with her. It can't be over the top though, it has to be real.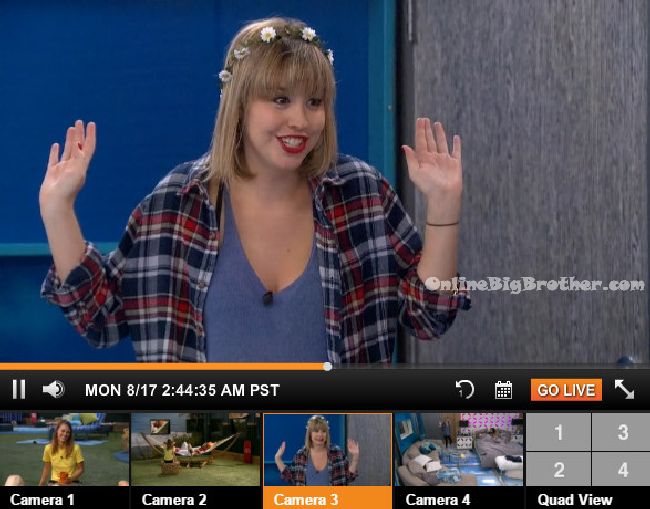 3:30am – 4am Steve is up alone wondering the house. He eats and then heads out to knock around the pool balls. He then heads to bed.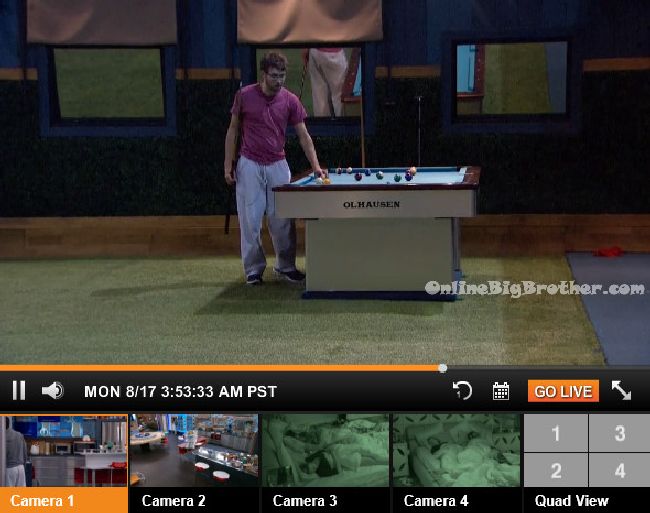 ALLIANCES:
Goblins/Gremlins = James and Meg
Generals = anyone allied with Becky
SOS = Steve and Vanessa
Rockstars = Steve and Jmac
AUS-Twins = Austin, Julia and Liz
"Brass Tacks"  Gobins and Austwins
The new "Brass Tacks" = Aus-Twins, Meg, James + Vanessa
"Freaks and Geeks" "The Scamper Squad" – Aus-Twins, Vanessa, Steve
[polldaddy poll=9025485]