POV Holder:
James
POV Competition
Aug 29th
POV Used
?
POV Ceremony
Aug 31st
HOH
Vanessa
Next HOH
Sept 3rd
Original Nominations:
Meg and James
After POV Nominations:
?and ?
Have Nots
Johnny Mac, Julia, James, Meg
9:22pm Backyard, Jmac, Twins, Steve and James
James asks them would you rather be someone grotesque and have a big d!ck or hot with a small p$n!s
James – Small.. like a chihuahua Pen!s.. like a gizmo penis
Jmac – you can't look at him really ugly
The twins say pen!s size is important
Liz says Julia had a smaller sized one but he knew how to use it
Liz – My friend had one that's too big and it can hurt
9:34pm Comic Room Liz and Julia
Still cleaning up after the power of Veto competition.
Julia- Johnny mac is clinging onto them he's got to go
Liz is pissed that Austin was the one that messed up all their clothes.
Liz – like what a A$$ you're so annoying brooooo that's not funny I hate youuuuuuu
Julia asks Liz if she always just wears a sports bra
liz says she does it "Deters you know who"
9:57pm Bathroom twins
Liz saying she hid her s in the pizza boxes "I'm so mad it was found first"
Julia – I'm fine with third
9:59pm Austins and Jmac
Austin says james is going to use the veto on himself he doesn't see him using it on meg, "He's playing for his daughter" (Devin had a daughter)
10:07pm Backyard James and Johnnymac
James – what do you think man
Jmac – It's still up in the air
James – Shit
Jmac – no decisions have been made
James – No decisions uh
Jamc – Zero
JAmes- Zero F**** given
Jmac – Zero F*** gIven
James – BUT you DID have a deal right
Jmac – YA, hopefully it's still good
James – you shouldn't have anything to worry about, Vanessa doesn't like breaking deals , Not unless you really give her a reason to break it
James apologizes for winning the veto if he never won it he would be going home
Jmac understands
James – If I didn't need it man
Jmac- you pulled it out when you needed it thats epic TV
James – when are they going to learn they can't put us up initially
Jmac – RRRwwwhhhaaaaAjjjAJJAA
10:34pm
James offers the veto to meg for 1 paid trip, Sleep in her bed and a cuddle "Sesh"
Meg laughs tells him there's no way she's going to let him do that.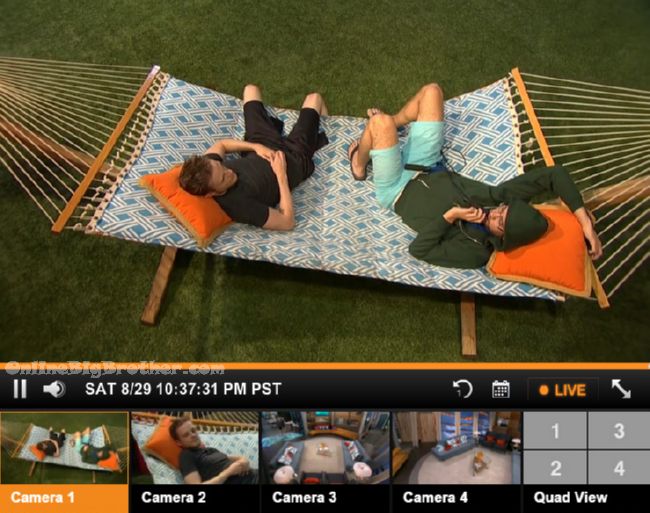 10:36pm Hammock Jmac and Steve
Jmac says if they go up they will be evicted.
Steve – you think so
Jmac – Yes
Steve – did you and Austin make up
Jmac- we did
John says Austin told Vanessa if she gets rid of Meg it's a waste of a HOH
Jmac – We're f*** we have to win HOH next week and we have to win HOH in the double
Jmac thinks they can pull James in with Vanessa so they can take out the austwins.
Jmac – you all voted me out..
Jmac – I hate all of you but I hate you and Vanessa less
Steve says he was hoping a Austwin member would be the replacement.
Jmac – these three are going to push us out of the house
Steve – I know
Jmac – I think Meg and James aren't as quick in the head.. if we came through with them this week they would go longer than Austwins..
Jamc – They Are pretty smart
Steve – Who are
Jmac – Austwins
Steve – you don't want to get rid of Meg this week then
Jmac – No…. but if Vanessa wants to..
Steve- That's where we're at
Jmac – Put up Julia vote out Meg..
Steve – do you have any concerns with me
Jmac – no I don't
10:58pm Vanessa and Meg
Meg says she wants to stay in this house so badly, "I'm going to fight for it" Meg says getting rid of her isn't the biggest game move
Vanessa is pissed that James is down stairs telling everyone he's coming after her and that is making her wanting to take her out. The best way to hamper James' game is to take out Meg.
Vanessa – All I've ever done is a game move nothing personal
Vanessa tells her sh'es doing what the best game move is.
Meg – I'm going to be really BUMMED if I'm taken out this week
11:16pm Have nots JAmes and Meg
Meg has been suggesting he talk to Vanessa.
Meg tells him vanessa is saying JAmes threatening to take out Vanessa is making Vanessa want Meg to go.
Meg – I'll be so pissed if I go home this week because of this
James – I'll go up there tell her what she wants to hear..
James leaves to talk to vanessa on his way up 'Time to go start world war 3.. here we go"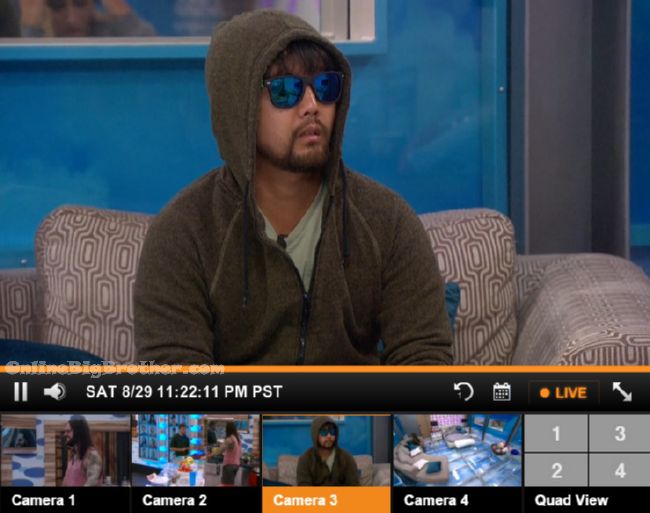 11:21pm HOH James and Vanessa
James – just wanted to hash things out with you
Vanessa- alrighty
Vanessa – I'm warning you I had a drink and I'm in a bad mood.. I'm warning you.. nothing to do with you I ast 929 calories and I am being heavily pressured..
JAmes bring sup Vanessa putting him on the block twice asks if she has something against him.
Vanessa- what I said was genuine I couldn't be more real about it
Vanessa – there's so few people it came down to a game move.. if you won I would have been shocked I didn't go up.. we have higher loyalties
Vanessa – it would have been dumb for me to do something else
Vanessa says 2 hours ago 4 people came up to the HOH and told her James is targeting her.
Vanessa tells him out of everyone in the house she respects james gamewise the most.
James says Austin told him Vanessa was saying that James can't be trusted. It was last week during his HOH.
Vanessa starts rattling off snippets from the past.
James tells Vanessa she's playing the game too hard..
Vanessa – you insulting me right now man.. you are literally.. who are you the expert..
Vanessa freaks out.. You criticize me too my face
James – No I didn't mean to I went on the block two times.. I've never put you up
Vanessa threatens him if he continues coming after her she's going to take out Meg, "You're literally insulting me to my face"
James- Why can't we ever have a casual conversation..
Vanessa – take off your sunglasses I can't see your eyes
After some chatting they apologize for getting heated. James says he was misunderstood he didn't mean to insult her.
James says he got in trouble earlier today for saying Steve and retarded strength
Vanessa starts to cry says she's deeply upset from this conversation
Vanessa – I'm playing like my back is against the wall and i have no one, I'm on the bottom of all the totem poles.
11:39pm Twins Pissed they don't want to go homeeeeeeeeeeeUHAAAAAAhhhhh
Liz – You're not going up bro… If she does that to you I'm done
Julia says going up wouldn't be that bad because it might shield her the following week, "I was just on the block"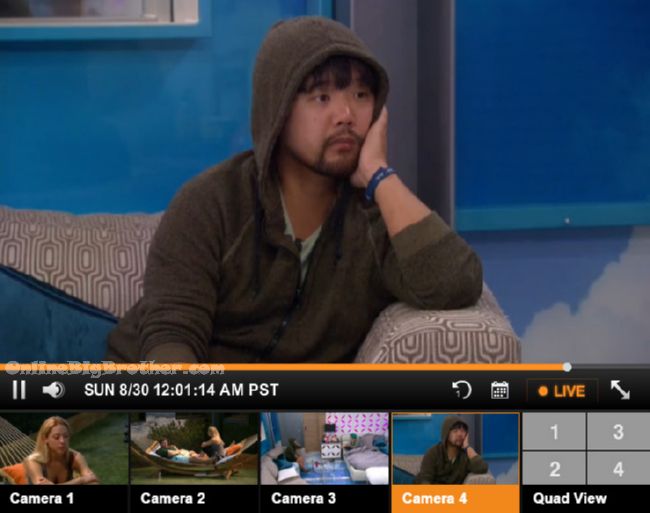 11:59pm James tells Vanessa after this moment he want them to be cool
James – if you look at the big moves I've done they're really smart moves
James – I just wanted to split up a power couple
Help support all the live feed updates we provide.
Show your support by making a donation. Any amount is greatly appreciated!
ALLIANCES:
"Goblins/Gremlins" = James and Meg
"The Generals" = anyone allied with Becky
"SOS" (Students of Sound) = Steve and Vanessa
Rockstars = Steve and Jmac
AUS-Twins = Austin, Julia and Liz
"Austin's Angels" = Austin, Liz, Julia, Vanessa
"Brass Tacks" = Gobins and Austwins
The new "Brass Tacks" = Aus-Twins, Meg, James + Vanessa
"Freaks and Geeks" "The Scamper Squad" = Aus-Twins, Vanessa, Steve
"The new Freaks and Geeks minus Vanessa" = Austin, Liz, Julia, Steve, Johnny Mac
"The Authority" = Austin, Liz, Julia, Steve
[polldaddy poll=9046808]