POV Holder:
Next POV
Aug 24th
POV Used
POV Ceremony
Aug 26th
HOH Winner:
Elissa
Next HOH:
Aug 29th
Original Nominations:
Aaryn and McCrae
Current Nominations:
Last Evicted Houseguest
David, Nick, Jeremy, Kaitlin, Howard, Candice, Jessie. Helen
Have Nots
8:49pm Kitchen Amanda and Elissa
Elissa tells her she doesn't think GM will use the veto but everyone still needs to work on her and make sure she doesn't
Elissa:" Do yo think she is really going to campaign"
A: "She will after the veto:
E: "She is already throwing you under the bus"
A: "I already know that.. will you put me up .. do you swear to god"
E: "Amanda seriously"
A: "Helen told me she didn't want me to win this game"
E: "She told me she thought I needed Aaryn here for my game"
Elissa explains that the reason for her nominations is she needed everyone
fired up going into this veto
Amanda: "I'm fired up"
E: "Are you guys going to retaliate"
Amanda: "no not at all"
Elissa: "no one is throwing you under the bus except for Aaryn"
A: "I know that"
9:02pm HOH GM and Elissa
Elissa says that Aaryn doesn't care one bit about GM. Elissa mentions that Amanda and Aaryn are trying to convince her to put GM up as a replacement because they want to vote her out. Elissa assures her she will not do that.
Elissa brings up how Amanda is always pointing out how GM is kissing her a$$ because she's the HOH.
GM claims that she hasn't been kissing Elissa's a$$ she's treating Elissa the same way she's always treated her. GM brings up how hard she was fighting to keep Helen in the game Thursday morning and how Aaryn didn't want to hear any of it.
Elissa says Amanda, McCrae and Aaryn are working together and they don't care who they lie to or backstab to get to the end. Elissa asks if GM has talked to Amanda
GM: "I haven't talk to her at all today.. she's been in bed"
Elissa says that Amanda is going around saying that GM and Elissa are working together.
GM brings up some of her conversation with Aaryn in the have nots. GM mentions how she saw Amanda and Aaryn talking then they went into the have nots to talk and Aaryn brought up the rumor that Elissa and Gm were working together. Gm say this is proof that Amanda and Aaryn are working together.
Elissa: "They think they are master manipulators.. she wants to get you on the block GM.. she wants to evict you to save herself"
GM: "nice.. so nice… I've heard this before from Aaryn"
Elissa: "they are pinning us against each other"
Elissa: "She has never been with you GM .. there is one winner and she doesn't care what she has to do to get rid of you .. she's even sacrificing you over Amanda and McCrae"
Elissa: "they are using you.. they are three Eval Dicks.. they are an evil combo"
GM : "you weren't the first person to tell me that she's been saying shit"
E: "Just know she is not working with you and realize she needs to leave"
GM: " as far as POV tomorrow and voting wise.. let me know… OK"
Gm: "Amanda is crazy bro"
Elissa: "It's Aaryn she is the faulty party.. i'll be an ally to you I wanted to work with Girls.. you don't have to be scared"
Elissa: "If we don't get Aaryn out this week they will dominate the game.. you and JUDD have to win the HOH next week"
GM: "When Kailtin was here… and Aaryn would talk so much sh!t about Kailtin.. I thought she was supposed to be Kaitlin's friend"
Elissa says the things that Aaryn and Amanda have said about GM is ugly and disgusting..
GM wants to know "It's already brought up it's already brought up.. tell me I want to know"
Elissa: "It's serious.. I'm not going to say it outloud"
GM: "whisper is in my ear…"
(of course we get fish.. )
GM: "it's fine it doesn't even bother me"
Elissa:" That is not th extent of what they said.. that is going beyond.. that is disgusting.. "
Elsisa: "it's a serious thing people can die from that" (Elissa brought up GM's eating and expected purging)
GM starts to explain her strange eating habits and how the dairy room had talked to her about it. GM says she's alway had strange eating habits.
Elissa: 'That is fine you are OK with it but i'm not OK with it.. i'm genuinely upset.. it was part of their strategy .. like who are you.. "
GM: "It's fine really"
Gm says Aaryn has been talking shit about her and it's been going on for weeks. GM brings up how much she wanted Helen to stay and how she tried and tried but Amanda stopped her at every turn.
GM: "You and Helen made everything more funner"
Elissa says the other players are not even fun to be around, Elissa calls them evil, boring and disgusting.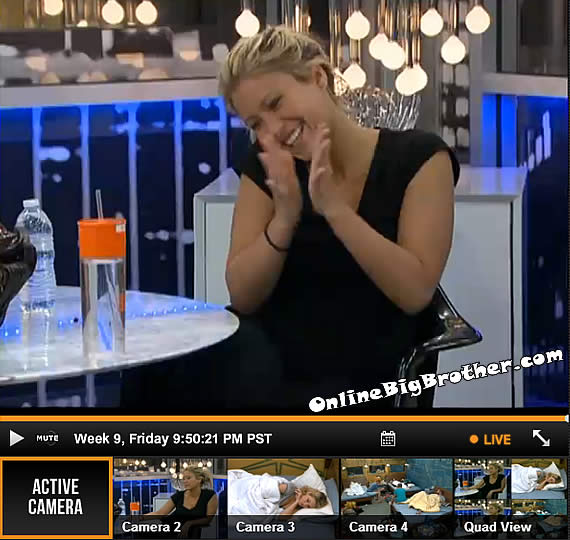 GM thinks Amanda and Aaryn must be really f***ing crazy for taking the medication they are taking. Brings up Jessie and how she thinks the night jessie called everyone out for their lies was when Jessie ran out of medication. "like she ran out of her 30 day supply of medications. Elissa: "It was scary.. umm hmm"
Elissa tells GM how amazing she is the first time she saw GM she thought "Where do they find someone like this she is so great"
(LOL this is A funny conversation Elissa and GM playing each other and falling for it.)
Elissa claims that Helen gave her some advice before she left and that is to work with GM and get Aaryn out. This is what Elissa is going to do.
Elissa: "When you are around her your true personality cannot shine . you are a star you should not have someone like that to suppress your greatness.. you are totally cool.. she is taking that away from you… nobody can see your greatness.. they can't see the true nature you have… you bring so much to this show.."
Elissa: "Life can be boring and draining everyone needs a little GM in their life"
GM: "Thank you"
10:18pm Bedroom JUDD, Andy, Spencer, Amanda and McCrae
Aaryn: "it's funny how JUDD told Elissa he didn't want her hug and he's not on the block"
JUDD says he told Helen the same thing .
Spencer: "He gave me a fist bump then told me to f** off" They laugh
Spencer: "We did stick up for you ability to get your d!ck hard"
JUDD: "HUH"
Spencer explains that Jessie was going around saying that JUDD couldn't get his d!ck hard. He adds that they all stuck up for him and told her he just wasn't interested.
JUDD: "Thats the weirdest thing I've ever heard in my life"
Andy:" That was a weird fu***g week:"
JUDD: "Two times before we came back here.. last week. I'm pretty sure she was (shows his two fingers implying mas@sterbating. see image) when they were watching a movie.. I'm like 90% sure"
Spencer wants to know if he helped her along. Judd says he didn't. Tells them Candice was in the room.
JUDD says he say the movement and heard noises.. "like a soft sob I was right next to her"
Aaryn: "did candice notice"
Spencer: "Why didn't you help her out dude"
Aaryn: "was there people watching"
JUDD: "MhmmHMmHhmMhMHm"
Aaryn: " that was a invitation. how close was she "
JUDD: "she does not like me she despises me.. she was right beside him"
Andy: "what movie "
JUDD: "The walking dead.. living dead.."
Andy: "was it in a mall"
JUDD:" Mm,mfmmfmmdfmd f dfmdmfmd f"
Andy: "Dawn of the dead"
JUDD: "ya "
Spencer: "Jessie f!ngered herself during Dawn of the Dead"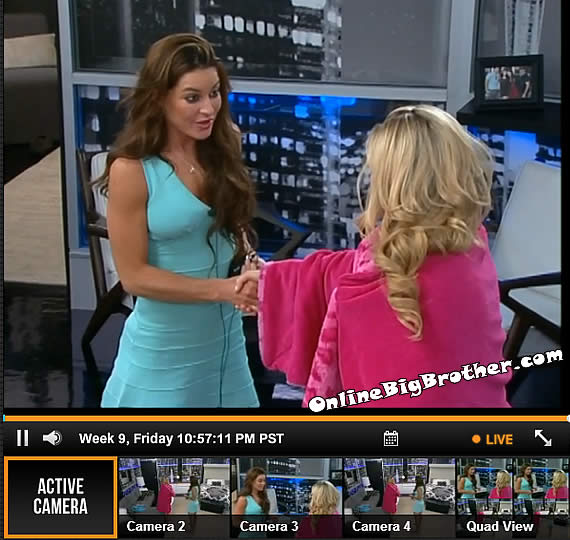 10:45pm HOH Aaryn and Elissa
Elissa tells her she to team up with Aaryn in the game and Backd**r Amanda. Elissa is going to fight hard to win the veto and if she wins it take Aaryn down and put up Amanda. Elissa warns Aaryn that she need to fight for it they cannot have Amanda win it. Aaryn swears she will fight her hardest.
Elissa: "oh my gosh we have to get her out" Elissa says all the drama in the house has been because of Amanda. Elissa blames the divide between her and Aaryn on Amanda, "I want to like you so bad and I want to be nice.. I don't like having ill feelings towards people.. Amanda is stirring it"
Elissa:" I just want to see with Amanda out of the house if we can work together.. no one would suspect it"
Elissa says GM will take Aaryn off if she wins the POV she told Elissa she will do whatever Elissa wants.
Elissa:" She's loyal to you she just thinks Amanda is in your ear"
Aaryn:' I was never mad at you I understand why you put me up"
Elissa says JUDD and GM want Amanda out. Elissa adds that GM is loyal Aaryn.
Elissa: "This was my plan all along.. we just got to make sure she doesn't win the veto"
Aaryn mentions that Amanda knows she's in danger so she's trying to get everyone in the house to pick her to play if they get houseguest choice.
Aaryn: "Thank you for asking for me to work with you and i'm fully on board"
Elissa: "If we don't get Amanda and MAcrae out they are going to win and that would be bad"
Aaryn: "If the noms stay the same for some reason.. "
Elissa:' They can't stay the same one of us is going to win"
Aaryn: "We can get so far together"
Elissa: "McCrae is going to fight so hard and win the veto and AManda is going up"
Elissa mentions that McCrae is different than he use to be. He lied to her 3 times about GM to try to get GM put up with Aaryn.
Elissa: "Amanda is leaving is what has to happen"
Elissa: "I want to win so I can take you off and show you this is 100%"
Aaryn wants to be able to cast a vote and show Elissa is 100%
Aaryn wonders what JUDD will do
Elissa: "He wants Amanda gone.. everyone wants Amanda gone"
Elissa: "Amanda's got to go .. "
Aaryn: "You have me"
Elissa: "OK .. oh my gosh i'm so excited"
Elissa: "It's going to be a whole new game once she goes"
Aaryn: "Does it worry you about JUDD"
Elissa:" Just mean it this time"
Aaryn: "I do I do"
Elissa: "we're playing big brother not high school we have to be serious about this"
11:12pm Bedroom Aaryn and GM
Aaryn tells her about Elissa's plan to backdoor Amanda. They just have to make sure Amanda doesn't win the POV.
GM: "Really bunny"
GM: "I really love you as a sister..you are f** awesome"
Aaryn: "Amanda has to feel like she's 100% safe"
GM: "Without her (Amanda) being in your ear you're better off.. thats the best bet.."
GM: "I never tell you what to do but she does.,. " (amanda)
You can re-watch ever second on the feeds using the flashback feature.. It's just like a DVR and is super easy to use. click this link for a Free Trial —> Subscribe to the Big Brother Live Feeds
11:18pm Bathroom Spencer and Andy
Spencer says he talked to GM and she told him her master plan was to not use the veto to keep Elissa happy then convince everybody else to vote out McCrae.
Andy:"OK"
Spencer:" Interesting isn't it"
Andy: 'Ya"
Spencer: 'I just thought it was kinda bizarre"
11:22pm Andy and Aaryn Storage room
Aaryn wants to know if he would use the veto
Andy says he will talk to the group tomorrow and see what is best for them.
Aaryn asks him if he's talked to Elissa. Andy has and she told him to leave to not use the veto if he got it.
Aaryn: "When did she say that"
Andy: "Awhile ago"
Andy adds that Elissa is telling everyone to fight for the veto and if they don't she will put them up.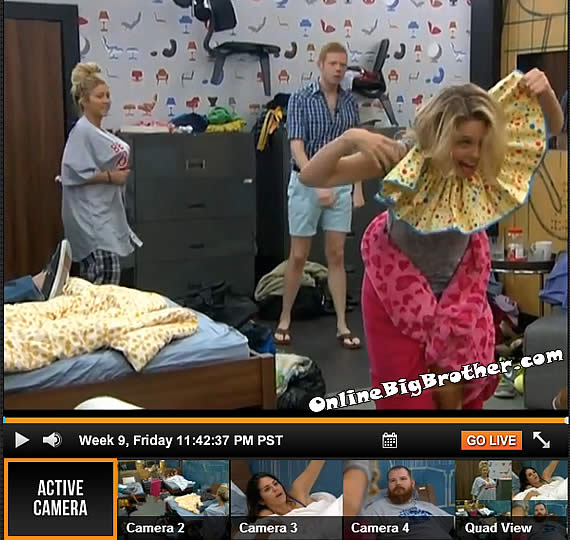 11:49pm Fish veto players being picked
12:12AM Veto Players picked. Cockpit Specner, JUDD and Andy
Spencer is pissed because Aaryn hadn't picked him to play in the veto. "I've been on the block 5 times.. If I don't get to play I don't stay"
Spencer to JUDD :" You walked into the wild west and there was a shootout going on"
Spencer to JUDD: "Amanda and McCrae don't give a f** about me.. now listen to me i've been on the block 5 times I saw how quickly they cut your head off.. they have no loyalty to me"
JUDD: "They haven't talked to me since i've been back"
Andy tells them things are going to get heated in the house there best bet is to lay low and let Aary/Gm and Amanda/MCrae fight it out.
Andy:" Unless Amanda wins the veto and takes McCrae off it's going to be World War Three"
Veto players are
JUDD
Aaryn
McCrae
Elissa
Amanda
GM
Sitting out
Andy (Host) and Spencer
12:20AM Cockpit Andy, JUDD and Spencer Andy says he's been working with Amanda and Aaryn the entire game but he's seen how easily they cut people loose.
Spencer says all the people left are mental players the last scrub to have left was JEssie.
JUDD was going to warn Andy because he say how easy it was for them to evict him they could just as easily do it to Andy.
Spencer: "Dude .. I've sat in that blue chair and seen what happens time after time after time.. "
McCrae and Amanda joins them they mention how Elissa didn't look very happy when Amanda's chip was pulled..
Specner:' She did not look happy"
12:28AM Kitchen GM and Elissa
They are whispering away about Amanda.
Amanda comes around the corner: "Are you guys talking game"
Elissa spit out her drink
Amanda: "Everytime I walk over you guys stop talking.. why don't you talk game in front of me"
Amanda:" you guys look shady as f**"
GM:" I'm not shady "
Amanda: "What game are you guys talking.. I think you are talking about me"
ELissa says it was funny because Amanda is always staring at them.
Amanda says two days ago she was after Elissa and now she's GM best friend.
Amanda:" It's pissing me off"
GM: "WAIT a second FIRST OF ALL.. I enjoy working out with her weeks before she won HOH"
Amanda: "Thats your tune today"
Elissa:" OK guys lets stop"
GM: "Why do you want to start a fight with me Amanda.."
Amanda: "Everyone talks about it you talk sh!t about her and now you are up her a$$"
GM says she did talk sh!t about Elissa because in the beginning she wanted Elissa out.
Amanda says she talked sh!t this week about Elissa. GM:' Oh and you did"
Amanda: "ya but I've told her"
GM:' All you are doing is trying to make me look bad.. You can't make me look bad"
Amanda: "You make yourself look bad'
McCrae grabs Amanda and hauls her into the bedroom
as Amanda walks away GM is still parked at the counter yelling and screaming "you can't make me looks bad.. " amanda yells back "Ok honey… ahh ok"
GM:" I got a big mofo mouth to.. you can't f** with me"
Elissa: "Stop stop… "
GM to Amanda: "bring it on b!tch"
GM: "Come over here big girl i'm sitting here relaxing drinking my mofo soda"
Elissa: "Seriously Stop"
After Amanda leaves Elissa tells GM she knows they've all talked sh!t Amanda is still the target.
You can re-watch ever second on the feeds using the flashback feature.. It's just like a DVR and is super easy to use. click this link for a Free Trial —> Subscribe to the Big Brother Live Feeds
12:43am HOH Amanda and ELissa
Amanda is pissed because she's been friends with Elissa since the beginning whether or not she's HOH. Now Amanda she's GM being best friends with her for the first time conveniently when ELissa has the HOH.
Amanda: "She's kissing your f****ing a$$hole.. she talks more sh!t about you than Aaryn does"
Amanda: "She so fake to you and it's literally driving me nuts.. she's the number one person talking sh!t.. "
Amanda: "I've never been with Aaryn.. I've never been with GM… I've always been with you"
Elissa: "It's not like you are telling me something I don't already know.. I appreciate you looking out for me:"
Amanda: "I hope you are being honest when you say if Gm wins POV and takes Aaryn down you won't put me up.. If you are planning on it just let me know so I can spend my last few days with McCrae ok." (Amanda starts to cry)
Elissa: "Honestly Amanda I haven't even thought about it"
Amanda: "100% I am going if I'm on the block up against McCrae"
Elissa laughing
Amanda: "I'm glad you think that's funny"
Elissa laughing "I'm so sorry"
Amanda:' Why are you laughing.. You weren't laughing the first couple weeks when you were nominated"
Amanda says she feels like ELissa wants her or McCrae to be evicted, "I feel that Helen told you to fget rid of me.. do you want to get rid of me". Elissa:" No.."
Amanda: "I've been honest with you so just let me know"
Elissa: "You've been so honest"
A: "I have been"
E: 'I know"
Amanda cries, "I feel so defeated.. "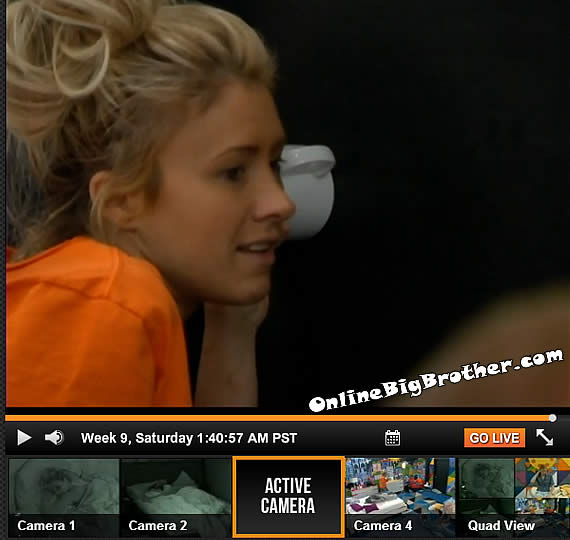 1:14AM Aaryn, McCrae and Amanda Bedroom

Amanda tells Aaryn she is the first target Amanda is the second target. Aaryn:" So… if McCrae goes down we're both going up"
Amanda:" yup"
Aaryn:' There's equal reason to get both if us out.. I wouldn't assume you are going home.. I will go home.. you have more allies in the house that is why i'm trying to get JUDD on my side"
Amanda: "I just need to win veto it's our best bet"
(GM is listening in on the conversation)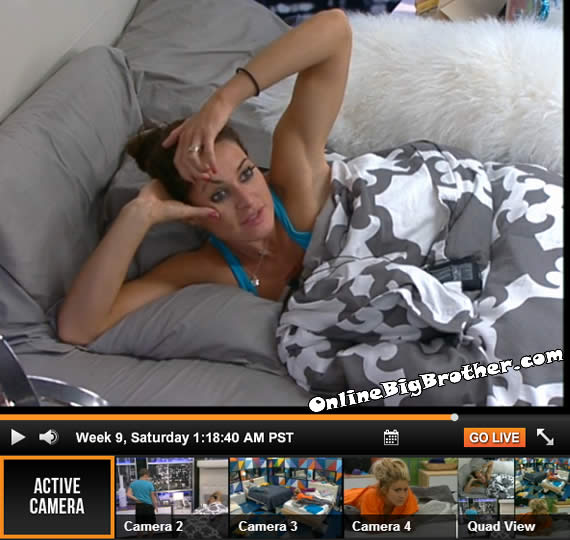 1:17Am HOH Elissa and J-U-Doube-D
Elissa tells him she wants him to win the veto and use it. She wants Amanda to go this week.
Elissa says that GM knows she wants Aaryn to stay she's just unsure about Andy she doesn't trust him. Elissa:" We have to win.. do you think there is anyway they are going to ask us about the wall" (Memory wall).