POV Holder:
Next POV
Aug 24th
POV Used
POV Ceremony
Aug 26th
HOH Winner:
Elissa
Next HOH:
Aug 29th
Original Nominations:
Aaryn and McCrae
Current Nominations:
Last Evicted Houseguest
David, Nick, Jeremy, Kaitlin, Howard, Candice, Jessie. Helen
Have Nots
6:30pm McCrae and Amanda
Amanda wants to take a nap. MC says they have to wake up early for Veto if she sleeps now she'll be awake later.
Aaryn walks by
MC: "She's going to tell them first.. totally"
MC is worried she's going to tell spencer and JUDD about 3am then they won't have the votes. Amanda says she will just deny it and say poopy is lying. Amanda doesn't want to do anything until after the veto is played.
A: "You really stink by the way.. on the couch you were really smelly"
MC – Good
A- I hate GM right now
MC – You have to be f*** nice otherwise you are going to get me in trouble.. don't f*** around.
6:39pm Storage room Elissa and Andy
E – That a good move don't you think
A – Ya and i'll fight for the veto.. do you want me to keep the nominations the same
E – ya
A – Who will you put up if the veto is played.. do you know
Elissa says she's not saying but she knows what she'll do. She wants everyone to fight for the veto.
Andy says with JUDD coming back it's a really good thing for them.. Andy adds that JUDD might want to work with them.
E – I trust judd to
A – Moving doreatrf I this could work I really do
6:47pm Cockpit Spencer, GM and Spencer
Gm says they will get woken up early to pick veto players then play the comp at 9pm
Spencer is happy he's not nominated. GM blows a giant fart out.. Spencer says she will be known as the queen of farts.
GM: "Nobody knows what they don't air"
Nomination Key order was
1) JUDD
2) GM
3) Spencer
4) Andy
5) Amanda
7:18pm Cockpit Spencer, GM, Andy
Spencer saying that production spelled McCrae's name wrong in one of the competitions. It was spelt McCrea (I'm not the only one.. lol)
You can re-watch ever second on the feeds using the flashback feature.. It's just like a DVR and is super easy to use. click this link for a Free Trial —> Subscribe to the Big Brother Live Feeds
7:22pm Amanda and Aaryn
Amanda:" Best case scenario I win veto pull McCrae off the block" Amanda thinks that Spencer or GM would be the replacement nominees.
Amanda brings up that GM said she doesn't know what to do if she wins the veto, "If you get houseguest choice.. pick me.. that is the only way the four of us can stay"
Aaryn – When did she say that
Amanda – in the kitchen earlier today
Aaryn: " I'm not mad at Elissa I've put her up twice and we've never gotten along.. it just sucks.. we've all fought so hard.. for anyone going up it's hard.. and a week just got erased.. it is really hard. "
Amanda: "If I don't win veto either you or me are leaving.. it will be 20 days maybe 24 .. it's not that bad"
Aaryn – "it's not that bad.. I cannot believe GM said she didn't know what to do with the veto.. thats f***ed up.. it looks like she's working with Elissa"
Amanda: "Her a$$ kissing is driving me nuts"
Aaryn: "walking around smiling all happy"
Amanda: "GM is a piece of Sh!t.. she's loyal give me a f** break.. she's an a$$ kisser there is no F*** way she is going to win this game she is the biggest floater here"
Aaryn says GM got mad at her because Aaryn told her all her comp wins make her a target. She felt that Aaryn was saying that GM never wins anything.
Amanda: "Did she get mad at you once when you got HOH "
Aayn: "no "
Amanda: " when you have the power she's up your a$$hole fighting for you"
Aaryn says Nick doesn't give a f** about GM and she's still crying about him. Aaryn has cared about GM all along and GM doesn't give a f***.
Aaryn thinks that Elissa and GM have made a deal that GM promised Elissa that she won't use the veto if Elissa keeps her off the block.
Aaryn: "she's going to throw it "
Amanda: "she'll take the luxuries"
Aaryn: "100%"
Amanda: "Thats fine I need to win this.. Elissa will put up spencer and he will go home"
Aaryn points out that JUDD's key was pulled first, "He's working with her 100%.. "
Amanda: "It doesn't make sense he was pissed at her when he left and now he's happy with her .. she must have said something to him in her goodbye message"
Aaryn: "Elissa told me they had a final 2 deal" (before JUDD was evicted)
Amanda: "All that matters is I win Veto and take McCrae off the block and she puts up GM"
Aaryn: "What if she puts up Andy"
Amanda:L "she won't.. I have a fire under now"
Aaryn says Elissa told her last week when she was HOH the stupidest move she had ever made was to not put McCrae and Amanda up "What's the first thing she does when she gets HOH is not put McCrae and Amanda up"
Aaryn says Elissa wants her gone first because she can beat McCrae and Amanda in competitions with her eyes closed. Aaryn points out that Elissa told her Amanda and McCrae were pathetic in competitions.
Amanda – Elissa's biggest mistake was putting McCrae up next to Aaryn because now the entire house is against her, "F*** that b!tch"
Aaryn says it was obvious that only Amanda, Elissa and JUDD were trying in the HOH and GM didn't give a sh!t.
Aaryn says tomorrow is going to be zingbot doesn't think it will be luxury.
Amanda: "I cannot believe JUDD is back.. has he said anything to you"
Aaryn: "well ya.. "
McCrae joins them
Aaryn: "He said he is going to work by himself the entire time.. in my opinion that means he's going to work with Elissa and not me"
McCrae: "probably"
Aaryn: "he's acting like I don't exist.. I don't blame him I evicted him."
Amanda: "I was just telling Aaryn the only way we can guarantee us four say is if I win the POV"
Andy joins them
Aaryn asks him when GM said she wouldn't use the veto
Andy she never said it that way. Andy explains that Gm just said she didn't know what to do it was a tough situation for her.
Aaryn: "it really pisses me off that she said she wouldn't use it on me"
Andy: "it's a weird situation"
Aaryn: "At this point GM can go f*** herself .. I want to punch her in the face"
Andy: 'She doesn't want you to go anywhere you know that is true"
Aaryn: "Elissa and GM are working together"
Amanda: "It seems like it GM is licking her a$$hole it's pathetic"
Aaryn: "Gm is turning out to be a April"
7:45pm Cockpit Gm and Spencer
GM says she doesn't want to use the veto if she wins it because that means one of them (Specner/Andy) will go up. She says she wants everyone to vote to keep Aaryn if the noms stay the same. (Same type of thing she told Andy)
7:50pm have nots GM and Aaryn
Aaryn: "JUDD and Elissa are working together "
GM: "I'm really surprised she gave him the key first.. when she was wanted him out of the house so bad before"
Aaryn: "We worked so hard to get where we are and the entire week just got erased"
Aaryn: "getting Helen out was good for the people staying.. I'm happy for the move and I stand by the move.. the fact that Elissa won veto I cannot control that.. it is what it is"
Aaryn doesn't blame Elissa for nominating her Aaryn's nominated Elissa twice and they hate each other.
Aaryn: "I feel that she would have put you up against me if she knew you would use the veto on me.. She must think you are working with her"
GM: "no no.. the only thing I said was I liked Helen.. She really wanted to work with ya.. she really did" (Elissa)
Aaryn says Amanda and McCrae never came after her and they've been good to both of them.
GM says Amanda abd mcCrae lie to everyone all the time.
Aaryn: "So did Elissa and Helen, I feel like when I talk to her i'm looking into hell.. it's like talking to an actress.. it's like being on a set in a movie and not knowing the lines.."
Aaryn says Amanda thinks if she wins Veto Spencer will go up because Elissa hates Spencer more than she hates GM. Aaryn points out that everyone is seeing how Elissa and GM are really getting along now.
Gm tells her that Amanda and MCCrae are using her to win the competitions because they are weak.
Aaryn doesn't care because they want weak players in the game. when they get down to the end they can beat Amanda and MCrae they want to get all the strong players out now.
Aaryn says she wants ELissa gone then JUDD.
GM says that people in this house exaggerate things all the time. She mentions the comments made from Elissa that they were "Freaks" and that Elissa didn't want to sit next to them. GM knows this was blown out of proportion by McCrae and Amanda. Aaryn says people are going to want to split them up because they are a pair.
Aaryn suggests GM tell people she is going against her so that they pick GM to play the veto
GM: "Should I act different to you this week.. "
Aaryn: "Maybe if you act like … just don't acknowledge me.. I want you to get picked for the veto comp.. they won't pick you if they think you'll use ir" Aaryn points out if GM overplays that her and Aaryn are not close anymore Elissa will probably catch on.
Aaryn: 'People are already thinking that you and elissa are working together.. that is good.. "
GM: 'I'm not"
Aaryn warns her if she throws the Veto and the veto is played GM could go up as the replacement nominee because that is one less vote for Aaryn
Gm says Helen told Elissa when she left to go after Amanda and McCrae.. GM is going to tell Elissa this and highlight that Helen was really smart.
Aaryn says that maybe she can work with JUDD again (Hints that she uses her female attributes)
8:07pm bedroom
Aaryn goes back to Amanda and McCrae they ask her what GM said "She literally just said I have to go I'm meeting Elissa"
Aaryn heads into the other bedroom to chat with J-U-double-D
Aaryn: "Are you working with elissa.. you know it was her and Helen that wanted you out.. "
JUDD: 'I'm not working with anyone right now"
Aaryn: 'Helen and Elissa were the ones that pushed me to put you up"
Aaryn says Helen and Elissa told her they were coming after her if she didn't put up JUDD. Aaryn adds that GM is now working with Elissa..
NEW times ADDED Big Brother 15 N*de flashback times here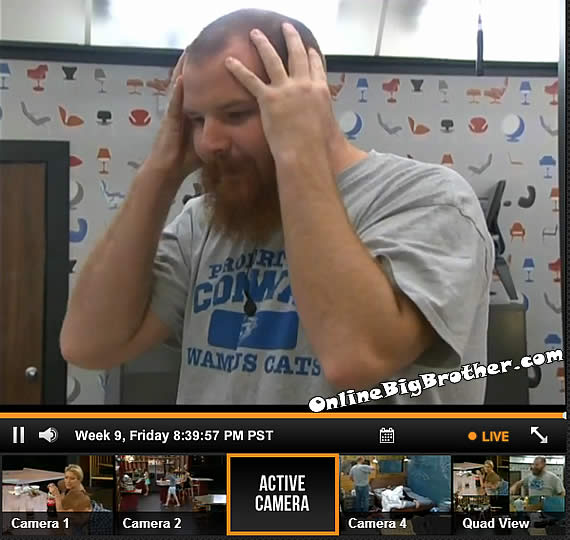 8:39pm Amanda, Spencer and McCrae
Amanda wants to punch GM with Brass knuckles. Spencer mentions how much a$$ kissing GM has been doing to Elissa.