POV Holder:
Next POV
Aug 24th
POV Used
POV Ceremony
Aug 26th
HOH Winner:
Elissa
Next HOH:
Aug 29th
Original Nominations:
Aaryn and McCrae
Current Nominations:
Last Evicted Houseguest
David, Nick, Jeremy, Kaitlin, Howard, Candice, Jessie. Helen
Have Nots
Veto players: JUDD, Aaryn, McCrae, Elissa, Amanda, Ginamarie
Veto HOST: Andy
Spencer is the only one sitting out the competition.
1:20am In the lounge room – Judd talks to Andy and tells him that the best thing would be for me to win it and not use it. Andy agrees. Judd says it wouldn't really piss anyone off then. Andy says no, McCrae said not to use it. Judd asks why would he not want it used on him? Andy says I don't know. Andy says its just that there are a lot of different scenarios where if Elissa is pissed at Amanda and wants Amanda to go, she might want you to use it. Judd nods and says I don't really care what happens as long as I don't go up. Andy says yup. Judd says this sounds awful but.. Andy says no this is how I play this game. Judd says as long as you or Spencer aren't the replacement vote because I don't want ya'll to go up either so I think it would be best for me to just not use it. But try to win it. Judd and Andy worry that they might look like they aren't playing when they really are trying and Elissa might put them up because she said if she sees people not trying she will put them up as the replacement. Andy say I don't think she would put him up anyways, I was talking to her and she told me that she has nothing against you and has no reason to put you up. Andy says I do think she would possibly put up Spencer. Judd says I think if she was going to put up Spencer she already would have. Andy says the only scenario would be if Amanda won and took McCrae off, then it would be between me, you, Spencer, or Ginamarie would have to go up. Judd says oh my god I don't like that one. I have to make sure she doesn't win. Even if McCrae won it, it wouldn't be that bad. I just need to win it. Andy says people got into my head about you and made me think you were a threat. You were talking to Amanda and McCrae and you weren't talking to me. Judd and Andy say they can both trust each other. Gina joins them. Andy tells her that worst case scenario is if Amanda wins. Gina says oh yeah I know, we just have to make sure she doesn't win it. They all decide to head to bed.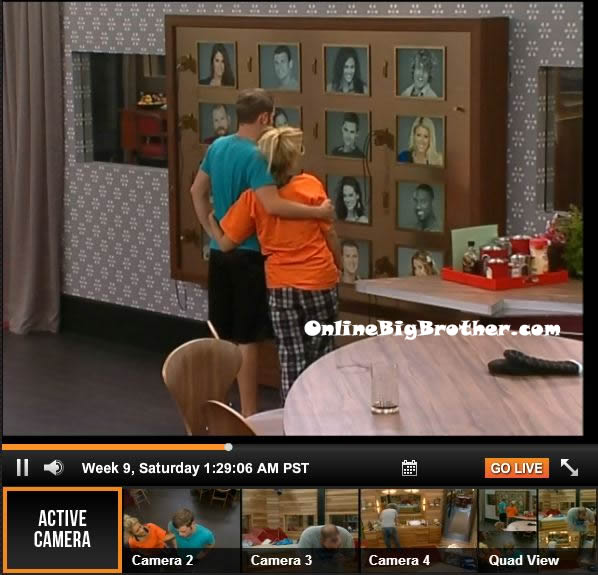 Judd stops to study the memory wall. Gina hugs him and says he (Nick) is a good looking guy eh?! I miss him. Judd says yeah I am just studying the photos because its been awhile since I've been able to see them. Judd points out features in the memory wall photos of the house guests to Gina. He tells her it might be part of a competition where they put to faces together. Andy, Aaryn and Spencer join them. Gina says dude he's (Howard) is black, he's easy. Gina says that Amanda and Candice look the same – the smile, the angle, the eyebrows. Andy, Judd and Gina head to bed.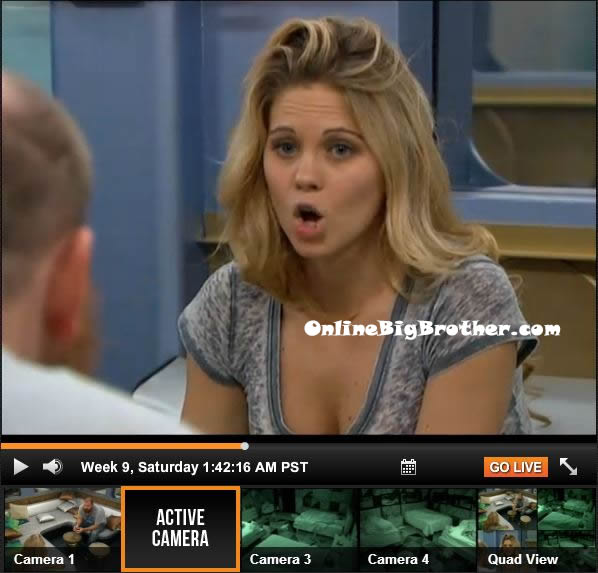 1:40am – 1:50am Aaryn and Spencer head into the lounge to talk. Aaryn tells Spencer that she was initially Elissa's target but I don't know what happened she called me up and said I f**ked up. Aaryn says well she didn't use those words exactly but .. Big Brother cuts the feeds. When they return – Aaryn tells Spencer that she would have Andy, Judd Ginamarie and Spencer's vote. She says that McCrae's vote is the only one that I wouldn't have. Aaryn tells Spencer if Amanda goes, McCrae is going to need someone to trust. Aayrn says you can trust Andy. I was talking to Ginamarie and she said that you, me, Andy should all work together. Spencer asks can I trust Andy? Aaryn says I think you can. Aaryn says that he realizes that McCrae and Amanda need to be split up and once Amanda goes he is going to be kind of by himself because he is not working with Elissa at all! Aaryn says that Amanda isn't going to win with me, Andy, Ginamarie and Elissa all fighting to win it. If McCrae wins the veto, then Amanda goes up. This could be good for everyone, but Amanda can't know. Spencer says I know, I know you're playing real hard. Aaryn says I have a feeling that if Amanda does win I don't know who Elissa would put up. It might be Andy because of him voting Helen out but I don't want to tell him that either. Spencer says I want you to just trust me, I know you do. We can have a lot of weeks still left in us. Aaryn says that it just worries her that people are wobbling. She says that Andy goes around to everyone, you know. Spencer says we will just do our thing, good luck in the veto. Go out and kill it. Aaryn says that she is pissed that Elissa just didn't put up Amanda and McCrae together. She called me up there an hour later to tell me she made a mistake. Aaryn says great you made a mistake I am on the block now! Amanda can't win this (veto). If I am up against anyone but Amanda I will probably go home. Aaryn says that Amanda is pissed at me now that I didn't pick Andy to play in the veto because she knows that Andy would take one of them off and not me. Aaryn says that Andy will do whatever McCrae and Amanda want. Me and Amanda are interchangeable as targets.
You can re-watch ever second on the feeds using the flashback feature. It's just like a PVR and is super easy to use.
Click this link for a Free Trial —> Subscribe to the Big Brother Live Feeds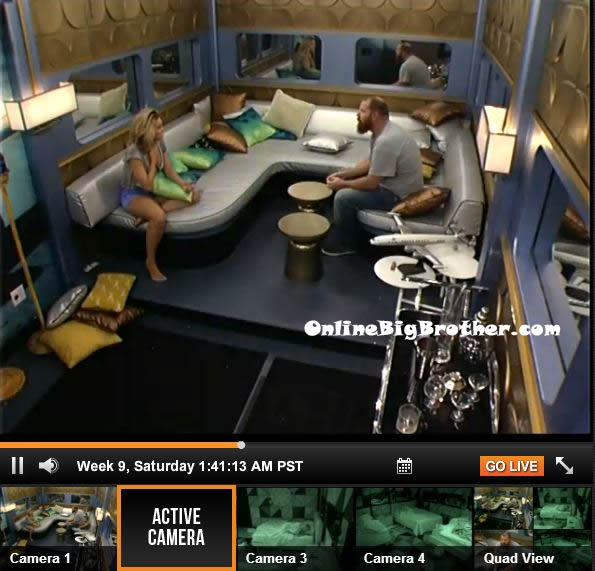 1:50am Spencer tells Aaryn to kill it in the veto. I want you to trust me because I trust you. Aaryn tells Spencer that it freaks her out that Ginamarie and Elissa are getting close. They are worried that Andy will leak the plan to Amanda/McCrae. Spencer says we will just wait and see. Aaryn tells Spencer that she picked Judd to play in the POV because he told her right before that he would take her off if he won. Aaryn says that Judd wants Amanda gone. Aaryn says I am concerned about myself and getting off the f**king block. Spencer tells Aaryn that he can trust her and that if he gets HOH he will consult with her about what he will do. They hug and head to bed.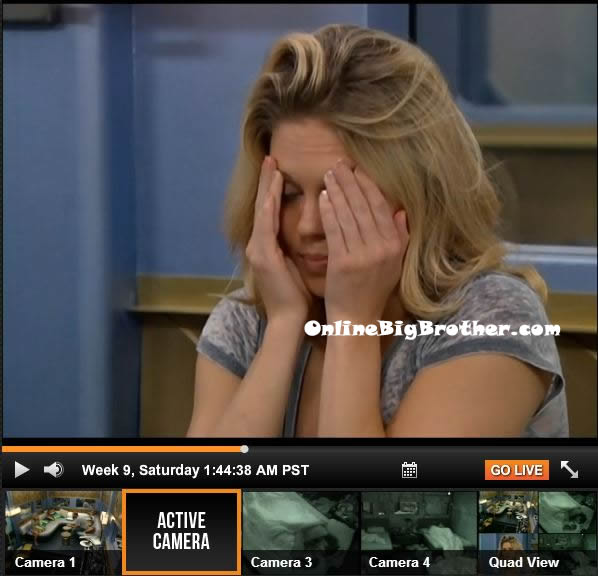 4:30am All the house guests are still sleeping..
9:35am No wake up call yet. Still sleeping..
10am TRIVIA .. looks like the house guests will get no time to wake up or get ready for veto. The Power of Veto competition is happening now..
11:10am TRIVIA..
12:15pm MORE TRIVIA..
1pm 3 HOURS Of TRIVIA..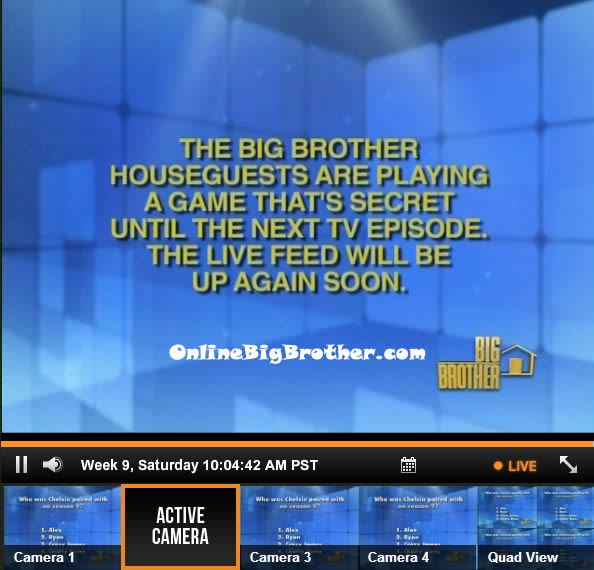 NEW times ADDED Big Brother 15 N*de flashback times here