9:25pm Clay and Jeff
Jeff – "I'm not really trying to campaign with people"
Jeff says he's got Jackie, JohnyMac's vote and "our Alliance"
Jeff – I don't want to camping.. you know that's the whole reason we have an alliance"
Jeff – Austin is acting sketchy.. he's wanting insider information
Jeff says the one with a cold sore doesn't like him.
Clay says they twins switched out this earlier today the one without a cold sore is in the house.
Jeff tells him he has Jackie, JohnnyMac, Clay and Shelli's 'I feel really confident about you guys I know you have my back"
Jeff says he doesn't have Jason or Meg's vote. adds James, Jason and Meg are really tight.
Jeff believe it's a good thing they didn't pull Vanessa into their alliance, he says they will find a totally different player.
Clay – Ohh she's in deep, she's making moves
Jeff now saying someone is dragging their names through the mud. He says someone they trust is ratting them out.
Jeff – I don't know who it is I think it's someone me and you trust.. it's someone outside our alliance..
They agree it's not JohnnyMac and Jackie.
Jeff – mark my words if I stay I'm sticking to our alliance.. you're right I was talking to people.. I was being too social.
Clay says he was playing a similar type of game.
Jeff starts saying that Vanessa told him Clay and him are talking to a lot of people.
Jeff says Vanessa is smart she's been sitting back watching, "I Can see why your trusting her with your whole game" (Ohh he snuck that burn in there)
Jeff – our alliance is a great alliance We picked a strong sick sick alliance.. dude we'll be able to dominate.. dominate..
Clay – I underestimated the power of out alliance.. Johnnymac too
Jeff – It's almost like a reality Check
Jeff is going to stick with his core alliance from now on being on the block has shown him he's gotten carried away.
Jeff – this was something that was plotted this was something that was carefully orchestrated.
Jeff asks about their alliance how does Clay feel about it.
Clay feels good.
Jeff – Man to man where do you stand with me.. do yo think is James more valuable or me just so I know where I stand
Clay says James will own up to things more than James. Jeff will backpedal and try to work aroudn things. "When you have to drag someone out of somebody that's a red flag"
Jeff – just the way you talk bro make me think you're voting against me
Clay – doesn't mean i'm not voting for you
Jeff says it sounds like Clay is leaning more toward his alliance
Clay – I know you're character I know you're a good guy
Clay tells him not to self destruct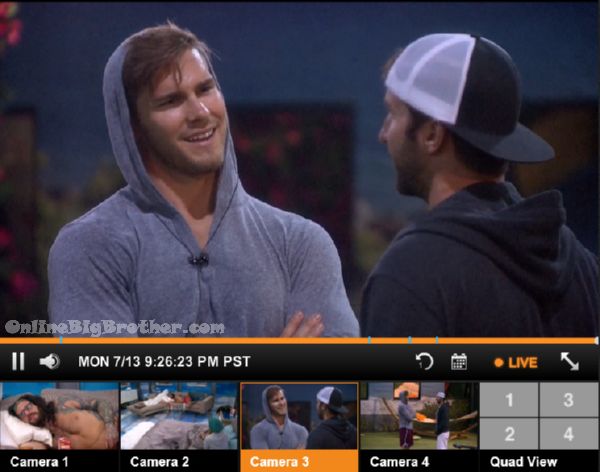 10:04pm Backyard Jackie, jason and James
Jackie telling them they have to watch how loud they are at night they can hear everything they say in the cheese room.
They agree Steve's gotta go he's the rat.
10:22pm Hammock Liz and Jeff
Jeff tells Liz the situation she's in is different than the rest of them.
Liz doesn't know what he's talking about.
Jeff – You Know how I said I'm going to have to ask you for a favour in this game.. the time has come liz.. keep that in mind.
Jeff – before you go to bed lets talk.. we can cuddle later if you want, it's either me or James.
they laugh. Jeff leaves to the couch where Meg, Jackie, Jason and becky are chatting. Jeff says Liz has a twin he can confirm it.
10:55pm Alcohol delivery
8 beers and 2 bottles of wine
They decide to play flip cup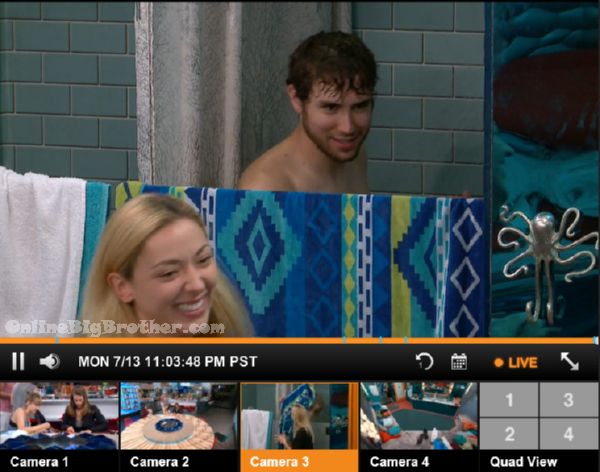 11:03pm Liz and james With Steve in the shower
James tried to take Steve's towel off the shower. Liz says Don't be mean to my boyfriend.
Steve gets quiet "You said the B word"
Liz – well ya so what are you going to do about it
Steve – How many boyfriends do you have in this house.
liz – steve you know I'm the number one
Steve – you say that
Liz – all my boyfriends go bye bye..
James leaves.
Liz – who am I
Steve – You're liz
Liz and Austin go into the cabana room. Liz says that Jeff is trying to tell her she owes him because he saved her last week. Austin and liz both know it wasn't Jeff it was Austin, Vanessa and her but mostly Austin.
Liz – He's not going down without a fight.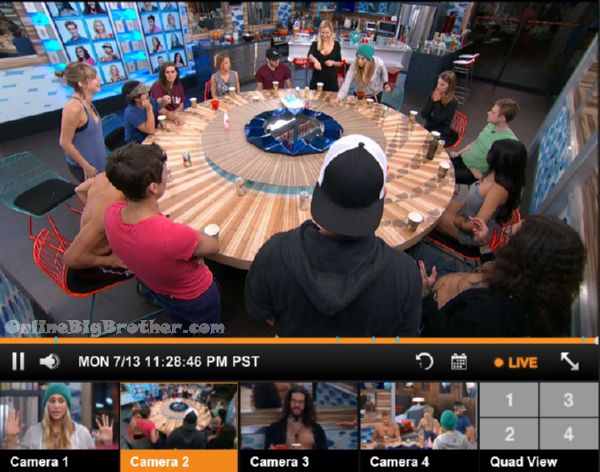 11:21pm After 20 minutes of talking about the rules they start
(They spend 30 minutes going over the rules to drink 1 drink each. The winner gets 2 shots of port)
Truth or dare
James dared to lick cool whip off Austin's chest
https://twitter.com/bigbspoilers/status/620845962454368256

Clay dared to lick BBQ sauce out of Jeff's arm pit
https://twitter.com/bigbspoilers/status/620847461217665024
Becky Dared to like mayo off Steve's big toe
https://twitter.com/bigbspoilers/status/620850096591147012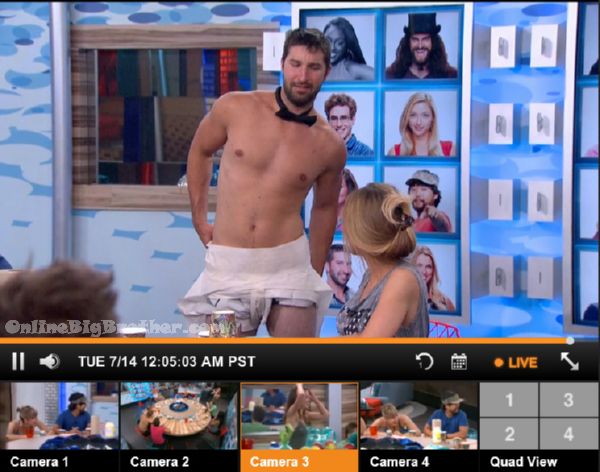 Jeff dared to wear make a diaper out of toilet paper and parade around with it on
Jason dared to stuff cotton balls in his mouth. He got to 30
Meg dared to stuff cotton balls in her mouth, She got 17
12:13am All the Alcohol is gone. Dare game over..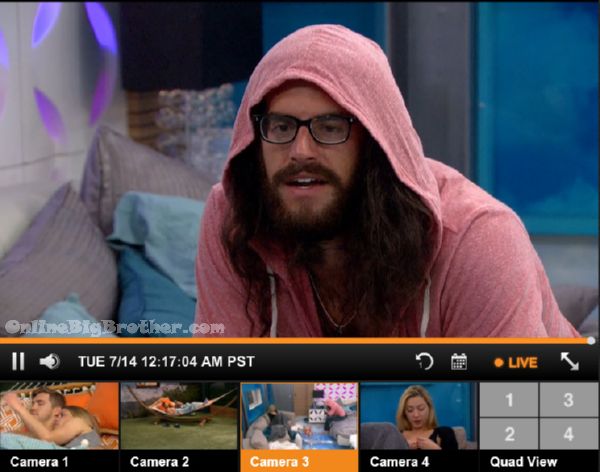 12:14am HOH Liz and Austin
Austin says she's lucky she got out of doing a dare. They agree the BBq armpit was gross. Austin says the last game of truth or dare wasn't as gross as tonights.
Liz – I hate drinking her it's annoying they treat us like we're freaking kids..
Austin says the show would be better with more alcohol.
Austin wonders if the wrap party will be fun or awkward
Liz – Da is going to have a vendetta against me .. Julia voted against her.. She saved me Boo Hoo
Austin says he's not worried about Shelli and Clay right now not yet there's still a lot of targets ahead of them. Hes more worried about Liz. Tells her he'll use the veto on her. He feels confident they have the votes to keep her as long as both of them not nominated.
Liz hopes Shelli and Clay are targets before the two of them. Austin thinks they are because Shelli/Clay are playing all the sides.
Austin wants to blindside Jeff on the vote because the last thing they need is Jeff running around these next 3 days spreading rumours that Austin, liz, Jula and Vanessa are in a super alliance.
Live Feed subscription gives you CBS All Access thousands of archived shows. Live Shows like Big Brother, all the Big Brother Seasons, and 24/7 coverage of what is happening inside the Big Brother House. Plus there's flashback that lets you go back to any second of the feeds and rewatch what happened. Simon and Dawg will index the season just watch the parts worth watching. All this for $5.99 a month try it out 1 week free. Support our efforts and get your feeds via a link on this site. Live feed subscription Sign up
[polldaddy poll=8972565]
Share it YO!
Tweet