POV Holder:
JohnnyMac
Next POV
July 11th
POV Used
Yes
POV Ceremony
July 13th
HOH Winner Team 1:
Vanessa
HOH Winner Team 2:
Austin
Nominations 1 :
James & Johnny Mac
Nominations 2:
Jason & Meg
Battle of the Block Winner
Jason and Meg
Next HOH/ Next BOB
July 16th / July17th
Original Nominations:
James & Johnny Mac
Current Nominations:
Jeff & James
Have Nots
No HAve nots this week
TRY the Big Brother 17 Live Feeds FREE for 7 Days!:
Click here to ensure your live feed subscription supports OnlineBigBrother.com at no extra cost to you.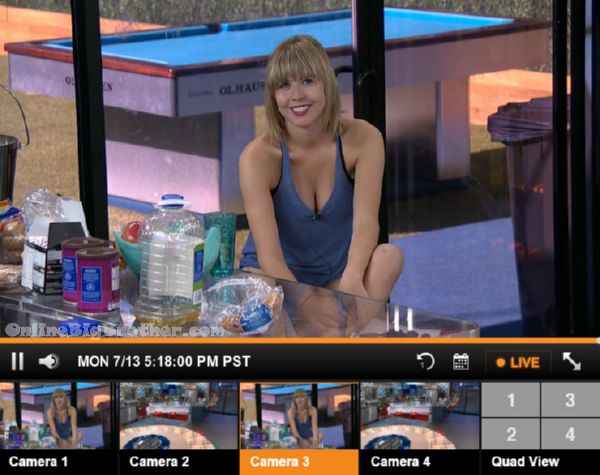 5:18pm Meg and Audrey
Meg saying Vanessa made it obvious what she wants this week, "It is what it is"
Audrey says she's excited to see what people thought of the week it all went down for her.
Meg – This house man
Audrey – Really brings out the evil in people
Feeds switch to backyard Austin and Jason. Talking about the beefcakes during the competitions (Comp extras and staff that are packing muscle)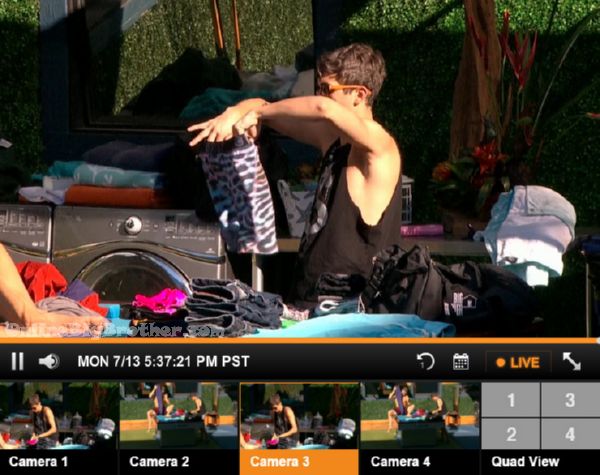 5:32pm Jason and Clay
talking about the Twins. Clay says they are not a threat right now because they're not much of game players.
Clay says he just finished talking to Vanessa, "She doesn't tell me much.. "
Clay says Jeff mentioned to Vanessa he's going to blow up some alliance.
Jason says Jeff is going home everyone is on the same page. Jeff asked Jason if there was ever someone who turned their game around like Jeff needs to. Jason told him no unless you're DAn Goosling.
Clay says him and Shelli are playing the game as loyal as they can
Jason says they are playing more like Jeff/Jordan than Brendon and Rachel.
Jason says he say Meg and Jeff Cuddling and he needed to talk to her "Girl I hope you aren't getting wrapped in something"
Clay says Jeff shot himself in the foot. jason agrees that is why he doesn't feel bad for him.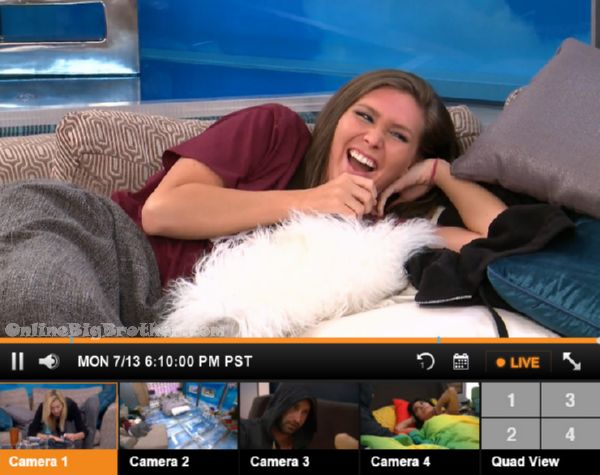 5:50pm HOH Shelli, Liz and Vanessa
Liz has just switched. They start filling her in on what she missed.
Vanessa – you kissed Johnnymac
Liz – I know I heard
Vanessa – Twice
Audrey and Austin come up.
Austin says JohnnyMac is second guessing keeping Jeff this week. Austin says they compared notes about what Jeff is telling them. It's the same story, Austin brings up that Johnnymac is noticing Jeff using Salesman technique to manipulate him.

Shelli says the person that told her first not to trust Audrey is Jeff
Austin – yaup
Shelli tells them Jeff has been going around trying to form alliances but none of them are legit. He always teases people about another group he's with and they want to pull the person in, "Powerful alliance that will keep you safe"
Audrey says it's the alliance they already know about.
Vanessa mentions that Jeff wanted to work with Clay and Shelli and say Audrey as a roadblock. They figure out that Jeff never approached Audrey for an alliance. Audrey bring sup Jeff wanting to
Austin days Jeff was trying to get him to turn on Liz
Shelli says after Jace got backdoored that Liz approached him and threw Austin under the bus
Shelli asks him what was said they said "I dunno man she threw Austin under the bus"
Shelli went to Jeff he told her Liz is saying she doesn't want to work with Austin anymore.
Austin says Jeff is doubting the human aspect of the game. he's not taking into account for the strength of the relationships in the house that have already formed. Austin knew Jeff was lying from the moment he said it.
Liz – He has way too big of a mouth
Austin – He's going to try so many thing these next few days
Audrey – I bet if you had a conversation with becky you'll learn things to.
Shelli says tonight when things blow up she needs to call Jeff out for lying.
Liz – I'm pissed he's gotta go
Audrey wants to call a house meeting so everyone connects the dots
Vanessa – no house meeting house meetings are bad.
[envira-gallery id="121163″]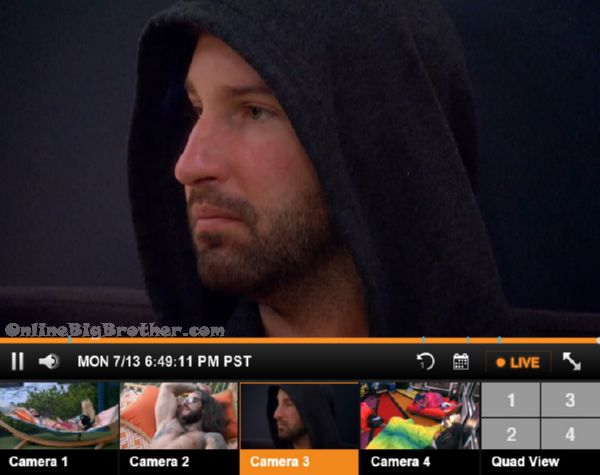 6:10pm -7:10pm Bedroom Jeff and Jackie
Jeff has doubts about Clay and Shelli's relationship there's such a age difference. Jeff calls Clay a little boy.
Jeff saying someone is ratting on his game it's either Clay, Shelli, Jason, James. He loves James thinks it's Jason.
Jeff – Shelli is smart Clay is not
Jackie – Work Shelli if you want to stay that's two votes.
Jeff says he's got Johnnymac's vote.
They agree Shelli is running Clay's game.
Jackie calls them all "Fake f***", Austin, Vanessa, Clay and Shelli
Jackie wonder if they are getting money to keep Audrey in the game.
Jackie doesn't think Audrey deserve to be in the game.
Jackie says Vanessa is uncoordinated "I've seen her work out she's going to hurt herself.. she can't even jump"
Jackie is targeting Vanessa says "She's going home'
James – she's not going to win a lot of HOh after this
Becky comes in says she hasn't had a DR since Da left.
Jeff starts rambling on about Vanessa mishandling her HOH and putting him up. He points out the holes in her reasons.
Jeff tells them putting him up was the plan and he believes Steve is the rat.
Jackie – Isn't she shitting herself if you stay.. both of you..
Jeff says Vanessa tolds him she can sleep well at night knowing either Jeff or James goes this week.
Becky leaves
Jackie and James talking about putting up Austin, Liz, Vanessa and Steve
Jackie wants Audrey gone and if they can't get Audrey out Vanessa can go.
Jeff points out that Vanessa made a mess about nothing this week.
Jeff says he talked to Vanessa like a human being and she acting like a child steamrolling him
Jeff complains Vanessa doesn't think logical and she doesn't build meaningful relationships in the house.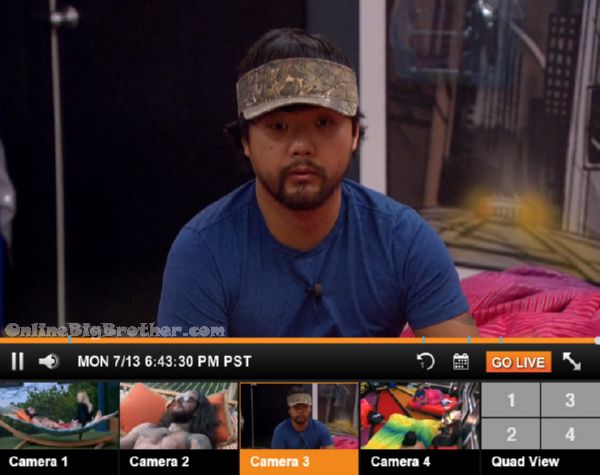 James brings up Audrey and vanessa relating on a emotional level because they are on the same group "That's one down for us"
Jeff – "how embarrassing is it that Audrey had to pull that card.. it's something that is look down on.. it's the opposite of creating equality"
James – Oh I agree.. same as pulling the race card.
Jeff says he never once looked at Audrey differently.
Jackie brings up Audrey could totally say they are bullying her and nobody will question it. Like when you're called a racist everyone believe it without investigating.
James – I bet Steve knows something
Jeff – Steve's always knows something scampering around acting sketchy
Jeff now saying James and Jeff are social people they are reasonable to talk to, "People like Audrey, Vanessa and steve you can never talk to"
James thinks that is why they were cast to cause chaos and turmoil
Jamesa leaves..
Jeff says he's worried he doesn't think he's got the votes against James.
Jeff knows Vanessa wants him out.
Jeff – She's so annoying
Jackie – ugh Like she told me she's sorry.. obviously you're not sorry.. don't be sorry.
Jeff – I gotta get Austin and Liz on my side right now
Jackie – you gotta get Austin
Jeff – Liz owes me a big favour.. I did a favour a while ago
Jeff explains back when he was working with clay they were going to use Liz as a pawn other than Meg. He's claiming that he was the one that saved Liz from going on the block.
Jeff – My game was working flawlessly.. until you get a psychopath like Vanessa winning HOH
Jeff – You are a f****g basket case.. she's super weird
Jackie and Jeff agree Vanessa would have done terribly on the amazing race. They heard she was supposed to get cast on it.
Jeff – If Clay and Shelli vote against me i'll tell you a different group of people to work with..
Jeff says keep JohnnyMac and Meg keep them close. Warns her about James and jason. Says James might be cool but he's thrown Jeff under the bus already.
Jeff about Clay – I had a final three deal with him, it was more of a fake one
Jeff – If i'm going I'm going to blow everything up
Jeff tells her Austin is gross but she should still work with him, "If that sh1t didn't happen between me and Vanessa you were going up"
Jeff – JohnnyMac has been my secret weapon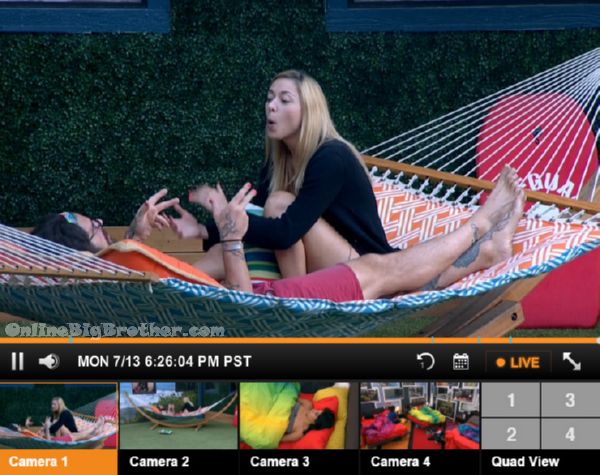 6:25pm – 7:25pm Liz and Austin Hammock
Catching up since the Veto competition. Goes over Saturday night when Jeff lost his mind and threw everyone under the bus.
Austin tells her the house thinks she's a twin. After going through everything that happened they start having a conversation about the pros and cons of outing Liz (Officially). Austin brings up Jeff calling Jackie Easy he's torn about what he should do. Liz says she would want to know but that's her.
Liz says Julia was getting a cold sore. She says they were yelling at production asking them not to switch but they said they had to.
Austin says he always thought Jeff had bad motives. Liz can't believe it took her so long to see him for who he is.
Austin mentions the gronk party and how there was one during the POV Ceremony so Jeff had to sit throughout the ceremony without a shirt.
Liz says she's hear until Friday morning.
[envira-gallery id="121187″]
Live Feed subscription gives you CBS All Access thousands of archived shows. Live Shows like Big Brother, all the Big Brother Seasons, and 24/7 coverage of what is happening inside the Big Brother House. Plus there's flashback that lets you go back to any second of the feeds and rewatch what happened. Simon and Dawg will index the season just watch the parts worth watching. All this for $5.99 a month try it out 1 week free. Support our efforts and get your feeds via a link on this site. Live feed subscription Sign up
[polldaddy poll=8972565]
Share it YO!!
Tweet