Head of Household: Beth
Nominations: Ro, Tera, Vic
The Power of Veto Players are: Rohan, Tera, Tina, Tychon, Breydon
POwer of Veto Winner: Rohan
Power of Veto Ceremony: Rohan used the Veto Vic went up.
Have nots: ?????
Big Brother spoilers – Vic is nominated her campaign is strong.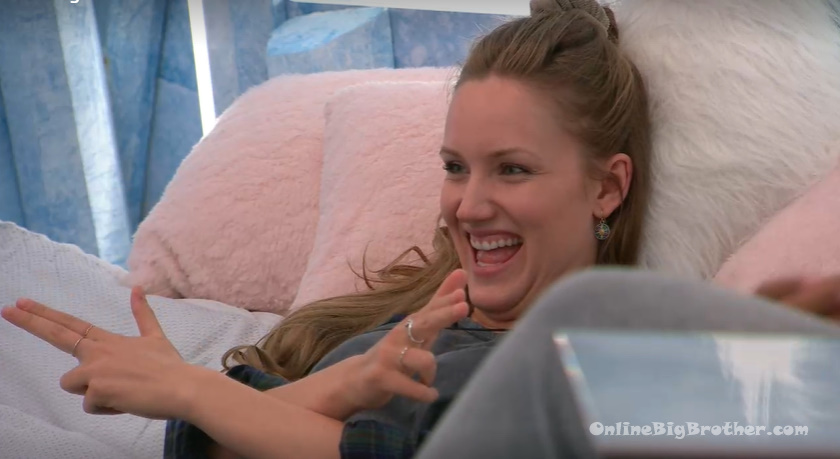 12:30am HOH room. Beth, Ty, Keifer, Breydon and Jed.
Breydon – what are the biggest pros to keeping V? I like a good pros and cons. Jed – the biggest pros? Breydon – yeah. Beth – target. Jed – she is a bigger target in the house. If she stays loyal she has the ability to win HOH's and to not put us on the block. Breydon – and what are the cons. Beth – Cons.. she is a GREAT liar! She could be lying right to our face right now. Jed – she is very emotional, she could beat everyone in the finals. Breydon – she could beat any of us in the HOH. She's done it three times. Ty – twice. Jed – and she is just a wildcard .. she has the ability to flip flop with her decisions. Breydon – one thing that scared me was the whole time she was HOH she was doing it for Canada. At the end of the day she is doing what Canada would love to see or would like. That's my biggest fear. Jed – so does it change anything that Vic would be willing to put up Tina? Whereas Tera would never put up Tina. So its just fewer options for her to put up in the first place. Ty – in the event that she wins.. yes. Jed – which is like honestly .. unlikely but who knows. We really don't know. Ty – it is really hard to predict comps. Beth looks at her HOH photo and says Ahhhhhgggg.. its so hard that they know the truth! They know the truth! Breydon – literally. Ty – you already put her on the block. Jed – you can't take someone like that off the block. Breydon – that is my only thing ..like then why enrage her. Tera joins them.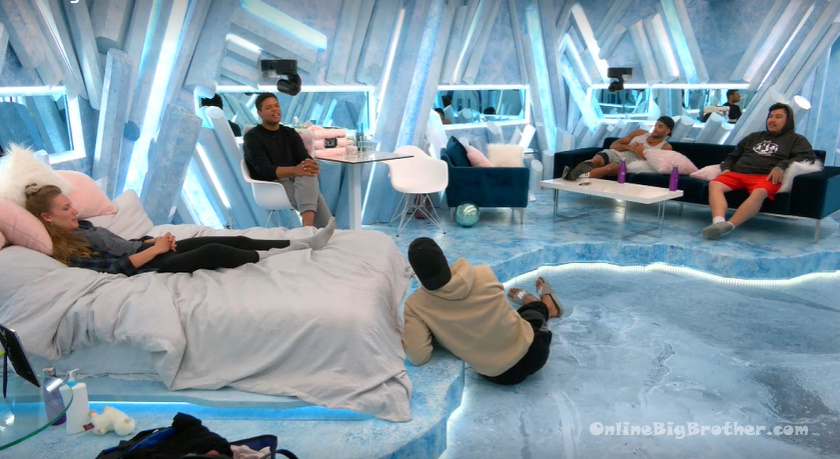 1:20am Hot Tub room. Beth and Jed.
Beth – oh my god Keifer! Jed – oh my god! I almost freaked the f**k out! I swear to god! I was pissed! Beth – if Breydon wasn't there I think I would have went harder. Like dude! We've been together. Jed – his emotionality pisses me off to the max! Beth – like you're pissed because of the house meeting!? And that was like what was going to happen but now I am going to tell Vic not actually call it official. Jed – you know why? Because he doesn't want to get called out.. because he will get called out. Beth – I know because he is in the middle. Jed – yeah that's what he said the last time. He said I don't want to get called out. He is so annoying! Oh my god! I almost freaked out. Beth – and you know what? This will be sh*t that we say when he has to go.. like you weren't in! You've been sketch since week 6… week 5. Jed – if he is going to act like that I am almost to the point where I wish you had put him up instead of Vic. Beth – I know. Vic is telling the truth .. but we just have to let her go. She wasn't going to come for us. We trusted them. I am pissed about that. I don't even want to be around Tera .. like I am so bothered by her. And Keifer doesn't like when we talk about her. Jed – I know. Beth – we can't even confront Keif because he will switch to the other side. Jed – so do we take out one of his people? Beth – the only person that is solid is Breydon. Jed agrees. Ty and Keifer join them.
Tuesday morning.. 10:05 am
Vic plans on calling out Tera and Tina. She spends 20 minutes pleading her casde to Ty.