Head of Household: Beth
Nominations: Ro, Tera, Vic
The Power of Veto Players are: Rohan, Tera, Tina, Tychon, Breydon
POwer of Veto Winner: Rohan
Power of Veto Ceremony: Rohan used the Veto Vic went up.
Have nots: everyone on slop everyone cold showers
Big Brother Spoilers – Lots of activity today. Still looking like Vic is going to be evicted but so many possibilities now.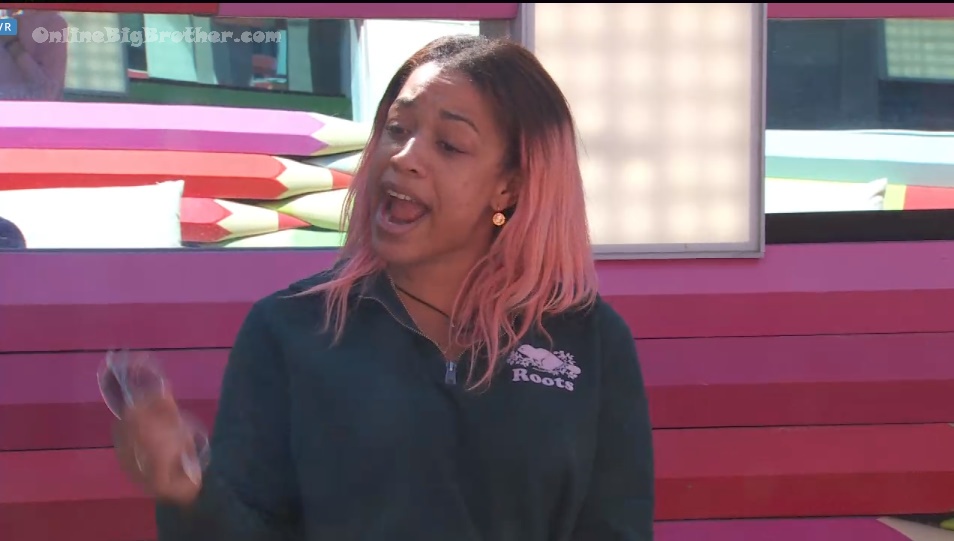 11:40 am Vic and Tera have their fight in the hot tun areas. It revolves around Tera saying that Vic wanted to throw Beth's bag off the balcony and people saying that Vic is targeting a "big target"
The fight starts with Tera saying that Vic wanted to throw Beth's bag off the balcony.
Vic – I swear on my boyfriend's life..
Ro jumps in they argue about Vic blaming the HOH on Ty.
Vic – guess what I am on an island.. I am doing what is best with my game. I thought Breydon and Austin at the time going up was best for my game. It would have been easier for me to pin it on [TnT, Ro, Breydon, Austin] and get one of yo guys out (Jed/Ty) Instead that is not what I thought was a good move for me. so I didn't do it.
Vic says she wants to be clear that the conversation they brought to Beth was something they all had she wasn't there having the conversation by herself.
Vic – you are telling me you didn't try to flip the vote on Austin
Ro – no
Vic – you are F***ED up Rohan. You swore on your family that's f***ed
Tina – everyone says that
Tera – same as you sore on your family you wouldn't put Ty up then threatened him
Vic – did he go up?
Tera – it doesn't matter
Vic – did he go up? I didn't do it
Vic again asks Rohan if he's not after the boys "who the f* are you going for?"
Tera – you got caught playing both sides hard and now you are doing everything you can. It's fine
Vic – you guys are bringing literally lies though
Tina – I have no reason to come into this game and lie to the people I'm playing with
Vic says she never through them under the bus (TnT/Ro) "and now I'm sitting on the block because of it"
Vic – I didn't say a word to beth about you guys I'm being honest I haven't lied.. you guys are lying. that's why I am hurt I f**ing believed you guys.
Vic calls Tera, Tina, and Ro out for "throwing her under the bus" Goes on about telling TnT to campaign to Beth to stay off the block all while she should have been doing it herself.
Vic says she's been crying in bed trying to figure out why she's on the block.
Vic calls Tera out for running to Beth this morning to warn her that Vic was getting ready for a confrontation, "you knew you were going to get figured out"
During the rampage Vic tells TnT and Ro she was never coming after them but she now is. (not sure if Sunsetters caught this)
Vic – you promised me loyalty in this game If I stay here I'm f**ing coming after you guys (TNT/Ro)
Vic to TnT/To "I had your back I never talked sh1t about you guys"
Ro – I've been on the block four times already doesn't really matter at this point
Vic – I never told Beth once what to do with her HOH I swear to f***ing god. I let you do your thing
Tera says Vic is trying to pin them against Beth, Jed, Ty
Vic – I am not
Tera brings up Vic telling her about overhearing Beth saying to the boys that she doesn't respect Tera's game and that she doesn't deserve to be here.
Vic – I don't remember that conversation
Tera – you are lying to my face
Vic to Tera – you don't deserve to f***ing be here and you do it f***ing complain. You're a f**ing liar
Vic repeatedly swears on "Jesus Christ" and "Her boyfriend's life"

They argue about Vic saying she's after "Big Targets"
Vic swears on her family left and right. Tera calls her out for this.
Standard yelling match. Vic pulls out the tears as she goes on saying that TnT and Ro are denying things.
Tina – if you are in a room and it's brought up what are you going to do not agree with it?
Vic – that is what I am saying
Ro – I can't help if I am in a bedroom doesn't mean I am part of the conversation
Vic – but you did initiate. So you are not going for them? (the trio)
Ro – no. I told them that to their face in Expedia..
Vic – okay.. then you f***ing played me that is insanity if you guys believe he's not coming for you guys that is f*ed up.
Ro says he's not in a position to put his game on the line "I've been on the block four times I've been on slop four times, I've had to win Vetos to take myself off the block like you said this is Big Brother I have to play the game just like you have to play the game"
Vic says Rohan told her he had Breydon and they were going after the boys. "Why would I make that up. I swear on everything"
Ro – you are at risk of going home
Vic – I didn't f***ign throw you guys under the bus the way you guys did to me. I didn't realize that was the plan.
Vic says they all sat there last night and told her they have nothing to do with Beth putting her up.
Tera – we said nothing..
Vic – they said nothing BETH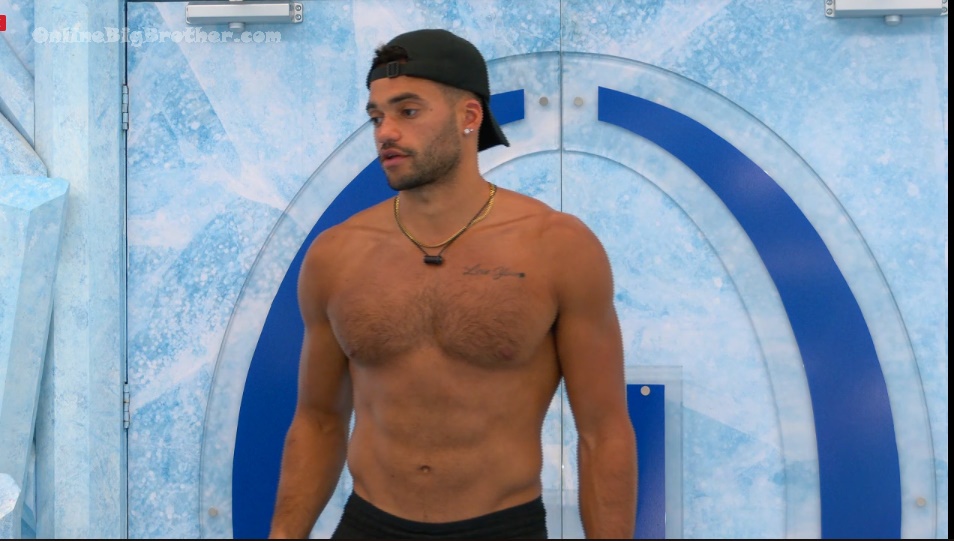 The retells have begun. Sounds like Jed is game to go up on the block against Rohan to get him out.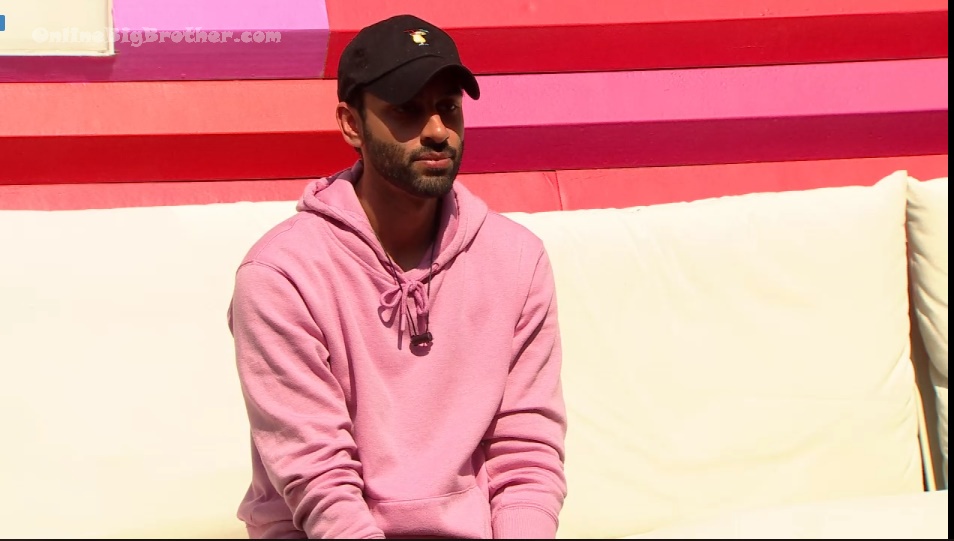 1:00 pm Ro and Vic
Ro says If she does stay they are not done.
Ro tells her that Austin, Breydon was never never going to put her on the block. "I wish I was in the know a little bit more because we could have played this better"
Vic says she feels like she was blindsided.
Ro says it looked like to him that Vic put up two of her alliance members last and was working with Jed,Ty,Beth
Ro adds at that point he thought she could easily put him up with Tina or Tera.
Ro wishes he had more information last week so they could have played it better.
Vic – I was trying to keep it to myself for the f**ing game (LOL)
Ro – I wish we had a one on one conversation
Vic – we did you said you would never turn on me that was enough for me
Ro says he never pitched putting her on the block but once he found out it was happening he supported it because he felt she turned on their alliance the week before.
Ro – I thought you turned on your alliance and would do the same to me
Vic – I'm on ma island.. I didn't tell anybody
Ro – people knew you were invisible HOH before the veto.. you could have told me then on Wendy's
Vic – I'm telling people I'm coming for you. I might not but that is what I am saying
Ro – if you do I wouldn't blame you but.. I've always trusted you.
Ro calls her out for not telling him about the HOh last week even after other people in the house knew.
Vic – I thought it was going to fade away..
Ro says she has a high chance of staying in this game. They need to develop a high level of trust especially now after the fight.
Ro – you and I deserve to win this game I truly believe it.
Ro explains the other side will want to keep Vic and use her to take out Ro.
Ro – if you win (HOH) you have an opportunity to make a massive move.
Ro – I will help you get to the end of the game..
They hug it out..
Vic – I am sorry
Ro – I am sorry to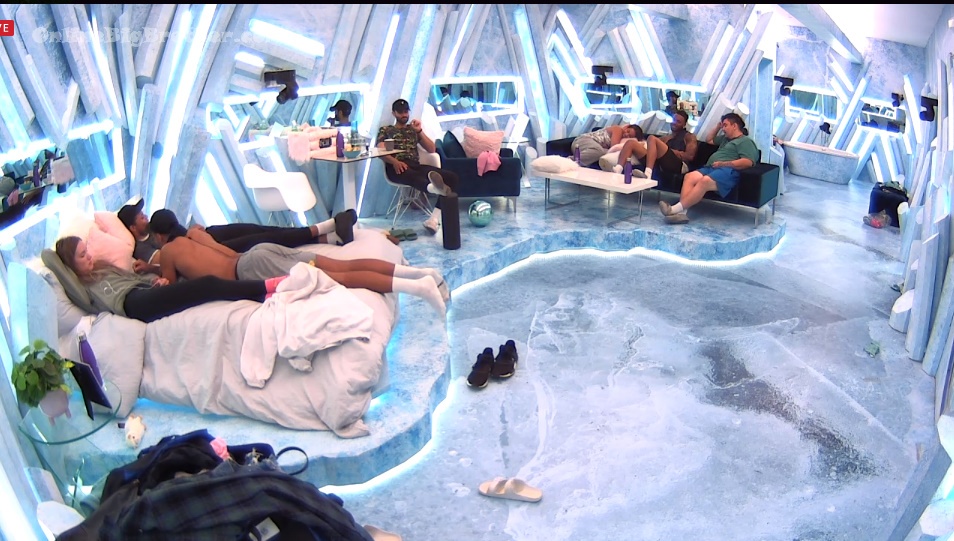 6:30 pm Things have slowed down..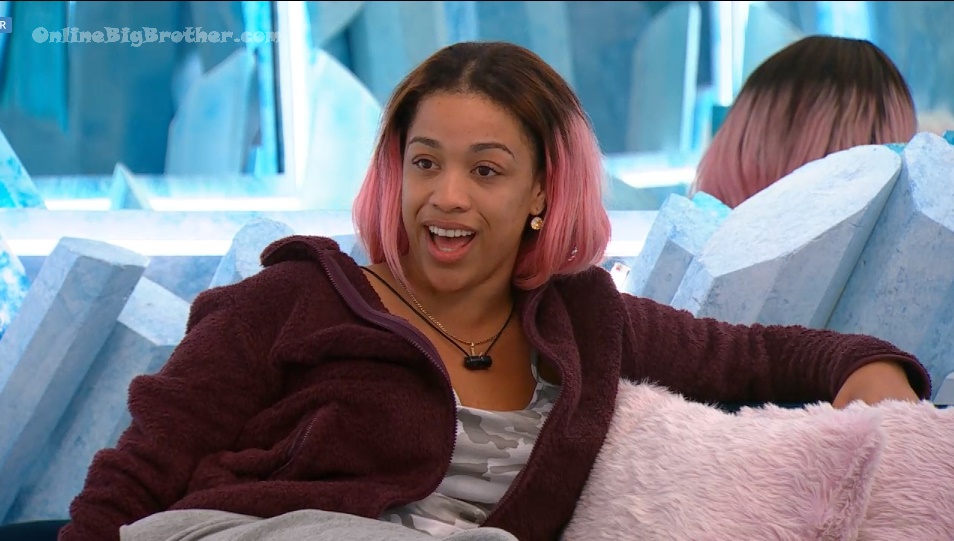 8:40 pm Vic, Jed, Beth
Vic continues to campaign once she locks on she'll go for 30-45 minutes without break.. IT's the same thing over and over.. ghost peppers are real, Swear on god, Swear on my boyfriend… etc… etc…
Vic – I swear on my boyfriend's life I am not coming for you guys.. I'm ghost peppers all the way.
Vic – my number one goal is getting Rohan out of this game. Coming for you means coming for them.
Vic says it's crazy she's going home for doing something for her alliance.
Vic – I swear over god over everything it's ghost peppers
Jed brings up Vic's emotions during the call-out was genuine
Vic – If I stay it's four against 2 if I go it's 3 against 3
Vic – Beth, I am not coming after you. I am so down for this final 4
Jed says he's upset with the decision to get Vic out.
Vic says that's his body telling him it'
Vic – you are being bamboozled by Tina and Ro.. I swear on my boyfriend's life that is what is happening.. you are given them what they want you are giving them the numbers.. after today they are coming for me because I am coming for them.
Vic – I swear to god ..
Vic – I promise over my boyfriend's life I am not coming for you guys..
Vic swears again on her boyfriend and Dog that she's not going after beth..
Vic says they are giving Tina/Tera and Ro a gift but taking her out.
Vic says if they keep her she will gun for the HOH and it will be their HOH "Dead a$$ on my boyfriend's life"
Vic says if she stays they'll alliance will go down in history..
Vic – just the hotness and the realness.. you guys are going to look really silly..
Vic – If I come into power you guys are good…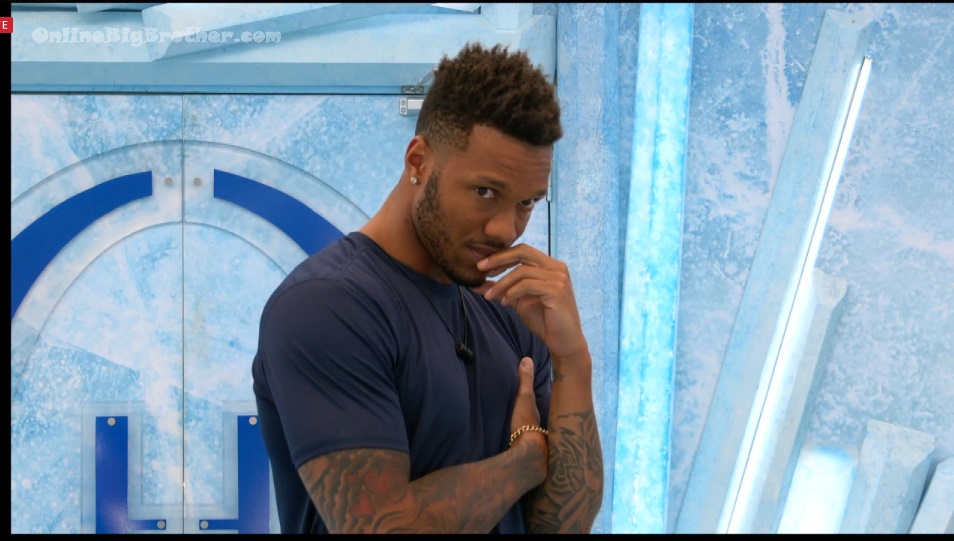 At 9:15 pm Vic leaves and Waffle fever begins… 50/50, on the fence, not good of my game but good for yours..
Beth and Jed think they were tricked by Tina/Tera/Ro
Kiefer and Ty join them.
Beth – dude what do we do..
Jed – who's better for your game
Kiefer – tera
Jed – tera now?
Kiefer – I don't know
Beth – V will keep us safe till the final 5
Jed – The Tera plan is short-term the VIc plan is long-term if we save her.
Ty – we seem to think it's impossible to get her up down the road.
Jed thinks having Vic is a shield for them.
They waffle about who Tera and Vic will put up.
Keifer says Ro is an option for Tera to put up
Jed says he believes Vic but will accept a group decision. "She will take people out"
Kiefer – I know she will go for Ro
Ty – Spice
K – Yeah
Ty – that's the next big move in the game.. we have someone else that can win and can aim at Ro
Jed – if Vic is riding with us hard and she can win HOH's
Beth – do we lose Breydon completely if we Keep Vic?
Kiefer – he'll stick with Ro
Back and Forth.. back and Forth…
Kiefer says they have a chance to take out a HUGE player.
Ty and Jed says Vic is a number for them
Kiefer – we don't need the numbers.
Kiefer tells them Vic will take them to the final 5 and she will be loyal but once they hit the final 5 she'll be after the three of them not after him.
Kiefer – Vic is fighting for her life she will say anything
Ty and Jed want to keep Vic.
Beth will have a talk with Tera.
Ty and Jed now saying they need more time.
Kiefer – it's a win/win for us it's riskier for us is to keep Vic because we are assuming the things she's telling us when she's fighting for her life is true
K – she will say anything
Jed – where does she go if she burns us to Ro? (yes)
Beth points out that Vic is all about the secret alliances.
Jed – are we snakes what is this?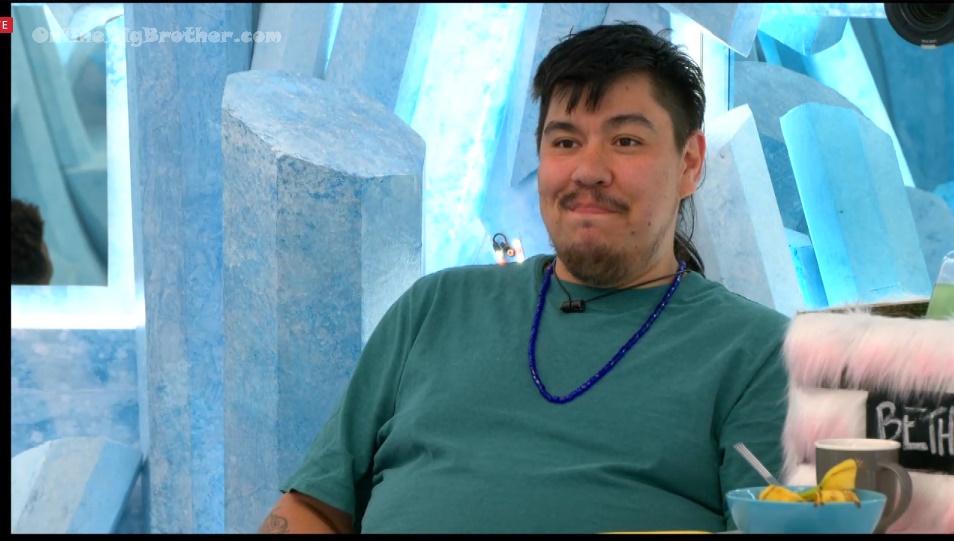 10:13 pm Breydon, Keifer, Beth , Ty
Kiefer is going on about the highlights of Vic's game. He points out how much she's done and how crazy it is for them to keep her in teh game after backdooring her.
Kiefer – day one she wins it for her team
K – Day 6 she's the only one that votes to save Julie.. nobody blinks an eye and they respected her for it
K – Day 13 we tried to flip the house on Rohan and Vic was with us until the last minute safes Rohan get loyalty from 7 f**ing people. Win HOH and comes out unscathed after burning us.. Absolutely inferno .. she sends out LT ..
K – She ends up winning invisible HOH and takes out a massive target..
K – she gets backdoored and Vic survives..
they laugh…
Beth – and wins OH and Backdoors me.
Kiefer jokes it will be Vic and Ro in the final two
Beth Ro can't make alliances.
K – Ro can't win a HOH to save his f***ing life
Ty is back to saying "she's gotta go. if she stays she finesses the shit outta us"
K – she's the greatest player of all time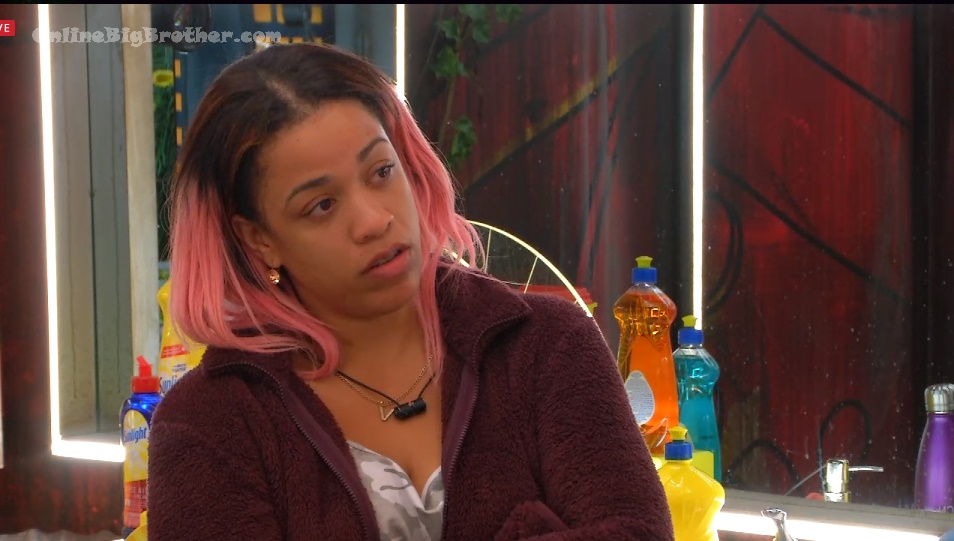 11:00 pm Ro and Vic
Ro talking about thinking Vic had turned on them after she put up Austin/Breydon.
Vic says she was kicked out of the HOH because they didn't want to hear her pitch anymore.
Vic wishes she had thrown the Invisible HOH.
Vic – If I go I go but I will campaign as much as I can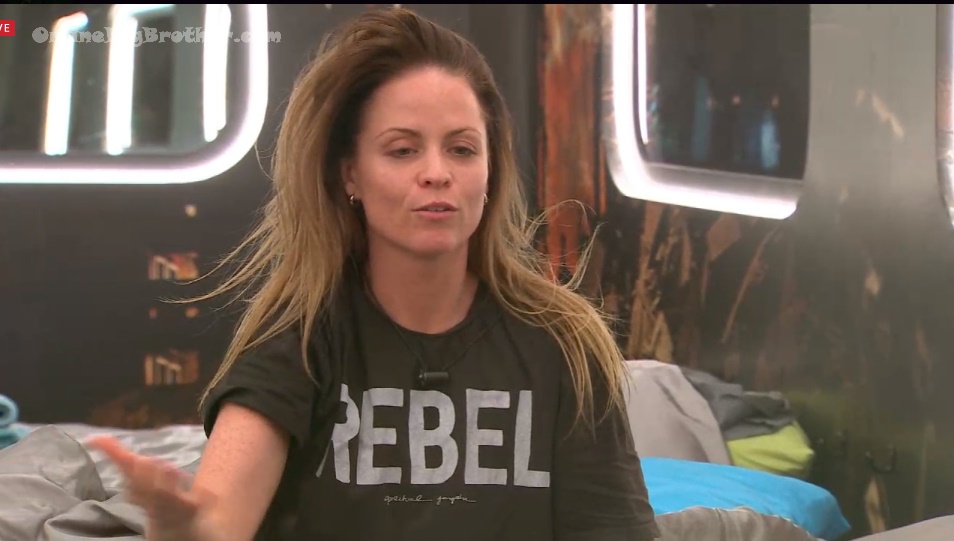 11:16 pm TnT
Tera joking around going over all the things she got "Cussed out" for today.
Kiefer joins them says Vic is campaigning hard. He tells Tera she needs to offer more than one week.