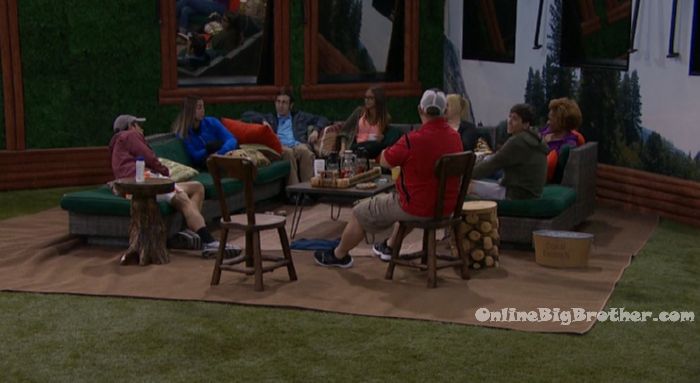 8pm Backyard – Cornbread, Jason, Neeley, Kryssie, Shelby, Scott, Whitney and Monte are hanging out chatting. Jason mentions how some people when they get off the show want to sell all their BB stuff on ebay. He says he didn't sell anything. I would never sell my BB bag and now I'm going to have two of them! Everyone leaves the couches but Shelby, Whitney and Alex. Whitney – I don't think Shane and Danielle talk about anything game related. Shelby – they would have to because we leave them alone. She's dumb but she can't be that dumb. Whitney – I just can't see him liking her. She has no substance. Shelby – yeah, I mean guys can be shallow. He manages to make very interesting stories boring. So I don't know what the f**k is going on. He was like I won a cutest butt contest. I was literally nodding off. It could have been the most interesting story.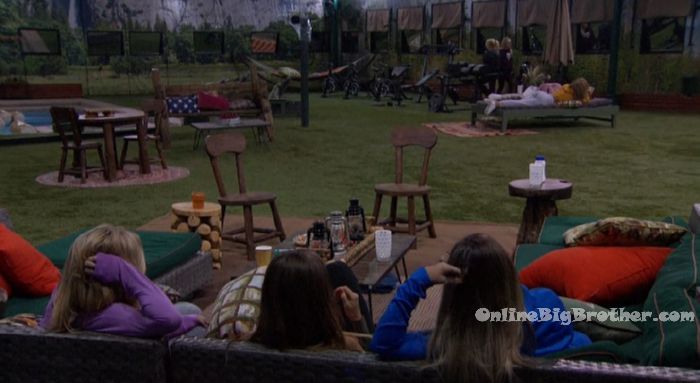 8:30pm On the backyard lounger – Danielle, Morgan and Shane are hanging out looking up at the stars. Shane asks Danielle what is your life meta? Danielle – god isn't liked by everyone so not everyone to like you. Only time will tell and you suffer because you want to. What about you? Shane – sh*t happens. I don't believe in fate.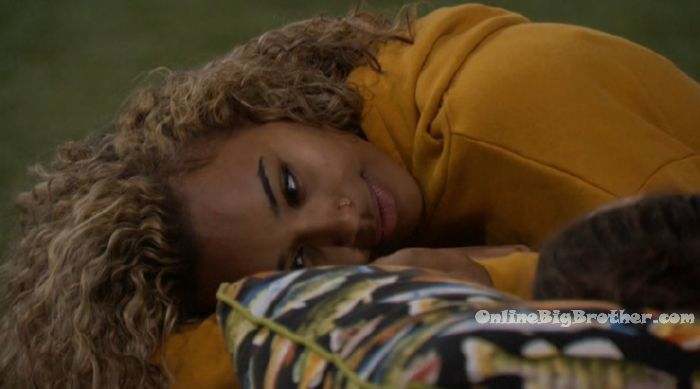 8:45pm Bedroom – Cornbread and Scott. Cornbread – Shane was telling me that Jason don't like me. He don't like me or Shelby. Scott – Yeah I think he was a little burned that you gave him the crab. Cornbread – OOOHHHH you just hit the nail on the head! I forgot about that! Oh lord! Scott tells Cornbread that coming into the game he wanted to be really tight and loyal with the older person in the house. Cornbread – that's good. Scott – And I think Shane and Monte came in wanting to be loyal to a bro so I think it all happened perfectly .. All four of us are good together because we're all getting what we want out of this. Cornbread if it comes down to me or you .. I would be happy if you won it. Scott – I would be so happy if you won the game I know your money would go to the right places.
9:30pm – 10:20pm In the backyard –
Justin, Kryssie, Neeley, Jason, Morgan, Monte, Shane and Alex. Justin says I've got hell'a love where I'm from. You have to show love to get love. You have to give respect to get respect. People don't f**k with me. I do what I wanna. I can't wait to have a few little kids. I want a bunch of those little f**kers. I'm not going to discipline either. Momma's gonna whip ya! I'll be the good guy … like what did momma do to ya!? Jason – you would be a good dad. Danielle joins them.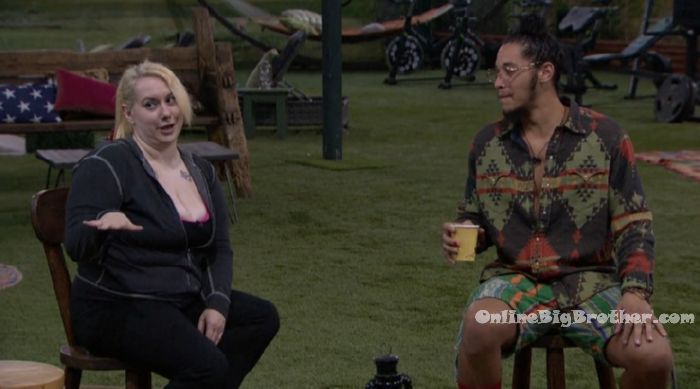 Monte tells Morgan – I think Jason has Danielle, Krissie and Justin's vote. Neeley is stuck in the middle because she likes Jason and Kryssie. She is going to be all torn up. We can't let the house know the target is Jason just in case it doesn't turn out. I really have nothing against him. He's just been here before. You can't trust him. That's what I think about Justin too. Shane is loyal to me and he will be loyal to you. Morgan – I just don't trust Danielle. Monte – I really need to count on you, Whitney and Alex sticking with me. Cornbread has my back too. Morgan – he hinted that he trusts me.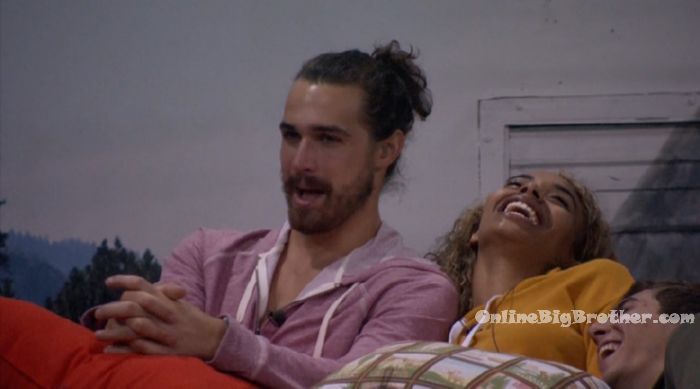 10:40pm – 12am Hot Tub. Whitney and Shelby are talking. Whitney – have you notice when two or all four of us are together someone always comes and breaks it up. Like Danielle. I think you, me, Alex and Morgan could be really strong together. Shelby with Cornbread, Monte and Shane I would lose my sh*t because I can't take 45 minute stories. Whitney – if we win HOH next week I am all for Danielle going home. Shelby – yeah. Shelby heads inside to exchange her mic. Morgan joins Whitney. Whitney – we can't let our hearts and minds get into this. Whitney – whoever we want to go home will go home because we have the numbers. Do you think Shelby's connection is with Jason? I know she's said stuff to him like telling him to align himself with Danielle. I asked her why she said that and she said to make him feel safer. Monte and Alex join them.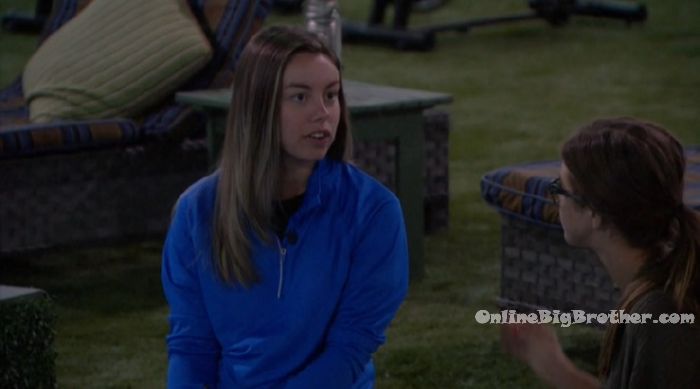 12am – 12:40am Bathroom – Whitney, Shelby, and Alex. Alex – Shane is always with Monte and Cornbread. I feel like Shane has an individual alliance with both of them. It makes me fee like they have a finale 2 or something. Cornbread is so confident. Shelby – we can trust each other. Alex – I do not trust Shane. I feel like he is playing both sides.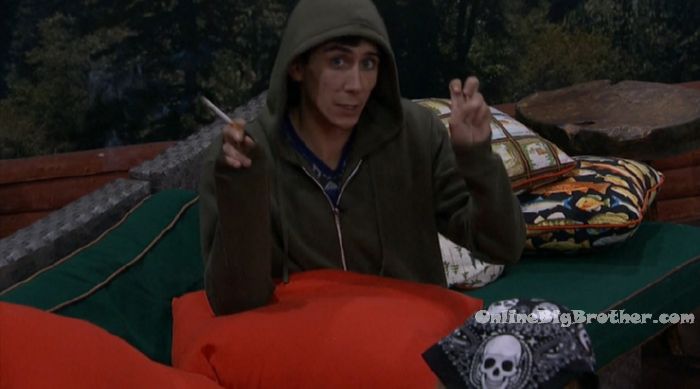 12:50pm – 1am Kryssie, Neeley and Jason. Kryssie – I'm looking at the center piece on the table and if you 3 want to make this official I've got a great name. Neeley I don't know why we don't make it for real. Kryssie – look at the centerpiece on the table. Jack o'lantern. Jacks and Lanterns. They did that on purpose. Like Halloween. Jason – oh man… I'm in. Neeley – I'm in too. Jason – we all ain't got sh*t to loose. Neeley – I think this could work. Neeley – we can't do these talks any more. But if we do this, we can do it! Neeley – Whitney is a lot more than she .. there are more layers too her. They've got to go, we have to break up that sorority clique. Once we take down that foursome I think we could take this sh*t down! Neeley – I'm going to head in .. but if you don't see me tomorrow just know I got it.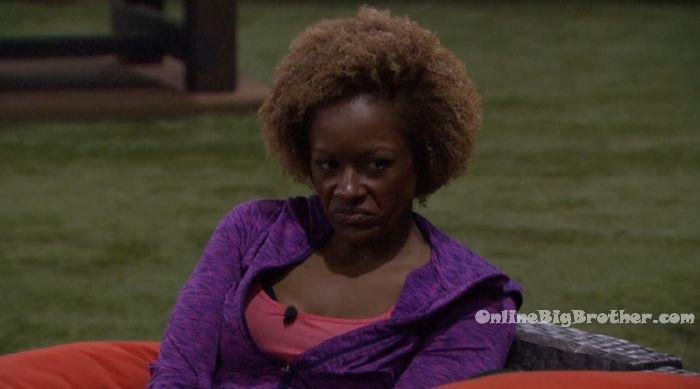 Jason "Don't hurt yourself you might have to compete tomorrow!" #BBOTT @bigbspoilers pic.twitter.com/dJloo6Fm7Z

— Dawg (@DawgsBigBrother) October 2, 2016

1:05am Backyard – Jason tells Kryssie – I'm f**ked!! Kryssie – its not over till its over. Jason says OGTB and ____ is probably the worst idea in the world. Kryssie – why? Jason – because Shelby and Scott are both snakes. Kryssie – I think they need to see us talking to other people. I'm not scared ….yet! Things change ..QUICK! I would never vote you out. Jason says he wouldn't vote her out either. Jason – How dumb can y'all be!? I told y'all I'm the twist! Why are you trying to take out the twist and not weaponize it!? You're going to regret that down the line! Jason – we're being left out of information. Even Neeley knows what's going on and she's not telling us. Kryssie tells Jason she is going to pretend to be homesick to the others.
CBS All Access Live Feeds! Test them out 1 Week for FREE!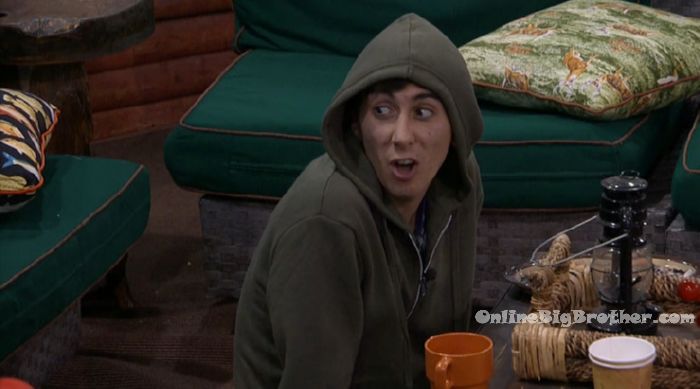 1:30am – 1:55am Lounge room – Kryssie is crying about missing her boyfriend. (She's acting.) She tells them she almost didn't come in here. I was going to buy my own plane ticket home. And now I'm up on the block week 1 and I might go home.. if I do it means I was right. Cornbread tells her that its time to start swimming. I'm here for you and everyone else is here for you. Kryssie – I know its strategy and its a game. Cornbread – I hate to see you cry. Kryssie – And now we have to be up from 10am – 10pm. Scott – those were all new to BBOTT. You have to be up from 10am – 10pm and the live diary room sessions. The talk turns to talking about past seasons of big brother.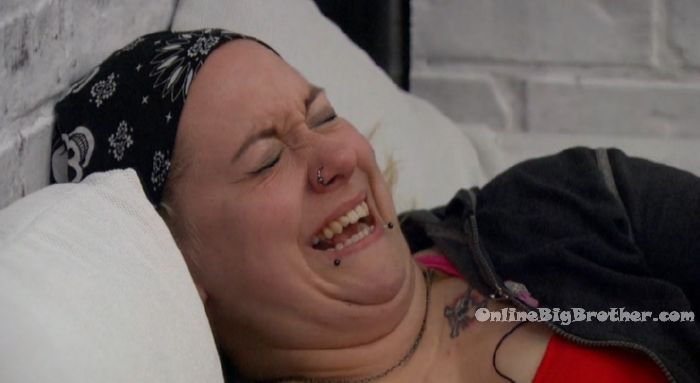 1:35am – 2:30am Bedroom –
Alex, Danielle, Jason, Morgan, Justin, Shelby are joking around and talking about bleaching a-holes. Shelby doesn't get why and says she thinks it would hurt when you take a sh*t after. They continue to talk about random things.
Danielle talks about how her coach told her he saw another person on her team stripping. Justin – that's a lucrative business. I've you're going to f**k you might as well get paid for it. I mean hey! I mean you end up playing for it anyways. Dates, movies, stress… some times its better to pay for it than to listen to her bit*hing all day. When I m@sturb@te its not that entertaining because I can feel myself touching myself. I don't know what I'm going to do .. this is the longest I've ever had to go. I've been fortunate to always get "vagange".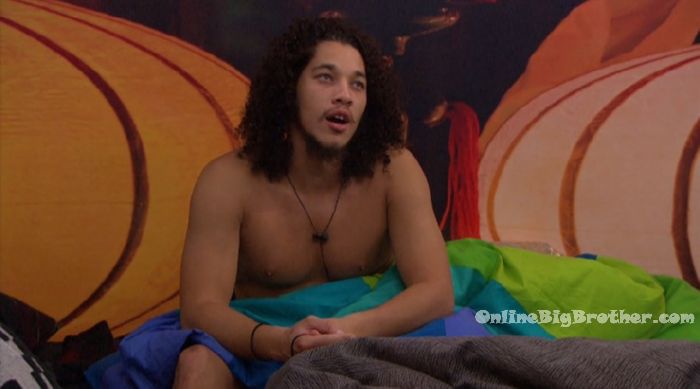 3am – 5:15am Lounge room – Justin, Cornbread, Shelby, Shane and Scott are hanging out. Justin – I'm a good representation of New Orleans. I'm very multi-cultural and multi-faceted. I can blend in, I'm a chameleon. I can be professional. I can be the most ignorant motherf**ker in the room. I can be the most intelligent person. I can be the most ret@rded person. I can be the most simplest person. I have no limits. They continue to chat about random things and then everyone but Kryssie go to bed.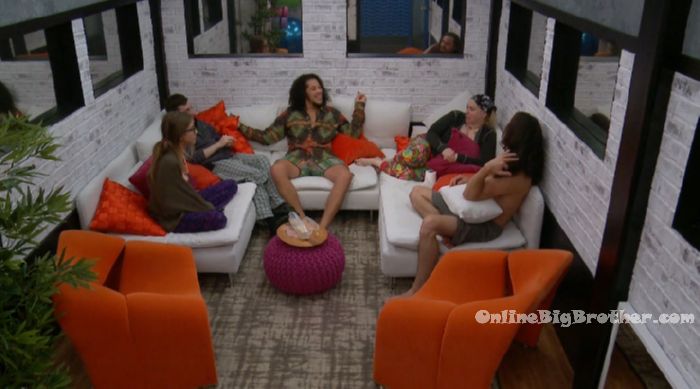 5:50am Everyone is finally sleeping..

9:44am Neeley and Monte Kitchen
Neeley asking about the hat.
Monte says he got it outta a cracker barrel it's a tennessee thing.. "Davie crocket that sorta thing"
Monte says he got it from the UT campus store 4 or 5 years ago.. This is a good chance for us to talk game if you want.. Where are you at..
Neeley whispers something.. They don't talk game..
Neeley – what do you do for fun what are your hobbies