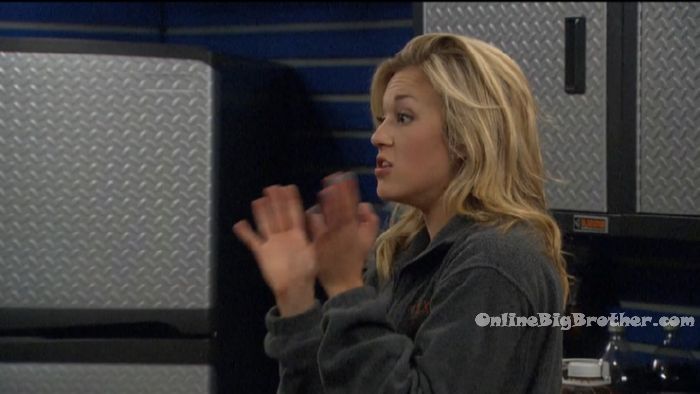 9pm Storage room – Morgan tells Alex – I need Shelby to go up on the block desperately. Because if Whitney goes up she is safe and she can't vote. If I break the deal, Kryssie freaks out. Whitney can't vote. Right now we promised 2 votes to Kryssie. Alex – I am very confused. Morgan – I need Shelby to go on the block so that Whitney can still vote. Shelby is honestly irritating me. Alex – why is she irritating you? Morgan – because I know she wants Scott to stay because its good for her game. Alex – if Scott stays its probably good for my game because if he goes I am probably target number 1. Morgan – right but if he stays out of all the girls I'm the target. Alex – I don't know.. I know Neeley going home sucks for your game but for the long term game she is dangerous. Morgan – I am fine with sending Neeley home but I'm going to go to Scott and say if you want my vote… Alex – you don't have to worry about Scott. Morgan – no literally I am because I don't want to depend on you to keep me safe with him. I'm going to like go to him and like tell him… Alex – I don't even know what you're saying because you're rolling your eyes and saying like a lot. Morgan – You're pissing me off like no other today! Also, like seriously you thought I was going to use a veto to save Scott.. are you an idiot!? Alex – I wasn't saying to do it … I was saying to consider it because if you make it to the final 3 you need to have a good resume. I wasn't telling you to do it, I was just giving you all options. Morgan – I know you think I'm the dumbest person at this game. You're really pissing me off. I'm just getting paranoid that you're lying to me. Or that you're going to pair up with Scott to get rid of me. Alex – Scott annoys me. I feel like the other side of the house gangs up on him and bullies him ….so I am never ever going to go with that.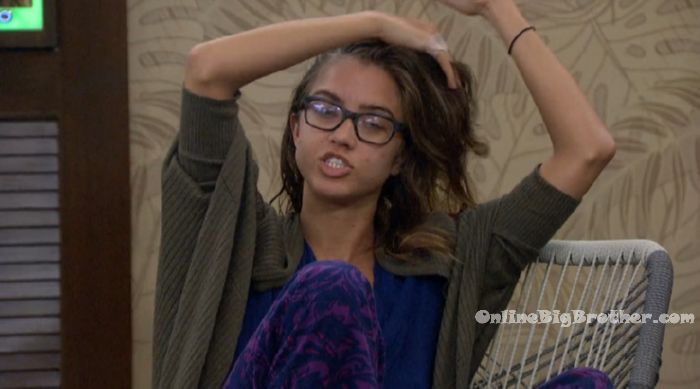 9:05pm HOH room – Danielle, Justin, Shelby and Kryssie. Shelby – I will vote him (Scott) out but if you could give me a little warning if you do decide to put me up. Kryssie – I will do my best to warn the person I put up but its against the rules to say I'm nominating you. If you do end up on the block next to him …just know you would be safer than you ever would be in this game. Which ever one is it… as long as everyone plays ball you're good with me next week. The only problem I had with Alex is that she made a problem with me and broke it. I don't even respect him as a human being. Shelby – literally the only positive to keeping him is that he would be a bigger target next week. There would be some poetic justice the four horsemen going out one after the other. Shelby leaves. Justin – she's suck a f**king liar. Oh my god I want her out of this house.

Watch the BBOTT Live Feeds FREE for 1 WEEK!
Flashback and watch everything you missed! FREE Trial!
Bathroom Alex, Whitney and Morgan are talking. They agree that Kryssie is a non-threat right now. She can't get HOH next week and she can't get another care package. Alex – the odds are one of you get a care package because y'all haven't gotten it. Morgan – I'm about to say lets go balls to the wall. Whitney – we just have to preach Scott is going home no matter what. Morgan – I'm going to go talk to Kryssie tomorrow morning just because I feel like she would be weirded out if I didn't say anything. Whitney leaves. Alex – preach Scott should go and Shelby should go up. Shelby joins them. Morgan and Whitney whip their hair and say ball smashers. Shelby – if Kryssie calls me out I'm going to say I don't really owe you anything, you had someone eavesdropping on our first conversation.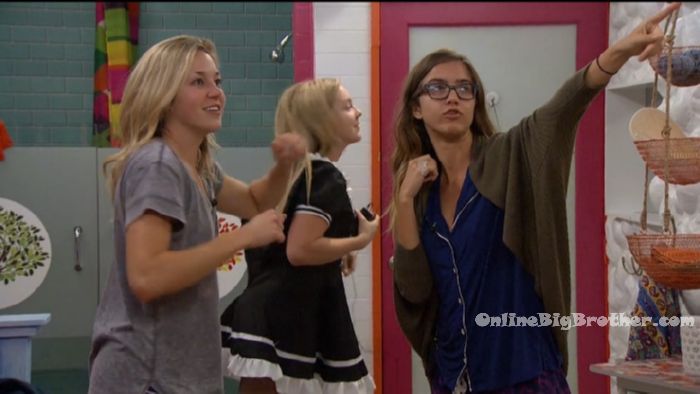 12:40am London bedroom – Morgan and Alex are whispering. Morgan – If I get screwed over I'm going to go out screaming in the hallway. Alex – at the beginning of the week Scott was like better Morgan than me and in my head I was thinking if only you knew Morgan and I are sisters! If only you knew. I love that no one knows. They head to bed.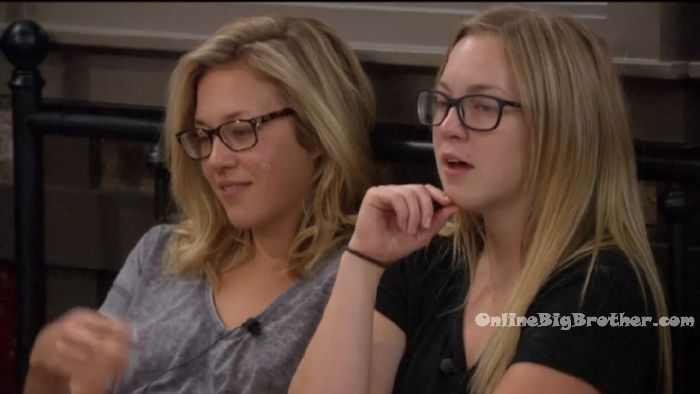 12am – 1:20am Backyard – Kryssie, Danielle, Jason, Justin and Neeley. Kryssie – I don't care what the f**k happens with Shelby. Neeley – I would just rather keep Whitney happy and f**k Shelby. Kryssie – that's where I'm at too. I might pitch it like ..I'm putting you on the block, you don't have a vote … so no one will think you had anything to do with this week. Neeley heads inside. Danielle – it will be three / three and America will decide. Justin – I'm going to vote for Neeley to stay. Kryssie – you got to vote for Scott to stay and then America will tell us where they land. Justin – so it will be tied up and America will be the fourth vote. Danielle – yes. Jason – America's going to do what they want to do. And then you can be like like yo.. even if it goes wrong you can be like sh*t it wasn't me, it was America! Justin sings – f**k that witches hat .. I tried to tell her not to wear that and now its over! Neeley comes back. They chat about random things like the food they ordered in the land before time (sequester). Kryssie, Neeley and Justin head inside. Danielle – I really hope America sees that I'm still trying. Jason – when Justin gets in power I'm going to let him do whatever he wants to do. Jason – he just can't get Neeley out he said. Danielle – which is fine with me because as long a Shelby and Neeley are here I'm not his target. Jason – that's true and even b***h if he was I would try and scare him off. Danielle – I know just looking back… I think if I had taken things slower with Shane … Jason – things would have been different. Danielle – like even if he had told me about that alliance I have understood more. Justin and Kryssie join them again.
Watch the BBOTT Live Feeds FREE for 1 WEEK!
Click here for your: FREE Trial!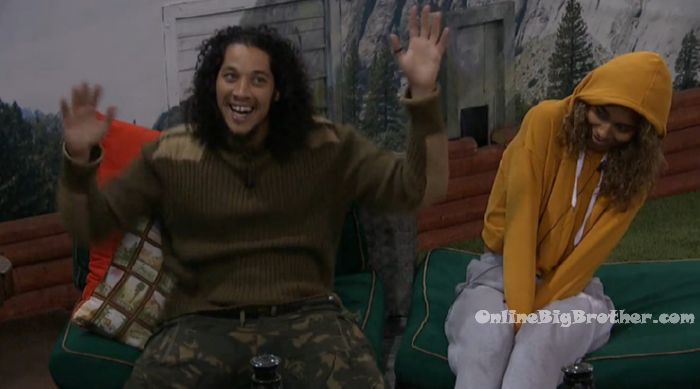 2am Backyard – Justin – you notice how she isn't wearing that witch hat any more. It was making me think very badly of you. Guess what I will vote your a$$ out because of that witch hat. I was feeling real good about Neeley until she put that hat on. I ran up stairs and said Kryssie I just can't trust Neeley.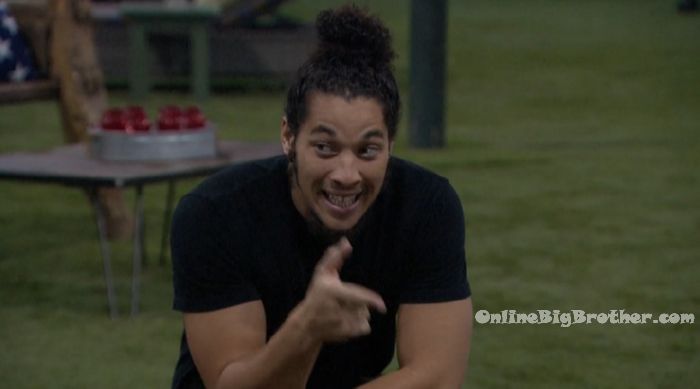 2:20am All the house guests are sleeping..
3:15am Backyard – Scott is up talking to the cameras. Scott – when it comes down to it Morgan is going to use the power of veto to save herself. I can't blame her. On one hand she thinks she might have a better chance staying in the house with America's vote over me which is reasonable however if she were to save me with the power of veto she thinks America would think she is an idiot and would vote her out just for that. It cuts both ways. Neeley wants to be the biggest, baddest competitor around and that's why she's been coming after Alex and why she's been coming after me. That's why she's been throwing Jason's name around. And that's probably why you made her America's nom. Honestly I think its a pretty sh*tty strategy especially for an OTT (Over the top) season to try and take out all the best competitors. I think you should try and team up with the competitors so that you all make it to the end regardless of who gets the care package. Regardless of who gets the America's nom. Because if all the best competitors are working together, you can over come anything in this game with team work and fight or die spirit. I think its getting to her (Neeley) that she hasn't won any competitions yet. As soon as they get rid of me, they're going to get rid of Alex. If Neeley gets what she wants and takes out me and Alex then she will probably turn her wheel and try to take out Jason. I know I wouldn't want to see that as a viewer. As soon as Julie told us this was going to be a final 3 instead of a final 2 I knew I couldn't win this game.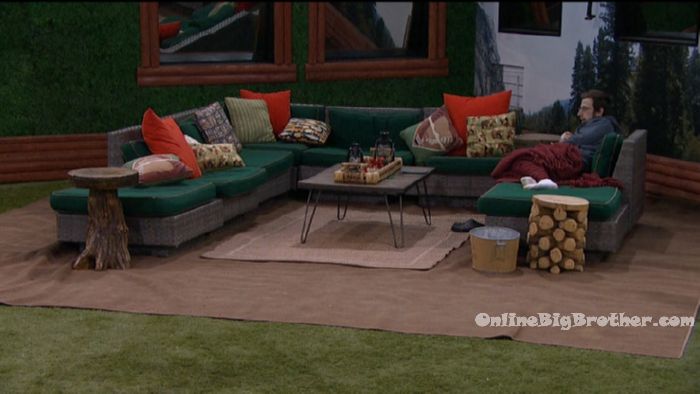 3:25am – 4:15am Scott – There is no way I am going to be able to put up with Danielle's self centered egotistical a$$ for the next 40 days. She is horrible. She is just a horrible person. I don't want to see her get any further in this game or get any more enjoyment out of this game…. so I would like to send her a$$ right home to Shane. I'm the only HOH so far that has gotten out their target. If you guys vote to keep me I will have the 3 girls plus America and that's enough to keep me in the house this week. I like to think I am a good competitor. I have literally shed blood, sweat and tears for this game. I am a good competitor ..as you saw today I lost the veto with only 16 seconds. On some real sh*t I've had a blast. You shouldn't keep Neeley around because she wants to get rid of the best competitors… me, Alex, and probably Jason. I really don't think I can win this game. At this point I want Alex to win this game. She is loyal. Six people went up to the HOH room and told her to take me out and she didn't. I wouldn't betray her for 500K. I am going to take out Danielle because I can't put up with her entitlement issues. If you guys keep me this week I promise you Danielle is next! I am 99% positive BB is going to give us a Question based comp. If you give me my life in this game I will try and give you life in this show. Danielle is just so full of sh*t. I will make it so you don't have to put up with her bullsh*t. I'm really sorry you've had to put up with her bullsh*t. At this point I just want to help Alex get to the quarter million dollar prize. Justin has done us so many favors so I want to take him far. I'll still respect Justin if he votes to evict me this week. He is probably the best player here. Shelby has been playing the dumb thing. Half the people in the house think she is dumb and our side thinks she is one of the smartest people in the house. Shelby has been doing really well. Good on you Shelby. Shelby is a better player than I am. Alex is better than I am. It makes me more sad to think Alex could go, than me. I really want Alex to win this game. If I stay I will dedicate my game to keeping Alex here. My goal in this house is to be a loyal soldier for Alex and to make Danielle's last week in the house hell. I f**ked up this game for Alex and that's why I would give up my game for her. I don't want her to pay for my mistakes. If I do stay, I am just going to be an a$$hole so people want to evict me and not her. If I win the veto I will use the it in such a way so that she doesn't go on the block.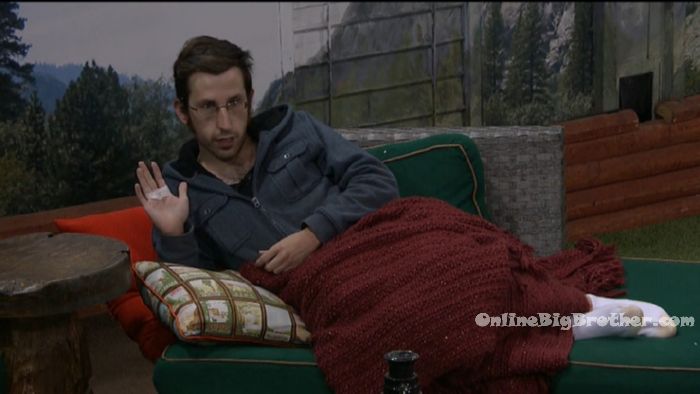 [polldaddy poll=9561401]