POV Holder:
Nicole
POV Competition
Aug 27th
POV Used
NO
POV Ceremony
Aug 29th
HOH
Nicole
Next HOH
Sept 1st
Original Nominations:
Paul AND Big Meech
After POV Nominations:
Paul AND Big Meech
Have Nots
Corey and Victor
Care package
Corey
Watch the next week of the feeds for FREE – 1 week Trial!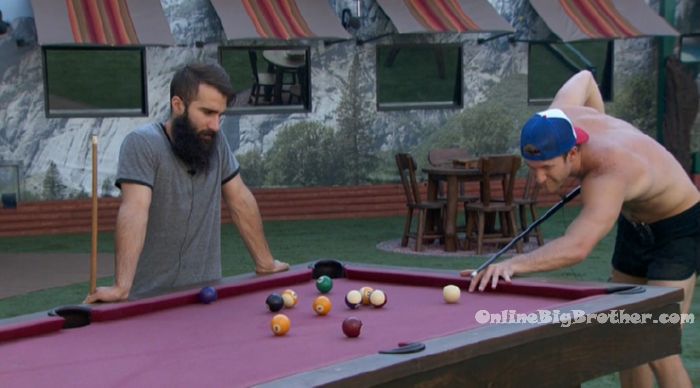 5:10pm Vic, Corey and Paul are playing pool.

5:15pm James and Nat are by the hot tub. Nat says I'm just scared that like people made me feel like such sh*t in this house and what if I leave and I'm portrayed as a villain. As a bad person and that people hate me outside the house. I literally put myself in a situation that I got sh*t on and I'm afraid I'm going to get sh*t on the outside. James says you're not portrayed as a villain. Not to toot my horn .. but you're with me and I know CBS wouldn't do that if you were connected with me. Big Brother blocks the feeds. You've probably done 78 days, you can do it. Nat says I know, I just don't need added stuff. James says you don't tell me all this stuff. Nat says I do tell you. I was upset the other night and I told you I was home sick. I just feel emotionally defeated. I'm not peppy and happy like I am at home. It sucked it out of me everyone calling me a fake b***H and stuff. I'm afraid to be myself now. James says don't be afraid to be yourself. That's your personality. Nat says but everyone was sh*tting on me because of my personality. James says who cares about them. Nat says its been on TV! James says all that stuff looks bad on them no you. You're the one being picked on. Don't let anyone's opinions put your flame out. This game isn't easy. America loves you. Nat says you don't know that. James says America gave you a never-not pass. Nat says that was awhile ago, they've probably changed by now.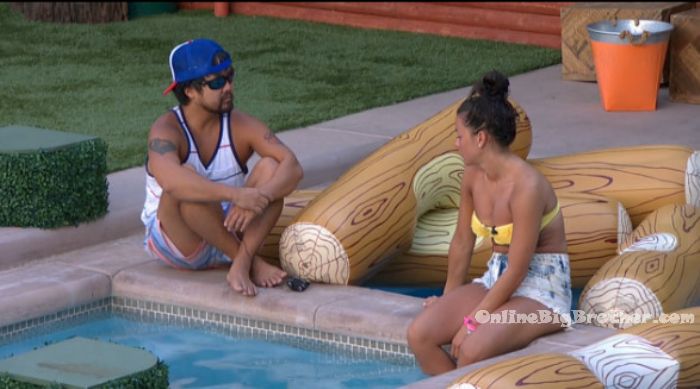 Nat says I just hope a jerk doesn't win this season. Nat says I'm not giving up, I'm just a little down. James says I'm sorry I was apart of it. James says there might be a chance that one of them wins the game but walk away and be happy. We all won something. Nat says yeah. I'll be happy and mature if one of them wins. I can't wait for all this to be over. Its been too emotionally draining for me. James says so many times I've missed out on an opportunity to kiss you. Nat says you know I don't like affection because its on tv. Its just uncomfortable. James says I understand. One thing that is for sure if we had kids they would have pretty feet. Nat says they would. James says pretty feet and good skin. Nat says okay I'm ready to be myself again and be happy. James says positive thoughts.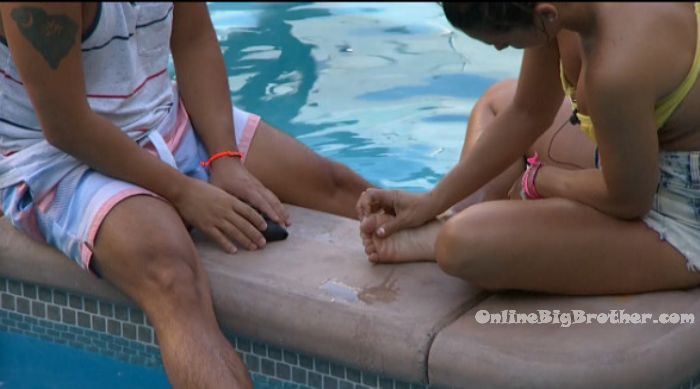 6:10pm – 6:35pm Bedroom – Nat and James laying in bed eating and studying the dates and events of the house. James and Nat start napping.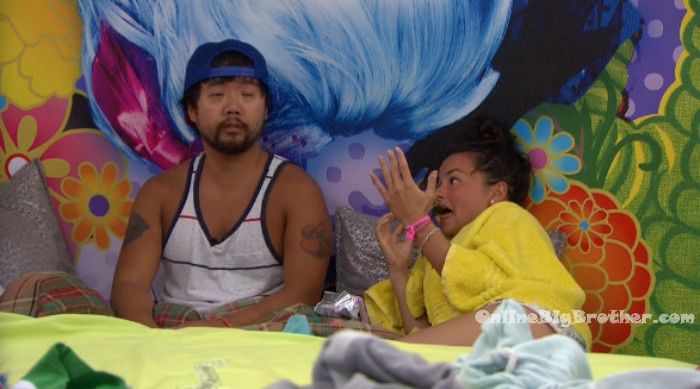 6:40pm Hammock – Vic and Paul. Paul says based off my conversation with Michelle yesterday .. she has no idea what is going on. Vic I know I heard. I think it makes sense .. there would be no reason for Natalie to.. Paul says to push that envelope .. to not seem sketch. Vic says they (James & Nat) have her vote in jury because they voted for her to stay. Paul says right but does James want to get caught with his d**k in his hands. Vic says I think its pretty clear they're voting for her to stay. It would be a d**k move for them not to do it because everyone expects them to do it. I would have less respect for them if they didn't. James gets on my nerves. This whole season he's rubbed me the wrong way. Vic says me too. We just have different personalities.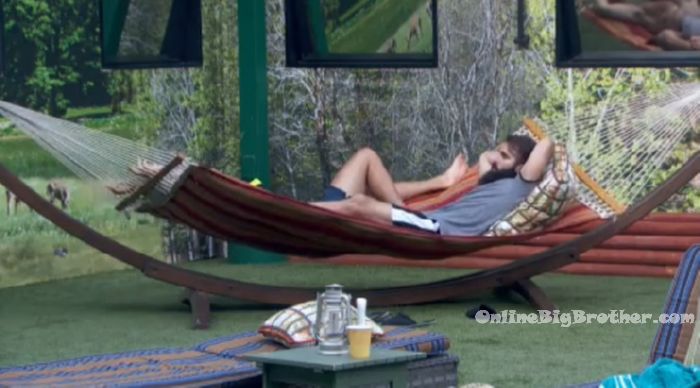 7:25pm – 7:50pm James and Nat are sleeping in the london bedroom. Meanwhile – Vic, Nicole, Corey and Paul are in the kitchen chatting and making food.
Show your support by making a donation.
Donations support this site more than anything. If you dig our spoilers please find a way to support us.