POV Holder:
Steve
Next POV
July 3rd
POV Used
?
POV Ceremony
?
HOH Winner Team 1:
James
HOH Winner Team 2:
Jason
Nominations 1 :
Steve, Jackie
Nominations 2:
Becky, Johnny mac
Battle of the Block Winner
Becky and Johnny Mac
Next HOH/ Next BOB
July 2nd / ?
Original Nominations:
Becky, Johnny, Steve, Jackie
Current Nominations:
Steve, Jackie
Have Nots
Austin, Da'Vonne, Liz, Vanessa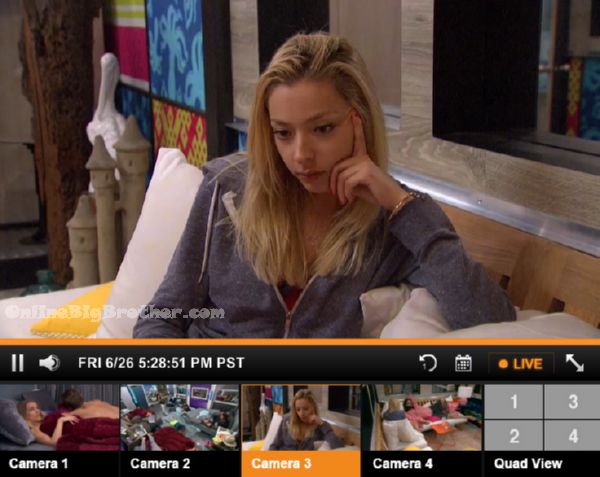 5:28pm Cabana Austin and Liz
Talking about Da be the source of the drama. Austin says they are going to trust Clay and Audrey and James are sketchy.
Austin – we'll have to throw Jeff under the bus
Austin says Da isn't a school teacher she's some kinda pool player
Austin – Audrey is going to call a house meeting what the f*** NERD ALERT
Austin says her final three is liz and Jace, "It's all about numbers we need to have numbers like 9 people"
Liz thinks they can get Jackie. Austin says Jackie is with Jeff. They agree Da is their target next week.
Austin thinks they can trust Vanessa and Johnny Mac is with Clay. Clay has Shelli, "That's a lot of numbers"
Austin, Clay and Jace are going to go up to the HOH and have a guys chat with James. They want to get jason or Jeff put up.
Austin think they can get jackie if Jeff goes.
Austin says it's the cool people against the dweebs, "you think they can beat us in a HOH competition hell no.. Da has to go next week"
Liz – has to go.. I can't believe she started that.. that's so conniving and evil"
Austin – People need to know she's so conniving
Austin – Jeff's cool but he might have to bite the bullet for us.
Austin – My f*** wrestling character is about to come out I'm f****g pissed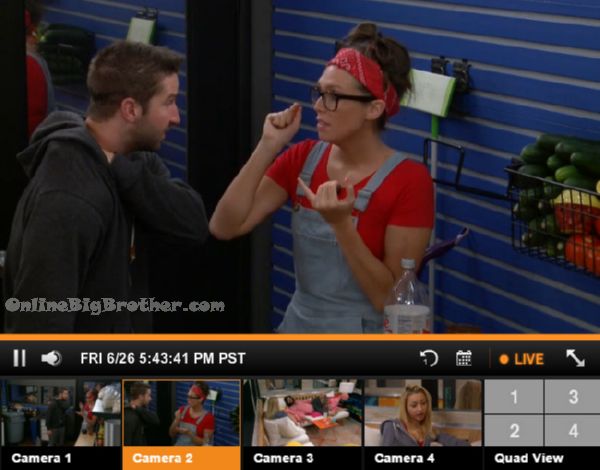 5:40pm Audrey and Jeff
Audrey calls Austin "weird al"
They start talking about getting Da to do their dirty work. Audrey says Jason is going to get Steve.
Audrey adds that once Austin goes on the block he'll squeal like a "F***g Pig" mentions he has no self esteem
They head into the storage room. Audrey confirm she's good with Clay a point that is important to Jeff.
Audrey says Liz is ruthless she lied straight to her face. says Austin and Liz will be scared out of their minds once Jace goes.
Audrey reiterating Jace and Austin saying Jeff is jealous of what they have
Jeff laughs asks what do they have
Shelli comes in. Jeff says that Austin is starting all sorts of sh1t in the house. Audrey leaves.
Jeff – "F****g Austin.. He's gotta go.. what a f***g d1ck head.. basically they were talking about backdooring me.. Austin ia a pupeteer it's ppissing me off why doesn't he like me "
Shelli – he's just trying to save his boy.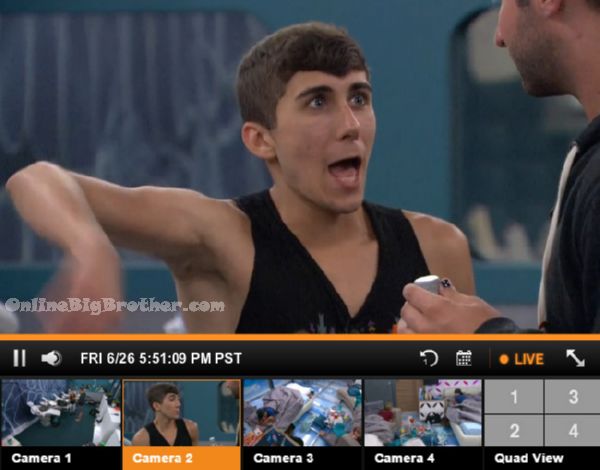 5:51pm Jason and Jeff have nots
Jeff say he's here to play he'll cut Jackie loose when the time is right.
Jeff asking what Austin's problem is.
Jason thinks it's because Jeff isn't a guy that will buy his bullsh1t, "He's not here to play the game he's here to get people to pay him for being a personal trainer'
Jeff says Austin is saying he's jealous of him.
They laugh that Austin is going to Come out of the closet.
Jason calls him weird.
They agree Vanessa has got to go she's spent the first week crying and wanting to go home she doesn't deserve to be tin the jury.
Jason – what did you expect it to be exactly.
Da joins them tells them the biggest threat on the other side is Liz. Jeff thinks it's Austin. DA disagrees thinks he's soft like a kitten.
Jeff jokes that before he gets rid of Austin will Jason go on a date with him
Jason – I literally cannot say no because he'll crush my head in pineapples.
Jason jokes that Austin is going to pull him into the closest and r@pe him "I'm scared this is some jail sh1t"
Jeff leaves.. Jason and DA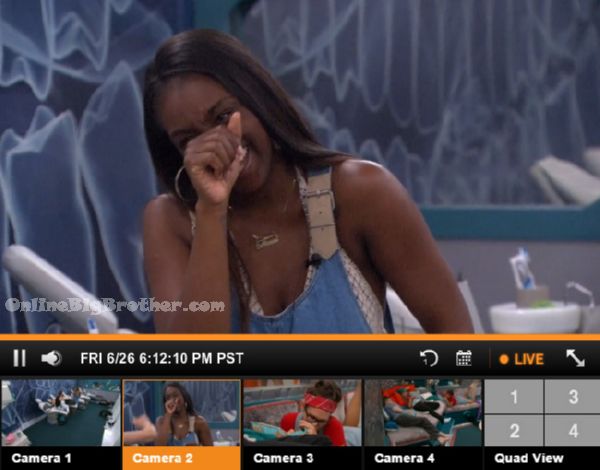 Da says she has to win the HOH if the other side wins it she's going home.
DA – Give me a IKA moment cause I'm going home let me get some money on my way out the door,…damn
(Ika was a BBCAN2 player who was going home. there was a twist that gave her an opportunity to shred houseguest letters in return for 5 grand. She shredded the letters and went home)
Da wonders why Jeff is in their alliance when they question him
They are talking about Audrey being the queen of the house.
jason – She's the f***g queen"
Da – For sure.. what if she's not a transsexual
Jason – It's not something we can prove.. can't be B1tch pull down your pants.
Da says if she is lying and being transgender it's f***d up
Jason – I could have a f*** v@g1na."
They agree if it's Audrey's strategy to lie about her sexuality it would ruin her game.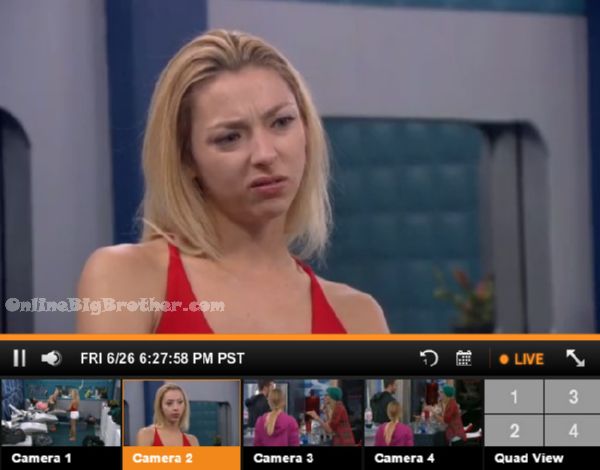 6:23pm Liz and Austin with Jace sleeping off to the side
Austin doesn't think they have james anymore.
Austin – we have the votes we do..
They have Johnny mac, Vanessa and Liz
Austin doesn't want to talk any more game today says he's talked too much.
Austin goes to the have nots room to meet with Liz.
They talk about Da and Audrey being sketchy.
Austin about Audrey – "She's talking to everyone.. this whole thing could go haywire.. it's all because of Audrey and Da"
Austin doesn't know why Da is after him he made an effort to be nice to Da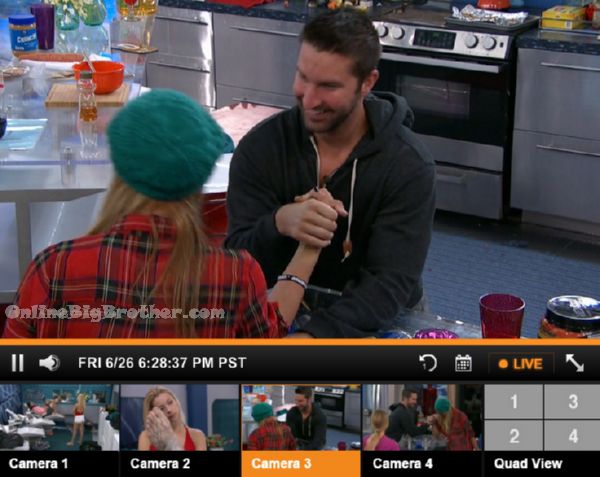 6:30pm Vanessa challenging everyone to an arm wrestle
[envira-gallery id="116721″]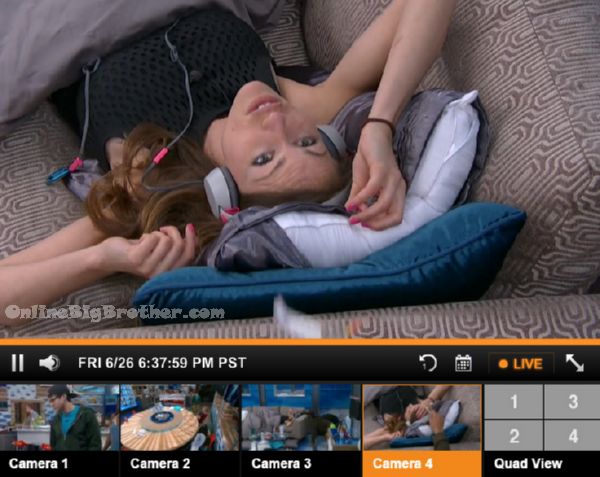 6:38pm HOH
James and Jeff trying to rest garbage on Becky's head.. she keeps taking off her headphones to see what it is. Takes awhile for her to catch them.
James and Jeff say they heard through the grapevine that Becky has a potential showmance in the house
Becky says she doesn't have a potential
James – our source is pretty strong
Jeff – who is it
Becky – I don't have one
Jeff says it's Steve or Johnny mac, "I believe Johnny Mac":
james – I Believe Steve"
Becky says the guys she dates are always really tall and foreign "Seriously you cannot pronounce the names of guys I date"
She lists off all the different guys she's dated, Austrian, Lebanese etc
James – So you haven';t dated Asian yet
Becky – I don't date white guys/.. i don't date white people..
Becky says she dates very tall men.
James – So you're saying if I was 4 or 5 feet taller i would have potential.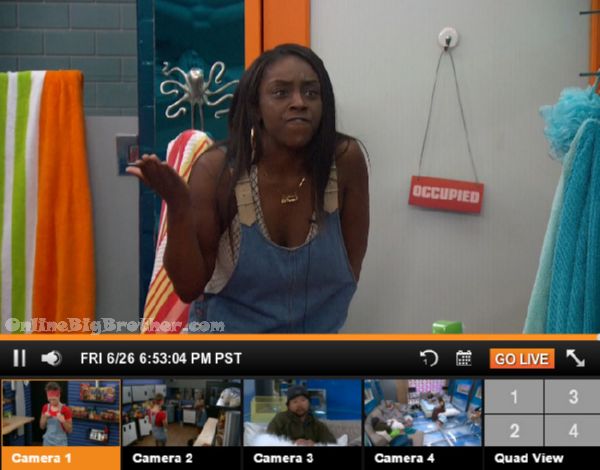 6:56pm Bathroom Austin and Da
Before liz leaves DA mouths "What the f*** to them"
Da asks if he's throwing her under the bus
Austin – I swear DA I didn't
Austin – I'm not trying to play that fast f*** no"
He says he hasn't been going around forming Final 3's he knows that it's too early to pull that strategy. Adds he's watched every season of Big Brother He knows what the deal is.
Austin – we're all safe as long as we stick together… I have no idea who is saying sh1t.. she wants to have a house meeting and blow it up.. We're all safe next week we're at risk.
After DA leaves Austin says "you're done"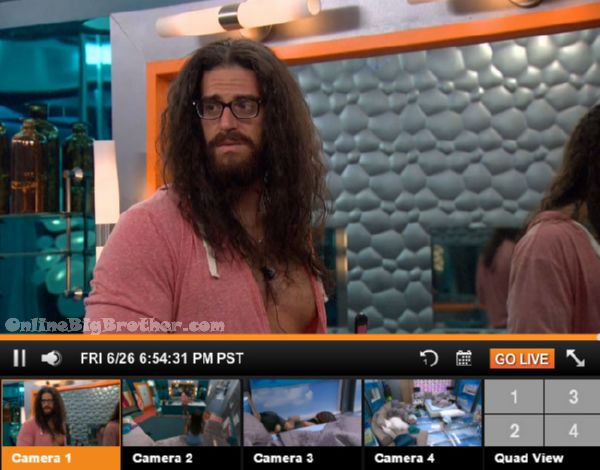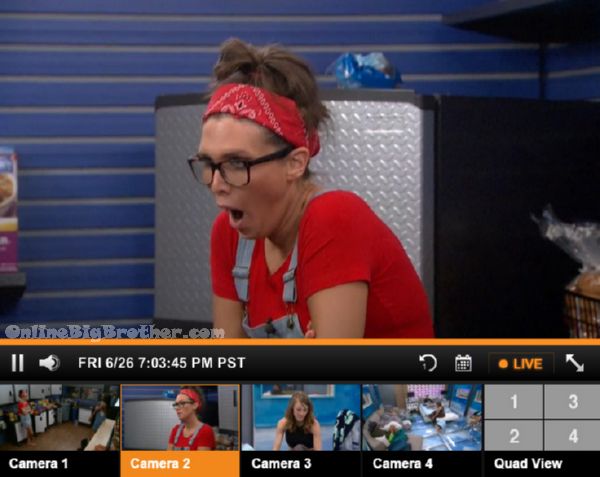 7:00pm storage room Da and Austin
(Audrey is finally tired from non stop game talk)
DA giving Audrey a debrief of her conversation with Austin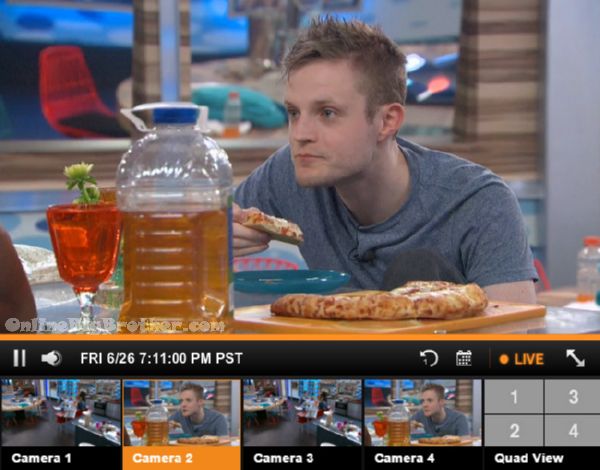 7:12pm DA warns Johnny mac that Steve is really smart.
Tells him the picture she has been painting of Johnny Mac is he's a wild card he's all alone. Asks him what side is he one. Johnny Mac laughs asks what sides are there. Says it seems like the house is all against Jace. Their personal game doesn't have a problem with Jace but they cannot go against the house. They mention staying on both sides of the house but protect each other.
DA – Steve makes me a little nervous.. he should he wasn't weak today and he's here to play.. you might want to keep him around people are going to put him up every week.
DA – he'll win Veto every week
Johnny – Mac – I know him pretty well what you see is what you get.. he's really smart..
Johnny doesn't think Steve will win physical competitions, "He's a threat but he's not this super guy.. I'm not worried about him"
DA – who are you worried about
Johnny Mac – Right now the guys
DA – Austin is BIG his bark is bigger than his bite
Johnny mac mentions clay's name.
DA says in their HOH competition clay got out in the first round.
DA – People are worried about Jace.. he's annoying
DA doesnt think Jackie is getting voted out. She trying to figure out who the "Second Person " is
Johnny – who are you worried about
DA – I'm worried about Steve he's playing this game GREAT
Johnny mac says Steve is a nice guy but he's down with getting him out.
Johnny Mac says he likes Vanessa a lot.
Live Feed subscription gives you CBS All Access thousands of archived shows. Live Shows like Big Brother, all the Big Brother Seasons, and 24/7 coverage of what is happening inside the Big Brother House. Plus there's flashback that lets you go back to any second of the feeds and rewatch what happened. Simon and Dawg will index the season just watch the parts worth watching.
All this for $5.99 a month try it out 1 week free. Support our efforts and get your feeds via a link on this site. Live feed subscritpion Sign up