POV Holder:
Paul
POV Competition
Aug 20th
POV Used
?
POV Ceremony
Aug 22th
HOH
Natalie, Meech
Next HOH
Aug 25th
Original Nomi1nations:
Victor AND Paul
After POV Nominations:
? AND ?
Have Nots
Victor and James
Watch the next week of the feeds for FREE – 1 week Trial!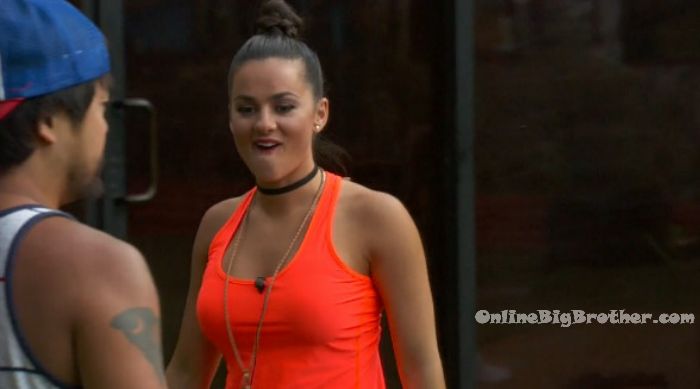 6:40pm Backyard – Nat comes out and says hey all guys alliance. Crocodile hunters! James I'm on to you! I know you did a prank today. I can smell it. James says what prank did I do? Nat says because I put a pie in your bed. James says you took it out, I didn't even see it. Nat says crocodile hunters! Nat asks should I check out the HOH to see what you did? James says why would do something? Nat says because you're the king of pranks.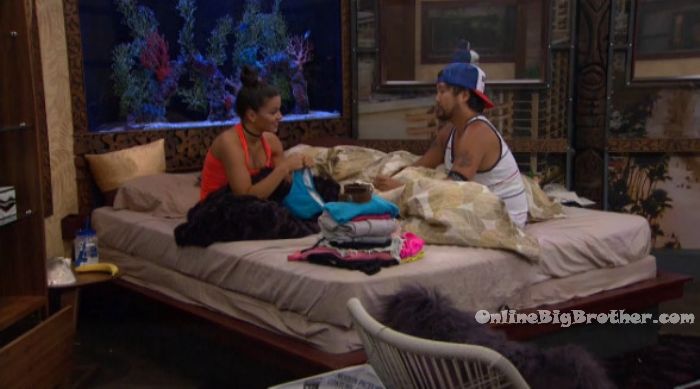 7pm HOH room James and Natalie. Nat says its a big risk we're taking but they're a strong couple and its only Paul and Michelle. And we can reel in Michelle. I don't care if I end up going to jury. At least I can lose weight and I still get paid. I learned a lot from you. If I wasn't connected to you, I would have been the pawn of the season. If you're ever on the block I would die. I would have so much anxiety. James says I'm really good on the block. I think Meech wants to take out Nicole. Do not say that. DO not tell Nicole and Corey! (James already told them.) Don't tell them because it would put our game in jeopardy and I would get in trouble. James says I won't. Nat says Vic needs to go and I feel so bad. Can I just not know? James says yeah, I'll take all the heat. I'm trying to get us to the end and we all can't be buddies. Paul will be pissed at me .. whoop de do .. James says the only person I have to worry about winning is Paul. If he wins he would put Corey and I up. Nat says by accident I am getting one of the biggest threats out of the house. James says I've got to let Corey take Paul out because then I can take Corey out the next week. Then its me, you and Michelle. James says if we win again and we don't put up Corey and Nicole… F**K. Nat says honestly you need to let them win. James says hopefully they won't f**k us and then I can win the next week. James says AMERICA! You can't sent Paul that care package. Give it to Corey! PLEASE! If Corey f**ks us over then I am willing to deal with that but you can't give it to Paul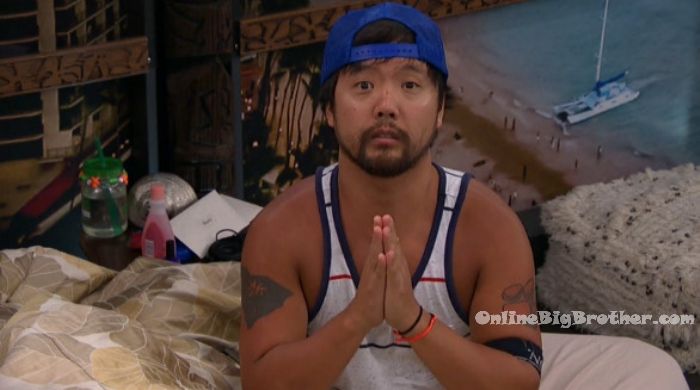 7:15pm – 7:30pm Safari room – Vic and Paul talk. Paul says I don't know why but I am public enemy number 1 right now. VIc asks still?! Paul says yeah I'm off the block. Vic asks is Corey still the target. Paul says that Meech said that her and I were going to butt heads if I keep acting like a know it all. I'm like f**k you're an idiot. One has a care package, one doesn't. You're a moron. You think that's a better move? Straight up! What I need you to do is be the last one in her head tonight. Nobody is going to vote Nicole out. We would be f**ked. Vic says I think James would vote Corey out. Paul says at this point in the game Michelle can hate me for the rest of the season. I can beat her in comps. I've beaten her in mental comps. If we somehow get through this we're making it to the final 2 because we're the only ones to get the care package. No one give a f**k about me right now. Everyone is being weird to me. Vic says I don't want to pull the sympathy card until Thursday. Paul says say we all you have at this point. Paul says if we win HOH we put up James and Natalie and break up the last showmance. Vic says that's two votes for one person. Paul says then we vote out James. Nat and James head downstairs to eat.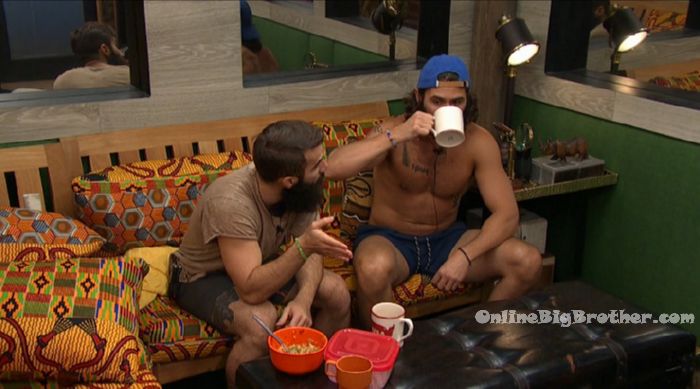 7:35pm – 8:25pmVic talks to Meech. Meech says I kind of want to be like which one of you wants to go home more? Vic says no don't do that. Right now I'm in the sh*ttiest position. I know you want to put up Nicole. But if you do that it would f**k up not only my game but your game in the future. Meech asks why would it f**k up my game? Vic says because I don't think James would vote out Nicole. If she goes up, I am going home. If Corey goes up, she will be the next to go home. Meech says okay. Vic says this is the first time I am nervous. Nat and Paul join them.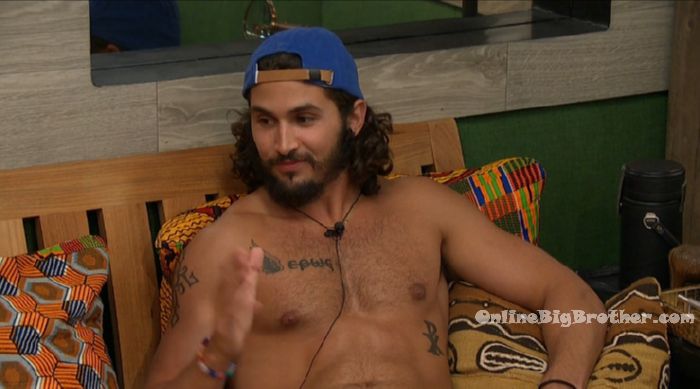 James scares Nat Nat@bigbspoilers #bb18 pic.twitter.com/6630lfxUc2

— Dawg (@DawgsBigBrother) August 22, 2016

8:25pm – 8:55pm In the living room – James hides behind the couch and scares Natalie. Nat says she hates him. Nat says she is heading up stairs to go to bed. James follows her. Nat gets Vaseline on her hands because James put it on the HOH door handle. She locks the door and then opens it. Nat says she's really parched. He tells her to get something from the refrigerator. Can I have a water? Nat goes to open the fridge and gets Vaseline on her hands. James says and that's why I'm the number 1 pranker! Nat says its not fair when she pranks him she gets in trouble and called to the diary room. (She put a pie in his bed and was told to take it out.) James laughs. Nat says this bloods my boil .. what is it Boils my blood! Nat says she's tired and wants to go to bed. Nat tells James can you just go hang out with them in the safari room so that you don't get nominated. James says I don't care, do you think Corey and Nicole will vote me out? Nat says no. Vic joins them and gets Vaseline on his hands. Paul joins them and gets Vaseline on his hands too. He says f**k! Nat asks Paul if he can get her a water. He gets Vaseline on his other hand. James laughs and says he trained her well!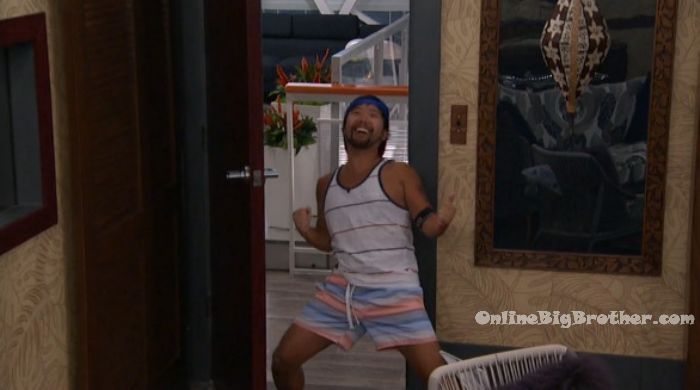 Show your support by making a donation.
"BB BRIBE"
WEEK 5 – August 25 to August 26th
The winner gets $5,000 to bribe one house guest. Bribes my influence voting, competitions, vetos or nominations. The bribe can only be given to one house guest, for one action, within the week leading up to the next eviction.
[polldaddy poll=9501597]
Usernames will have to be a bit more PG please. At the least censor them with @*(#^%_