POV Holder:
James
POV Competition
Aug 29th
POV Used
?
POV Ceremony
Aug 31st
HOH
Vanessa
Next HOH
Sept 3rd
Original Nominations:
Meg and James
After POV Nominations:
?and ?
Have Nots
Johnny Mac, Julia, James, Meg
7:52pm HOH Vanessa and Austin
Vanessa says the two of them and Steve all have a jewish parent and a catholic parent.
Austin says when you enter the end game the feed fans and TV fans favorites start to converge. Explains that in the beginning of the season there's so much going on the feed fans see a lot more. Near the end there's not as much.
Vanessa thought SHelli would win Fan favorite but Steve is really thinking he has a chance.
Austin doesn't think Shelli will win it people will find her too clean too cringey
Austin adds the Shelli/Clay showmance might have a lot of fans.
Steve joins them tells them there's a big difference between the TV and Feed fans. Steve brings up Gina marie was worse than Ayarn but Gina marie didn't get as much hate because it wasn't shown on the TV show.
Austin says during that season he had to shut off the feeds because Amanda was so abusive to Elisa.
Steve – how much do Meg and James know… what is happening tomorrow
Vanessa – I haven't given them any details of my plan
Vanessa adds she hasn't deceived them either.
Vanessa – They don't think in a million years I would up put one of you guys, they haven't specifically asked me and I haven't lied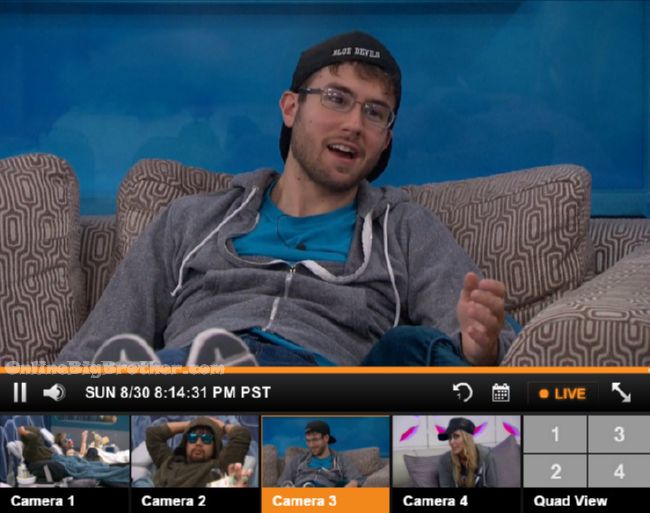 8:14pm HOH Steve and Vanessa
Vanessa says he did a good job selling the idea to put Julia up to the twins.
Steve – I am voting to Evict Meg if Julia goes up
Vanessa says if he votes out Julia it not cool.
Vanessa – how are things with Johnny
Steve – getting better
Steve says he trusts Johnny mac and he trusts Vanessa and him together.
Steve says he told Jmac he's 'Blabbed" their alliance name the rockstars
Vanessa – Austin is opening his mind a lot Based on conversations i've been having with him.
Steve – about what
Vanessa – his want to win the game
Steve – not sticking with the twins
Vanessa – understanding the reality the three of them can't be in finales together, The three of them top 3 together isn't best for him
Steve agrees
Steve – I'm shocked he ever wanted final three with them
Vanessa – I don't think he did, he's coming around, he fell in love
Vanessa asks him if he would do it again
Steve says he wouldn't
Vanessa is shocked
8:38pm Vanessa is telling Steve he needs to win the HOH. ASks what works better for Steve take out Austwins or take out Johnny
Steve won't answer that
Vanessa says it's not too soon to ask that question
Vanessa – if James is out Johnnymac and the girls are my choices to win it (HOH)
Steve – not Austin
Vanessa- yes Austin, but Austin will throw it when James goes out
Vanessa ask him if it's better to keep Austin over a twin
Steve hasn't thought about that.
Vanessa says Austin is making deal with everyone, "1 week deal with everyone"
Vanessa says she's praying for a mental competition. Suggests Steve should throw the HOH to Julia let her get some blood on her hands.
Vanessa- Julia will put Johnny up with James.. there's always the chance that James wins the veto.. I don't know if that is ideal with you so it's best to have the power in your own hands"
Steve is really worried James will put the two of them up.
Steve – you should go downstairs, you've been up here all day..
Vanessa agrees, they head downstairs.
8:21pm Austin and the Goblins
James – it's been 75 days she hasn't won a comp.
Austin tells them the last thing he wants is Meg to go, "I'm not the one in power"
Austin says Meg should tell Vanessa she'll throw the next HOH.
Meg thinks Vanessa doesn't want them together anymore, she doesn't think it has anything to do with winning HOH
James – I'm a threat but not her.. Sorry I feel like I'm bashing you.. you're not going to win Comps.
Austin – it'll suck if it's Julia against you
Meg – I know it will be
Austin – I can't vote against Liz in this situation
Meg understands
Meg – I feel like this weeks plan backfired and now I'm screwed because of it
Austin says for his personal game Meg staying is better.
James – we're going to be throwing grenades at each other two people are going to slip through Steve and Johnnymac
Austin – trust me I've been seeing that
Meg doesn't believe Vanessa saying Johnnymac and Steve are at Odds.
Austin tells them if he wins HOH he's not coming after them he's not going to do Vanessa's dirty work.
Meg – this is insane this is all way too soon it's such a blow up
James – vanessa has got to be careful there's a lot of people in jury that are pissed
They agree Shelli has flipped on the Jackie, Becky side by now.
8:51pm Backyard Austin, Steve and Vanessa
Austin goes over some points from his Conversation with the goblins. He warns her the goblins are going to offer her the world. He doesn't think they want to play pot ball tonight.
Austin – they obviously want me to be on board with them
Austin adds the goblins are pitching that Johnnymac leaving is better for Austin's game.
9:14pm James working out, playing pool and strutting around with his shirt off. Meg is lounging around the backyard..
9:26pm Playing pool
Meg – we got people rooting for us James, I can feel it
Meg doesn't know what she will tell Vanessa, "I gotta start selling my soul"
Austin joins them "Play off with you guys I have a score to settle"
9:15pm Cheers to scampering
Austin says he hasn't missed a episode of Bold N Beautiful Since 1993
Vanessa – is it actually good
Austin – Bold n Beautiful is.. really well written.. the acting is amazing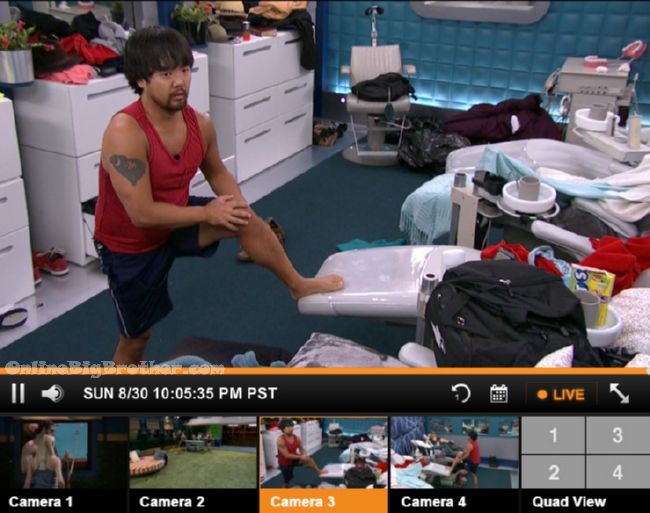 10:06pm -10:40pm Have nots James and Meg
Going over Meg's finale campaign to get JOhnnymac or Steve nominad instead of Julia.
Meg's plan is to tell Vanessa she will throw HOH and if james wins HOH he'll put her up.
James- You would rather go home because of me than her
Meg would she'll do whatever she can to not leave on Vanessa's HOH.
Meg – If you win (HOH) I will go up in place of Vanessa
Meg – it's only two votes next week and it's a tie breaker trust me I thought of this.
Meg goes over what she will say, "the agreement is I'm throwing HOH, I'm promising my vote, I have sway with james' vote, If James wins HOH his nomination will be whoever he wants and instead of Vanessa it will be Meg"
James recommends Meg talk to Vanessa as late as possible.
Meg says she was only dead last once on a competition.
Meg – why are we in this room again
James – we're on the block we're against this group…
James says the game is more about winning comps now he doesn't even need to buddy up with Steve and johnnymac
James says Vanessa is putting people up for stupid reasons it's going to look bad.
Meg – Poor Jackie, she got the sh1t end of the stick.. she never got a chance to fight.
James thought Jackie was going to do well in the last HOH
Meg – I don't think she cared, do you think she cared
James- not really
[envira-gallery id="131404″]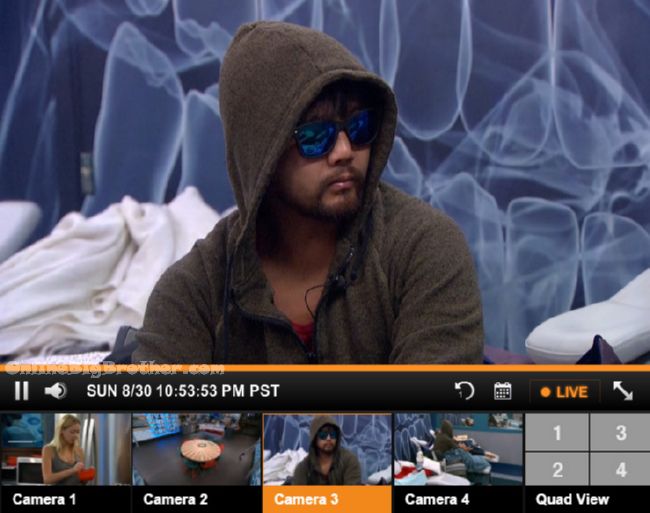 10:53pm If you send Austin home there's a really good chance Vanessa will take over the house
James – Vanessa has got to go
James damn you have a harry a$$ toe
Jam es- oh it's fuzz
Meg – It's bedding fluzz
jame s- I thought you had gorilla toe
11:13pm Goblins in the have nots, Vanessa alone in HOh everyone else playing chess.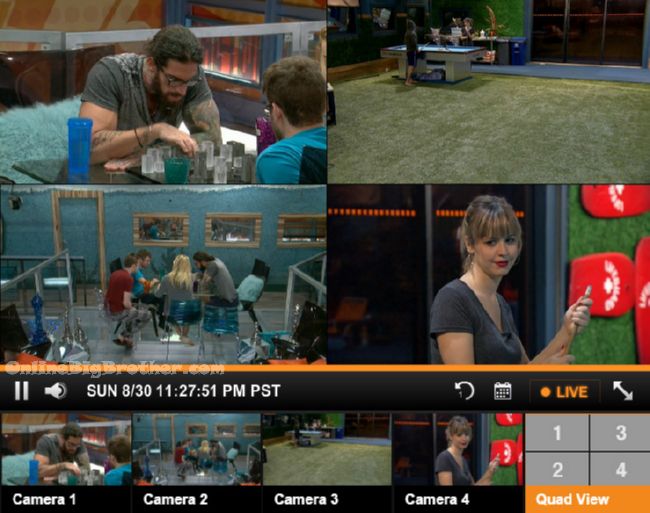 11:30PM Chess and Pool
Steve taking a break from Chess "eh macarena" #BB17 @DawgsBigBrother pic.twitter.com/l0auUtMY4F

— OnlineBigBrother.com (@bigbspoilers) August 31, 2015
11:53pm Goblins still playing pool everyone else watching Chess. Vanessa in her room alone.
Help support all the live feed updates we provide.
Show your support by making a donation. Any amount is greatly appreciated!
ALLIANCES:
"Goblins/Gremlins" = James and Meg
"The Generals" = anyone allied with Becky
"SOS" (Students of Sound) = Steve and Vanessa
Rockstars = Steve and Jmac
AUS-Twins = Austin, Julia and Liz
"Austin's Angels" = Austin, Liz, Julia, Vanessa
"Brass Tacks" = Gobins and Austwins
The new "Brass Tacks" = Aus-Twins, Meg, James + Vanessa
"Freaks and Geeks" "The Scamper Squad" = Aus-Twins, Vanessa, Steve
"The new Freaks and Geeks minus Vanessa" = Austin, Liz, Julia, Steve, Johnny Mac
"The Authority" = Austin, Liz, Julia, Steve
[polldaddy poll=9046808]