POV Holder:
?
Next POV
?
POV Used
?
POV Ceremony
?
HOH Winner Team 1:
James
HOH Winner Team 2:
Jason
Nominations 1 :
Steve, Jackie
Nominations 2:
Becky, Johnny mac
Battle of the Block Winner
Becky and Johnny Mac
Next HOH/ Next BOB
July 2nd / ?
Original Nominations:
Becky, Johnny, Steve, Jackie
Current Nominations:
Steve, Jackie
Have Nots
?
James is HOH, Jackie and Steve nominated
9:43pm Austin and Jace
"We gotta win next week"
They agree Jeff is a untrustworthy piece of sh!t
Austin says Jeff has a dad body and he has acne because he's "done roids for ever". They both don't like Jeff, they call him disgusting mention how he talks about girls all the time.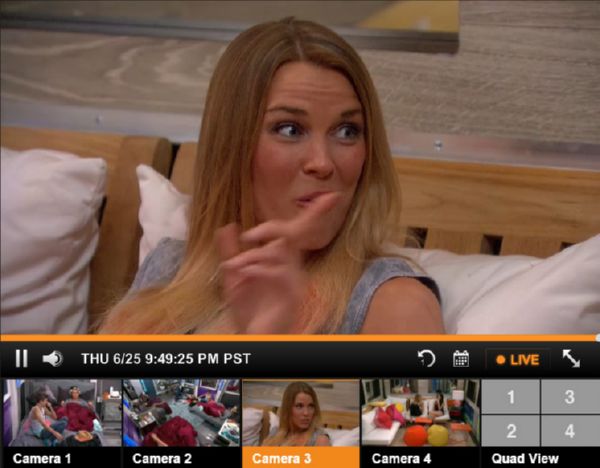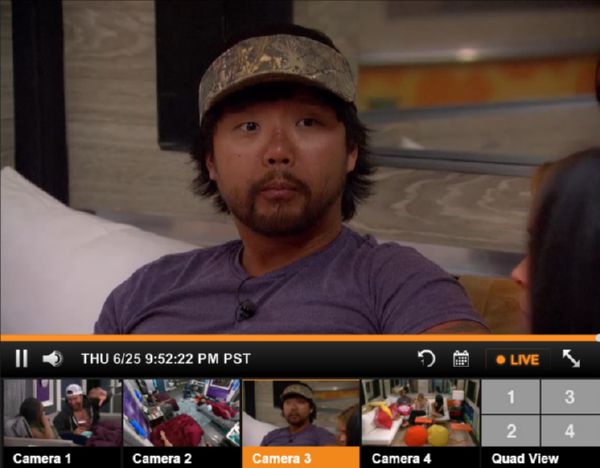 9:49pm Jackie and Shelli in the lounge
Talking about the Power of veto. Shelli says the nominees will save themselves sounds like everyone else is throwing it. They bring up "The Plan" and how everyone is in on it. The plan is to use the POwer of Veto on Jackie or throw it to jackie. Jackie doesn't want Steve to win the Veto because he'll take himself off and Jace will go up against her. (Sounds like Jackie wants Steve gone) James rolls in
Shelli – So the plan is in effect
James jokes – the plan is in effect what plan
James says as far as he knows the plan is a go. James says Steve picked houseguests choice when they were selecting the POV players. Mentions how this was worst case.
James asks Jackie if she's talked to Jeff
Jackie says she has
James – Everyone is on board it seems
James mentions that Jace will flip when he gets nominated.
Shelli – James you're going to be nervous
James – Nervous… I'm nervous to read a card but it's decision
James says Jeff is a little worried about Austin. Jackie agrees. James mentions something about "Bad blood" between Austin and Jeff.
James – I feel like we got a good group though.. we got a decent group I feel sorry for the next HOH
James – Once Jace is gone any alliances that he's trying to form will crumble.. Jace tried to form an alliance with me
James says jace thinks they are working together "It's going to crush him"
Jackie – "As long as it's not me" (That goes home)
James asks them who they would nominate if they won HOH next week.
They agree it's tough because of the Battle on the block twist.
James mention that JAce has been throwing around 200lbs weights in the backyard. highlights how physically powerful Jace is.
Jackie says she's strong for a women but isn't built like a guy can't compete against some of them in strength. Shelli mentions some competitions are easier for guys and some easier for girls
Jackie – "It even outs"
James brings up how pissed Jace will be when he is nominated.
Shelli wonder is POV is tomorrow. They calculate JAce will have two days of campaigning. James wonders if JAce will hug him after he goes up, "I think he will be pissed"
James – He might blow the hell up
James says he's not going to be like devin and lock himself in the HOH room.
James brings up that Becky is onboard with getting out Jace.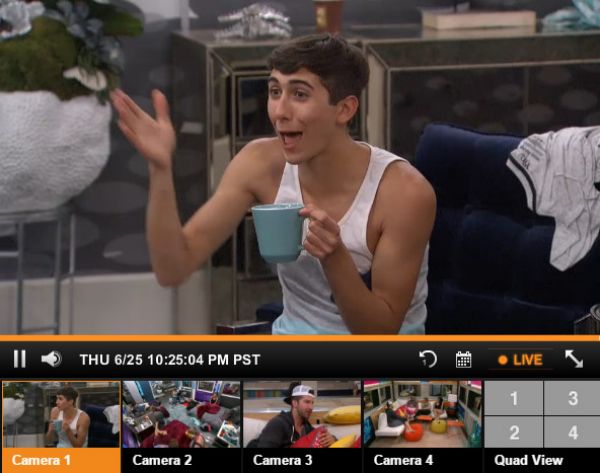 10:22pm Bedroom Meg, Becky, Audrey, Steve, Davonne and Jason
Jason brings up that this show is about a "Cheque" not getting more "Followers"
Mostly just chit chat…
Jason – "This protein powder has more nicotine in it than a cigarette"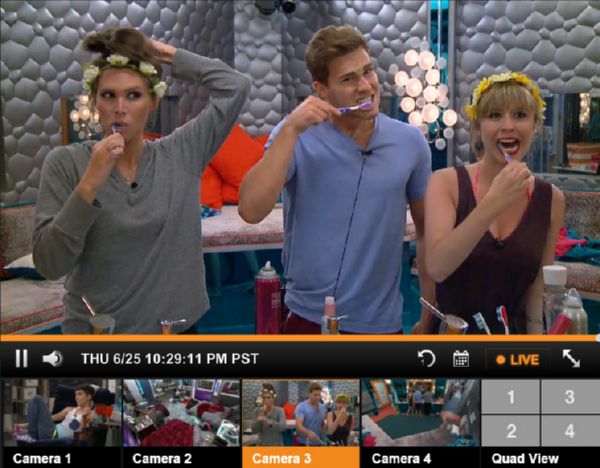 10:29pm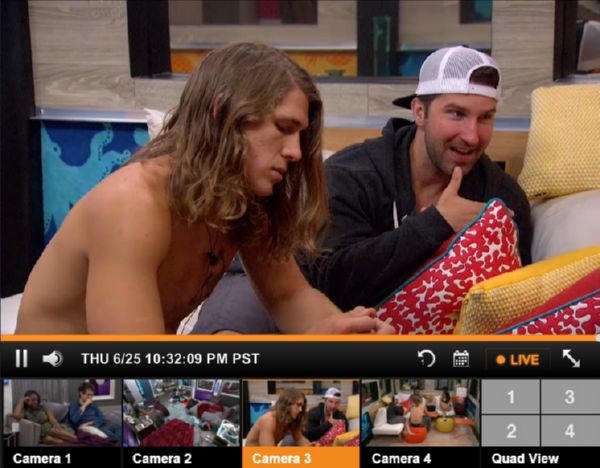 10:32pm Lounge room Jeff, Jace, Shelli and Jackie
talking about parting. Jeff says time have changed for him it use to be about going out and "Blacking out" not anymore. Jace says all he does is skate, sleep and smoke (ganja )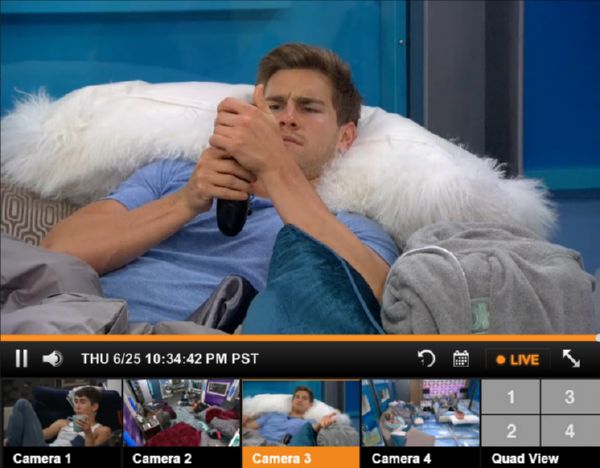 10:34pm – 11:00pm HOH Audrey, Clay and Meg
Audrey telling them how her friends are way more into Big Brother than she is.
Audrey – My friends are going to have a Squirtgasm
They agree they "HAve to win HOH next week"
Audrey asks them if they are afraid to put anyone up
Clay and Meg aren't afraid they think there are some easy choices.
Clay wants Davonne out. Audrey thinks if they go after her they will need to backdoor her.
Meg thinks they will have to Backdoor all their targets.
Clay is worried about Becky
Meg thinks she's everyone's target "She'll go in a couple weeks.. who do yo think she will put up
Clay me
Meg – She hates Jace
Audrey thinks Becky owns the store she manages "She talked about how she runs her Businesses.. she likes to be proactive and organized"
Audrey mentions how they are good with Jackie "She's going to win stuff"
Clay bring sup that Jason is capable of flipping the house more than the other players.
They agree Austin will be devastated when JAce leaves. Clay mentions that LIz likes Jace she'll be pissed when he leaves.
Meg says Becky is nasty with Jace
Meg – And JAce is pissed about it to
Clay – I know he's made comments about it
Meg – Beck and LIz cannot win (HOH) next week
Meg wants Steve to win.
Audrey chimes in that Liz is smarter than she's letting on. Audrey wonders what Vanessa is thinking.
Meg mentions how Vanessa has been having the same conversation with everyone in the house.
Clay says what if Vanessa and Liz win HOH
Meg – we still need votes and we control that
Audrey is worried JAce will throw her and James under the bus
Meg and Clay don't think it's a problem
Audrey brings up that JAce talk a lot of shit about Becky last night "She hates him"
Meg points out that Becky doesn't know the plan to get Jace out this week.
Meg wants to start bringing Becky into the fold so she knows about the plan to get out Jace.
Audrey says Meg's smarter than Becky. Meg doesn't thinks she's as athletic but doesn't think that is a factor in the game.
Clay points out the player that is called into the Diary room the most is begin shown the most in the episodes.
[envira-gallery id="116454″]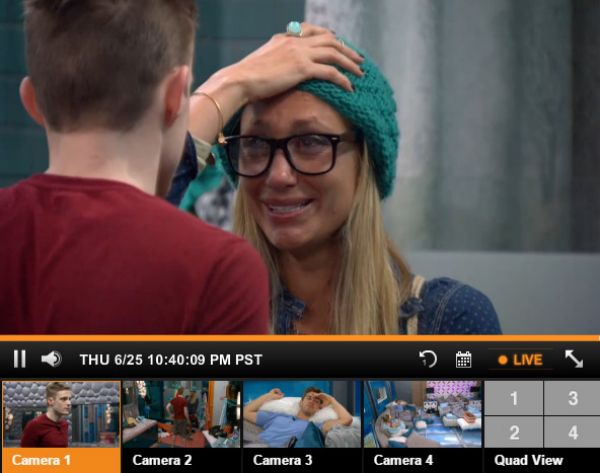 10:39pm Vanessa and Jonny MAc
Vanessa crying misses her girlfriend she's questioning if she has what it takes to be int eh Big Brother 17 house.
Live Feed subscription gives you CBS All Access thousands of archived shows. Live Shows like Big Brother, all the Big Brother Seasons, and 24/7 coverage of what is happening inside the Big Brother House. Plus there's flashback that lets you go back to any second of the feeds and rewatch what happened. Simon and Dawg will index the season just watch the parts worth watching.
All this for $5.99 a month try it out 1 week free. Support our efforts and get your feeds via a link on this site. Live feed subscritpion Sign up