POV Holder:
Vanessa
POV Competition
Aug 22nd
POV Used
No
POV Ceremony
Aug 24th
HOH
Austin
Next HOH
Aug 27th
Original Nominations:
Steve and Jmac
After POV Nominations:
Steve and Jmac
Have Nots
No have nots this week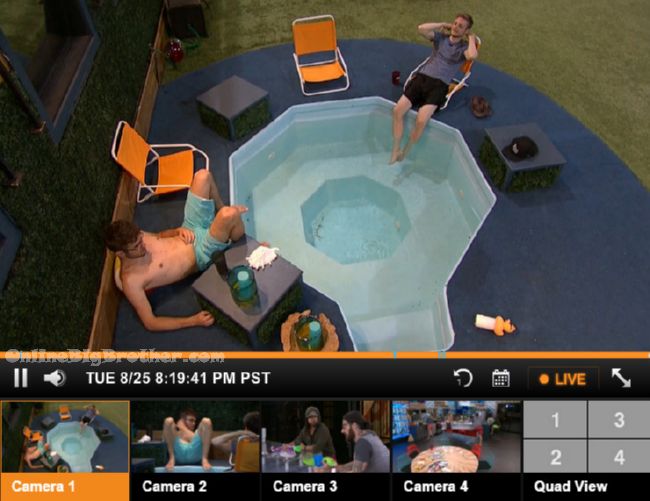 8:18pm Jmac and Steve
Jmac says having sex in the BB house is less shameful than m@sterb@ting
Steve says people do m@sterb@te in the house.
Jamc – it's weird in here my s$x drive is completely gone
Steve – not all guys here are like that
Jamc – it's literally gone. that's kinda scary
Steve – some guys don't care, I guarantee Jace and Jeff m@sterb@ted when they were here.
Steve – Jason may have
Jmac – nah I don't think Jason may have
Steve – under blankets, in the toilet stall or in the shower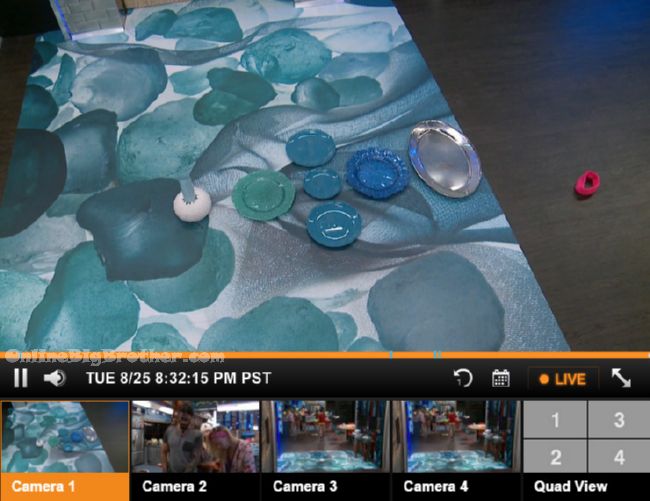 8:33pm practicing their new game Sling band
A twin points out Vanessa has a new hat on
The other twin – I like the green hat the best (Zong)
James about the game 'You flick it… look at the flick of the wrist"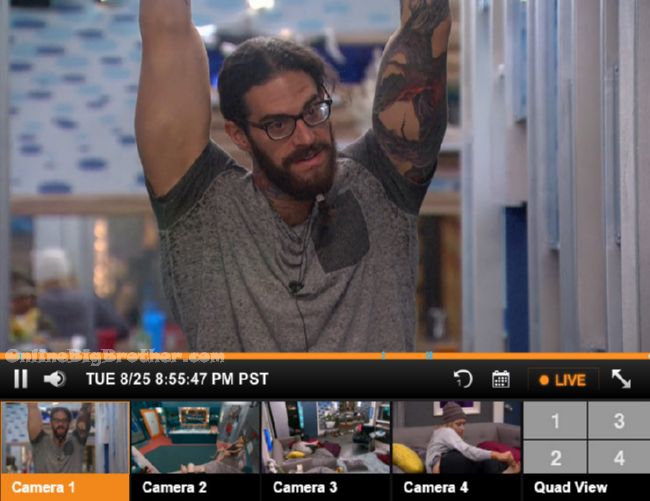 8:55pm Austin tells them they are not allowed to throw chocolate at each other. "It has to be something soft"
Meg – we should request marshmallows
[envira-gallery id="130449″]
9:56pm Playing Sling band
Sling band rules
"2 shots per person "
"1/2 way on the plate and it counts "
"if it's on two plates the one that it's more on is the one we're going with "
There's many arguments over a "Sling" not being enough on a plate to award points.
James – "catch me" #BB17 @DawgsBigBrother pic.twitter.com/d6K7ONCuax

— OnlineBigBrother.com (@bigbspoilers) August 26, 2015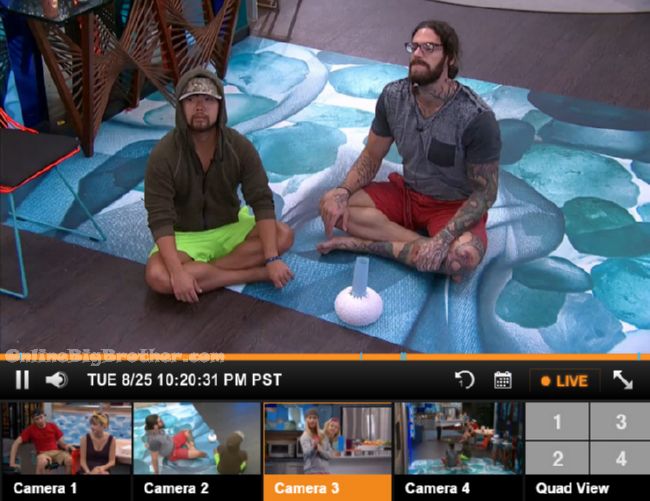 10:14pm Glory Hole round
It's impossible to get the sling band around the glory hole everyone fails.
Jmac – this is like the glory pole
Julia calls it Sling ball
Liz calls it sling band
Meg invented it.
10:32pm Hammock Twins and the Austin
Julia tells them Johnnymac wants to talk to her and Liz later tonight.
Austin tells the girls they need
Julia says she will not vote to keep Johnny mac under any circumstance
Austin – Steve is closer to Becky we didn't know that
Julia- I don't believe that
Austin – Shelli is closer to Steve
Julia – Why are we keeping a guys that's coming after you
Austin says Steve wants to get him out and say "Get to steppin" during the show like Boogie did to Howie in Allstars and Ian did to Boogie in season 14.
The twins don't believe that Becky is close to Steve. Austin seems to believe it because you know Vanessa told him.
Austin tells them he's still on board with getting Jmac out.
The twins leave to talk to Jmac in the parlor room
10:45pm Hammock
Austin saying if the competitions is a game of chance Johnnymac will win it because he's been playing and doing well in so many little games (Pot ball, Bowling, Pool, Sling Band)
Austin – Steve doesn't like lying directly
Austin – Johnny Mac on the other hand he would say one thing and go right back on it, it's like he's got a gun he'll shoot everyone than himself.. he's got nothing to lose he's taxi driver
James – They're computer programmed to win the game
Austin says Steve and Jmac were pushing hard for them to back door James
Austin and JAmes agree if it comes to physical and endurance competitions Johnnymac is the only competition they have.
James says Steve and Vanessa had a really good relationship
Austin says Johnnymac is a threat to them in competitions and Steve is a threat to Vanessa .
Austin wonders if they can get Jmac and Steve to say they will not win the next HOH
talking about the knowledge of dates
James – to be honest with ya I don't know one damn day all I know is day one I walked into the Big Brother house and won the endurance
Austin says Meg's job is to know the date JAmes job is to hold a button for 48 hours.
James mentions Jmac screaming in the Diary room again
Austin – really
James- meg was there had her ear to the door said he was hollering
Austin – oh my god
11:08pm Meg joins them
Meg says Vanessa is in the parlor room with the twins right now. Says Vanessa is filled with Conspiracy theories.
Austin – Johnnymac is campaigning hard
Meg – he hasn't talked to me
Austin – he's talking a ton to Vanessa
Meg says Steve is just as connected to the jury as Johnnymac
Austin – the girls don't like Johnnymac straight up
Meg – what you you mean they don't like him
Austin – I don't know they don't like him as a person they don't like him
Meg – I don't know who
Meg – Steve is 100% more likely to win HOH than Johnnymac
Meg – whats Vanessa deal now
Austin – she's going back and forth she doesn't want to to anything on her own..
11:17pm Parlor Jmac and the twins
The twins tell him they are voting with Vanessa
Jmac- I have no game talk with Meg and James.. so if you have any idea what you would want me to do with you ya
The twins say they have a close relationship with Steve but they are thinking strategically and Steve is a strong player.
Johnnymac – if it's more physical comp I can get it done, it's up to what you want do you want me to go after Meg and James or who comes back.
JOhnnymac – If i stay whatever you want
Twins – don't come after us
Johnnymac – Steve's friends with everyone
Julia – we're glad we had this conversation we want to vote together with Vanessa
Jmac – so we take the juror out and you three don't want to me pawns.. that's doable
They decide to talk to wednesday night. The twins tell him they will not blindside him.
11:25pm Backyard Meg, James and Austin
Meg talking to the camera saying they don't know who to vote out this week
Austin – We're going to flip a coin
11:32pm HOH Austin and the twins
Austin about Jmac – he's desperate he'll do anything
LIz give Austin a debrief of their conversation with Jmac.
Austin – so what did you think I talked to Meg and James.. they're on the same page as us
Austin says it's 50/50 they can decide who to evict.
Julia wants Johnnymac out
Liz points out that JOhnnymac was telling them that he's better at competitions than Steve. She thinks this was a stupid move.
Austin – so he'll win and protect us
Liz -he's targeting you austin
They agree if Steve goes it's a bigger betrayal than if Johnnymac. Steve can spew so much information about them.
The twins are obsessing about the vote.. they say Vanessa is supposed to come up so they can "jedi drill"
Austin – you guys are too into this I'm out..
11:43pm Goblins
They are questioning why Vanessa has been spending so much time with Steve.
James – maybe she's trying to get Jury Votes.. Vanessa is trying to win this game
Meg – she drives me nuts
jame s- every move of hers is strategic his brains on overload
Meg – She's complaining about how she wants to hear from Mel are you kidding me I haven't gotten a letter from anyone.. why are you telling me that.. you picked the wrong girls to vent to,
James – that might have been my fault I gave her advice about how to talk to you ..
Meg laughs – she doesn't know how to deal with me I don't know why.. it's because I can tell the only reason she talks to me is because of this game.. you know what I mean
Jame s- I agree
Meg – Vanessa's gotta go James she's gotta go
James- someone else has to do it because we can't have the twins pissed at us
Jame s- Vanessa is a meat shield for them as long as she stays in the game they stay in the game
The goblins agree the only way they can turn this game around is if they win HOH and Jackie comes back, "we would be set up so perfect"
James – did you notice Vanessa doesn't come out here for leisure time
James – I wish I knew the days I could quiz you more.. I don't know the days.
Meg – I know the days but I'm not fast with them.
They are agreeing they really don't want Vanessa to win this game. Meg would vote for a twin over Vaenssa.
11:53pm HOH Twins, Vanessa and Austin
UGH debating who they should vote
ALLIANCES:
"Goblins/Gremlins" = James and Meg
"The Generals" = anyone allied with Becky
"SOS" (Students of Sound) = Steve and Vanessa
Rockstars = Steve and Jmac
AUS-Twins = Austin, Julia and Liz
"Austin's Angels" = Austin, Liz, Julia, Vanessa
"Brass Tacks" = Gobins and Austwins
The new "Brass Tacks" = Aus-Twins, Meg, James + Vanessa
"Freaks and Geeks" "The Scamper Squad" = Aus-Twins, Vanessa, Steve
"The new Freaks and Geeks minus Vanessa" = Austin, Liz, Julia, Steve, Johnny Mac
"The Authority" = Austin, Liz, Julia, Steve
[polldaddy poll=9035699]