POV Holder:
?
POV Competition
Aug 13th
POV Used
?
POV Ceremony
Aug 15th
HOH
Victor
Next HOH
Aug 11th
Original Nomi1nations:
Paulie AND Corey
After POV Nominations:
? AND ?
Have Nots
?
Watch the next week of the feeds for FREE – 1 week Trial!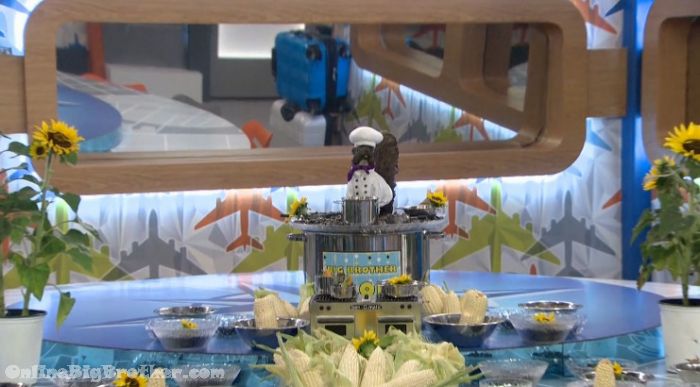 7:56am Kitchen Have nots given out
"This week's have nots are the first 3 players to fall out of the HOH first"
"Michelle, Nicole and Natalie but Natalie has the have not's safety so it's just Nicole and Michelle"
"Get to eat like real squirrels with addition of slop they enjoy sunflower seeds and corn on the cob"
Nicole – so i'm not super safe.. I thought I was safe from everything..
Nicole – crap a cold shower in this costume
Corey – ya what the heck
Victor – Michelle, Nicole and Natalie but Natalie has the care package.
Nicole – it says I'm safe from everything.. There must be something else a twist. . it should just say you're safe from being on the block.. It's not super safety
Victor So you're not happy enough being super safety..
Nicole – No i'm not mad.. It sucks I'm in this and cold showers and bumper cars
Victor – i'm so happy I Didn't have to pick thanks you jesus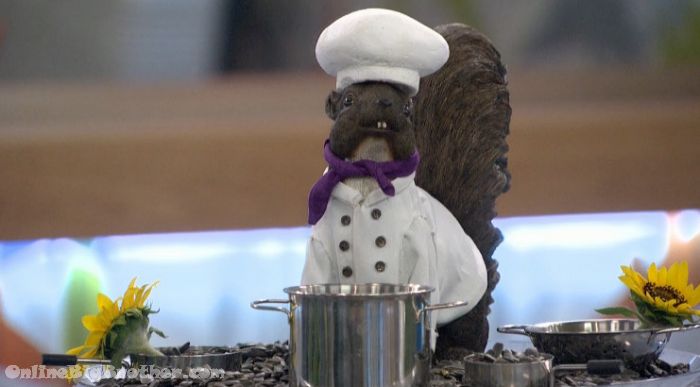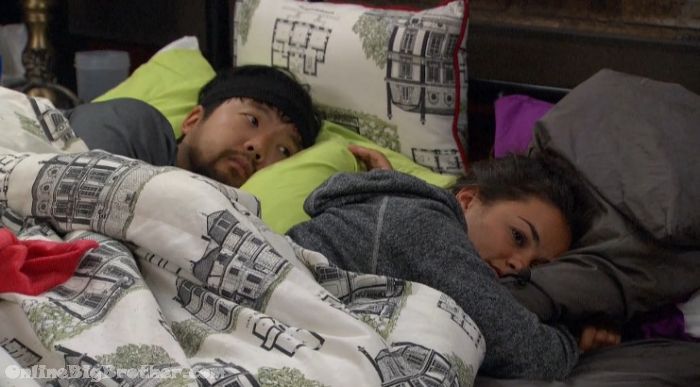 8:15am London room Michelle, Paul, JAmes and Natalie
Michelle now has some times to go over her conversation last night with Paulie. They brgins up all the things highlighting how f***D Paulies game is.
Michelle- "HE said if he stays he wants to work with me"
Michelle adds that Paulie is saying there is 1 guy in the guys alliance hiding stuff and Paul is the mastermind coming up with all the alliances.
Paul – remember he said he roped me in.. how am I the mastermind he roped me in
Michelle adds that he was saying that James is with Natalie because he won America's favorite last year for sticking with his girls and that is what James is doing this year.
Natalie – it went from me not liking you to you not liking me.. You're just using me for America's favorite
Paul – Michelle can you blow his sh1t up
They plan to call out Paulie for still trying to get them all to turn on each other, it'll happen before the veto. He's telling James to go after Paul, Michelle to go after James, and Paul to go after James. HE's telling James and Victor to go after Michelle and still harping on Natalie's boobs.
Michelle brings up PAulie telling her about the executive alliance, "I already knew"
Natalie – he said you were the worst super fan now he wants to work with you
Michelle – He said Paul and Zakiyah said they were worried about your mental health if you stayed.. Which is fine.. Whatever
They are agreeing that If Natalie isn't the have nots it should go to Paul. Natalie doesn't think Nicole should be a have nots either
Michelle says Paulie is claiming he only chose to get her out after nominations. Paule and Jaeme call bullshit on that says Michelle was his target all along.
Paul – look how confident Zakiyah was..
Natalie – she took my skirt without asking
James wants them all to get into it get it all out say everything you can then tell Corey and Paulie that 1 of them is going home
They wonder if they Nicole knows all the sh1t Paulie was saying about her.
Natalie says Nicole was in the london room insinuating she doesn't want any of them to win only Corey and Paulie.
Michelle says Nicole loves Corey of course she wants him to win they are in a showmance.
They all are agreeing that Corey has no interest in Nicole after the show
James – Corey is going back to Texas going back to his bar and
Natalie – Slay
James – he (Paulie) said the girls have every right to be mad at me I manipulate the sh1t outta that girl
Paul – I heard that
They talk about Paulie constantly talking about Cody and Derrick's season like he knows the secret sauce to win the game. They mention how Paulie tosses Derrick's name around thinking it'll garner him special privileges because Derrick is his friend.
Natalie – I'm calling him out today I can't wait and if I go home next week zero f*** given
Michelle – I gotta hang out in the snake den tonight.. SSSSSSSSSssssCOLE
Michelle – apparently he said he threw the HOH
Paul – bullshit
Paul explains that if Paulie losses he'll say he threw it for his ego so he's still seen as the strongest player
Michelle mentions that Paulie thought there was a backdoor plan at first.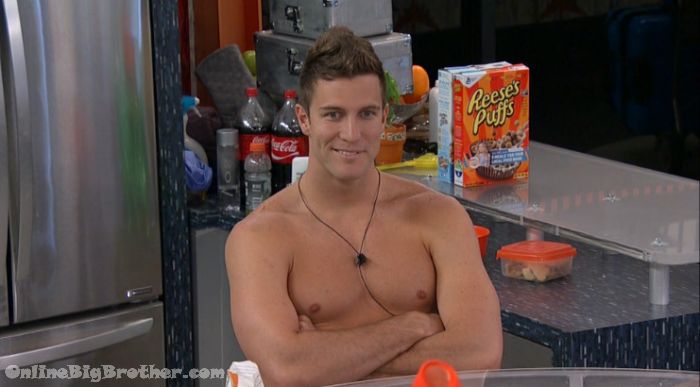 8:40am Nicole and Corey Kitchen
Nicole is saying that James playing for America's favorite again she's thinking he's getting a good edit and his backstabbing isn't getting shown.
Nicole – victor asked me who I would put up if you were in my shoes.. He asked me that.. I said my target is someone that is weak so if they stay they can't win competitions after me he puts up you 2
9:02am POV players were picked
Natalie is the host
James, Paul. Nicole, Corey, Paulie, Victor are the players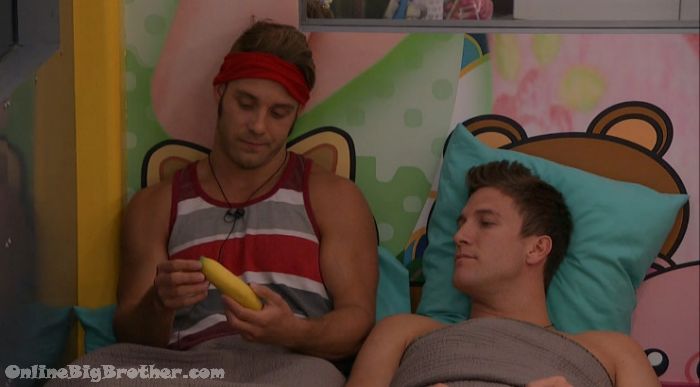 9:06am Corey and PAulie Tokyo room
Paulie is saying they Might be able to get Michelle on their side and convince Victor to put Natalie up
Corey – I wonder if James will take one of us down;…
Paulie – no
Corey – If James was in this position I would 1000% want him down
They think Paul and James will throw the competitions. Corey saying if they can get Natalie up they'll have to flip Michelle's or James' vote.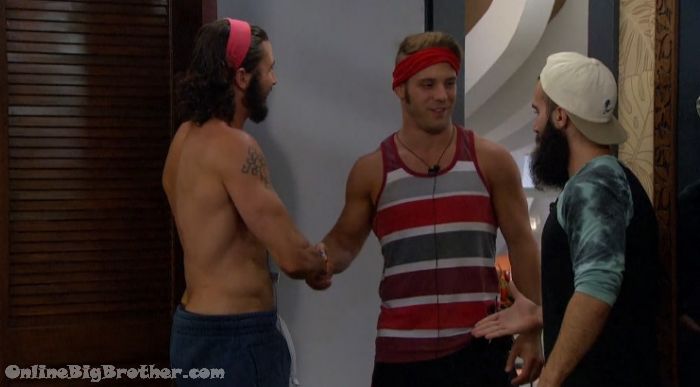 9:13am HOH Paul and Victor
Paul – we're going to blow his sh1t up before the POV so he loses his mind..
Paul- he's playing sympathy cards he's playing the victim. He's saying he was controlled by people to do certain things, bro F*** you
Victor – I'm not taking him off..
Paul says maybe he should bring up to Paul that one minute he's saying he's trusting the guys they're his ride or die the next day he's saying the only person he trusts is Corey. Adds maybe he should tell Corey about what Paulie says about him like he's good to take near the end because he's dumb and losses at comps.
Paul pretending to talk to Corey – "oh you didn't know he said tha.. Oh you didn't know he said that to me and Victor that you can't win comps and it's better cause you're easy to beat.. I bet you didn't know that"
Victor – sucks cause I really wanted to trust him
Just as they leave paulie comes up they shake hands and head back downstairs…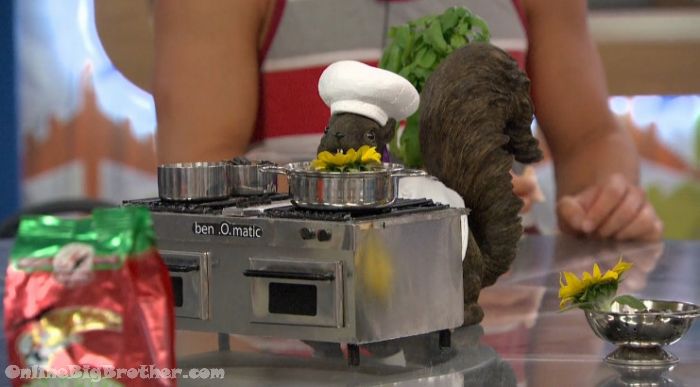 9:28am now mr jenkins has a friend
"CO-HOH"
WEEK 4 – August 14th to August 19th
This winner automatically becomes Co-HOH, sharing all HOH perks and responsibilities for the duration of the week, including choosing 1 of the 2 nominees.
[polldaddy poll=9496376]