POV Holder:
Steve
Next POV
July 3rd
POV Used
?
POV Ceremony
?
HOH Winner Team 1:
James
HOH Winner Team 2:
Jason
Nominations 1 :
Steve, Jackie
Nominations 2:
Becky, Johnny mac
Battle of the Block Winner
Becky and Johnny Mac
Next HOH/ Next BOB
July 2nd / ?
Original Nominations:
Becky, Johnny, Steve, Jackie
Current Nominations:
Steve, Jackie
Have Nots
Austin, Da'Vonne, Liz, Vanessa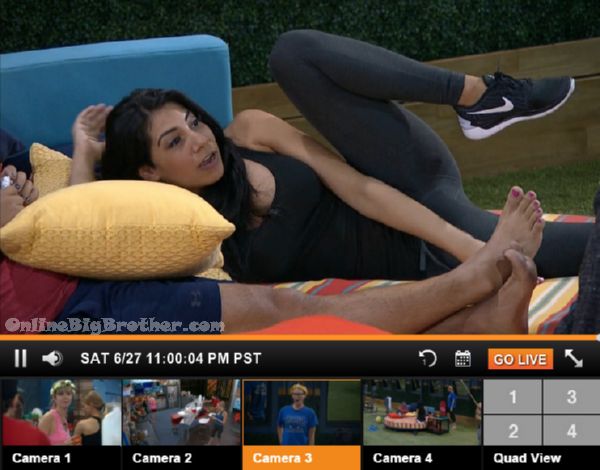 11:00pm Backyard Random conversations. For a while Jace was complaining about Becky "Shushing" him.
Jackie – "I'm more comfortable with my legs open"
Explains it's because she's a dancer.
[envira-gallery id="117101″]
Meg and Audrey pretend they have microphones and while in front of the camera introduce James.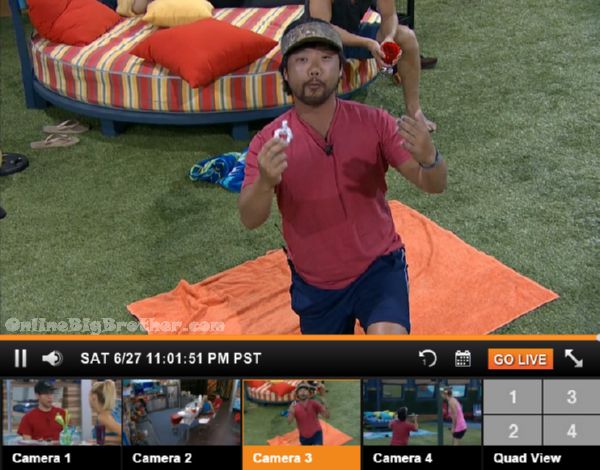 James proposes to Taylor Swift says he's in love with her. Looks like he's made her a Big Brother Ring.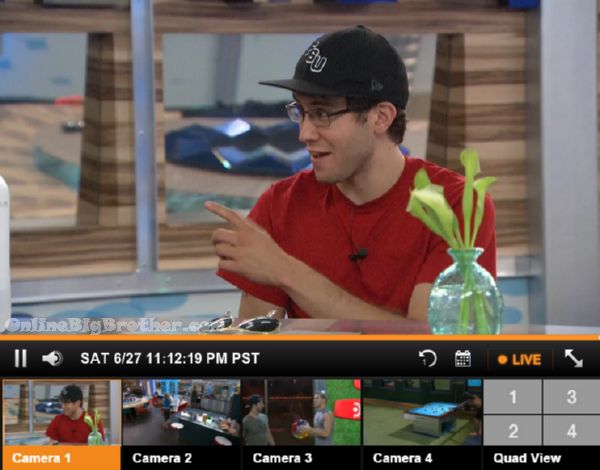 11:12pm Steve and Liz
Talking about school.. Getting to know each other.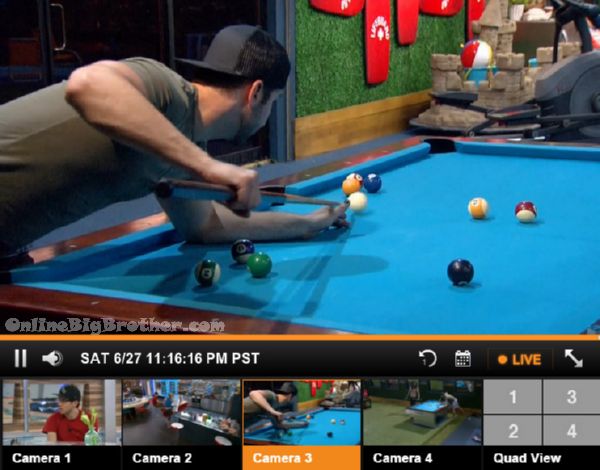 11:17pm Jeff and Austin pool
Talking about winning HOH and getting rid of DA. Jeff calls her the puppetmaster. Austin leaves and Liz joins Jeff for a game.
Jeff tells her he was talking to Clay earlier today and their games are lined up. Says they have to get rid of the puppet master.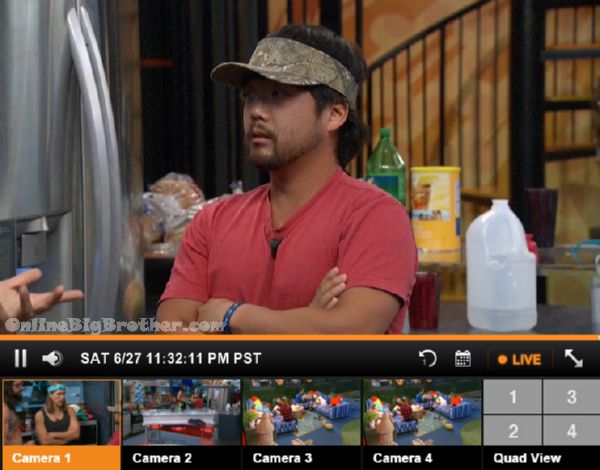 11:31pm Austin, James and Jace
They are telling James they have a core of votes they can do whatever James wants to do.
James says Jackie is staying.
JAce tells them their core are the strongest players in the house (5 alive)
James tells them he's like the bank right now and Austin/Jace are coming to him for a loan but they have no collateral and James doesn't have their credit score.
Jace says he has their word.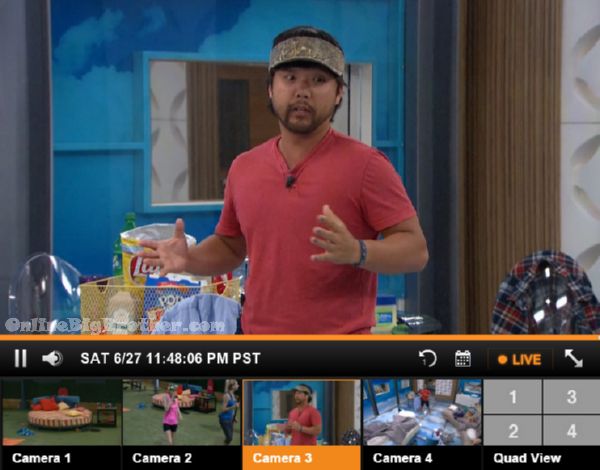 11:43pm HOH James, Jason and DA
James rehashes his conversation with Austin and Jace. Says they are trying to get Jason put up
Jason caught Vanessa and Clay whispering.
DA – This veto ceremony is going to be FIRE .. Greatest blindside ever
Jason calls it the greatest blindside "Going down in history they going to remember James BB17"
Audrey joins them. They wonder if Austin/Jace have JohnnyMac or Steve. They don't think they do.
James doesn't want to be the villain but he's going to use the Jace and Justin phrase when he selects Jace as the replacement nominee.
"Long hair don't care tattoos every where Jace sit your butt in that chair"
James leaves.. Audrey says Austin told her he had a conversation with James about getting the votes to backdoor DA. Jason and DA heard that from James already.
Becky joins them game talk ends.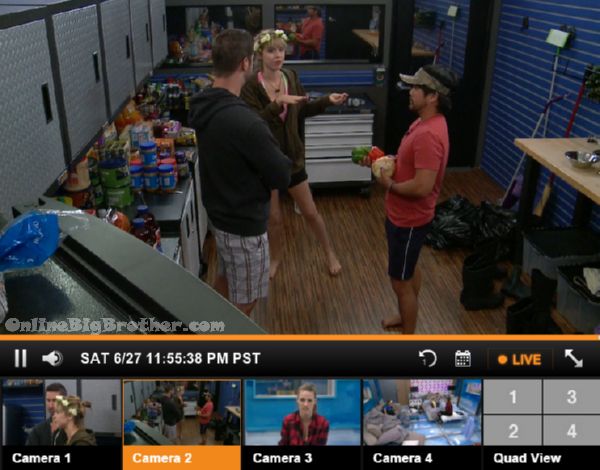 11:56pm Storage room Meg, Jeff and James
James fills them in that Austin. Jace are still trying to get Jason Bsckdoored.
Meg saying Becky, Jackie and Vanessa have something going on. Meg thinks Becky is the leader of the girls alliance. Jeff scoffs at Vanessa says she's crying this entire game. Meg and Jeff agree Becky has got to go.
Meg leaves.
Jeff – I know you guys hate LIz but if I win HOH i'm getting rid of Austin
James doesn't care the alliance has his back.
Jeff – It's going to be a backdoor
James – we'll b@ckdoor all season long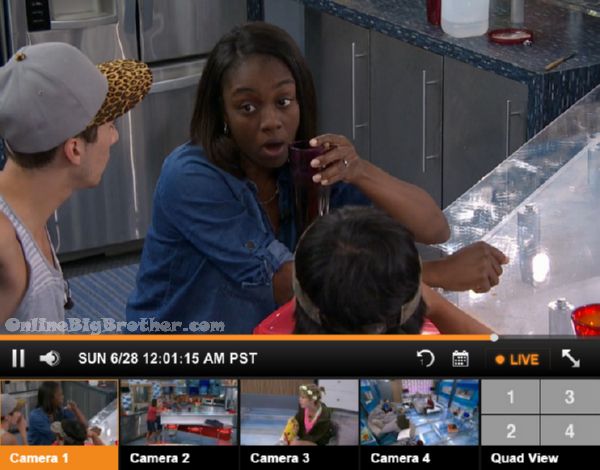 12:02am James, DA and Jason
Wondering if Jackie is in a girls alliance.
12:07am Jackie and Jeff
JAckie says she will tell him game information from now on he;s the only person she trusts in the house. Jackie assures him she's not in a girls alliance with Becky, "I don't even talk to Becky.. I talk to JAson and James since day one.. I talk to Audrey a ton"
Jackie says Audrey talks sh1t about DA/Jason she never wants to be around during those conversations.
Jeff says Audrey is going around the house making up Drama. She's planting seeds with people "She's very manipulative.. She's maneuvering everyone like pawns"
Jackie doesn't like it at all.
Jeff adds that Audrey is using them all to get teh people she wants out so non of the blood is on her hands. Jeff needs to talk to Clay he trusts Audrey. They agree Audrey is a much more dangerous player than everyone thinks.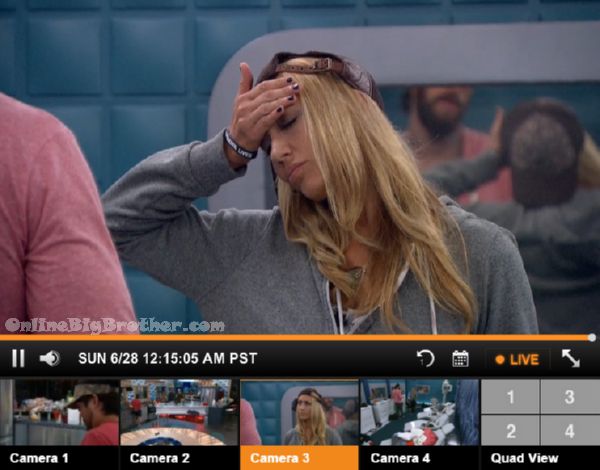 12:16am Vanessa and Austin
Austin says Liz is a lone in this game she needs to start talking to her. Austin is trusting Audrey more and more it seem like but everyone in the house is telling him she's talking a lot. He feels like he has to. Vanessa tells him she's a good person and can keep a secret.
JAce and Liz join them. Jace is going off about Becky shushing him. Austin tells him to calm down, says Becky wants to apologize to him.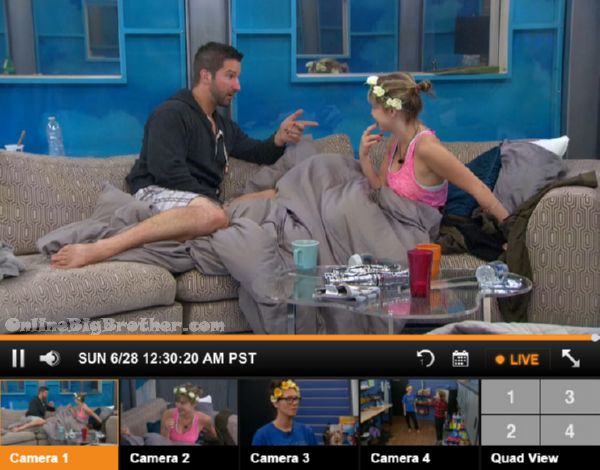 12:27am Jeff and Meg HOH
Jeff doesn't care about Becky's alliance at most she has 1 or 2 people.
Jeff says he's trying to figure Audrey out.
Meg says everyone is in their group.
Jeff mentions that in Front of Jackie Audrey was talking ah1t about two people in their alliance
Meg says everyone in their alliance are going to turn on each other in a couple weeks.
Meg says Audrey is playing the whole house right now. "Not making alliances but planting seeds with everyone"
Jeff finds Audrey sketchy every time he hears about Drama it's coming from Audrey.
Jeff thinks Audrey is making things up about Austin to keep him and Austin at odds.
Jeff – Who's the bigger threat Audrey or DAY and why does clay trust Audrey so much.
Meg says they need to play Clay a bit to make him see what Audrey is doing.
Jeff tells her Jackie is loyal to them they need her. Adds that he's the only person Jackie trusts.
Jeff warns her about Audrey tells her to watch what she says.
Meg says she's been cutting herself off with Audrey, She knows her and Clay have a thing
Jeff is going through the things Audrey says about Austin and it's very suspicious
Meg – her name comes with with everything.. I do want to trust her but she's planting seeds with everyone
Jeff – how can we use her shady ways to benefit us.. lets let her get blood on her hands.
Meg warns him about Day and Jason says they observe everything that is going on in the house.
Live Feed subscription gives you CBS All Access thousands of archived shows. Live Shows like Big Brother, all the Big Brother Seasons, and 24/7 coverage of what is happening inside the Big Brother House. Plus there's flashback that lets you go back to any second of the feeds and rewatch what happened. Simon and Dawg will index the season just watch the parts worth watching.
All this for $5.99 a month try it out 1 week free. Support our efforts and get your feeds via a link on this site. Live feed subscription Sign up