POV Holder:
Vanessa
Next POV
July 18th
POV Used
Yes
POV Ceremony
July 20th
1
HOH Winner Team 1:
Liz
HOH Winner Team 2:
Shelli
Nominations 1 :
Jackie & James
Nominations 2:
Jason & Johnny Mac
Battle of the Block Winner
James and Jackie
Next HOH/ Next BOB
July 23rd / July17th
Original Nominations:
Jason & Johnny Mac
Current Nominations:
JohnnMAC and Audrey
Have Nots
Jackie, Audrey, JohnnyMac and Becky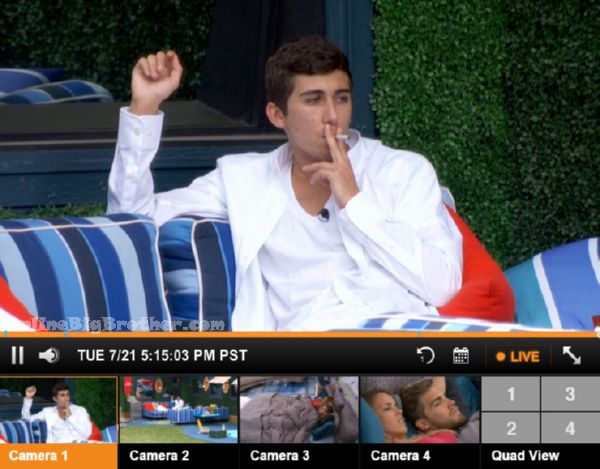 5:15pm Jason, Austin, James, Liz
Jason talking about Steve being like dan goosling (BB10, BB14) says he's throwing all the competitions and is going to try and win the last 5. Jason mentions how hard Steve fought for the 'Trombonist" Veto.
Jason goes on and on about how dangerous Steve is.
5:22pm HOH Shelli and Clay
Wondering what Jackie is saying to Becky. Shelli wants to pull them both up to the HOH tonight.
Clay – are we going with JohnnyMac in the game
Shelli – Ya
Clay about JohnnyMac – He's got ice in his veins
They agree to make sure Johnnymac doesn't go up as a pawn she should take a rest.
Shelli – I don't want him to win HOH, He might put me up
Clay – he won't do that
Shelli was not happy with Liz after winning the HOH. Shelli says Liz drank an entire bottle of wine and had only 3 minutes conversations "She parted in the HOH room she had no idea what she was doing"
Shelli brings up VAnessa saying Liz and Austin are getting very close and Austin is thinking with his Heart. Shelli says Austin and Liz are not very good game players.
Shelli wants to see Julia win a HOh and see how she will react.
Shelli told clay about her brother. He looks identical to Clay, She admite people would say CLay and him are brothers possibly twins.
Shelli talks about her older brother and how he can build anything
Clay says his special ability is more arts
Clay – you don't want to bring him around me I might go for him over you
Shelli – Creepy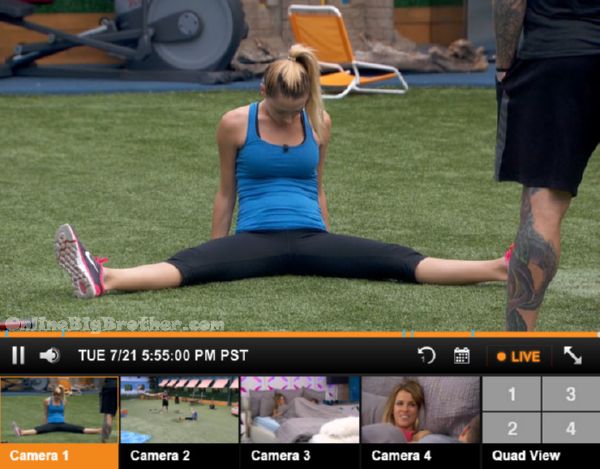 5:53pm Backyard LIz and Austin
Austin says there's no vibe for Game talk.. It's so weird.. no one is doing it.. it's crazy..
Liz – I knoowwwwwwwwwwww
Austin doesn't know why Jason won't work with them because right now they are winning things and the other side isn't
Liz says the only person winning things is becky
Austin – She's not really on their side.
6:01pm Jason joins them to work out one on one with Austin
6:05pm Vanessa, Shelli and Clay HOH
Vanessa talking about it being really weird right now. There's so many deals in the house right now.
Vanessa says she has no agreement with Meg and Jason, "They have a obligation not to put me up"
Vanessa is going to really try and win that HOH this week stresses how important it is.
Vanessa says the deal with Jason is if he wins POV he uses it on and if Meg and Jason win HOH they won't put them up.
Vanessa brings up Jackie turning down the deal she was making with Jason. Shelli says Jackie is planning on putting Vanessa up.
Vanessa – she's been spending so much sleeping in the Have not with Audrey.. I don't know what she's feed her. (Audrey to JAckie)
Clay thinks jackie is sleeping more because she's a have nots.
Vanessa asks them where is Becky at
Shelli and Clay have no idea.

Vanessa says there's an alliance between Jackie, Becky, JOhn and Steve
Shelli – OK Audrey
Vanessa say John/Steve and Becky/Jackie talk game all the time.
Shelli says the votes to keep Jeff were, Steve, BEcky, Jackie and Johnnymac
Vanessa says Liz and Austin have never talked sh1t about Shelli and Clay, "they are loyal they may not be the most forward thinking players.. they are honest"
Clay says James talks a lot to Becky and Jackie
Vanessa say James talks to her a lot but never about game.
Vanessa – what do you guys thinks about us 3 working something with Austin, Liz, Julia, James and Meg, Jason to try and target the other four.
Clay – Becky, Steve, Johnnymac and Jackie
Vanessa explains those four have been sitting back while the other two sides were throwing grenades at each other.
Vanessa points out that the rumours are swirling that Shelli, Clay, Vanessa are working with Austin and Liz.
Clay and Shelli agree they aren't feeling safety with Becky, Jackie and Steve.
Vanessa – the big players are going to take each out and the pawn will take over.
Vanessa wants to start taking out the pawns.
Vanessa asks if anyone from the other side approached her with deals going forward to next week
Shelli says no.
Vanessa says their alliance has the edge they are stronger competitively
Clay – do you think people suspect we're in an alliance
Vanessa – I think they would be stupid not to
Shelli asks Vanessa what deals she's made
Vanessa lists them
James no deal
Jason and Meg have to keep her safe she doesn't have to keep them safe
They agree Becky and JAckie are the two least favorite to win the HOH.
Clay tells her Shelli and him are not tool going up as pawns. Vanessa say it's too dangerous no one from the alliance should be a pawn. If someone from the otherside tells them they are a pawn they know it's a lie. The three of them are the worst pawns too much blood on their hands.
They are agreeing Clay should have been a have nots so he can watch Audrey. They are suspecting Audrey is poisoning them to the other side in the have nots.
[envira-gallery id="123089″]
7:02pm HOH SHelli and VAnessa
Shelli says her and Clay's connection is very real but she's worried about their age difference will being a issue when they get out of the house. Shelli says Clay is 10 years younger than her
Vanessa says she's got the same feelings with Mel her girlfriend whose 8 years younger. Vanessa says if Shelli is fine with the age difference and she can make it work then its fine. Vanessa says Clay is mature "He's a grown man"
Shelli says he's worried other opportunities will come Clay's way.
Shelli says she wants to start a career in acting. "Atlanta is the new LA.. that's so my dream"
Shelli – I have a itch
Live Feed subscription gives you CBS All Access thousands of archived shows. Live Shows like Big Brother, all the Big Brother Seasons, and 24/7 coverage of what is happening inside the Big Brother House. Plus there's flashback that lets you go back to any second of the feeds and rewatch what happened. Simon and Dawg will index the season just watch the parts worth watching. All this for $5.99 a month try it out 1 week free. Support our efforts and get your feeds via a link on this site. Live feed subscription Sign up
[polldaddy poll=8983592]
Share it YO!!
Tweet